It has been a rainy day, the type that makes you want to curl up on the couch and watch a movie or hide behind a good read while indulging in some delicious comfort food. Today I was inspired to come up with a dish that would satisfy these cravings.
Stew is for sure of my top comfort foods. The only thing that truly discourages me from making it more often than I do is the time it takes to cook. In an effort to overcome this, I decided to leave out the meat and heavy root vegetables and opted for a melody of hearty mushrooms.
You can choose to cook with any type of mushrooms; however, I chose to use portobello and white button mushrooms.
They are both readily available and cheap, yet they still taste great. Portobellos are meaty and full of rich flavor, whereas button mushrooms are lighter and complement stronger flavors well.
Mushrooms, even if they're not a vegetable but rather a fungus, don't often get the attention they deserve in the Paleo community, but most of the edible ones are both nutritious and delicious.
Many of them are good sources of selenium, copper, potassium, riboflavin (vitamin b2), niacin (vitamin b3), and pantothenic acid (vitamin b5).
Other than the portobello, also often called portabella or the simple button mushroom, morel, shiitake, crimini, porcini, and oyster mushrooms are popular and widely available choices.
This recipe calls for some heavy cream and butter or clarified butter (ghee). The heavy cream can easily be substituted for the same amount of full-fat coconut milk, and coconut oil can be used instead of butter if you prefer going 100% dairy-free.
Remember, though, that both heavy cream and butter have very low amounts of sugar or proteins and are mainly butter fat, which is very healthy and should not be considered suboptimal choices unless you have a prior autoimmune disease.
To learn more, read up about Paleo 2.0. The bottom line is that coconut milk is great and all, but the flavors of butter and cream paired with the mushrooms and onions in this recipe are absolutely amazing.
I was concerned that this would not be a filling enough meal, but I was certainly wrong, especially because the heavy cream or coconut milk really adds some good bulk to it and make it really satisfying. If you are serving it for guests, I would recommend a small side dish to complete it, but nothing too heavy.
Creamy mushroom stew recipe
Serves: 4
Ingredients
1 lb of mixed mushrooms, chopped with a tough portion of stems removed (I used Portobello and White Button mushrooms and found them to be a great combination);
¼ cup of butter or ghee;
2 onions, chopped;
4 cloves garlic, minced;
A handful of fresh thyme leaves picked;
¼ cup or so of red wine (this is really to taste, depending on how strong you want the flavor of the wine to be. A nice alternative to this would be fresh beef stock);
½ cup of heavy cream or full-fat coconut milk;
2 green onions, chopped;
Sea salt and freshly ground black pepper to taste;

Preparation
Before chopping the mushrooms, rinse them to remove any excess dirt and then pat dry.
Heat a large skillet over medium heat. Add the butter or ghee.
Stir in the onions and garlic. Cook until they begin to brown, about 7 minutes.
Add the mushrooms and season to taste with sea salt and freshly ground black pepper. After cooking for a few minutes, you will notice that they let off moisture. You want to continue cooking until this moisture evaporates entirely.
Add the wine or stock as well as the heavy cream or coconut milk and stir well to ensure that the flavors are dispersed evenly.
Once the stew has simmered for a few minutes, add in the thyme leaves and green onions and adjust the salt and pepper seasoning. Allow sitting on low heat for a few more minutes so that it thickens.
This stew is now complete. It is best served when in the "comfort" state of mind, but can really be enjoyed at any time.
📖 Recipe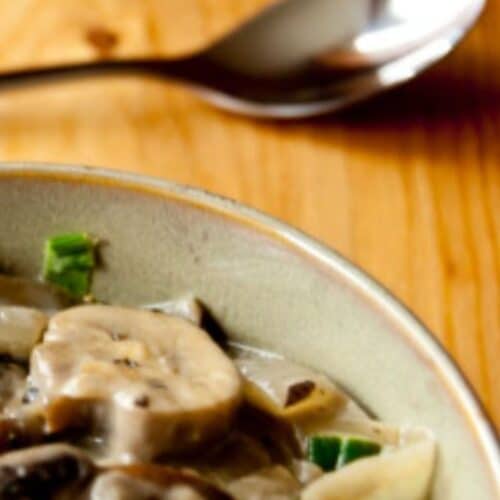 Creamy mushroom stew recipe
A simple, delicious and quick to prepare mushroom stew that's both really filling and comforting.
Ingredients
1

lb

of mixed mushrooms

chopped with a tough portion of stems removed (I used Portobello and White Button mushrooms and found them to be a great combination)

¼

cup

of butter or ghee

2

onions

chopped

4

cloves

garlic

minced

A handful of fresh thyme leaves picked

¼

cup

or so of red wine

this is really to taste, depending on how strong you want the flavor of the wine to be. A nice alternative to this would be fresh beef stock

½

cup

of heavy cream or full-fat coconut milk

2

green onions

chopped

Sea salt and freshly ground black pepper to taste
Instructions
Before chopping the mushrooms, rinse them to remove any excess dirt and then pat dry.

Heat a large skillet over medium heat. Add the butter or ghee.

Stir in the onions and garlic. Cook until they begin to brown, about 7 minutes.

2 onions,

4 cloves garlic

Add the mushrooms and season to taste with sea salt and freshly ground black pepper. After cooking for a few minutes, you will notice that they let off moisture. You want to continue cooking until this moisture evaporates entirely.

Sea salt and freshly ground black pepper to taste

Add the wine or stock as well as the heavy cream or coconut milk and stir well to ensure that the flavors are dispersed evenly.

½ cup of heavy cream or full-fat coconut milk,

¼ cup or so of red wine

Once the stew has simmered for a few minutes, add in the thyme leaves and green onions and adjust the salt and pepper seasoning. Allow sitting on low heat for a few more minutes so that it thickens.

A handful of fresh thyme leaves picked,

Sea salt and freshly ground black pepper to taste,

2 green onions
Nutrition
Calories:
225
kcal
Carbohydrates:
10
g
Protein:
5
g
Fat:
19
g
Saturated Fat:
13
g
Polyunsaturated Fat:
1
g
Monounsaturated Fat:
4
g
Cholesterol:
29
mg
Sodium:
13
mg
Potassium:
539
mg
Fiber:
2
g
Sugar:
5
g
Vitamin A:
61
IU
Vitamin C:
8
mg
Calcium:
27
mg
Iron:
2
mg