f you're looking for the perfect dish for entertaining a large crowd, there's nothing quite like a simple chicken wing recipe to keep things easy for you. Wings get a bad reputation, especially in Paleo circles, because of the traditional breading they are prepared with and the oil they are generally fried in.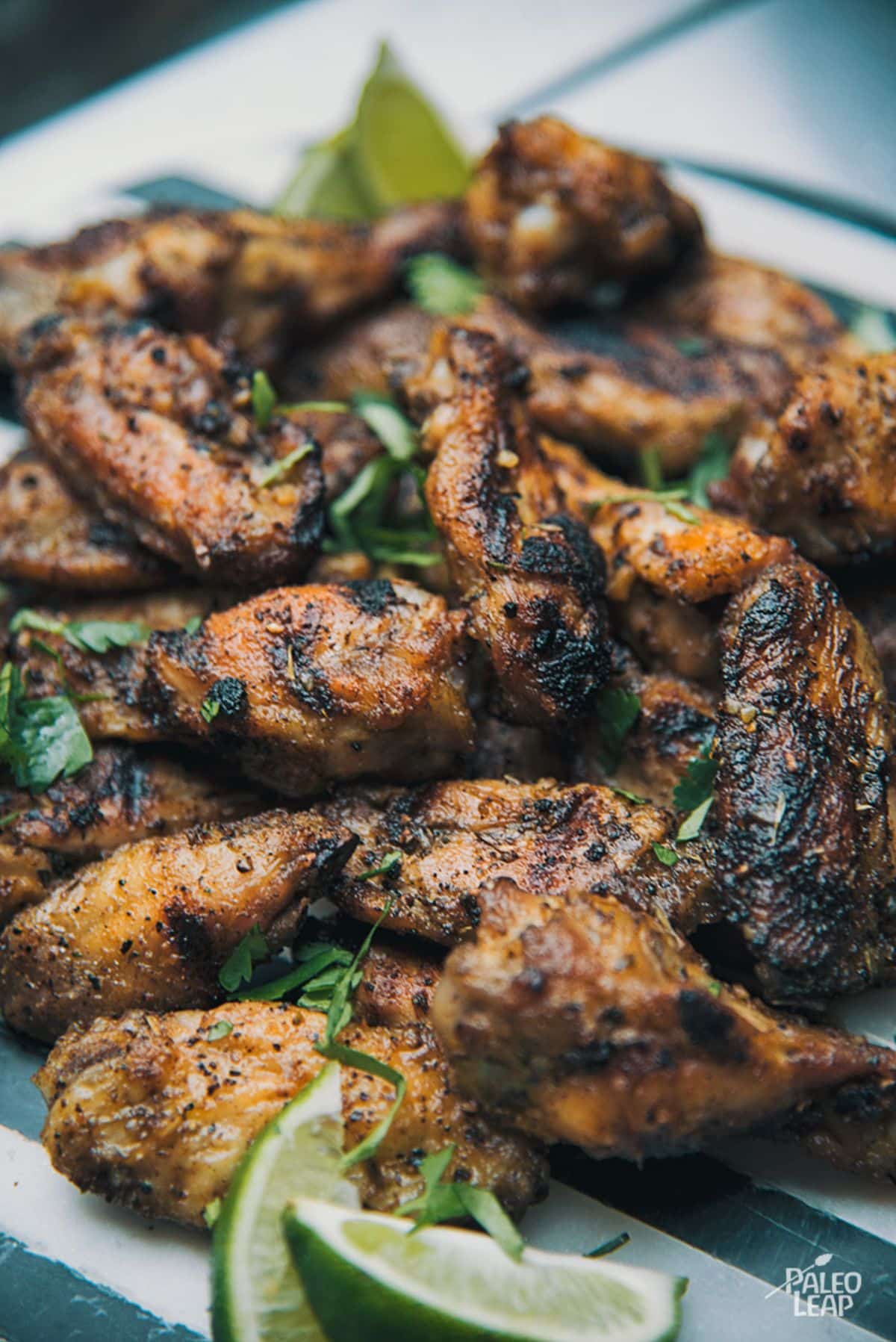 But wings definitely do not need to include grains to be delicious. In this recipe, you'll be marinating and baking your chicken wings in a spicy Creole butter sauce. To save time, you'll bake these before grilling, requiring just a few minutes of hands-on work.
Although this recipe has butter in the name, you'll really be using the Paleo-friendly ghee in its place. Ghee is found frequently in Indian food and can usually be purchased in markets catering to this cuisine; however, you can always make this yourself at home!
Since ghee is frequently used as a butter replacement in Paleo cooking, it may be worthwhile to make and store a large batch of this for cooking over a week or so.
This spicy recipe works perfectly for large crowds – just scale up your ingredients as desired. While the Creole flavoring of this dish stems from the milder spices, where you'll see the heat added is in the amount of cayenne pepper you use.
As written, this recipe will fall in the slightly spicy realm – increase or decrease your cayenne to suit your preferences, or just sprinkle this on your wings before grilling for those who love a lot of heat. For a great pairing, try a cooler salad to balance the temperatures on your plate, like this apple, kale, and cabbage salad.
Creole Butter Chicken Wings Recipe
Serves: 4 Prep: 20 min Cook: 45 min
Ingredients
2 lbs. chicken wings
1/2 cup ghee, melted
1/4 tsp. dried thyme
1/4 tsp. dried onion flakes
1/4 tsp. dried garlic flakes
1/4 tsp. dried oregano
1 tbsp. paprika
1/4 tsp. cayenne pepper
Fresh cilantro to garnish
Sea salt and freshly ground black pepper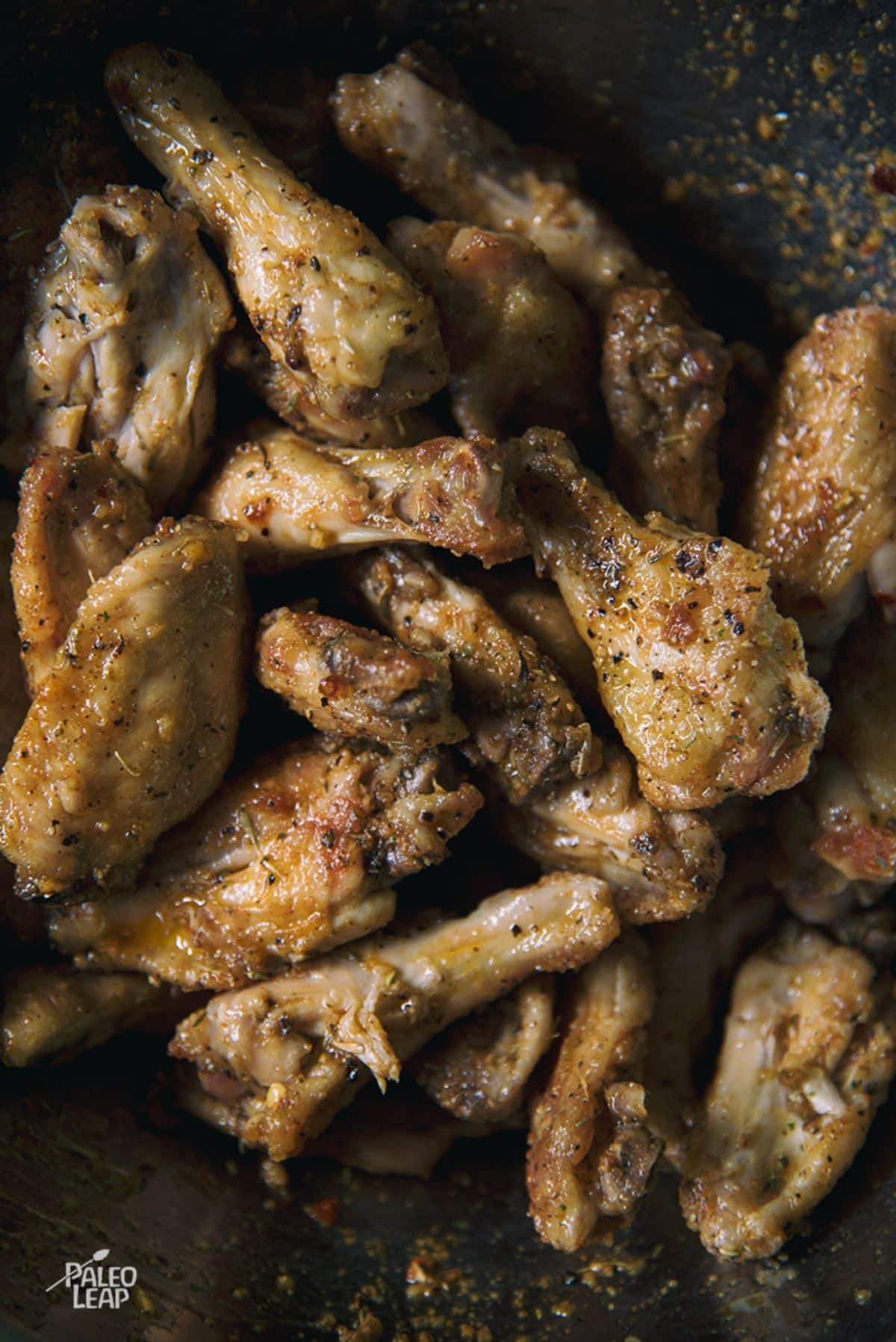 Preparation
Preheat oven to 400 F.
Season the chicken wings to taste with sea salt and freshly ground black pepper and place on a baking sheet.
Bake the chicken wings in the preheated oven for 30 to 35 minutes.
Combine all the spices together, season to taste with salt and pepper, and mix with the melted ghee.
Preheat the grill to medium-high heat.
In a large bowl, toss the wings with the creole-ghee mixture until well-covered.
Grill the chicken wings until nicely charred, 3 to 4 minutes per side.
Serve the wings topped with fresh cilantro.
Creole Butter Chicken Wings Recipe
Enjoy chicken wings with this Paleo-friendly, "butter"-Creole dish that will wow any diner.
Ingredients
2

lbs.

chicken wings

1/2

cup

ghee

melted

1/4

tsp.

dried thyme

1/4

tsp.

dried onion flakes

1/4

tsp.

dried garlic flakes

1/4

tsp.

dried oregano

1

tbsp.

paprika

1/4

tsp.

cayenne pepper

Fresh cilantro to garnish

Sea salt and freshly ground black pepper
Instructions
Preheat oven to 400 F.

Season the chicken wings to taste with sea salt and freshly ground black pepper and place on a baking sheet.

2 lbs. chicken wings,

Sea salt and freshly ground black pepper

Bake the chicken wings in the preheated oven for 30 to 35 minutes.

Combine all the spices together, season to taste with salt and pepper, and mix with the melted ghee.

1/2 cup ghee,

1/4 tsp. dried thyme,

1/4 tsp. dried onion flakes,

1/4 tsp. dried garlic flakes,

1/4 tsp. dried oregano,

1 tbsp. paprika,

1/4 tsp. cayenne pepper

Preheat the grill to medium-high heat.

In a large bowl, toss the wings with the creole-ghee mixture until well-covered.

Grill the chicken wings until nicely charred, 3 to 4 minutes per side.

Serve the wings topped with fresh cilantro.

Fresh cilantro to garnish
Nutrition
Calories:
716
kcal
|
Carbohydrates:
3
g
|
Protein:
42
g
|
Fat:
59
g
|
Saturated Fat:
24
g
|
Polyunsaturated Fat:
9
g
|
Monounsaturated Fat:
21
g
|
Trans Fat:
0.4
g
|
Cholesterol:
232
mg
|
Sodium:
169
mg
|
Potassium:
459
mg
|
Fiber:
2
g
|
Sugar:
1
g
|
Vitamin A:
2299
IU
|
Vitamin C:
2
mg
|
Calcium:
48
mg
|
Iron:
3
mg