Have you ever noticed that most soups go from chopped vegetables to pre-warmed soup bowls in less than an hour? That is unless you are venturing into the makings of a slow cooker cabbage soup, which takes up to 6 hours of your non-presence.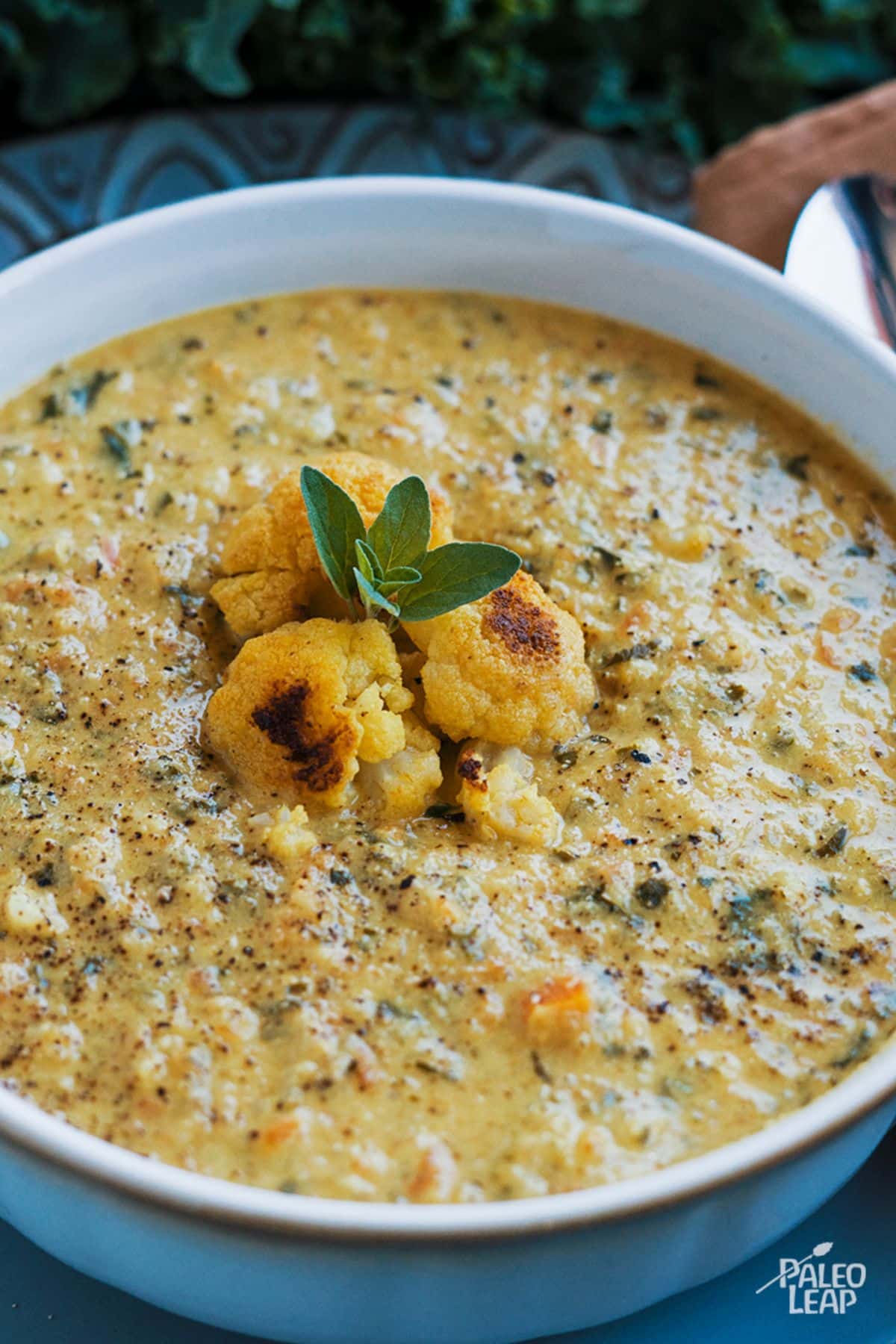 Either way, you are bound for a heart-warming treat at the end of the day, hopefully with enough leftovers for easy-to-reheat lunches or even to freeze for a later date.
In winter months, we could all use a little garlic, ginger, and turmeric in our lives. All three of these ingredients help us to boost our immune systems in times of need, and as luck would have it, all three reside in this curried cauliflower and kale soup.
If you aren't familiar with the many benefits of turmeric, you should be. You may recognize it by its intense golden color, and if you have ever gotten it on your hands, you know that it stains temporarily (as a side note, it can be used to whiten your teeth), but in all of its superb yellowness, it is most renowned for its anti-inflammatory effects.
Tastewise, turmeric brings depth to whatever stew, soup, or curry you are indulging in. And if you can find it in a fresh version, it even makes a wonderful addition to ginger and turmeric orange juice. With this soup, you truly can go for gold!
Curried Cauliflower And Kale Soup Recipe
Serves: 4 Prep: 25 min Cook: 35 min
Ingredients
1 head of cauliflower, chopped into florets
1 bunch of kale, stems removed and chopped
2 to 3 carrots, diced
1 yellow onion, diced
1 tbsp. fresh ginger, minced
2 garlic cloves, minced
2 tbsp. curry powder
1 tsp. turmeric powder
½ tsp. cumin powder
½ tsp. paprika
2 to 3 cups vegetable stock
1 cup coconut milk
4 tbsp. coconut oil
Sea salt and freshly ground black pepper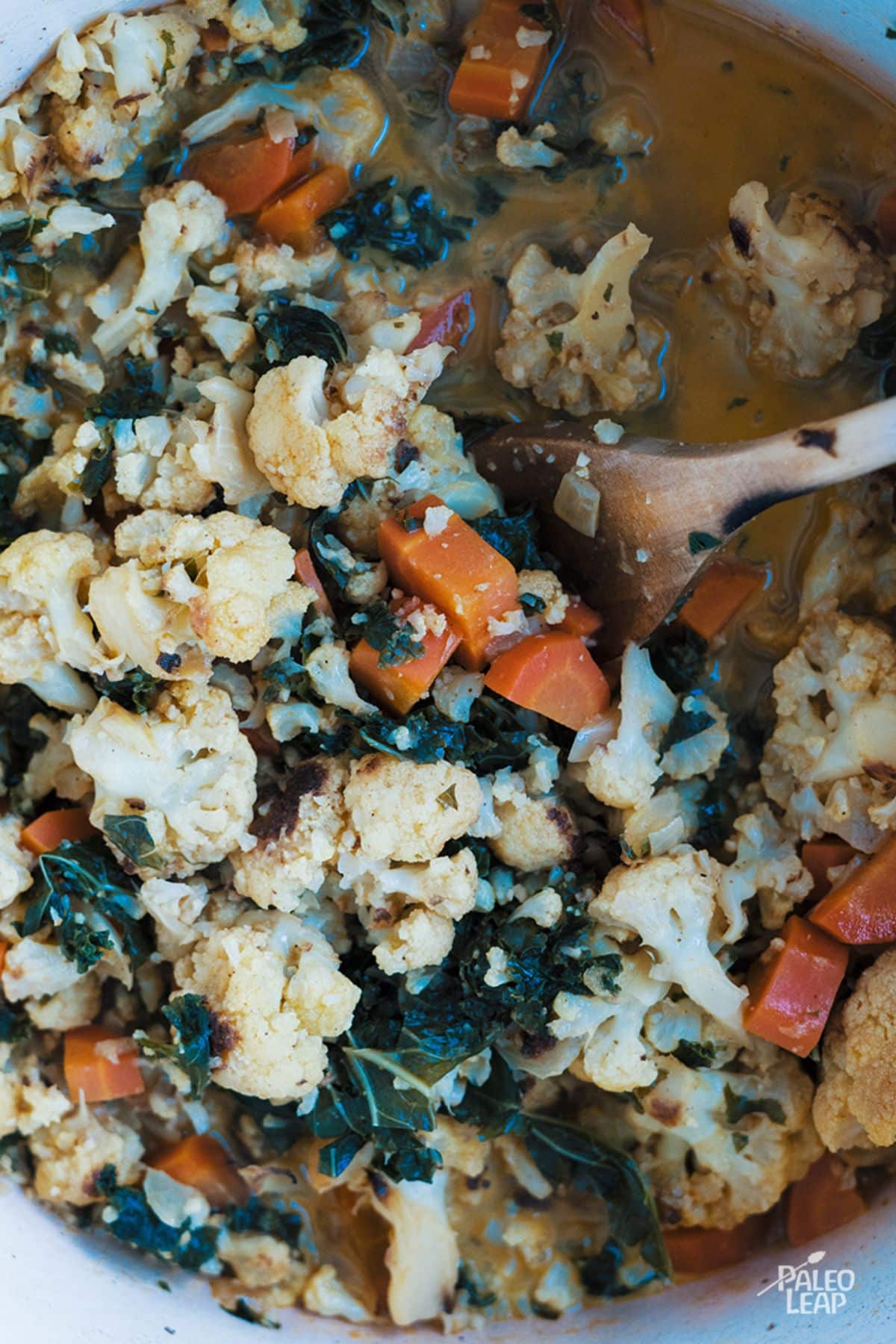 Preparation
Melt coconut oil in a pot over medium heat.
Add the onion, garlic, and ginger; cook until fragrant, 2 to 3 minutes.
Add the cauliflower florets and carrots; cook everything for 4 to 5 minutes, stirring occasionally.
Sprinkle in the spices: curry, turmeric, cumin, paprika, sea salt, and black pepper; give everything a good stir.
Pour in the vegetable stock and toss in the kale.
Cover and cook over low heat until all vegetables are soft, 15 to 20 minutes.
Blend the soup using an immersion blender to desired consistency.
Pour in the coconut milk, give another quick blend, and cook until everything is nice and warm.
Adjust the seasoning and serve.
📖 Recipe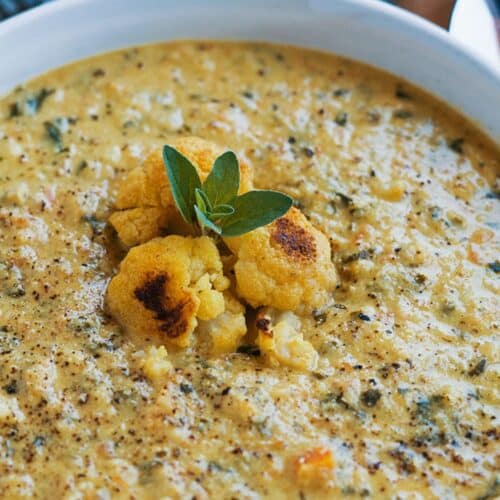 Curried Cauliflower And Kale Soup Recipe
Soul-nourishing and heart-warming, this curried cauliflower and kale soup will save the day with notes of turmeric along with hints of cumin and fresh ginger.
Instructions
Melt coconut oil in a pot over medium heat.

Add the onion, garlic, and ginger; cook until fragrant, 2 to 3 minutes.

1 yellow onion,

2 garlic cloves,

1 tbsp. fresh ginger

Add the cauliflower florets and carrots; cook everything for 4 to 5 minutes, stirring occasionally.

1 head of cauliflower,

2 to 3 carrots

Sprinkle in the spices: curry, turmeric, cumin, paprika, sea salt, and black pepper; give everything a good stir.

2 tbsp. curry powder,

1 tsp. turmeric powder,

½ tsp. cumin powder,

½ tsp. paprika,

Sea salt and freshly ground black pepper

Pour in the vegetable stock and toss in the kale.

2 to 3 cups vegetable stock,

1 bunch of kale

Cover and cook over low heat until all vegetables are soft, 15 to 20 minutes.

Blend the soup using an immersion blender to desired consistency.

Pour in the coconut milk, give another quick blend, and cook until everything is nice and warm.

Adjust the seasoning and serve.

Sea salt and freshly ground black pepper
Nutrition
Calories:
332
kcal
Carbohydrates:
21
g
Protein:
6
g
Fat:
29
g
Saturated Fat:
23
g
Polyunsaturated Fat:
1
g
Monounsaturated Fat:
2
g
Sodium:
540
mg
Potassium:
847
mg
Fiber:
7
g
Sugar:
6
g
Vitamin A:
2748
IU
Vitamin C:
87
mg
Calcium:
134
mg
Iron:
6
mg