The term curry can be a bit misleading because it includes so many different types of dishes from India or south Asia, and it could mean almost anything since the word curry basically means "stew".
We usually recognize them from the use of coconut milk as well as an elaborate blend of spices that are typically used in Indian cooking. Coriander, turmeric, cumin, nutmeg, cinnamon, fennel seeds, and ginger are only a few of them.
Instead of over-complicating things here, we'll use curry powder, which is a prepared blend of some of those spices used especially for the purpose of making curries.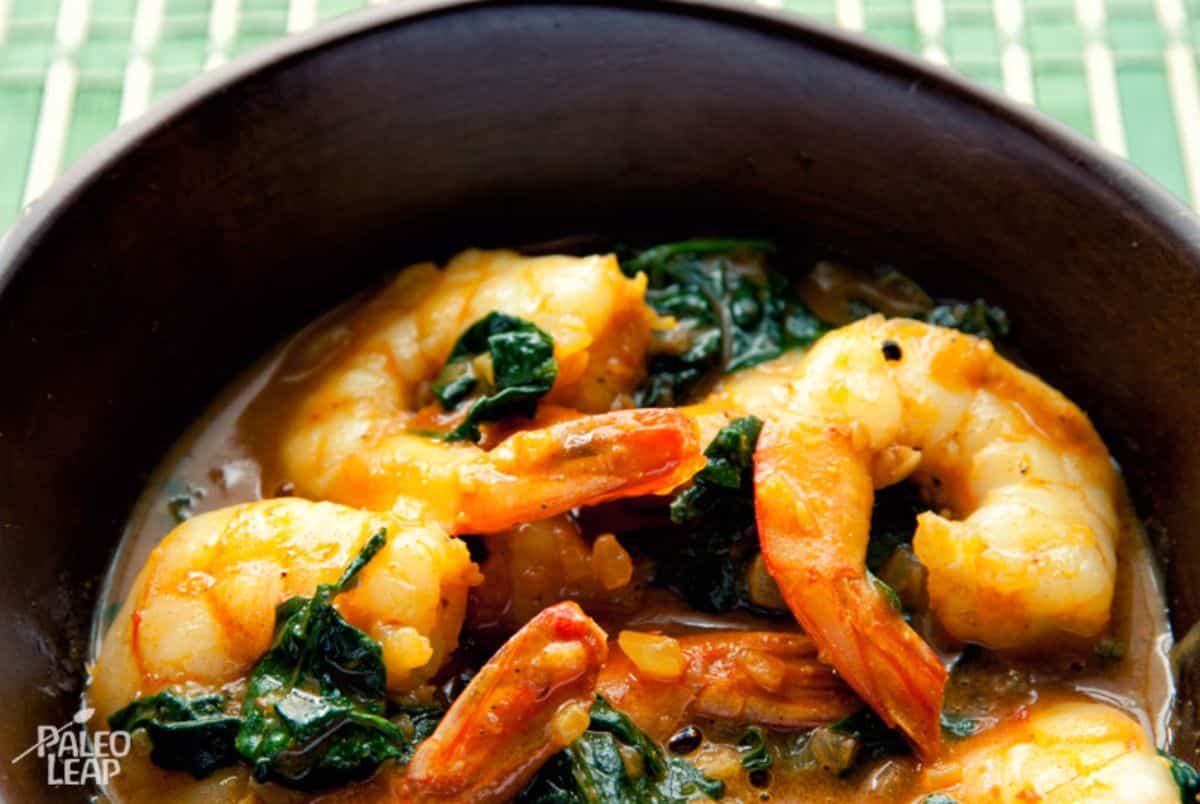 The following curried shrimp recipe is very quick and simple to prepare and requires only a few basic ingredients. It's so easy and quick that it'll be ready in less than 15 minutes. It's a great way to prepare delicious shrimp, which are too often forgotten in our day-to-day meal planning.
Nutritionally, we know that spinach is loaded with a multitude of nutrients like magnesium, iron, calcium, vitamin K and selenium. Shrimp, for their part, are a great source of vitamin B12 and selenium.
Clarified butter (ghee) or coconut oil are the two best choices to prepare this dish because curries taste amazing with butter and coconut undertones and are traditionally prepared with ghee in India.
Curried shrimp and spinach recipe
Serves: 4
Ingredients
2 lbs shrimp, peeled and deveined;
2 tablespoon ghee, butter, or coconut oil;
1 onion, chopped;
2 teaspoon curry powder;
2 teaspoon tomato paste;
½ cup homemade chicken stock;
1 cup full-fat coconut milk;
2 tightly packed cups of shredded spinach;
Sea salt and freshly ground black pepper to taste;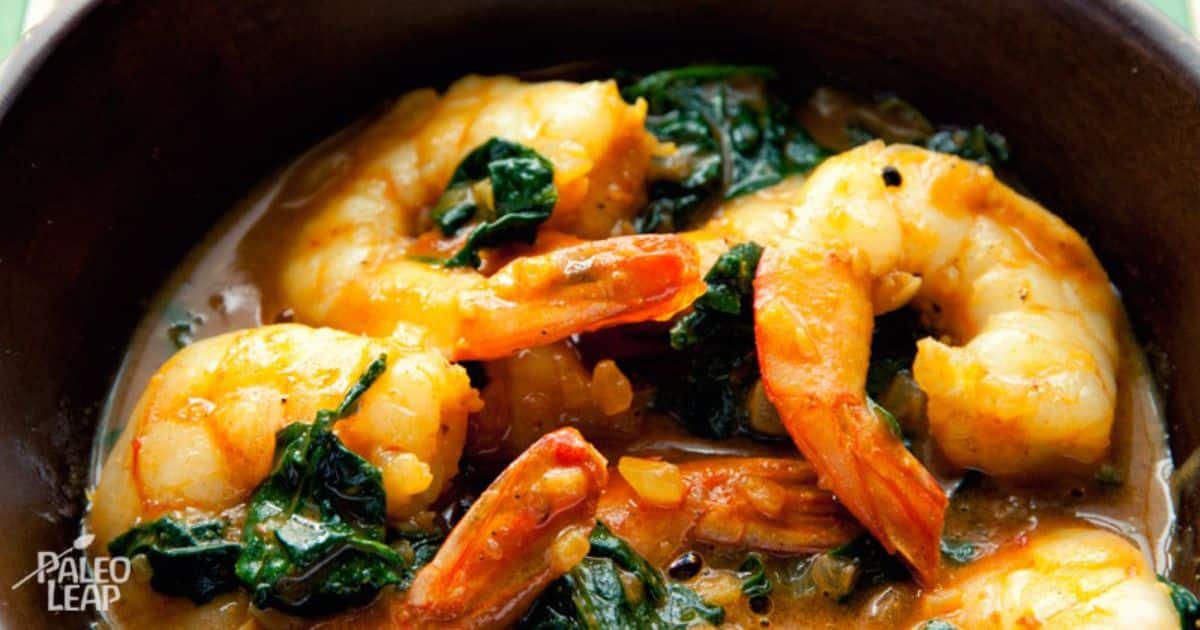 Preparation
Heat a large skillet over medium-low heat and cook the onion in the ghee, butter, or coconut oil until it begins to soften, about 3 minutes.
Season to taste with sea salt and freshly ground black pepper, stir in the curry powder, and continue cooking for a minute.
Place the mixture in a blender or a food processor, and add the tomato paste as well as the chicken stock and coconut milk. Process or blend until smooth.
Pour the mixture back into the skillet and bring to a simmer.
Add the shrimp and spinach and cook, covered, for about 5 minutes, until the shrimp are just cooked.
📖 Recipe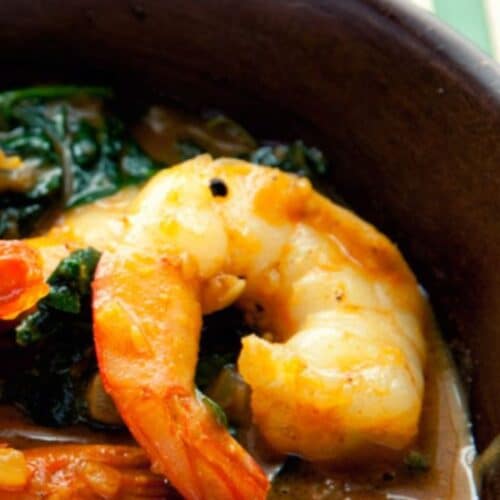 Curried shrimp and spinach recipe
A very quick and simple curried shrimp recipe that features an amazing taste profile and that'll be ready in only a few minutes.
Ingredients
2

lbs

shrimp

peeled and deveined

2

tablespoon

ghee

butter, or coconut oil

1

onion

chopped

2

teaspoon

curry powder

2

teaspoon

tomato paste

½

cup

homemade chicken stock

1

cup

full-fat coconut milk

2

tightly packed cups of shredded spinach

Sea salt and freshly ground black pepper to taste
Instructions
Heat a large skillet over medium-low heat and cook the onion in the ghee, butter, or coconut oil until it begins to soften, about 3 minutes.

2 tablespoon ghee,

1 onion,

1 cup full-fat coconut milk

Season to taste with sea salt and freshly ground black pepper, stir in the curry powder, and continue cooking for a minute.

Sea salt and freshly ground black pepper to taste,

2 teaspoon curry powder

Place the mixture in a blender or a food processor, and add the tomato paste as well as the chicken stock and coconut milk. Process or blend until smooth.

2 teaspoon tomato paste,

½ cup homemade chicken stock

Pour the mixture back into the skillet and bring to a simmer.

Add the shrimp and spinach and cook, covered, for about 5 minutes, until the shrimp are just cooked.

2 lbs shrimp,

2 tightly packed cups of shredded spinach
Nutrition
Calories:
930
kcal
Carbohydrates:
6
g
Protein:
175
g
Fat:
29
g
Saturated Fat:
15
g
Polyunsaturated Fat:
1
g
Monounsaturated Fat:
3
g
Cholesterol:
2606
mg
Sodium:
8059
mg
Potassium:
245
mg
Fiber:
1
g
Sugar:
2
g
Vitamin A:
104
IU
Vitamin C:
4
mg
Calcium:
931
mg
Iron:
19
mg