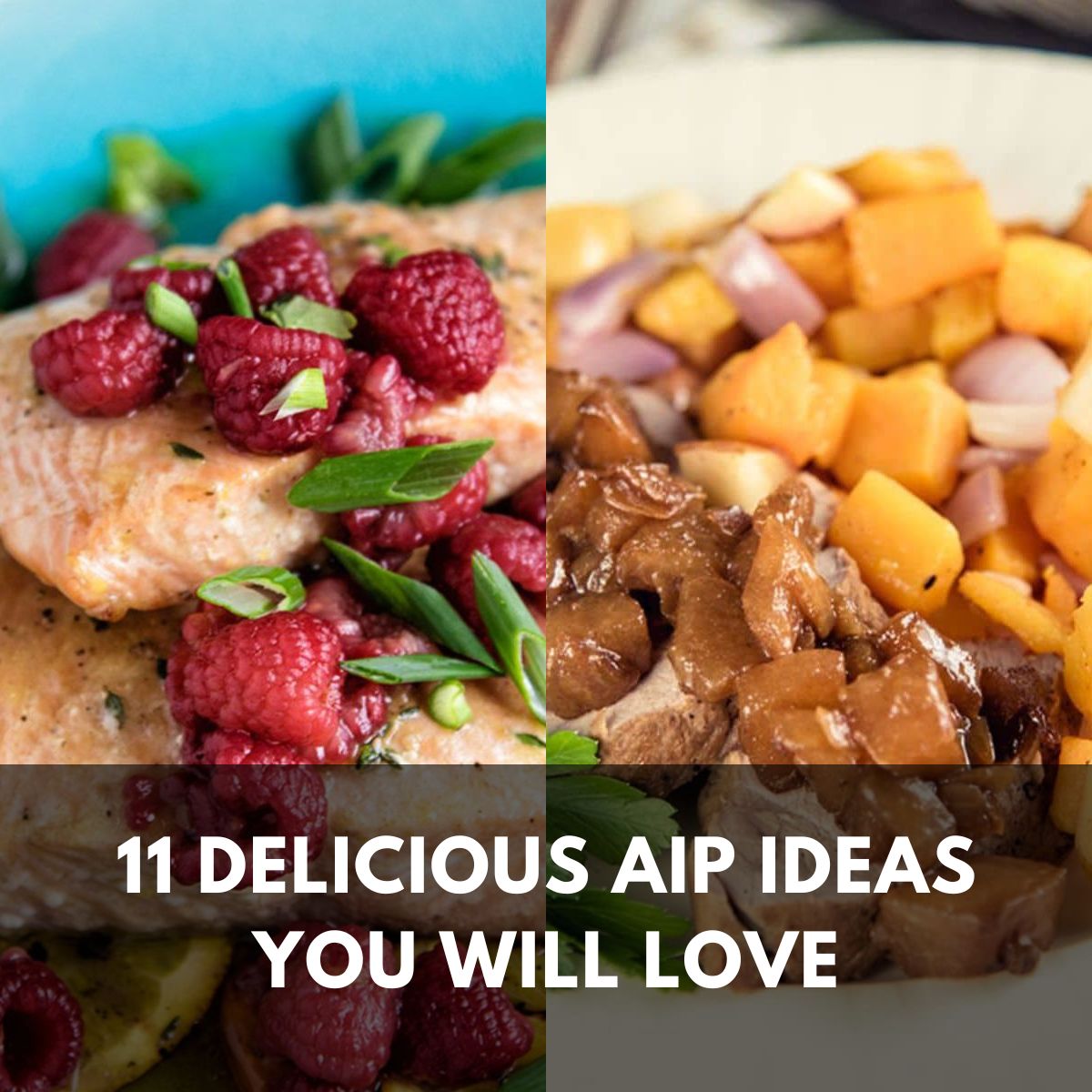 Autoimmune disorders are an unfortunate reality for many, and they tend to limit the number of foods you can eat considerably. Luckily, the AIP diet is designed to help outline what you can consume safely and alleviate symptoms of autoimmune disease.
While this elimination diet is strict in what you can eat due to its nature, that doesn't mean you have to give up all the foods you love. In this list, we've outlined some delicious AIP-friendly dishes that are both healthy and quick and ones you're sure to make over and over again.
If you're ready to get back to enjoying some fine cuisine with a sensitive gut, then here are 11 incredible AIP ideas with links to their recipes.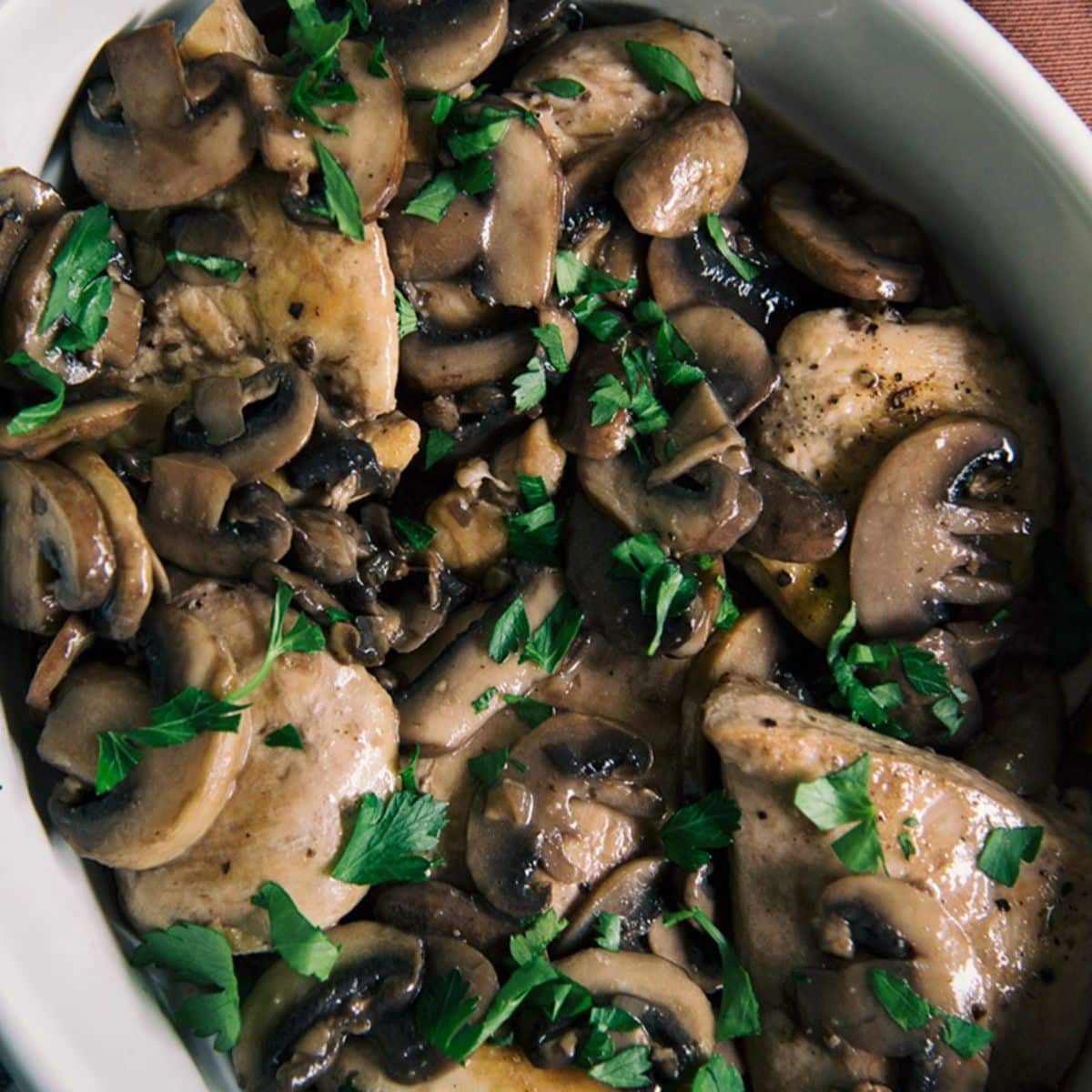 Chicken marsala is a savory Italian chicken dish you can enjoy on the AIP diet and is jam-packed with protein, healthy carbs, and nutrients. While the diet typically restricts alcohol consumption, the cooking process cooks out the booze and only leaves behind the delicious flavor of marsala wine to compliment the hearty mushrooms and chicken.
If you want a one-pan meal that's simple and nutritious, then you can't go wrong with a heaping plate of chicken marsala.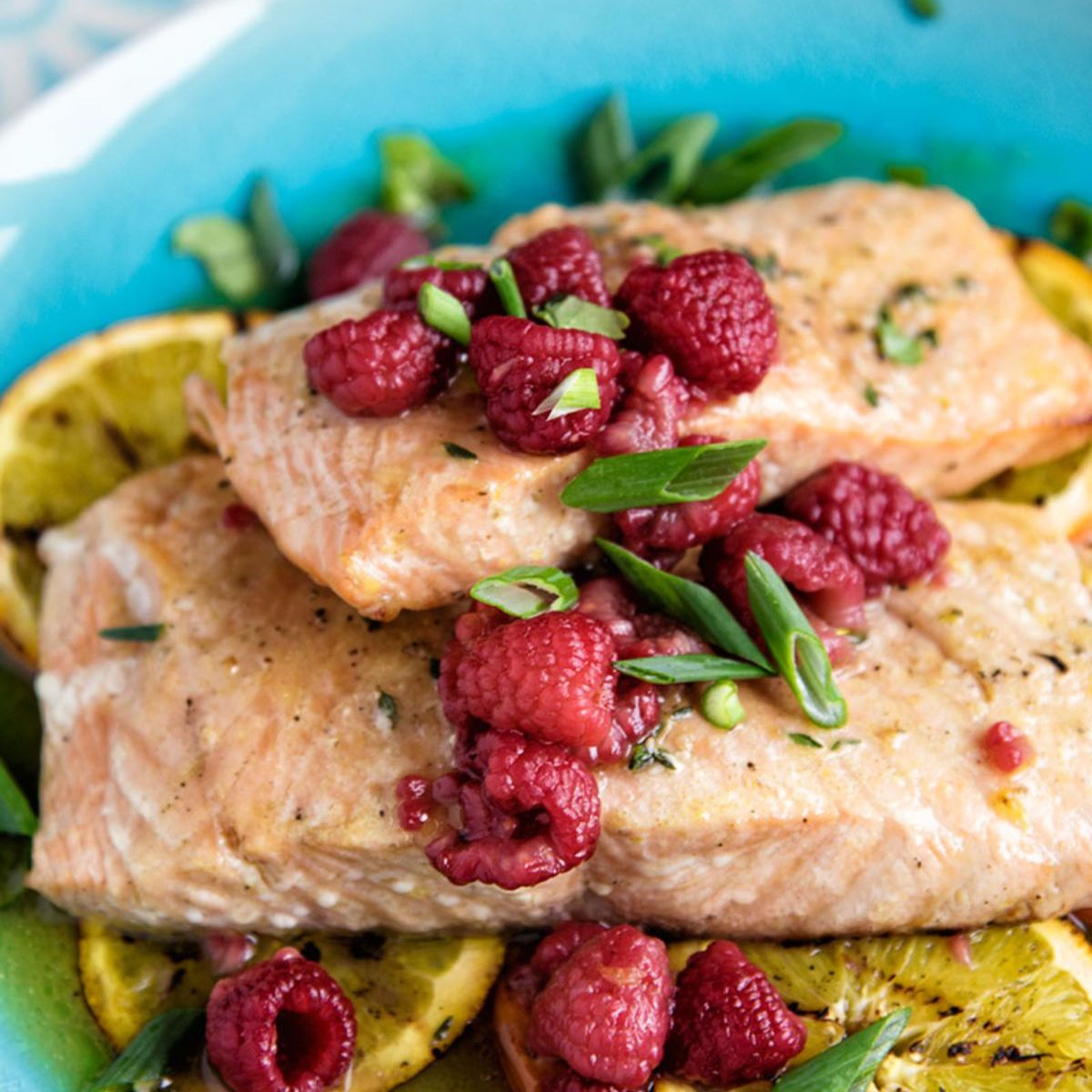 Fish is one of the top meats you can eat on pretty much any diet, and the king of all food that swims is none other than salmon.
Meaty, succulent, and full of omega-3 fatty acids, salmon can be enjoyed pan-fried with a little bit of oil, but sometimes it's better to take things up a notch and add a sweet, fruity sauce. While your first instinct might not be to pair the orange fish with oranges and raspberries, we can assure you that it's an absolute match made in heaven.
As the recipe below details, if you're making this recipe for the AIP diet, then you'll want to leave out the coriander.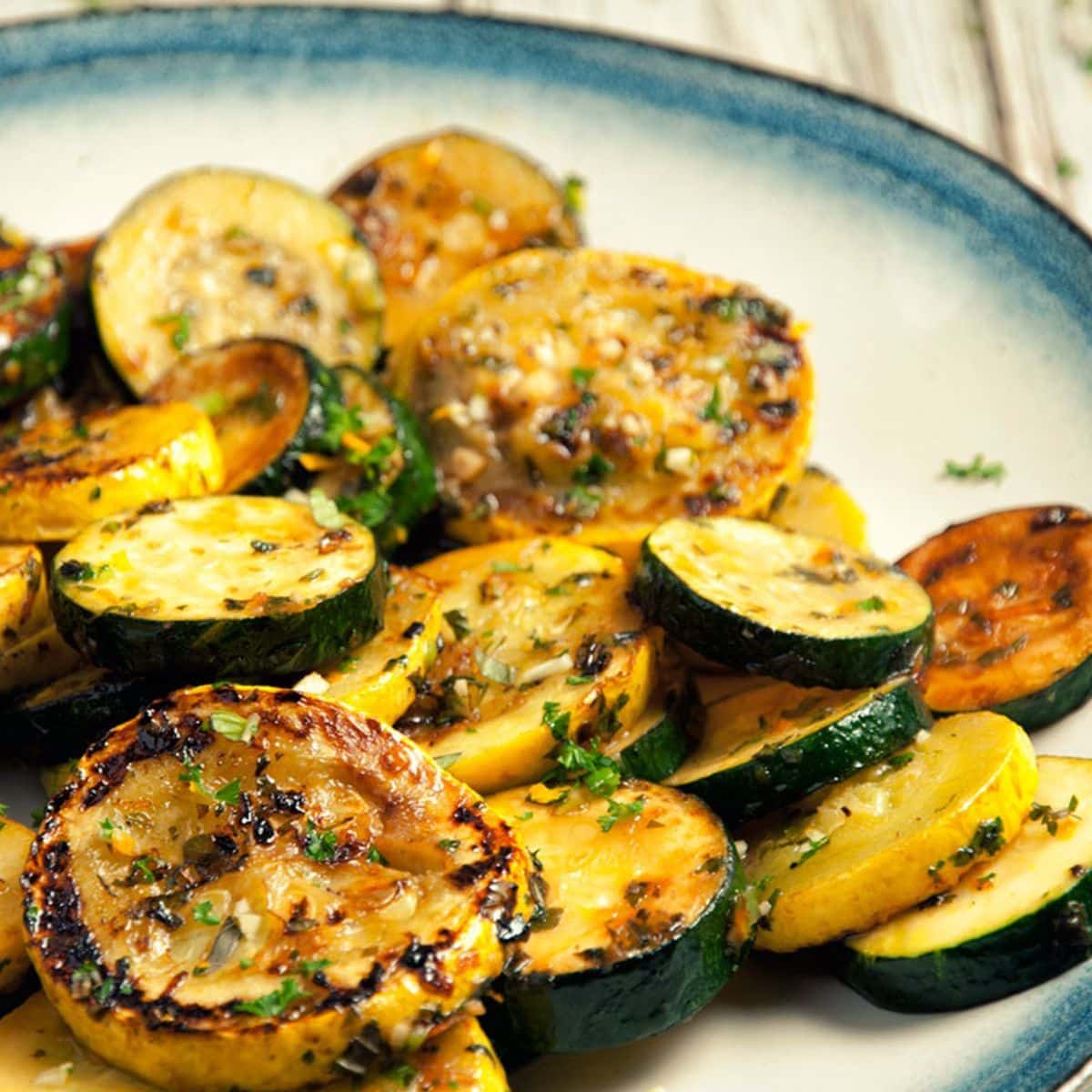 Remember this: no matter what diet you're on or what kind of cultural cuisine you're cooking, eating vegetables should never be a chore.
Kids growing up seem to have a problem eating their greens, but that's most likely because they're not getting the right veg recipes. Well, we can guarantee that this Italian-inspired zucchini gremolata will please most children and adults with its zesty charms and herby fragrance. It pairs well with any fish, chicken, or beef dinner and is incredibly healthy to boot.
And the best part? It's effortless to make.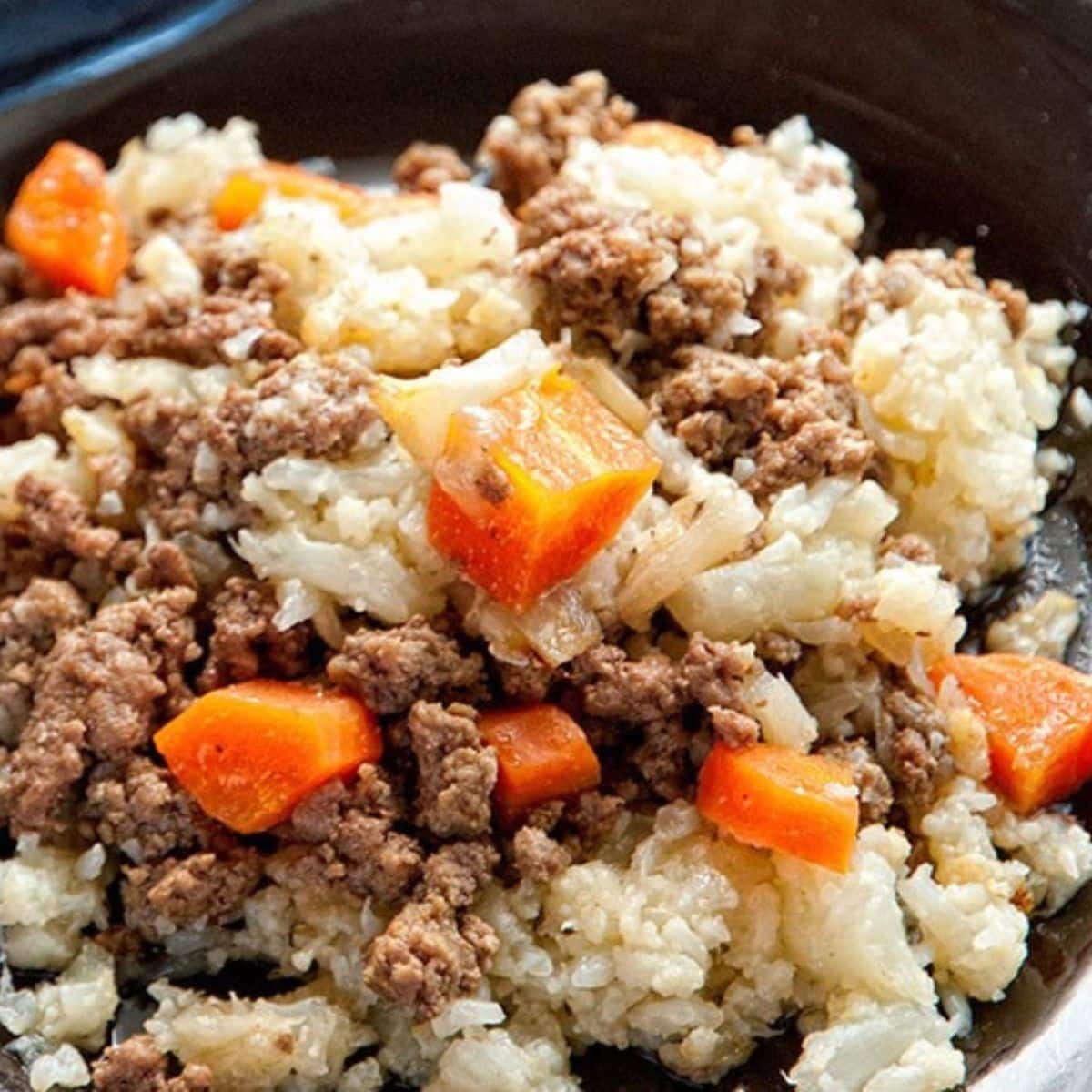 One of the saddest parts of the AIP diet is the loss of potatoes since it doesn't allow nightshade vegetables. That means you can't eat things that include potatoes, such as shepherd's pie.
Or at least, that's what most people think.
Little do they know, cauliflower makes a splendid substitute for the dish and acts as a near-perfect replacement for the creamy potato topping we all know and love. This way, we can warm those cold winter nights up with a hearty serving of shepherd's pie and keep our bodies nourished and full.
If you're following this recipe, be sure to leave out the paprika garnish.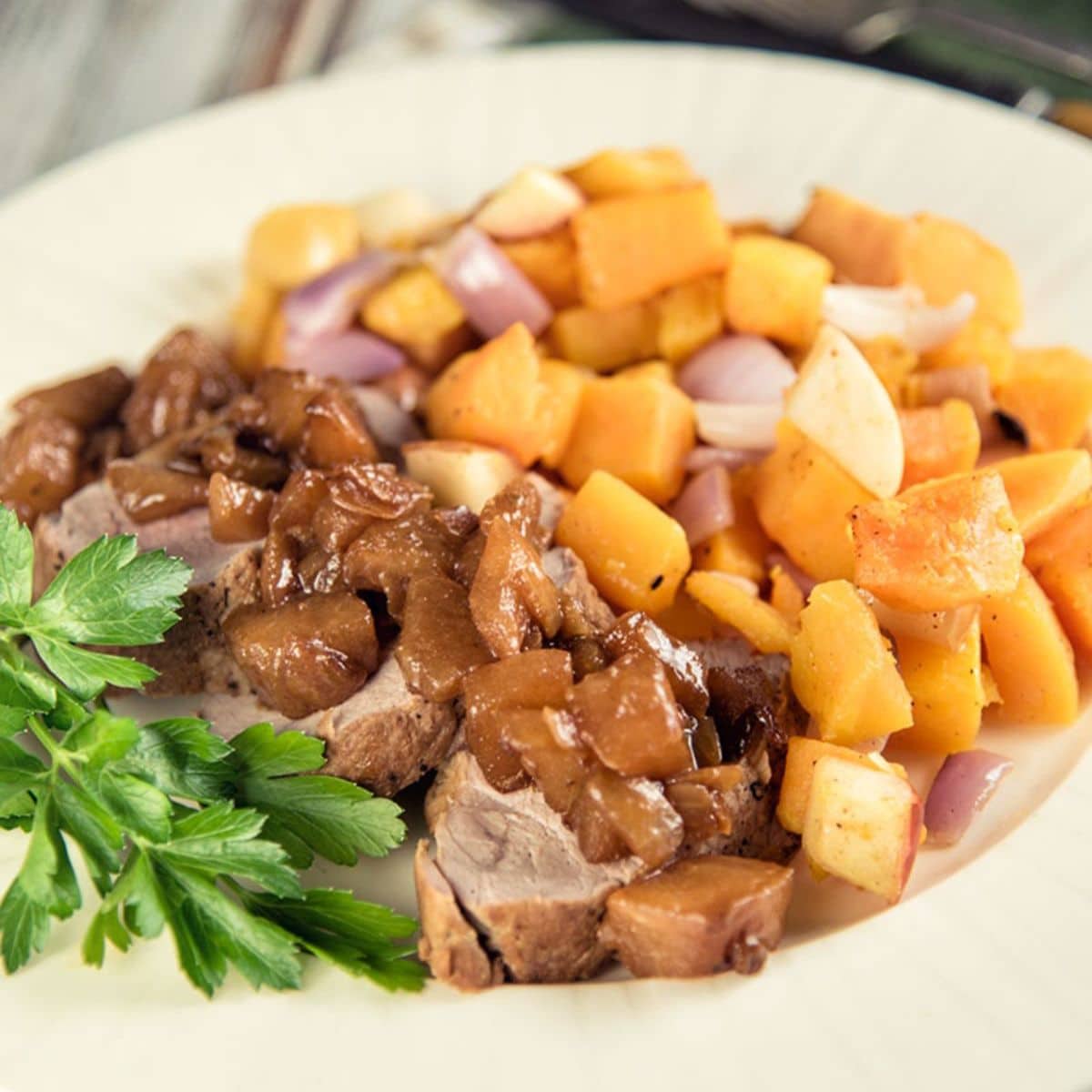 Pork goes notoriously well with fruits and fruit sauces. This is because the dense protein needs a bit of sweetness to cut through its intense flavor. So, if you're a fan of fruits and pork, then we've got just the dish for you.
This pork tenderloin, pear, and roasted butternut squash recipe is a complete meal that fulfills your daily nutritional needs and keeps your stomach feeling full to fight off those frequent hunger pangs. It tastes great, and it's sure to make its way into your weekly dinner routine as a quick and efficient entry for those long work days.
This idea is a 2-for-1 as you get the pork AND the roasted butternut squash recipes.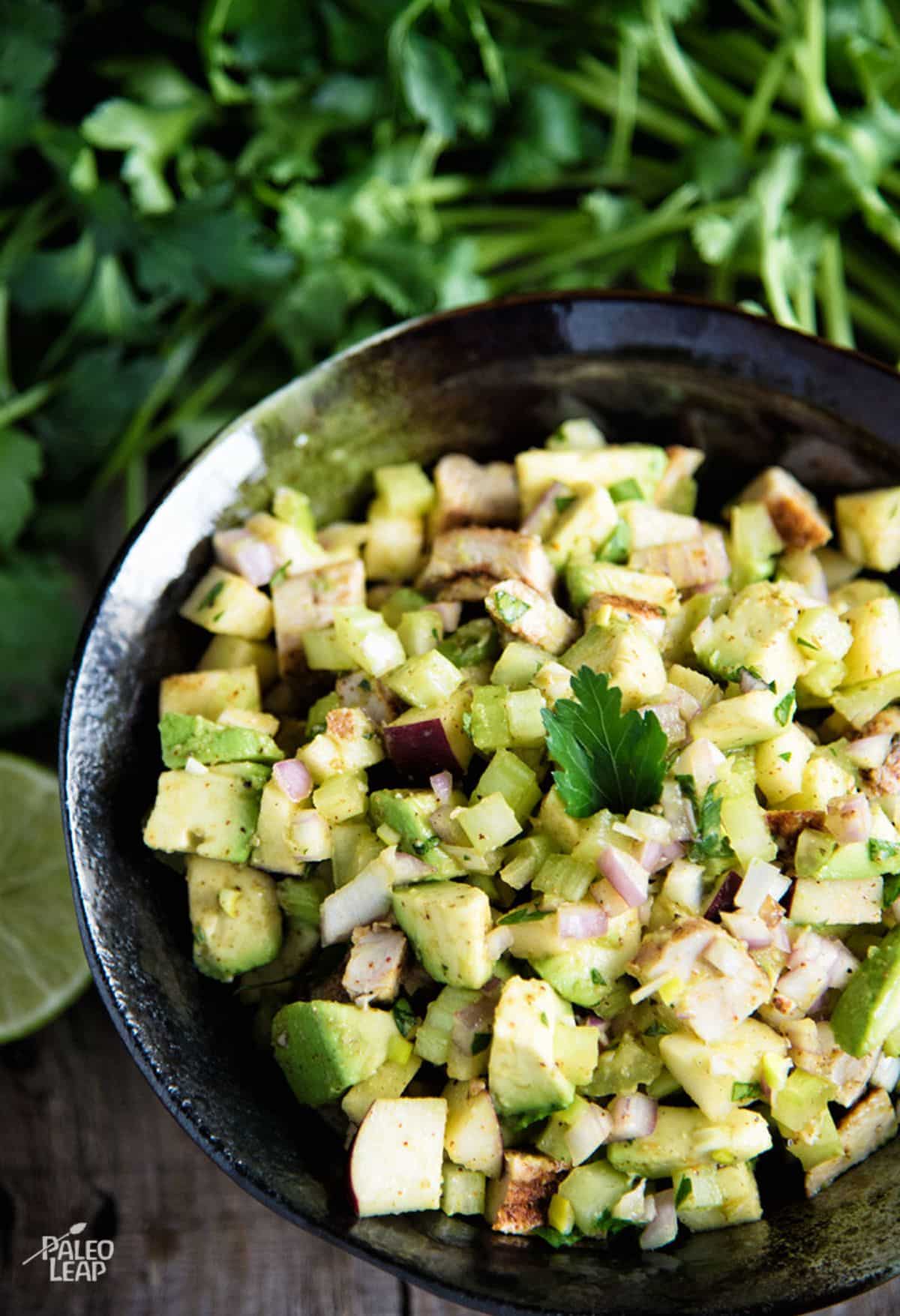 Don't worry; we've got you covered with some delicious, AIP-friendly lunch options as well, though you can certainly enjoy this one for dinner or breakfast as well.
Avocados, apples, and chicken don't meet often, but when they do, it's a flavor explosion. There's just something about the creaminess of the avocados that goes marvelously with the fruity crunch of apples and the succulent meat of chicken which all combines to create a filling, well-rounded salad.
It's not often you get a dish so full of superfood goodness, after all.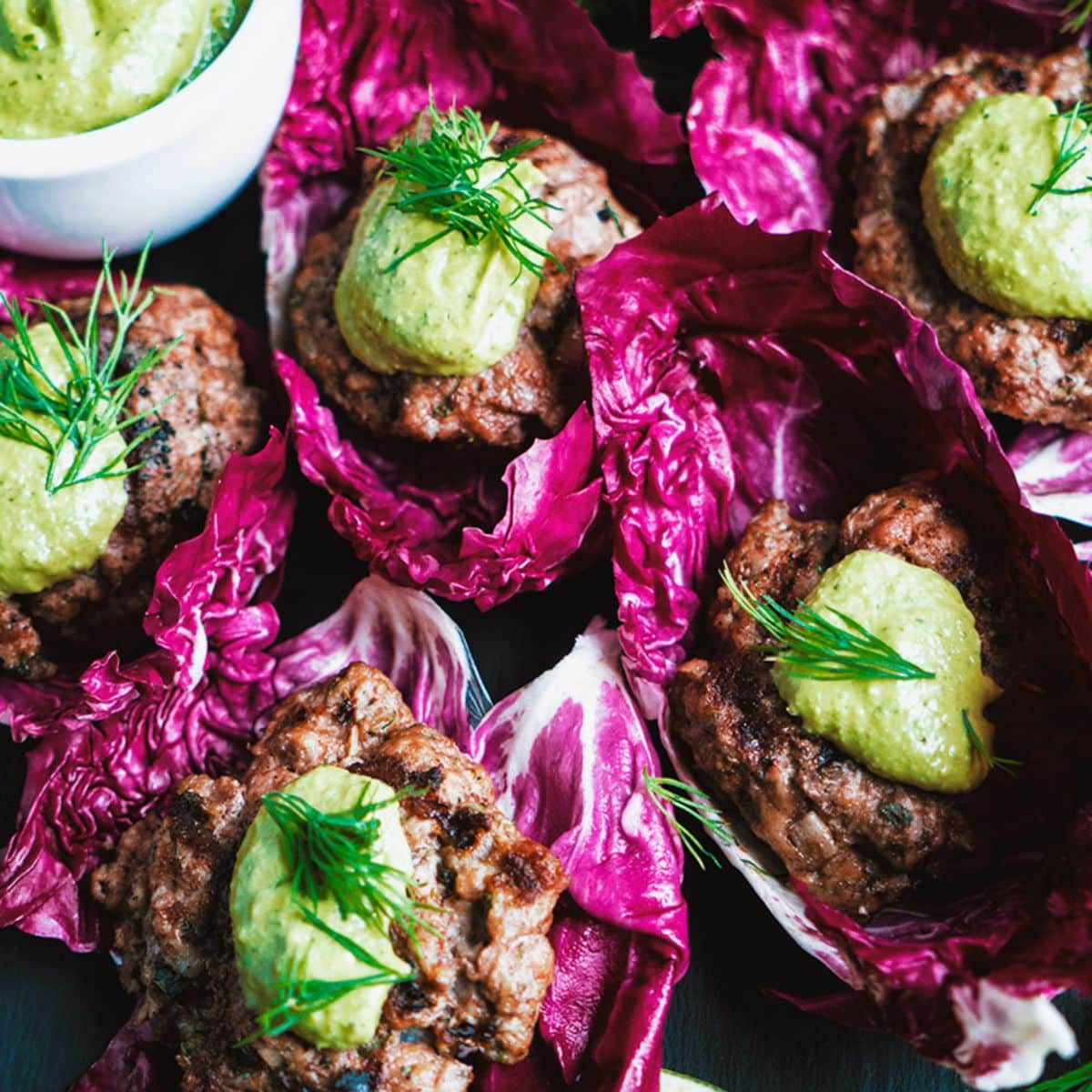 Let's keep the avocado train going with some stunning grilled lamb burgers.
Sure, you could make regular ol' beef burgers on the AIP diet, but you already knew that. Instead, why not shake things up with some ground lamb to go with your avocado sauce and lettuce buns?
In this recipe, you'll want to leave out the paprika and use coconut milk instead of mayonnaise for the sauce.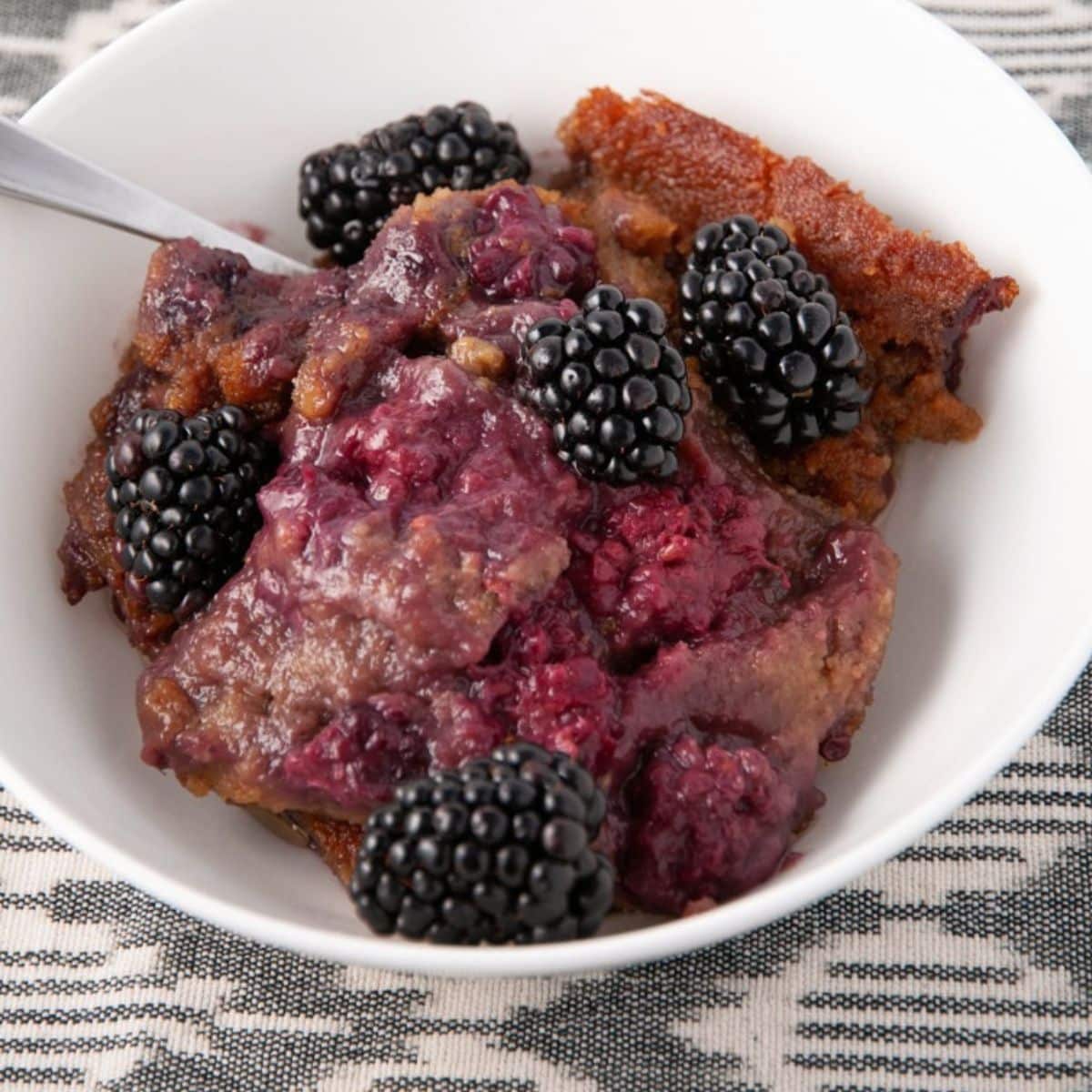 With dairy, grains, and processed sugar out of the question, desserts seem like an impossibility on the AIP diet.
But fret not! Where there is a will, there is a way.
And the "way" we are referring to is blackberry cobbler (as you can surmise from the title of this entry). Instead of traditional wheat flour, this recipe uses coconut flour for the crust, coconut sugar instead of granulated, and ghee instead of butter. Combined with some fresh blackberries, you've got yourself a heavenly dessert that'll curb your sweet tooth and keep the unwanted pounds away.
Baked apple chips might not be quite as good as regular potato chips, but they're way more healthy and suitable for the AIP diet. The trick to enjoying these delectable little snacks is not seeing them as a replacement but rather as something else entirely.
The real beauty of baked apple chips lies in their simplicity (they only require two ingredients), snackability, and utter convenience. Make these chips a week in advance and snack on them anytime you're hungry in between meals.
You don't have to feel guilty about eating baked apple chips since they're low in calories, and you can eat as many as you like.
One of the most luxurious cuts of beef is the rib roast. It's from the rib section of the cow and is prized for how tender and delicious it is.
Fatty, juicy, and flavorful, this recipe is a crowd-pleaser for most special occasions and falls in line with the requirements of the AIP diet. While the fattiness of the meat prevents you from eating it every day (and the fact that it's expensive), it's still something you should make every once in a while.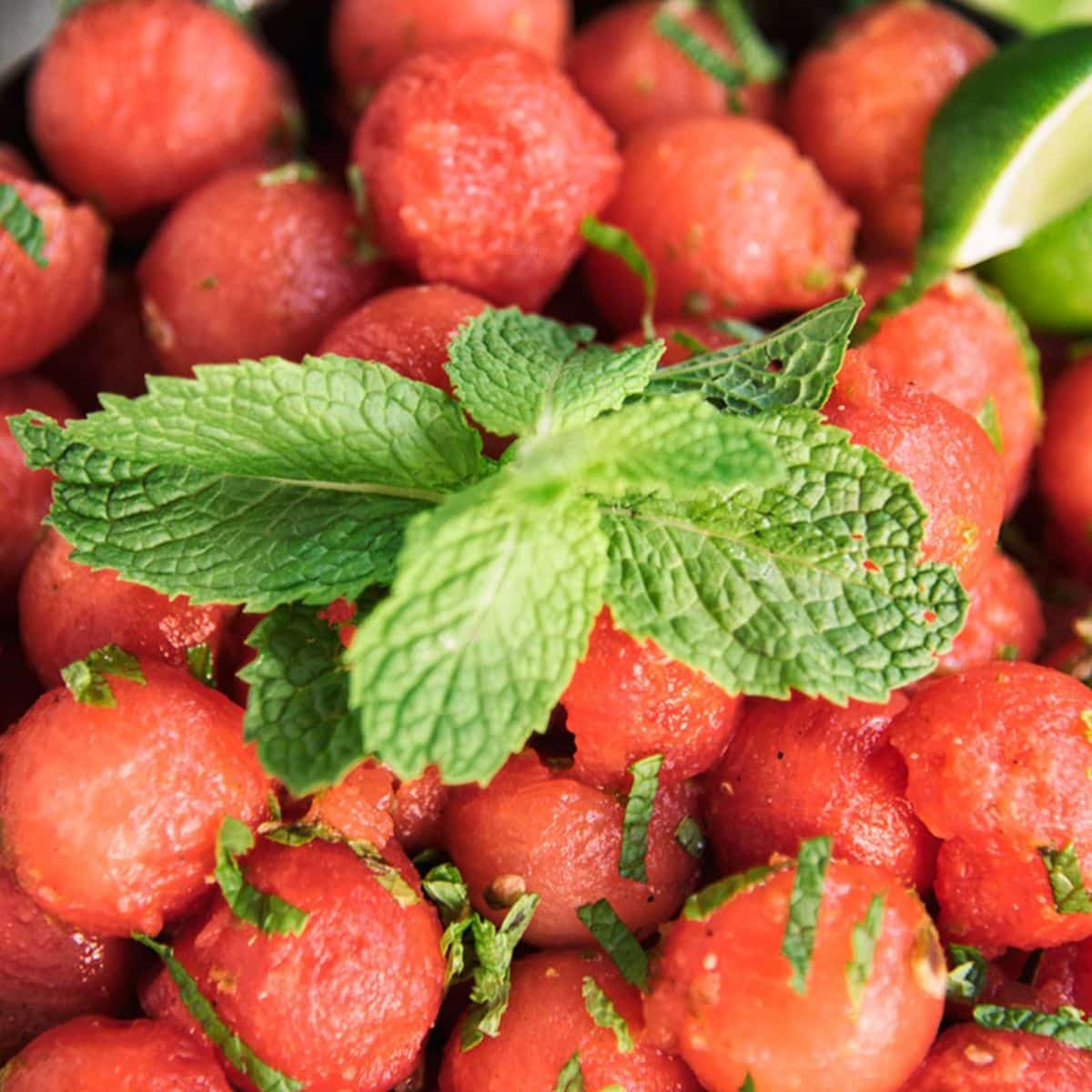 Ending things off with something light and refreshing, mint and watermelon salad can make a mouthwatering snack for even the hottest of summer days. While it's a favorite amongst children, even adults find themselves bringing out their inner adolescents when it comes to this zesty watermelon salad.