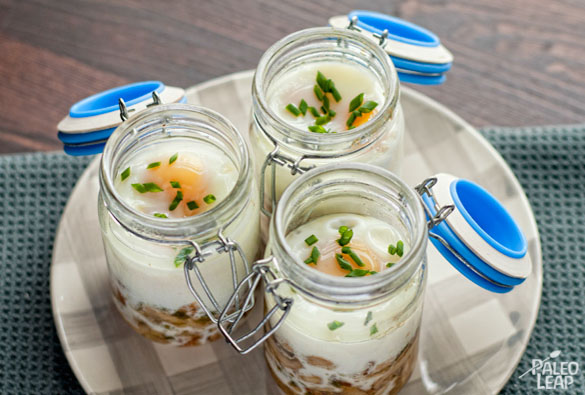 I sometimes find myself at a crossroad when it comes to preparing an original recipe to keep people entertained and intrigued at the table. Most of the time, I like to rely on the use of different and unique ingredients, some of which are not always commonly available in mainstream grocery stores. It makes it less simple and more time consuming to prepare some of these more original and creative recipes. This is especially true when you have to go across town to get that one special ingredient. This time around I asked myself about how I could prepare something different while using only simple ingredients that can be found anywhere. The easiest way when using simple ingredients and trying to keep it interesting and different is often in the final presentation or the preparation of the dish. Here I turned a simple breakfast or lunch idea into something totally different and fun simply by changing its presentation.
I enjoy preparing and serving this dish to guests mainly because of their surprise when getting a full and delicious breakfast or lunch in a single glass jar. This egg in a jar recipe is filling and fun to eat and the combination of eggs, bacon, mushrooms, green onions and chives are a perfect match. There's no problem with being a little creative with this recipe; pieces of sausage, bell peppers and zucchinis are great examples of alternative ingredients to use.
Keeping in mind that eggs contain a powerhouse of nutrients and that, in most cases, bacon doesn't have to be frowned upon, this recipe is also highly nutritious.
You can use pretty much any kind of glass jars to prepare this recipe. I used small mason jars that I personally own, but you can use pretty much any type of glass recipient that's heat resistant. Simply make sure that they are high enough to ensure that no water will go over the edge when cooking the eggs in the pot of boiling water. Since there's enough space for two eggs per jars in the jars that I used, I chose to add two eggs per jar, but you can do it with only one egg if you don't have the jar space or the appetite.
Egg In A Jar Recipe

SERVES: 4

PREP: 10 min.

COOK: 35 min.

Values are per portion. These are for information only & are not meant to be exact calculations.
Ingredients
4 or 8 large eggs;
3/4 lb button mushrooms, thinly sliced;
4 slices of bacon, cut into chunks;
2 green onions, minced;
1 tbsp. chives, minced;
1 tsp. almond flour;
½ cup of chicken stock;
2 tsp. fresh lemon juice;
1 tbsp. Paleo cooking fat;
Sea salt and freshly ground black pepper to taste;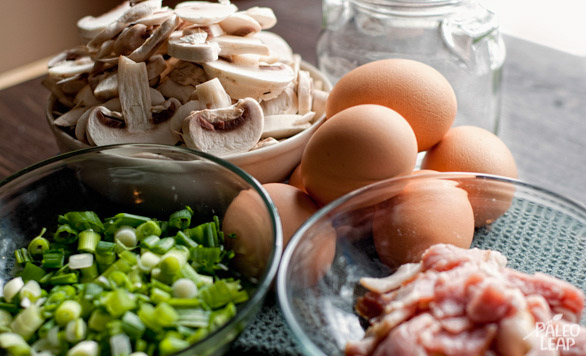 Preparation
In a skillet placed over a medium-high heat, add the bacon and the cooking fat and cook for about 7 to 10 minutes, until brown.
Add the mushrooms and the green onions to the bacon and cook for another 3 to 5 minutes.
Add the almond flour and combine everything together, then add the chicken stock and lemon juice. Bring to a boil and cook until a nice texture is obtained.
Prepare 4 glass jars and rub some cooking fat on the bottom and inside edges. Pour some of the bacon and mushroom mixture evenly in each jar and break one or two eggs on top. Season with sea salt and freshly ground black pepper to taste.
Place the 4 jars into a big cooking pot, making sure they are stable and add water until it reaches the middle of your jars. Bring to a medium-high heat and cook 15 to 20 min or until the eggs are cooked the way you like them.
Once the cooking is done, remove the glass jars from the pot using a jar lifter, being careful not to burn yourself on the very hot jars. Set aside until cool enough to handle, sprinkle some chives on top and serve.