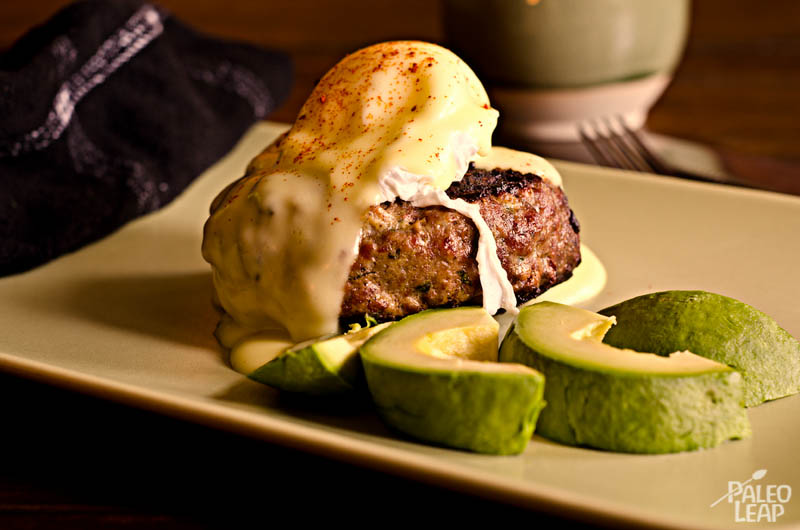 The concept of an eggs benedict burger is something new to me, but what it entails of are all things that I've tried in various ways as separate recipes. In our Quick and Simple Paleo Meals bonus that now comes with the cookbook, you will find a recipe for delicious eggs Benedict and on the website you'll also find a great recipe for Portobello burgers. I never thought of throwing it all together, but the result is absolutely great. Here I decided that it was enough here with the Hollandaise sauce, the egg and the patty, but if you can always enjoy it on top of a portobello mushroom as well. The only tricky part of this whole thing might be to determine the best time of the day to enjoy that meal. Eggs with Hollandaise sauce are usually a traditional breakfast, but a burger is often best enjoyed for lunch or dinner. It's really up to you to determine this, but I would recommend skipping it as a morning meal. The burger is probably going to be too heavy for most people at an early hour. Mind you, if it's brunch time, that's another story.
Hollandaise is the classic sauce served on eggs Benedict and is a great sauce for all kinds of egg dishes as well as on vegetables or fish. Hollandaise sauce is served hot, but other than that it's similar to mayonnaise. It's usually prepared with clarified butter as well as white wine vinegar, white peppercorns, eggs and lemon juice. You'll find a great Hollandaise sauce recipe in the cookbook. The preparation process is a little move involving than that of homemade mayonnaise, but the different and particular taste can be worth the extra effort. With that said, don't hesitate to use mayonnaise in the following dish instead of the Hollandaise sauce of you desire.
Of course, this dish is great in the summertime when it can be enjoyed outdoors and when the burger patties can be cooked on the BBQ, but they are just as great when pan-fried. It's bound to be as popular with kids as it will be with adults.
Eggs Benedict Burgers Recipe
Makes 6 to 8 patties

Values are per portion. These are for information only & are not meant to be exact calculations.
Ingredients
3 lbs ground grass-fed beef (not too lean if you want a very flavorful patty);
3 large eggs;
2 cloves garlic, minced;
1 tbsp fresh herbs of your choice, finely chopped;
6 to 8 large eggs;
2 large avocados, cut into thick slices;
Paleo mayonnaise or Hollandaise sauce to serve;
Sea salt and freshly cracked black pepper to taste;
Preparation
Place the ground beef in a large bowl and add the 3 eggs. Combine until the eggs are evenly mixed through.
Mix in the garlic and season with salt, peppers and your choice of fresh herbs.
Form 6 to 8 patties that are slightly smaller than the mushroom caps so they can fit on top once cooked.
Place on a preheated BBQ grill and cook on each side for about 5-7 minutes (the time it takes will depend on the temperature of your grill. I cooked them at medium-low for approximately 6 minutes).
While the burgers are on the grill, poach the eggs. If you don't have a poacher, this can be done easily by boiling a pot of water, adding a few tablespoons of vinegar to the water and then cracking the eggs into the pot. Allow them to cook for 5 to 7 minutes before removing.
Once the patties are cooked, remove them from grill. To serve place the poached eggs on each burger patty.
Pour some homemade mayonnaise or Hollandaise sauce over the eggs and burgers. Serve with the avocados slices on the side.
You can also add other toppings or condiments depending on your preferences. Lettuce and tomato slices are two good options.