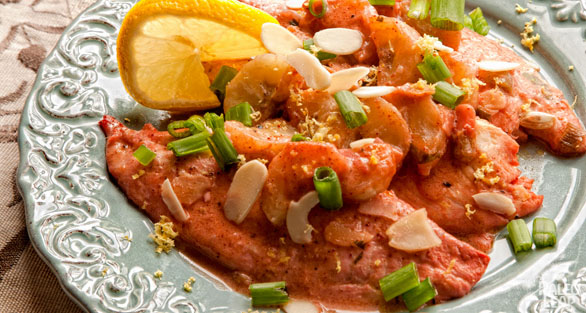 This Thai inspired dish is one that never fails at surprising people. They usually don't trust me at first when they find out about the combination of these ingredients, but they change their minds as soon as they take a small bite and they discover the amazing flavor profile of this dish. The combination of white fish like tilapia with bananas in a spicy curry sauce is so different from what most people are used to. It's definitely one of those Paleo dishes that you will prepare time and time again.  This is also a really quick recipe to prepare as fish usually doesn't take much time to cook anyway. It's fast, efficient and everyone will ask for more. Also on the plus side, the coconut milk makes it a very rich and filling dish.
When cooking with bananas, what you really have to watch for is their ripeness. Basically, you shouldn't use bananas that are too ripe, especially when cooking curries or stews.  For this recipe, you'll be looking for bananas that are either under-ripe or just barely ripe, they will hold together a lot better in the sauce and they are also usually less sweet. If your bananas are a tad too ripe, just wait a bit longer to add them with the fish as they'll need less time to cook and won't go too soft that way.
I used tilapia for this recipe, but you can use just about any kind of white fish. Tilapia is just one of those fishes that I don't think of using nearly enough when preparing my meal plan for the week.  However, every time I do think of this fish, it often ends up being one of my favorite meals of the week.  Tilapia may have a stronger taste than some other white fish, but it works absolutely beautifully in this recipe. Again, you can always choose your own kind of fish; cod and halibut would be two good options.  As usual when it comes to fish, look for a fish that has been wild-caught.
Red curry paste is a prepared combination of curry spices and vegetables. It usually contains vegetables, spices and herbs such as chillies, bell peppers, cayenne pepper, cumin, turmeric and garlic. Look for a brand that doesn't come with any bad ingredients like vegetable seed oils. You should be able to find a good quality red curry paste in the ethnic section of most grocery stores. The paste adds some great spiciness and heat to the dish.
Fish curry with bananas recipe

SERVES: 4

PREP: 10 min.

COOK: 20 min.

Values are per portion. These are for information only & are not meant to be exact calculations.
Ingredients
5 medium-sized tilapia fillets;
1 cup full-fat coconut milk;
1 tbsp red curry paste;
1 lemon;
3 green onions, thinly sliced (separate the green and the white parts);
2 medium sized bananas (under ripe or barely ripe is best) cut in chunks;
2 tbsp almonds, slivered;
½ cup fresh cilantro chopped;
1 lemon, sliced, for serving;
Sea salt and freshly ground black pepper to taste;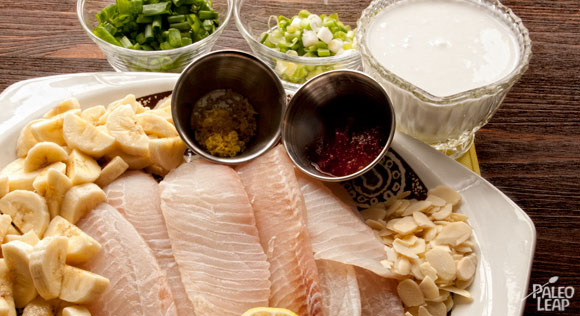 Preparation
Start by scraping the zest off of one lemon. Then, cut that lemon in half.
Cut the fish into big slices and sprinkle the lemon zest on top.
Squeeze the juice of half a lemon over the fish. Season to taste with sea salt and freshly ground black pepper.
In a skillet placed over a medium-high heat, combine the coconut milk and the red curry paste and bring to a simmer.
Add the fish and the white parts of the greens onions. Cover up the skillet and let it simmer for 3 to 5 min.
Add the bananas, 1 tbsp of the almonds and sprinkle half of the cilantro on top.
Cover up and cook until the fish is just cooked through and easily forms flakes. Check every 3 to 5 minutes.
When the fish looks ready, squeeze the other half of the lemon over the fish, then top it off with the remaining green onions, 1 tbsp of the almonds and the remaining cilantro.
Serve on a plate with slices of lemon.