I realize that this is more of a summertime recipe, but I just couldn't wait until summer to share it with you especially since it's so good during these colder winter days.
This is such a fresh tasting and light Paleo meal, everyone is bound to love it, even those who don't generally enjoy fish. The mint and red bell pepper salsa adds vibrant colors and flavors to the mix. This is quite a different type of salsa; it's really original and will surely bring discussions to the table.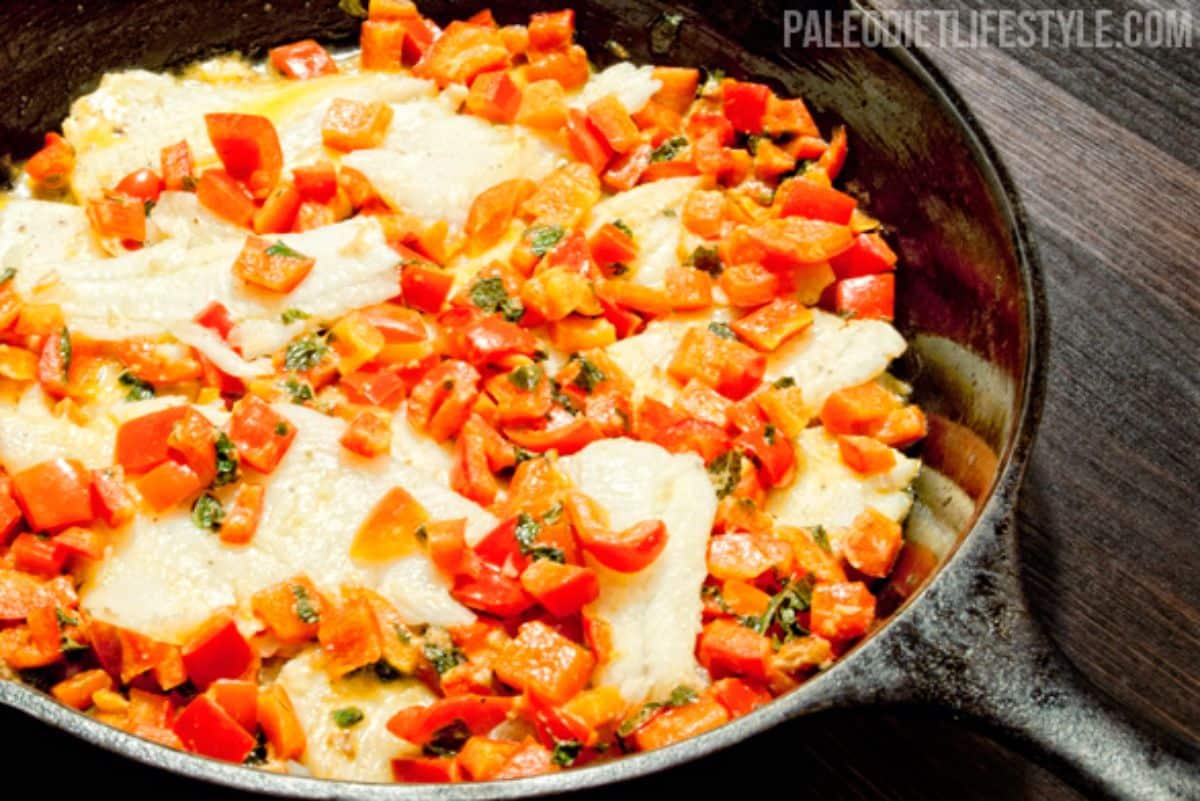 The type of fish you choose to use for this recipe is entirely up to you, but white fish is more suitable because of its simpler taste.
I chose some sole fillets for this one, but you can always change them depending on your personal preferences. Whitefish is usually known for its mild, delicate flavor and won't distract from any of the other flavors used for the dish.
Sole requires very little preparation and cooking time, and you wouldn't want to overcook it. If you're not a big fan of fish, it's also possible to replace fish with some chicken.
Just remember that chicken takes more time to cook, so modify the recipe accordingly. This dish would be amazingly served with steamed vegetables, a simple salad, or even just on its own.
The red bell peppers used in the recipe add great taste and color to the dish but is also highly nutritious. For example, red bell peppers are one of the best sources of vitamin C.
Those with digestive issues might have issues with bell peppers, though since they are part of the nightshade family of vegetables. The fresh mint adds a great contrasting and fresh taste to complement the whole flavor profile of the final dish.
Fish fillets with mint and bell pepper salsa recipe
SERVES: 4
Ingredients
2 pounds sole fillets (or your favorite white fish);
2 red bell peppers, chopped;
4 tablespoon extra-virgin olive oil;
2 tablespoon Dijon or homemade mustard;
2 tablespoon lemon juice;
1 teaspoon lemon zest;
½ bunch fresh mint leaves, minced;
1 cup of water;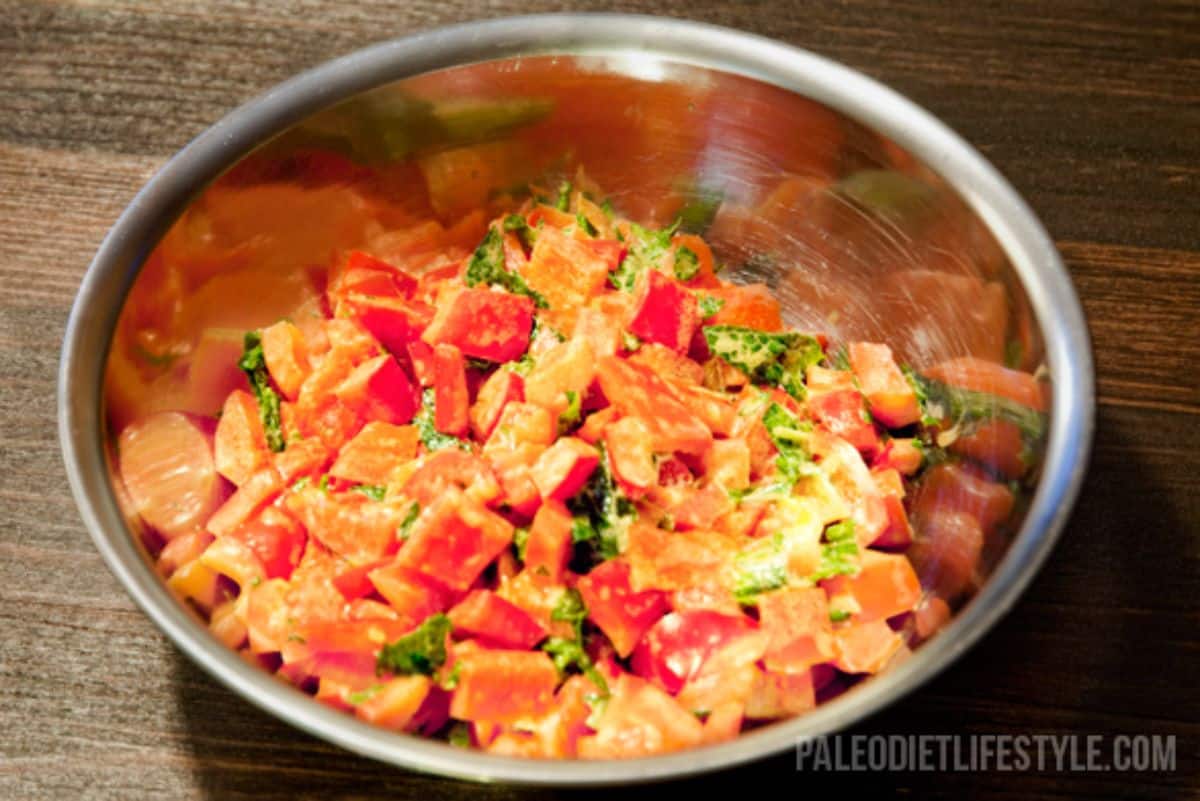 Preparation
In a large skillet over medium-high heat, add 1 tablespoon of olive oil, then the red bell peppers. Stir-fry until the peppers soften.
In a bowl, mix the Dijon mustard, lemon juice, lemon zest, and 2 tablespoon of olive oil. Stir in the mint and the red bell peppers.
Rinse the fish fillets and pat them dry.
Preheat your skillet over a medium-high flame. Make sure the skillet is hot before searing the sole on each side. This helps keep the juices inside the fish without drying it out.
Add your cooking fat and swirl it around on the bottom of the pan, making sure everything is equally coated.
Place each sole fillet in the skillet and cook for about 1 minute on each side over medium-high heat. Once cooked, remove the fish from the skillet and place it aside on a platter.
Add 1 cup of water to the skillet and scrape the bottom; reduce heat to medium-low and continue to stir for about 2 minutes.
Place the fish back in the skillet with the water, add the mint and bell pepper preparation and cook until everything is warm.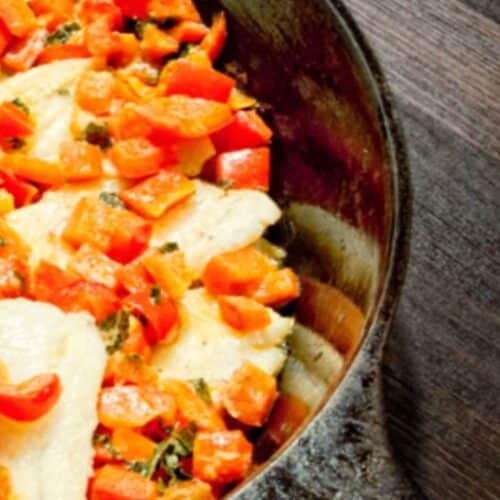 Fish fillets with mint and bell pepper salsa recipe
A fish fillets recipe with a simple mint and red bell pepper salsa. Ideal to warm you up, especially during the cold summer months.
Ingredients
2

pounds

sole fillets

or your favorite white fish

2

red bell peppers

chopped

4

tablespoon

extra-virgin olive oil

2

tablespoon

Dijon or homemade mustard

2

tablespoon

lemon juice

1

teaspoon

lemon zest

½

bunch fresh mint leaves

minced

1

cup

of water
Instructions
In a large skillet over medium-high heat, add 1 tablespoon of olive oil, then the red bell peppers. Stir-fry until the peppers soften.

4 tablespoon extra-virgin olive oil,

2 red bell peppers

In a bowl, mix the Dijon mustard, lemon juice, lemon zest, and 2 tablespoon of olive oil. Stir in the mint and the red bell peppers.

4 tablespoon extra-virgin olive oil,

2 tablespoon Dijon or homemade mustard,

2 tablespoon lemon juice,

1 teaspoon lemon zest,

2 red bell peppers

Rinse the fish fillets and pat them dry.

Preheat your skillet over a medium-high flame. Make sure the skillet is hot before searing the sole on each side. This helps keep the juices inside the fish without drying it out.

Add your cooking fat and swirl it around on the bottom of the pan, making sure everything is equally coated.

Place each sole fillet in the skillet and cook for about 1 minute on each side over medium-high heat. Once cooked, remove the fish from the skillet and place it aside on a platter.

Add 1 cup of water to the skillet and scrape the bottom reduce heat to medium-low and continue to stir for about 2 minutes.

Place the fish back in the skillet with the water, add the mint and bell pepper preparation and cook until everything is warm.

½ bunch fresh mint leaves
Nutrition
Calories:
315
kcal
Carbohydrates:
7
g
Protein:
29
g
Fat:
19
g
Saturated Fat:
3
g
Polyunsaturated Fat:
2
g
Monounsaturated Fat:
11
g
Trans Fat:
0.03
g
Cholesterol:
102
mg
Sodium:
227
mg
Potassium:
498
mg
Fiber:
1
g
Sugar:
4
g
Vitamin A:
1944
IU
Vitamin C:
80
mg
Calcium:
55
mg
Iron:
1
mg