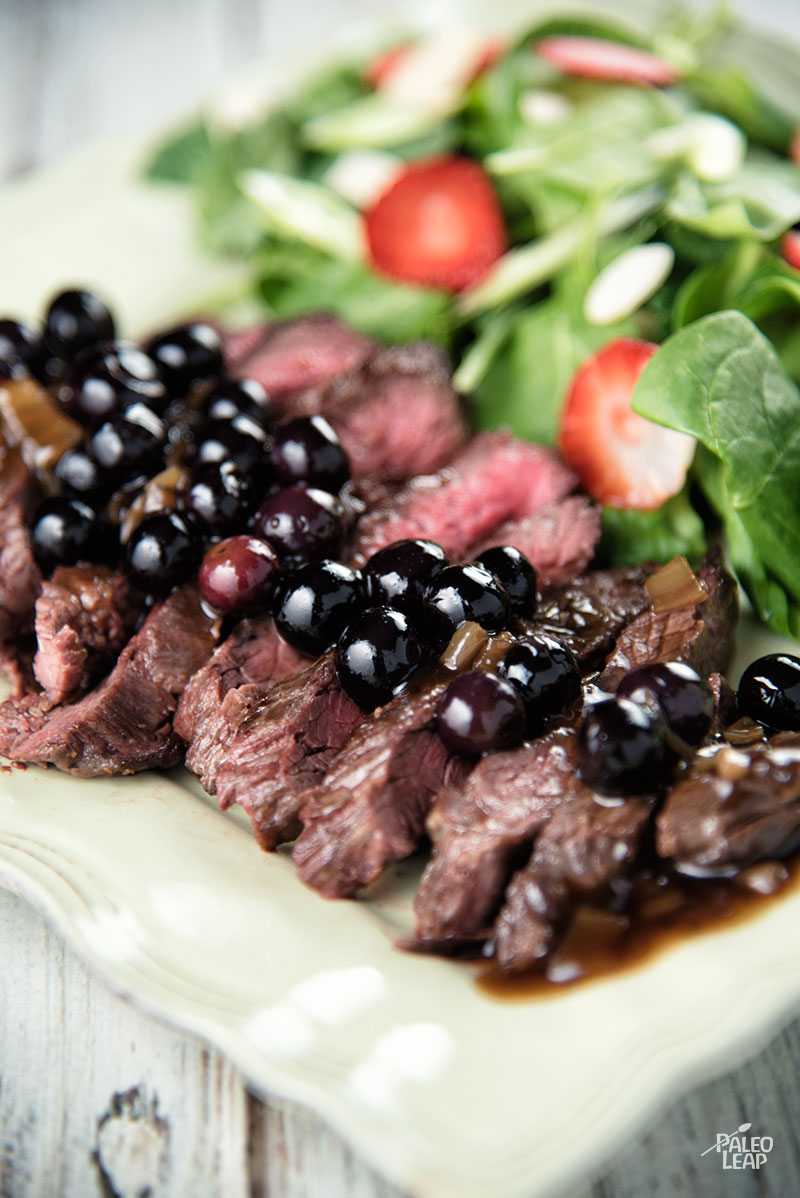 You don't need a fancy sauce to make a great steak, but it's nice to mix up the flavors every once in a while. A savory pan sauce with red wine and fresh blueberries gives you a big punch of extra flavor and plenty of opportunities to get creative with the presentation, and the fresh flavor of the berries is nice with the richness of the meat.
Making a pan sauce like this is also convenient because it builds in some resting time for the steaks while you cook the sauce, which translates to much less temptation to start carving into them too soon. And you get all the steak flavor that might otherwise go to waste on the bottom of the pan.
Even with the sauce, this recipe would probably go with just about any classic side for steak – roasted potatoes, grilled vegetables, a side salad… go for an old favorite or have fun playing with the new flavor and experimenting with something different.
Flank Steak With Blueberry Sauce Recipe

SERVES: 4

PREP: 15 min.

COOK: 20 min.

Values are per portion. These are for information only & are not meant to be exact calculations.
Ingredients
4 x 6 oz. flank steak
1 cup blueberries
2 garlic cloves, minced
2 tbsp. shallots, minced
1 cup beef stock
⅓ cup. red wine (optional)
1 tsp. fresh thyme, minced
2 tbsp. ghee
Sea salt and freshly ground black pepper
Preparation
Season the flank steak to taste with sea salt and freshly ground black pepper.
Melt the ghee in a saucepan placed over a medium heat. Stir in the garlic and shallot, and cook until soft and fragrant.
Pour in the red wine, the beef stock, and fresh thyme. Lower the heat to a simmer, season to taste, and continue cooking for another 10 minutes.
Bring a skillet or grill to medium-high heat.
Cook the steaks in some melted cooking fat for 3 to 4 minutes per side, and remove from the pan.
Pour in the sauce from the saucepan, and use a spatula to scrape up all the browned bits from the bottom of the pan and mix them with the sauce.
Add the blueberries, adjust the seasoning and cook for 1 to 2 minutes. You can add 1 tbsp. of tapioca starch to the sauce if you like a thicker sauce.
Serve the steak topped with the blueberry sauce.