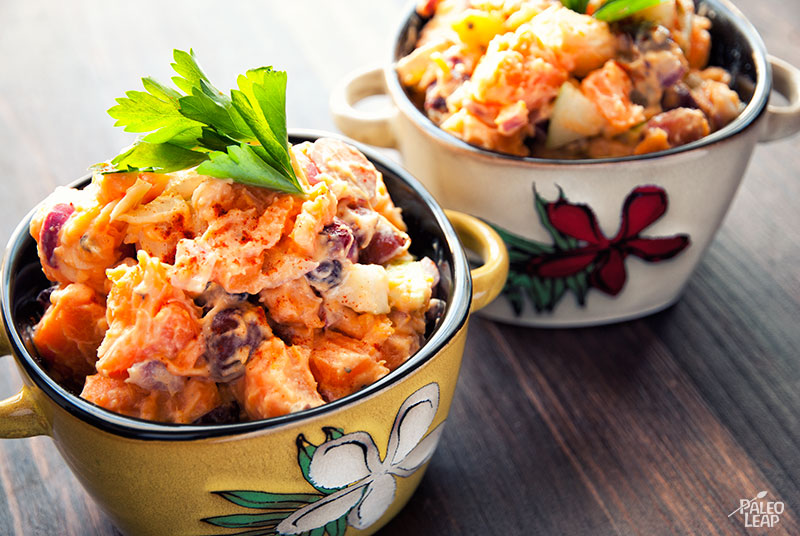 The trick to a great potato salad is the balance: without something fresh and crisp to cut the potatoes and mayonnaise, it's too heavy. In a typical potato salad, you might use celery or carrots – but that just doesn't fit well with sweet potatoes. Instead, try this variation: grapes and apples add that juicy crunch to balance out the mayo, and the occasional sliver of red onion livens everything up with a contrasting sharp flavor.
The result is a little more colorful than plain old "potato salad" (especially with a dusting of paprika on top) but whoever said that was a downside? And it's amazingly versatile: the cold salad format makes it ideal for all the occasions when you can't heat (or re-heat) something. It's a no-fuss contribution for potlucks or picnics, but it's also great for throwing in the lunchbox if you don't have a microwave at work: the whole point of potato salad is to eat it cold. You can easily add in some cooked chicken to make a complete meal out of the recipe, or just have it alongside any other protein source.
This is a great salad to serve people who "hate vegetables:" just don't tell them they're eating something healthy! It would also make a tasty post-workout breakfast for anyone who hits the gym first thing in the morning: the fruitiness makes it feel like a good "breakfast food," and if you make it the night before, you can pull the container right out of the fridge and dig in, no cooking required. Alternately, throw it together before you work out, let it chill in the fridge while you get sweaty, and then come back to a meal ready and waiting for the tender affections of your fork. With so many potential uses for one quick recipe, there's really no reason not to try it!
Fruity sweet potato salad Recipe

SERVES: 4

PREP: 15 min.

COOK: 15 min.

Values are per portion. These are for information only & are not meant to be exact calculations.
Ingredients
4 sweet potatoes, peeled and cut into cubes;
½ cup red onion, diced;
1 apple, diced;
2/3 cup grapes, halved;
1/3 cup dried cranberries;
¼ cup sliced almonds;
½ cup homemade mayonnaise;
1 tbsp. freshly squeezed lemon juice;
Paprika; (optional)
Sea salt and freshly ground black pepper to taste;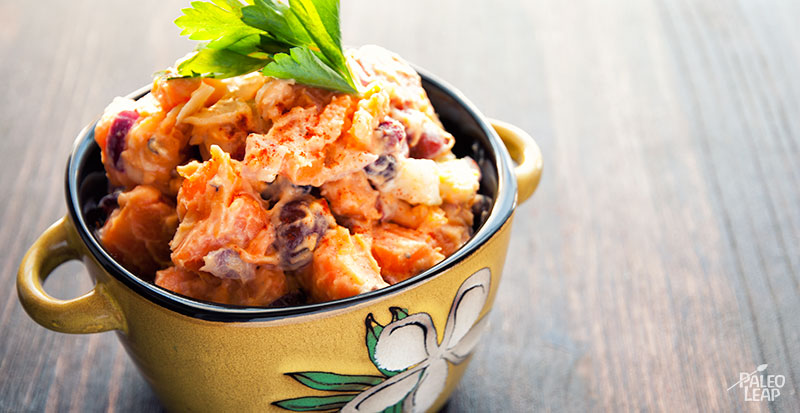 Preparation
Add the sweet potatoes to a large pot of cold water. Bring to a boil over a medium-high heat and cook the potatoes until tender (about 15 minutes).
Drain the sweet potatoes using a colander and let them cool.
In a large bowl, combine the sweet potatoes, red onion, apple, grapes, dried cranberries, sliced almonds, mayonnaise, lemon juice, and season with salt and pepper to taste.
Sprinkle some paprika on top and refrigerate at least 30 minutes before serving.