Bok choy may not be considered a superfood, but to us, it is a superfood, and here we are, giving it the respect that it deserves.
It turns out that bok choy is one of the most nutrient-dense plants in the world, and although it is known commonly as Chinese cabbage, it doesn't form heads like the cabbage we know and love.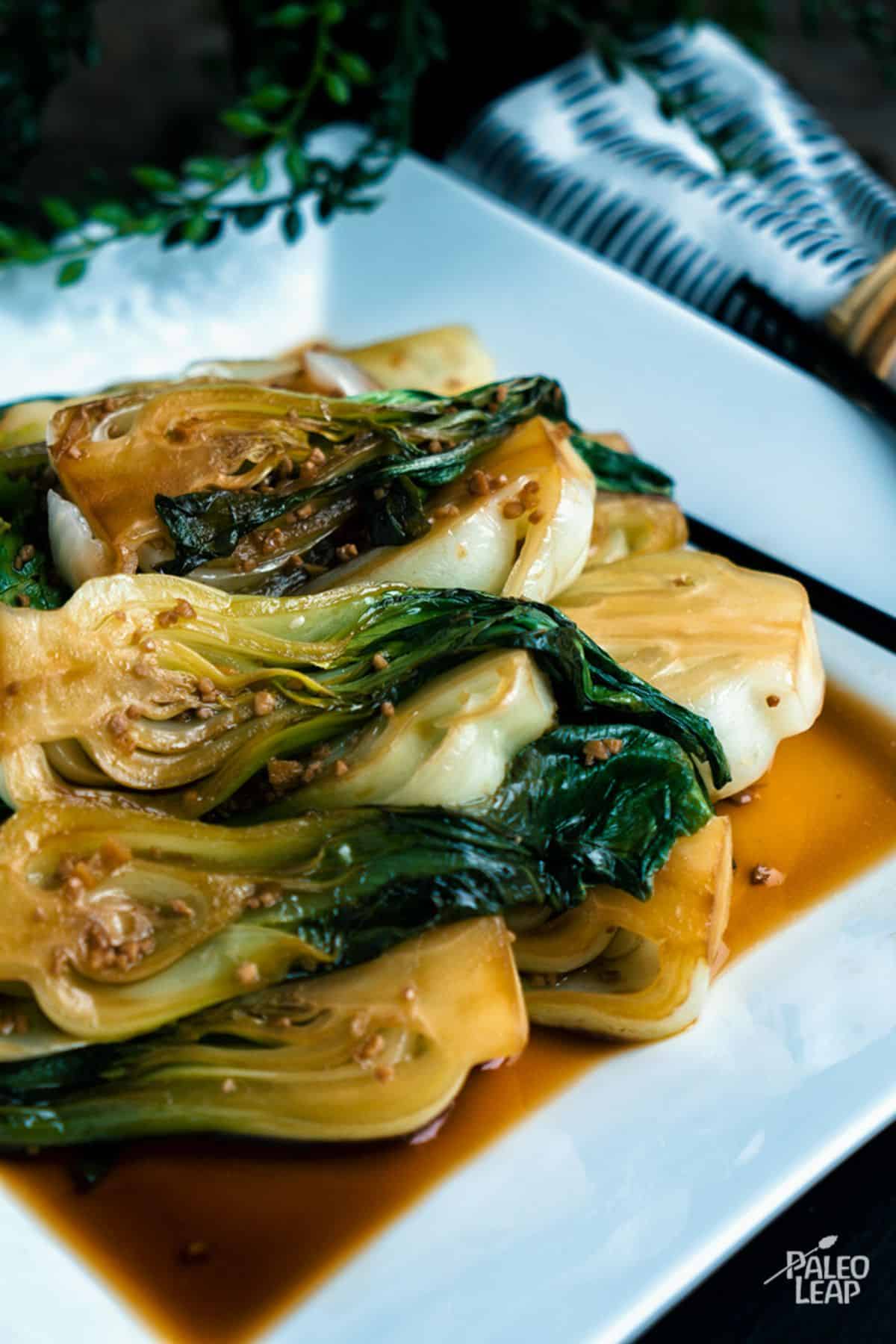 It acts more like a mustard green, forming dense clusters of leaves. You'll often find it in Asian dishes, such as this shrimp with bok choy stir-fry.
Let us predict that today, however, you will be serving it with minced ginger and garlic, along with coconut aminos (in place of the traditional soy sauce). And although this recipe serves 4, it is easy to scale up as there are very few ingredients.
Why do we highly recommend you try this particular recipe, though? Well, bok choy is chock full of vitamins A, B6, C, and K, and minerals, too: calcium, iron, magnesium, and zinc. A simple vegetable can help you improve your bone strength, keep your vision in line and boost your circulation. Pretty super if you ask us!
What to serve this nutrient-dense side dish with? We would suggest just about any of your protein-rich favorites. Personally, we would go with a Thai beef curry or a grilled ginger lamb chop, just for a change.
Ginger Bok Choy Recipe
Serves: 4 Prep: 10 min Cook: 15 min
Ingredients
8 to 10 baby bok choy, cut in half lengthwise
2 tbsp. fresh ginger, minced
2 garlic cloves, minced
¼ cup coconut aminos
¼ cup water
¼ cup coconut oil
Sesame seeds for garnish (optional)
Sea salt and freshly ground black pepper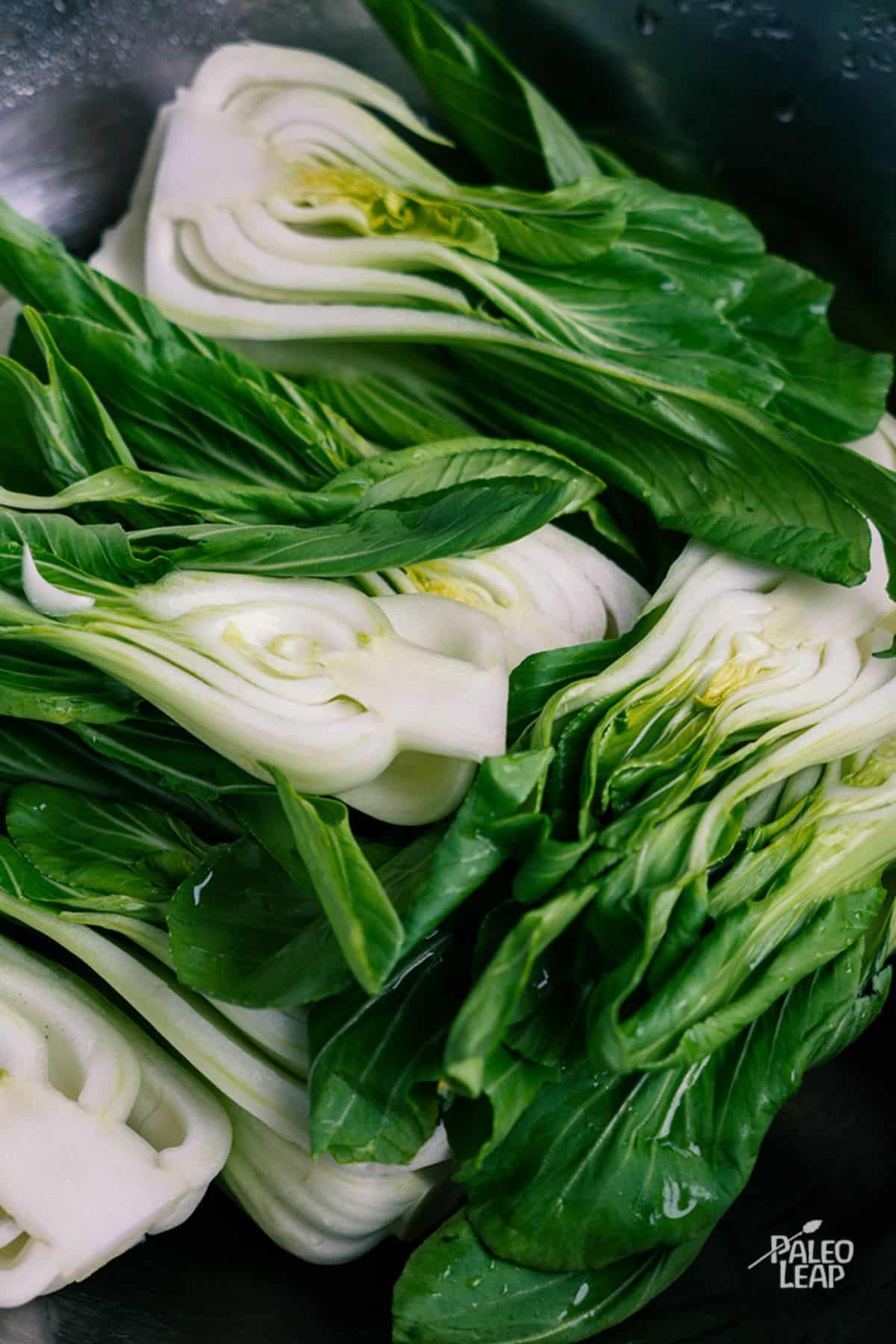 Preparation
Heat the coconut oil in a skillet over medium heat.
Add the ginger and garlic and cook for 1 to 2 minutes, or until fragrant.
Pour in the coconut aminos and add the bok choy.
Turn the bok choy while cooking, making sure they're well coated, for 3 to 4 minutes.
Add the water, cover, and cook another 4 to 5 minutes.
Adjust seasoning and serve topped with sesame seeds if desired.
📖 Recipe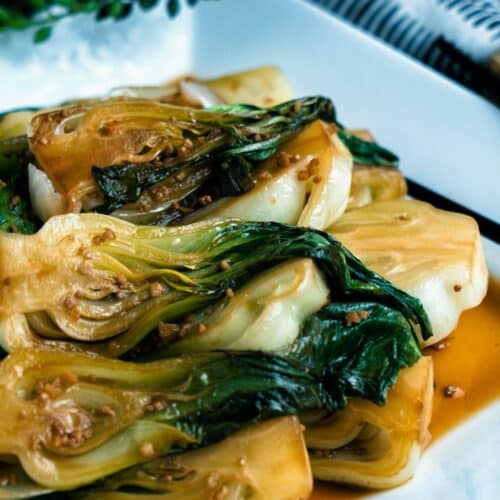 Ginger Bok Choy Recipe
As an appetizing side dish, ginger bok choy certainly takes the cake. Full of vitamins, minerals, and an unexpected flavor that will leave you wanting more.
Instructions
Heat the coconut oil in a skillet over medium heat.

Add the ginger and garlic and cook for 1 to 2 minutes, or until fragrant.

2 tbsp. fresh ginger,

2 garlic cloves

Pour in the coconut aminos and add the bok choy.

Turn the bok choy while cooking, making sure they're well coated, for 3 to 4 minutes.

Add the water, cover, and cook another 4 to 5 minutes.

Adjust seasoning and serve topped with sesame seeds if desired.

Sesame seeds for garnish,

Sea salt and freshly ground black pepper
Nutrition
Calories:
169
kcal
Carbohydrates:
10
g
Protein:
3
g
Fat:
14
g
Saturated Fat:
11
g
Polyunsaturated Fat:
0.3
g
Monounsaturated Fat:
1
g
Sodium:
487
mg
Potassium:
47
mg
Fiber:
2
g
Sugar:
3
g
Vitamin A:
10111
IU
Vitamin C:
103
mg
Calcium:
253
mg
Iron:
2
mg