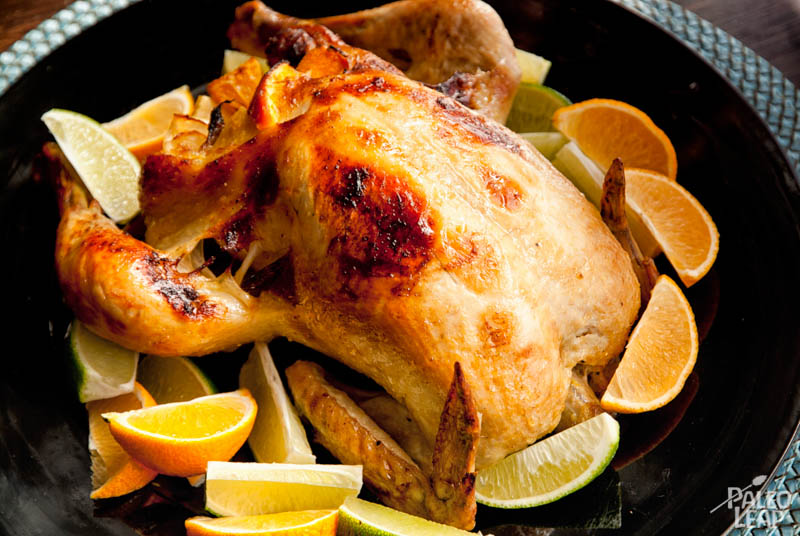 If you're like me, roast chicken is a staple in your Paleo kitchen. Easy to prepare, reasonably priced, satisfying and leftovers can be used a lot of different ways. Our regular roast chicken can often become too much of an habit and become somewhat bland after a while.
This roast chicken is cooked stuffed with an orange, lemon and fresh ginger preparation so the meat stays juicy with a nice tangy taste. Compared to your regular roast chicken, you only need some oranges, lemons and fresh ginger and you're up for an absolute success.
This will also be a very healthy meal with the addition of the vitamin C and flavonoids rich citrus fruits and the anti-inflammatory and stomach healing properties of ginger.
Ginger Citrus Roast Chicken Recipe
Values are per portion. These are for information only & are not meant to be exact calculations.
Ingredients
About 5 tbsp coconut oil (or lard, tallow, ghee);
3 lemons;
2 oranges;
1 whole chicken (about 4 1/2 pounds);
3 tbsp grated fresh ginger;
Salt and pepper to taste.
Preparation
Preheat your oven to 425 F. Grate the zest 1 orange and orange lemon and then cut them in quarter.
Wipe the chicken dry and place it in a roasting pan.
Mix 1 tbsp of the grated ginger with the citrus zest. Rub the citrus mixture in the chicken cavity with some added salt and pepper if wanted. Add the quartered lemon and orange inside the cavity.
Juice the remaining lemons and orange with the remaining 2 tbsp ginger and also add the melted coconut oil. Brush the chicken with the mixture.
Put in the oven for 15 minutes.
After 15 minutes, baste the chicken and reduce the heat to 375 F.
After another 25 minutes, baste again, turn the chicken on his breast and cook for another 25 minutes.
At this point, verify the doneness of the chicken by verifying if the juices run clear when you cut the thickest part of the breast. You can also verify with a meat thermometer (should be 160 F in the breast and at least 170 F in the thigh).
When ready, remove from oven and let the chicken rest for 15 minutes.
Garnish with extra citrus wedges if wanted on a bed of steamed vegetables or spinach. Use the citrus, coconut oil and ginger cooking juice as a sauce.