A burger without the bun is very Keto indeed, now add a bunch of sun-dried tomatoes, baby spinach leaves, diced onion and feta cheese and we are onto something amazing and flavorful.
All of a sudden it is quite hard to pass the burger on by. It is so simple, yet it really feels like you are treating yourself to something that you know, and sometimes crave, all so well.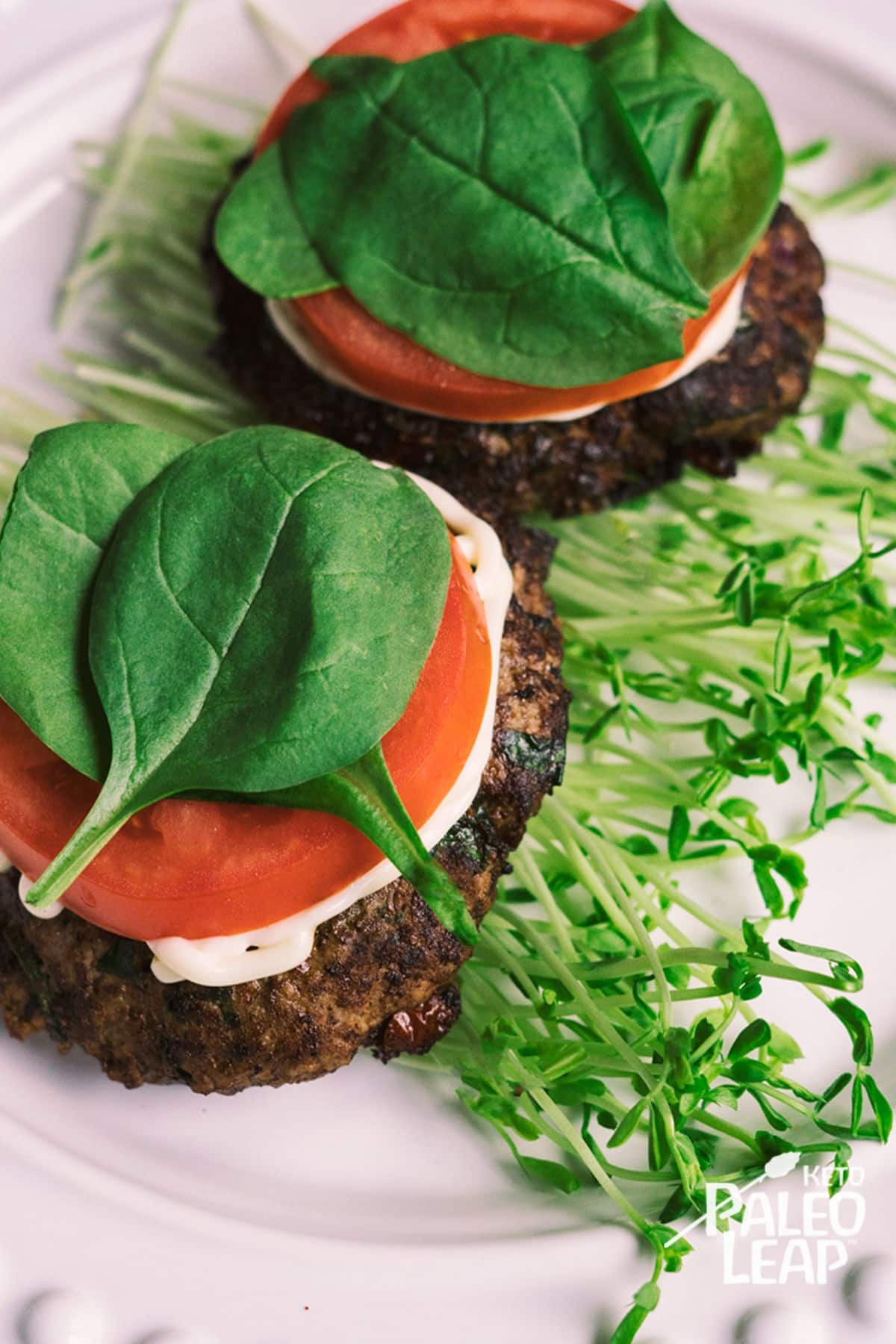 Feta is an excellent cheese to add to the burgers, as it is made from ewe's milk or a mixture of sheep and goat - both grazing animals. If you cannot handle dairy, take the liberty to remove it from the burgers - they taste excellent without too!
However, there are dairy-free Paleo cheeses that may suit this recipe, more than one, in fact, whether you are looking for one with or without nuts.
If you are feeling adventurous, a keto dill or tzatziki sauce may be your choice of condiments - it compliments the Greek flavors wonderfully, and you may even believe that you are eating a gyro.
If you want to go the extra mile, go ahead and swap out the beef for ground lamb instead, making sure that the meat isn't too lean. If you are going to enjoy a lush burger, better make it nice and juicy with plenty of sizzling fat. Tomato, lettuce, and onion are completely optional but highly recommended.
Keto Greek-Style Burgers Recipe
Serves: 4 Prep: 15 min Cook: 20 min
Ingredients
1 lb. ground beef
1 cup baby spinach leaves, chopped
¼ cup sun-dried tomatoes, chopped
½ small red onion, diced
¼ cup feta cheese, crumbled (optional)
1 egg, beaten
2 tbsp. coconut oil
Sea salt and freshly ground black pepper
Tomato slices to serve
Lettuce, to serve
Onion slices, to serve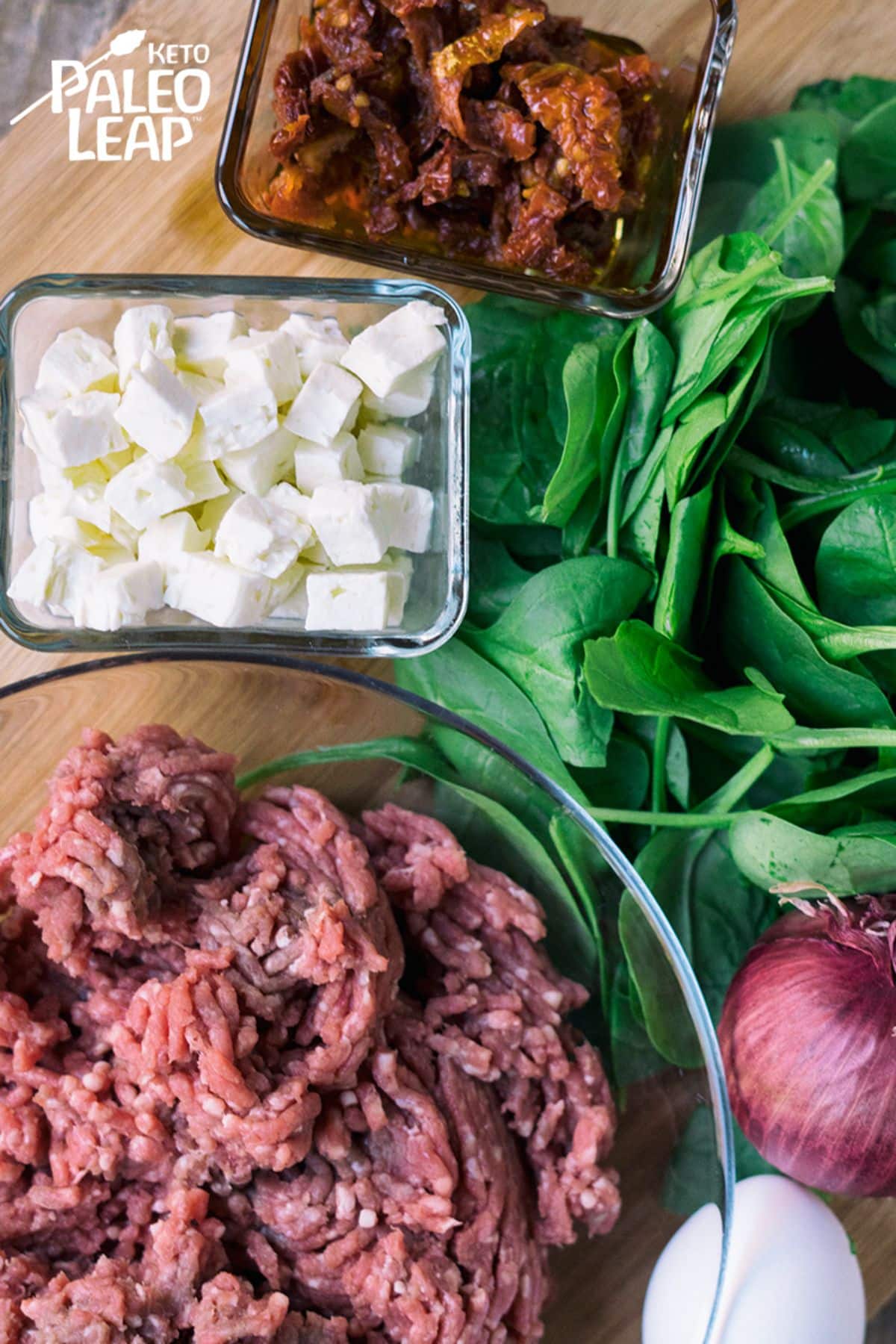 Preparation
In a bowl, combine the ground beef, spinach, sun-dried tomatoes, red onion, feta, egg, and season to taste.
Mix everything until well combined and form 4 large patties with the mixture.
Melt coconut oil in a skillet over medium-high heat.
Cook the patties for 5 to 6 minutes per side or until desired doneness.
Serve the patties topped with tomato, lettuce, and onion, or any toppings of your choice.
📖 Recipe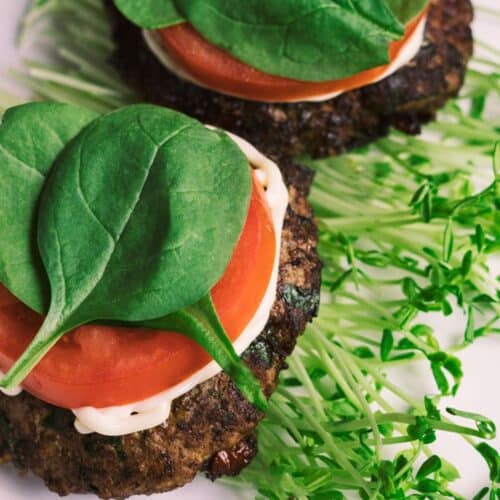 Keto Greek-Style Burgers Recipe
Modify and update your basic burger selection and grill up a keto Greek-style burger tonight, complete with feta cheese and lots of sizzling love.
Instructions
In a bowl combine the ground beef, spinach, sun dried tomatoes, red onion, feta, egg, and season to taste.

1 lb. ground beef,

1 cup baby spinach leaves,

¼ cup sun-dried tomatoes,

½ small red onion,

¼ cup feta cheese,

1 egg,

Sea salt and freshly ground black pepper

Mix everything until well combined and form 4 large patties with the mixture.

Melt coconut oil in a skillet over medium-high heat.

Cook the patties 5 to 6 minutes per side, or until desired doneness.

Serve the patties topped with tomato, lettuce, and onion, or any toppings of your choice.

Tomato slices to serve,

Lettuce,

Onion slices
Nutrition
Calories:
415
kcal
Carbohydrates:
6
g
Protein:
24
g
Fat:
33
g
Saturated Fat:
16
g
Polyunsaturated Fat:
1
g
Monounsaturated Fat:
11
g
Trans Fat:
1
g
Cholesterol:
130
mg
Sodium:
212
mg
Potassium:
625
mg
Fiber:
1
g
Sugar:
3
g
Vitamin A:
863
IU
Vitamin C:
6
mg
Calcium:
91
mg
Iron:
3
mg