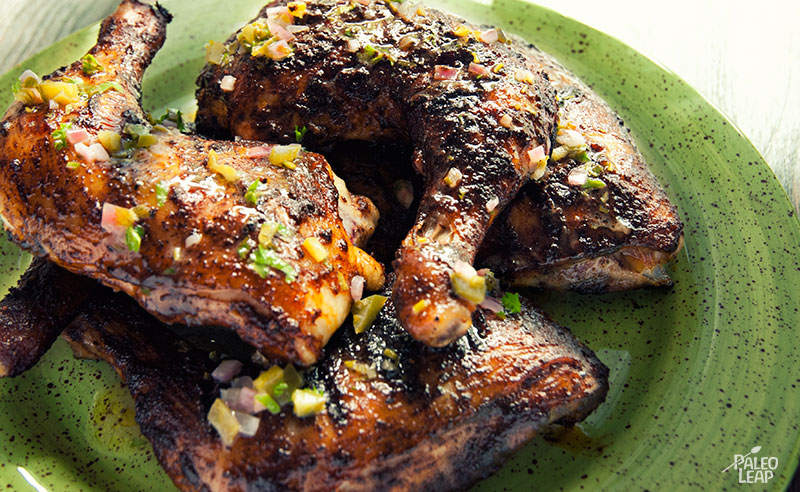 Honey, chocolate, chili, and…lime? That's right – and it tastes delicious. The zingy citrus-herb butter perfectly brings out the warmer, savory flavors in the chicken rub, proving once again that cocoa powder is a completely legitimate ingredient in things that aren't candy. If you remember loving chocolate but even the dark kind is too sweet these days, a savory cocoa powder recipe like this might be just the thing.
You can use any part of a chicken for this recipe – legs, drumsticks, thighs, or breasts are all good. If you're looking for more of a classic savory taste, you can also skip the lime butter and just go with the chicken; the grilled meat by itself is delicious even without the extra sauce. And on the other hand, you could also use the lime butter for something else as well; there's no reason to limit it to chicken. It would be great with fish, shrimp, or even the right beef dish.
With so many flavors going on just in the chicken, this would be the perfect recipe to serve with a simple fresh salad – maybe a soft bowl of butter lettuce or young baby greens. Follow it up with some fresh fruit for dessert, and you'll have a Paleo feast impressive enough for company, but easy enough to make even on a busy evening.
Grilled Chicken With Lime Butter Recipe

SERVES: 4

PREP: 25 min.

COOK: 30 min.
Values are per portion. These are for information only & are not meant to be exact calculations.
Ingredients
3½ to 4 lb. bone-in chicken parts;
1 tbsp. chili powder;
1 tbsp. ground cinnamon;
1 tbsp. honey; (optional)
1 tsp. unsweetened cocoa powder;
3 tbsp. olive oil;
1 tbsp. balsamic vinegar;
Sea salt and freshly ground black pepper;
Ingredients for the lime butter
¼ cup chopped fresh cilantro;
½ cup ghee, melted;
1 serrano chile, minced;
2 tbsp. shallots, minced;
1 tbsp. fresh lime juice;
Freshly ground black pepper;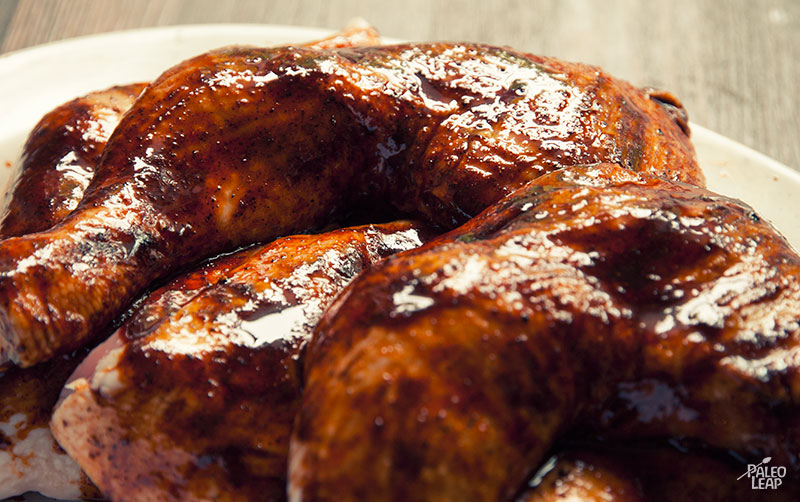 Preparation
Preheat your grill to a medium-high heat.
In a bowl, combine the chili powder, ground cinnamon, cocoa powder, olive oil, balsamic vinegar, honey, if using, and season with salt and pepper to taste. Mix until well blended.
Brush the chicken pieces with the sauce.
Place the chicken on grill and cook for about 30 min (or until the chicken is cooked; the exact time will vary depending on what chicken parts you're using).
Combine all the ingredients for the lime butter in a bowl .
Drizzle the lime butter over the chicken before serving.