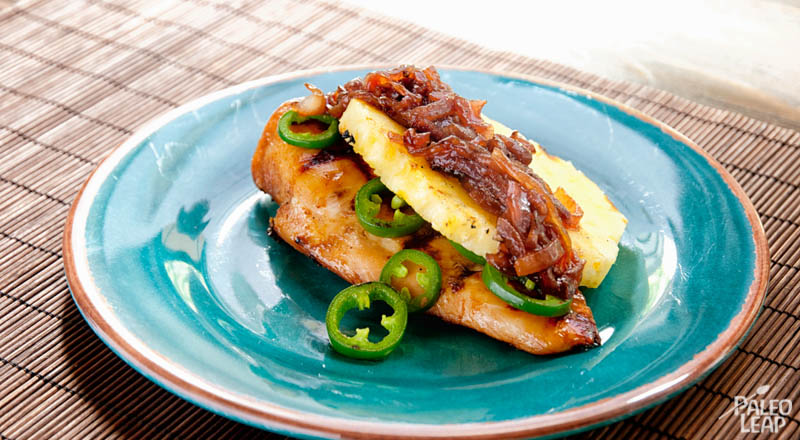 The official grilling season is almost over, but tropical flavors are a hit at any time of year, so keep the grill going strong with this spicy-sweet chicken breast. Caramelized onions can sometimes get a little heavy or syrupy, but alongside the crisp sweetness of the pineapple, and the sharp bite of the hot peppers, the overall effect is flavorful without being overpowering.
If you aren't a big fan of hot peppers, you can replace them with regular bell peppers, for a more savory meal without quite as much spice. Or go half and half to get just a little spice with the same amount of crunch.
The recipe as written just calls for regular chicken breasts, but if you're starting a little in advance, it's even more delicious with marinated meat. I usually use a teriyaki-type marinade to bring out the classic barbecue flavor, but any type of sauce works well for this recipe so don't be afraid to get creative.
Nutritionally speaking, this recipe is an absolutely amazing source of Vitamin C. Whether you're using jalapeños or bell peppers, both types are some of the richest Vitamin C sources around, and just one slice of pineapple delivers 40mg (67% of the RDA). In that respect, this might actually be a perfect recipe for the last days of summer: send grilling season off with a bang, and give your immune system a head start on fighting winter colds, all in one delicious meal.
Grilled Chicken and Pineapple with Onion Relish  Recipe

SERVES: 4

PREP: 10 min.

COOK: 35 min.
Values are per portion. These are for information only & are not meant to be exact calculations.
Ingredients
4 boneless, skinless chicken breasts;
4 pineapple slices;
2 fresh jalapeño peppers, thinly sliced;
Ingredients for onion relish
4 to 6 red or yellow onions, thinly sliced;
2 tbsp. honey; (optional)
3 tbsp. balsamic vinegar;
3 tbsp. red wine;
2 tbsp. olive oil;
Sea salt and freshly ground black pepper;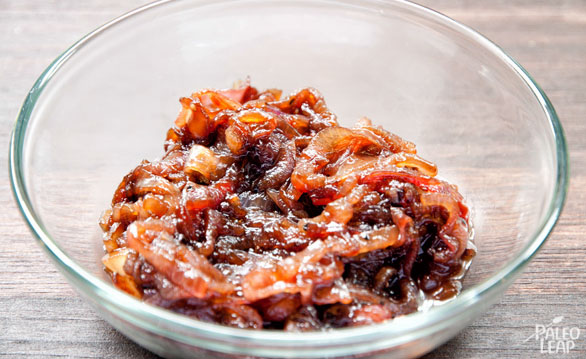 Preparation
Preheat a grill or BBQ to medium-high.
In a skillet placed over a medium heat, warm the olive oil and sauté the onions until caramelized (about 10 min).
Add the honey, if using, and stir until dissolved; then add the vinegar and the wine.
Simmer until all the liquid has evaporated (about 10 minutes), and season to taste.
Grill the chicken breast on the preheated BBQ until done (about 5 minutes per side).
Place the pineapple slices and the jalapeño slices on the grill and grill them for about 2 min.
Top each chicken breast with jalapeño, pineapple, and onion relish, and serve.