If there are two in the kitchen, then this is the recipe to choose to test your partnership skills. How well you work together will determine the quality of your finished plate.
Choose a white wine to go with the event, take a small sip, and set to work - one focusing on the sea bass, the other with the intent to make the most amazing caramelized Brussels sprouts ever.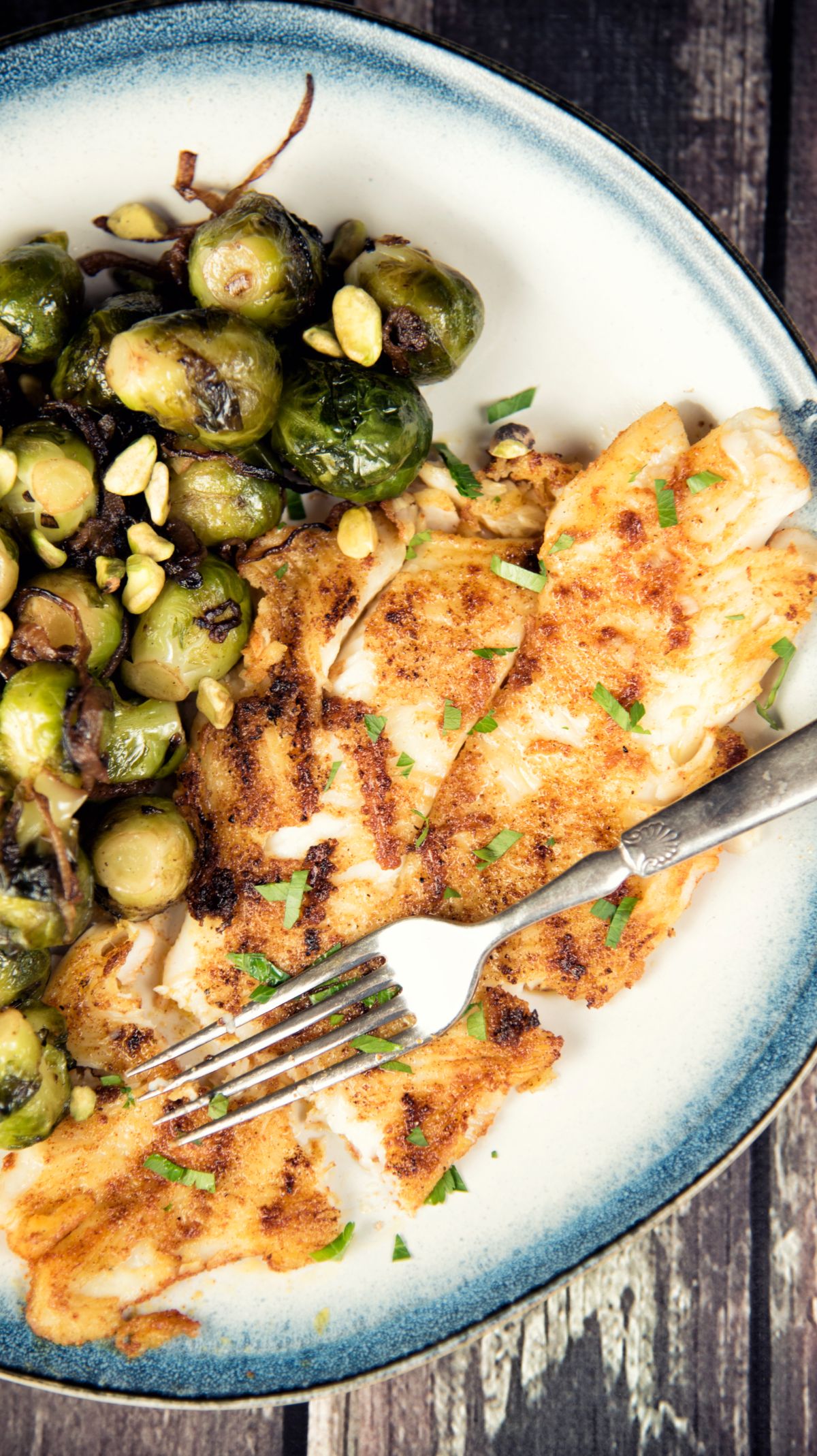 If you are going this alone, creating a super meal for 6, start with the sprouts, since they will take longer to clean and cook than the fish.
Wild-caught Asian and Atlantic sea bass both have light and tender meat, while the garlic-ghee sauce with a hint of paprika and onion serves the fish a nice compliment. It may not seem like a wonderful combination upon first hearing, but bass and Brussels sprouts are a thing, and an indescribably wonderful one at that.
Here is a top-secret tip: while caramelizing the sprouts, you may even want to toss in a small amount of chopped pancetta - it really adds that special touch. Top that with a handful of chopped pistachios, and you are ready to sink your teeth into a meal like no other.
Another way to make this meal superlicious is to make a batch of Lacto-fermented lemons. Once you begin your fermenting journey, everything you prepare, and serve, will be unique beyond belief.
Grilled Sea Bass With Caramelized Brussels Sprouts Recipe
Serves: 6 Prep: 10 min Cook: 35 min
Ingredients
2 lbs. fresh sea bass
¼ tsp. garlic powder
¼ tsp. onion powder
¼ tsp. paprika
3 tbsp. ghee or grass-fed butter
2 cloves garlic, minced
1 tbsp. fresh parsley, finely chopped
Sea salt and freshly ground black pepper, to taste
Caramelized Brussels Sprouts Ingredients
4 lbs. Brussels sprouts
½ cup ghee or grass-fed butter
1 red onion, thinly sliced
¼ cup red wine vinegar
Sea salt and freshly ground black pepper, to taste
½ cup pistachios, chopped
Preparation
Preheat the grill to high heat.
In a small bowl, combine garlic powder, onion powder, paprika, salt, and pepper. Mix well and rub all over the fish.
In a small dish, melt ghee and add minced garlic; set aside for later use.
Lightly grease the grill and place the fish on it. Cook for about 7 minutes per side, depending on the thickness of the fillets. When one side has been thoroughly cooked, drizzle melted butter over the fish and flip it to continue cooking on the other side.
Sprinkle with fresh parsley prior to serving.
For caramelized Brussels sprouts: steam Brussels sprouts for about 8 to 10 minutes, or until tender.
In a large skillet, melt ghee and pour in 3 tbsp, of the vinegar. Add the onions to the skillet and cook until they begin to brown, about 5 minutes.
Add the Brussels sprouts to the skillet along with the remaining vinegar. Sauté for another 5 minutes, allowing the sprouts to turn a slightly golden color.
Season with salt and pepper, and sprinkle pistachios over the sprouts prior to serving.
📖 Recipe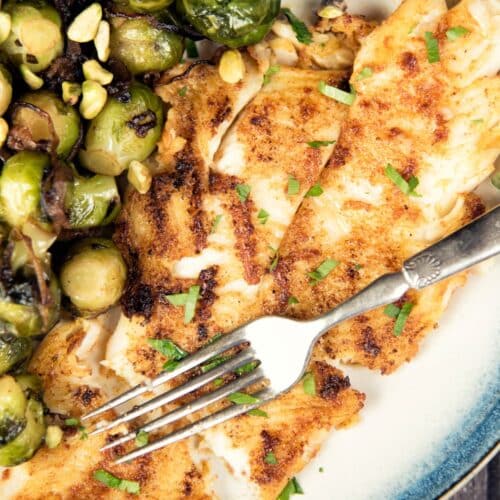 Grilled Seabass with Caramelized Brussels Sprouts Recipe
Choose to be unauthentic, in a good way! Serve sea bass with caramelized Brussels sprouts and chopped pistachios for an unexpected plate.
Ingredients
2

lbs.

fresh sea bass

¼

tsp.

garlic powder

¼

tsp.

onion powder

¼

tsp.

paprika

3

tbsp.

ghee or grass-fed butter

2

cloves

garlic

minced

1

tbsp.

fresh parsley

finely chopped

Sea salt and freshly ground black pepper

to taste
Caramelized Brussels Sprouts Ingredients
4

lbs.

Brussels sprouts

½

cup

ghee or grass-fed butter

1

red onion

thinly sliced

¼

cup

red wine vinegar

Sea salt and freshly ground black pepper

to taste

½

cup

pistachios

chopped
Instructions
Preheat the grill to high heat.

In a small bowl, combine garlic powder, onion powder, paprika, salt, and pepper. Mix well and rub all over the fish.

¼ tsp. garlic powder,

¼ tsp. onion powder,

¼ tsp. paprika,

Sea salt and freshly ground black pepper

In a small dish, melt ghee and add minced garlic; set aside for later use.

3 tbsp. ghee or grass-fed butter,

2 cloves garlic

Lightly grease the grill and place the fish on it. Cook for about 7 minutes per side, depending on the thickness of the fillets. When one side has been thoroughly cooked, drizzle melted butter over the fish and flip it to continue cooking on the other side.

Sprinkle with fresh parsley prior to serving.

For caramelized Brussels sprouts: steam Brussels sprouts for about 8 to 10 minutes, or until tender.

In a large skillet, melt ghee and pour in 3 tbsp, of the vinegar. Add the onions to the skillet and cook until they begin to brown, about 5 minutes.

½ cup ghee or grass-fed butter,

¼ cup red wine vinegar,

1 red onion

Add the Brussels sprouts to the skillet along with the remaining vinegar. Sauté for another 5 minutes, allowing the sprouts to turn a slightly golden color.

Season with salt and pepper, and sprinkle pistachios over the sprouts prior to serving.

Sea salt and freshly ground black pepper,

½ cup pistachios
Nutrition
Calories:
545
kcal
Carbohydrates:
32
g
Protein:
40
g
Fat:
32
g
Saturated Fat:
15
g
Polyunsaturated Fat:
4
g
Monounsaturated Fat:
10
g
Cholesterol:
178
mg
Sodium:
184
mg
Potassium:
1722
mg
Fiber:
13
g
Sugar:
8
g
Vitamin A:
2768
IU
Vitamin C:
262
mg
Calcium:
170
mg
Iron:
6
mg