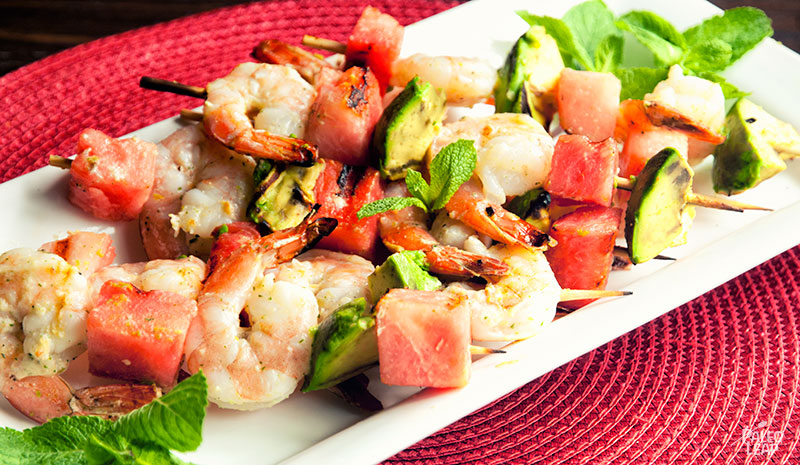 Bratwurst and burgers are all very good, but sometimes you're looking for a barbecue recipe that strays a little further from the beaten path – and you just found it. Thai-inspired skewers with alternating bites of spicy shrimp and juicy watermelon chunks are an adventurous way to get outside and celebrate the warmer weather. The coconut-chili marinade adds a bold flavor to the shrimp, and grilling everything on one skewer really ties it all together: watermelon isn't something you'd normally think to grill, but just give it a try!
Even better, the power combo of shrimp and avocado delivers just about everything you could want from a meal: high-quality protein, healthy fat, and a bounty of vitamins and minerals (most notably magnesium, selenium, B vitamins, and iodine).
To make sure the skewers don't catch fire on the grill, you'll want to soak them ahead of time – an easy way to do this is to just toss them in a bowl of water when you put the shrimp in the marinade. An hour later, when you're ready to throw your shrimp onto the grill, you'll be all set to finish off your skewers with some tasty grill lines, not accidentally cook up some Thai-flavored torches. Serve your skewers over fresh vegetables or maybe with a fruit salad; either way, they're sure to become a favorite addition to the barbecue rotation.
Grilled Shrimp Skewers with Watermelon and Avocado Recipe

SERVES: 4

PREP: 10 min + 1 hr

COOK: 8 min.

Values are per portion. These are for information only & are not meant to be exact calculations.
Ingredients
24 shrimp, peeled and deveined;
1 avocado, peeled, pitted, and cut into cubes;
3 cups seedless watermelon, cut into cubes;
1 jalapeño pepper, stem removed;
1 large clove garlic;
1 1-inch piece fresh ginger, peeled;
1 cup coconut milk;
1/3 cup fresh mint;
¼ cup fresh lime juice;
1 tbsp. fish sauce;
8 bamboo skewers, soaked for 1 hour;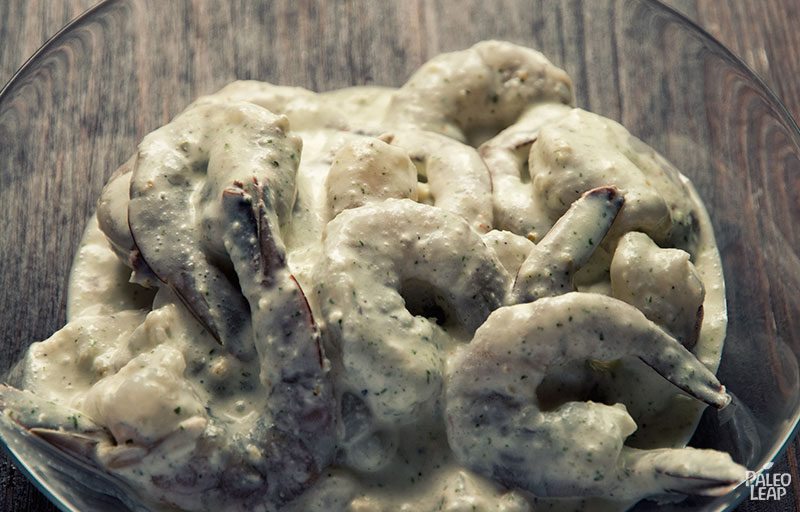 Preparation
In a food processor, blend the jalapeño, garlic, ginger, coconut milk, fresh mint, lime juice, and fish sauce on high speed until smooth to make the marinade.
Mix the shrimp with marinade in a bowl, cover, and refrigerate for 1 hour.
Preheat your grill to a medium-high heat.
Remove the shrimp from the marinade.
Thread the shrimp on skewers with the avocado and watermelon.
Place the skewers on the preheated grill for 6 to 8 minutes, turning once.
Serve warm.