o follow up with a delicious use for some Paleo tortillas, here's a basic taco recipe that you can adapt almost endlessly to suit your personal tastes. As long as you've got your taco shells and meat ready, the choice of toppings is practically unlimited.
Go traditional with bell peppers, salsa, and onions, or branch out with fruits: some melon salsa would be a great way to add an original twist, or what about mango? Avocado? Pineapple? Of course, if you tolerate dairy, some melted cheese on top never goes wrong, either.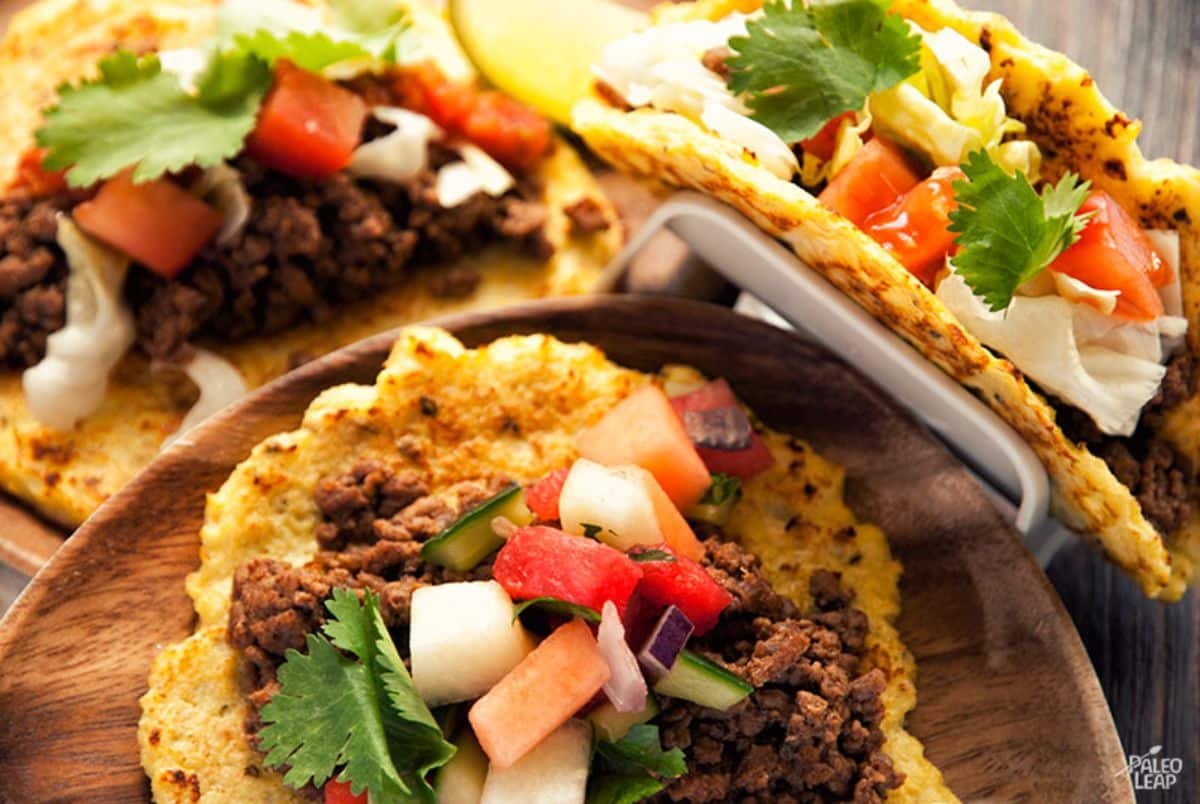 Another great option, if you're cooking for a crowd, is to just round up all the toppings you can think of and leave them out in separate bowls so everyone can build their own personal masterpiece.
This is especially great for two purposes: kids and potlucks. Kids love the chance to make their own food, and for a group meal, build-your-own tacos guarantee that everyone will get something they like.
You'll need a batch of flourless taco shells to make this recipe as written: they barely take any extra time to make, and they really pull the whole recipe together.
If you don't even have a few minutes to make the shells, you could also just round up some lettuce leaves for wraps or make it even simpler and just toss everything over mixed greens for a taco salad.
Ground Beef Tacos Recipe
SERVES: 4 PREP: 25 min COOK: 20 min
Ingredients
2 lbs. ground beef;
1 tomato, diced;
1 green bell pepper, diced;
1 onion, diced;
1 cup shredded lettuce;
Homemade salsa;
Melon salsa; (optional)
Your choice of other toppings; (optional)
Fresh cilantro for garnishing;
Ingredients for the taco seasoning
1 tbsp. chili powder;
1 tsp. ground cumin;
½ tsp. paprika;
½ tsp. dried oregano;
½ tsp. garlic powder;
Sea salt and freshly ground black pepper;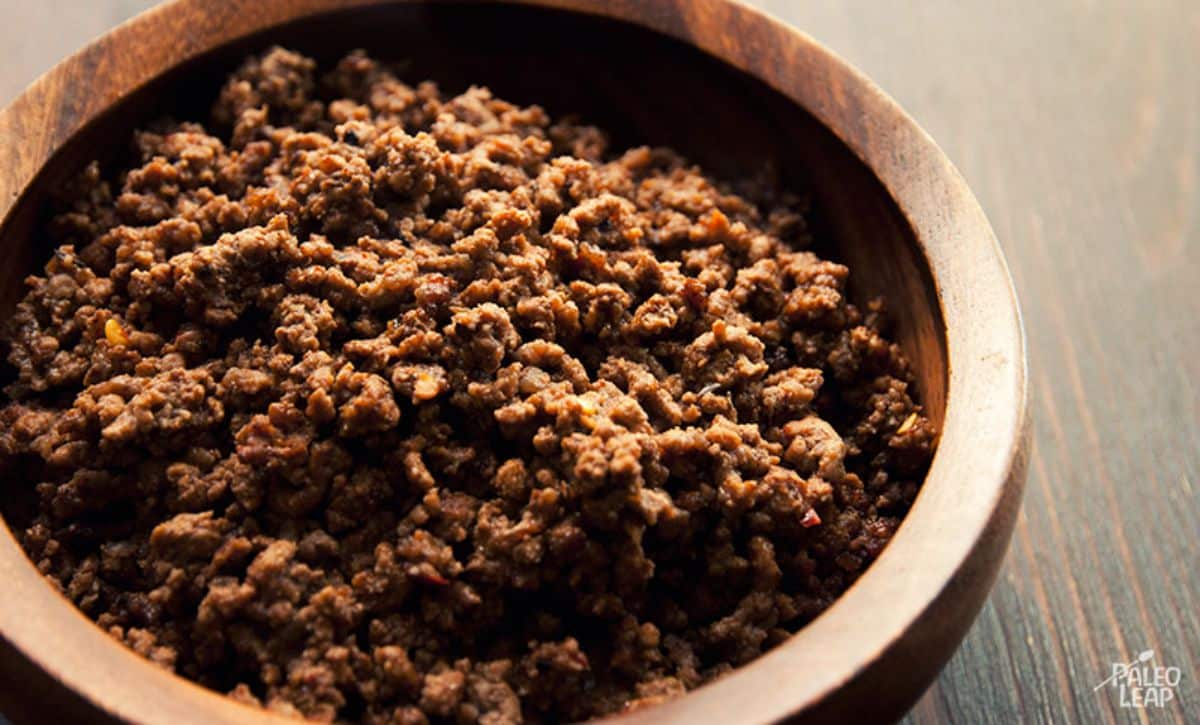 Preparation
Stirring frequently, brown the ground beef and onion in a skillet placed over medium heat for 8 to 10 minutes or until the beef is cooked.
In a bowl, combine all the ingredients for the taco seasoning and season with salt and pepper to taste.
Stir the taco seasoning in with the meat. Reduce the heat to low, and let everything simmer for 10 minutes.
To assemble the tacos, layer the beef mixture, shredded lettuce, tomatoes, and bell pepper (or whatever other toppings you're using) in each taco shell.
Serve with your choice of salsa.
📖 Recipe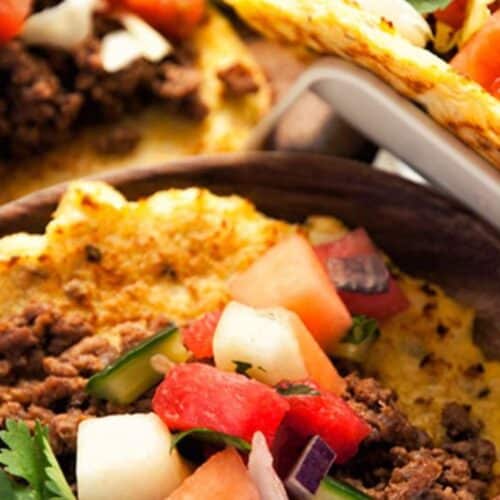 Ground Beef Tacos Recipe
Bring on the tacos! With a grain-free shell and a filling limited only by your imagination, this recipe is sure to be a family hit.
Ingredients
2

lbs.

ground beef

1

tomato

diced

1

green bell pepper

diced

1

onion

diced

1

cup

shredded lettuce

Homemade salsa

Melon salsa

optional

Your choice of other toppings

optional

Fresh cilantro for garnishing
Ingredients for the taco seasoning
1

tbsp.

chili powder

1

tsp.

ground cumin

½

tsp.

paprika

½

tsp.

dried oregano

½

tsp.

garlic powder

Sea salt and freshly ground black pepper
Instructions
Stirring frequently, brown the ground beef and onion in a skillet placed over medium heat for 8 to 10 minutes or until the beef is cooked.

2 lbs. ground beef,

1 onion

In a bowl, combine all the ingredients for the taco seasoning and season with salt and pepper to taste.

1 tbsp. chili powder,

1 tsp. ground cumin,

½ tsp. paprika,

½ tsp. dried oregano,

½ tsp. garlic powder,

Sea salt and freshly ground black pepper

Stir the taco seasoning in with the meat. Reduce the heat to low, and let everything simmer for 10 minutes.

To assemble the tacos, layer the beef mixture, shredded lettuce, tomatoes, and bell pepper (or whatever other toppings you're using) in each taco shell.

1 tomato,

1 green bell pepper,

1 cup shredded lettuce,

Your choice of other toppings

Serve with your choice of salsa.

Homemade salsa,

Melon salsa,

Fresh cilantro for garnishing
Nutrition
Calories:
622
kcal
Carbohydrates:
9
g
Protein:
41
g
Fat:
46
g
Saturated Fat:
18
g
Polyunsaturated Fat:
2
g
Monounsaturated Fat:
20
g
Trans Fat:
3
g
Cholesterol:
161
mg
Sodium:
221
mg
Potassium:
926
mg
Fiber:
4
g
Sugar:
3
g
Vitamin A:
1882
IU
Vitamin C:
31
mg
Calcium:
92
mg
Iron:
7
mg