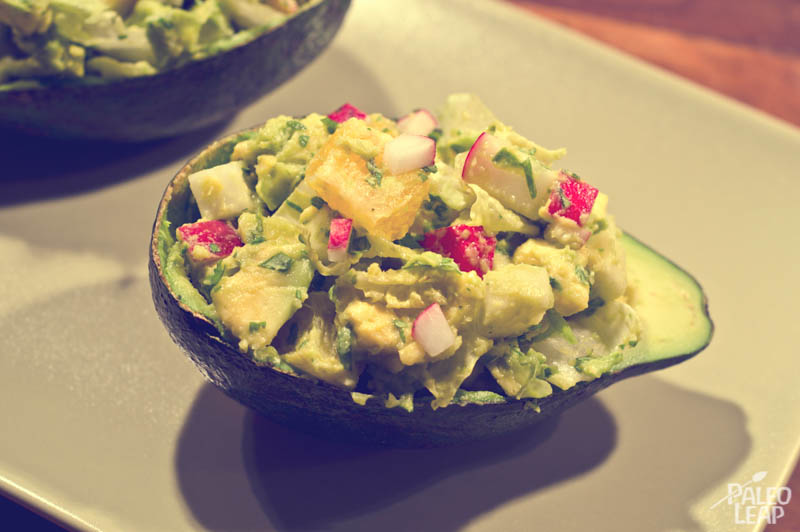 You get together for a gathering, everyone is to bring food, so it's your chance to shine! Maybe I'm being a little dramatic, but I quite enjoy the friendly competition of trying to outdo all the other guests with an eye catching dish. This unique guacamole will do just that. The ingredients are nothing unusual, but the way it's presented makes up for it. The concept is just like that of a twice baked potato, but no baking or potatoes are required. You'll be using the avocado skins as shells to serve the guacamole.
I use avocados quite a bit. I include them whenever I am preparing any type of salad, or raw vegetable dish. Avocados, thanks to their richness due to their fatty nature, can do a lot in terms of texture for any dish despite the fact that they can sometime lack a little bit in taste. Many will argue that they are quite bland and I guess I could not completely disagree. That being said, a bland ingredient always provides for a great base to work with. It's in fact quite easier to add flavor to something bland than it is to add flavor to something already very strong tasting. When working with strong flavors, it's sometimes hard to find what compliments them nicely. I found my strong flavors for this dish in all the other ingredients. I got the pungent taste from the radishes, alongside the green onions and cilantro, and I threw in something juicy and citrusy with the oranges and lime juice to add a sweet and sour taste to the whole thing. All things combined together ended up working out quite wonderfully. Let's not forget also that avocados are very nutritious and a great source of fiber, vitamin E and potassium.
Guacamole, a popular Mexican dip that's already perfectly Paleo, is often prepared with tomatoes and onions. Here I'm sure you'll enjoy the twist on the traditional version. You'll also get to use radishes, a pungent root vegetable that I haven't used a lot in the recipes so far. Radishes are absolutely delicious and offers a great crunchy texture. They also happen to be a very rich source of vitamin C.
Serve and enjoy this healthy Paleo dip with raw vegetables or some kind of homemade chips like plantain or sweet potato chips. Recipes for both of those can be found in the cookbook.
Guacamole with radish and oranges recipe
Serves 4

Values are per portion. These are for information only & are not meant to be exact calculations.
Ingredients
3 avocados;
2 large oranges, skin removed and chopped;
1 ½ cups romaine lettuce, chopped;
2 cups radishes, chopped;
1 cup green onions, finely chopped;
3 tbsp lime juice;
¼ cup cilantro, finely chopped;
Sea salt and freshly ground black pepper to taste;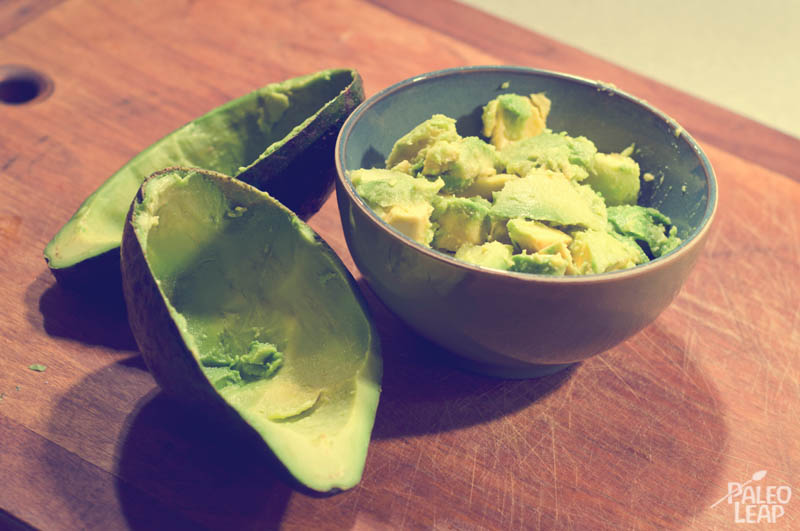 Preparation
Begin by halving your avocados and removing the pits. Do this as neatly as possible because you will be using the avocado skin as a serving shell. Using a spoon, gently scoop out the flesh of the avocado and place it in a bowl and set all the skins aside for later use. Now use a fork to mash up the avocado, making it either smooth or chunky, depending on your preference.
In the same bowl where you have mashed your avocados, add the remaining ingredients. Give the ingredients a thorough mix to ensure everything is well combined.
Gently spoon the mixture into each avocado shell. I know I have warned you to be gentle more than enough times, but I certainly ruined my fair share of the skins while preparing this recipe and it does not make for a beautiful presentation. Place them all on a nice serving platter and be ready to impress!