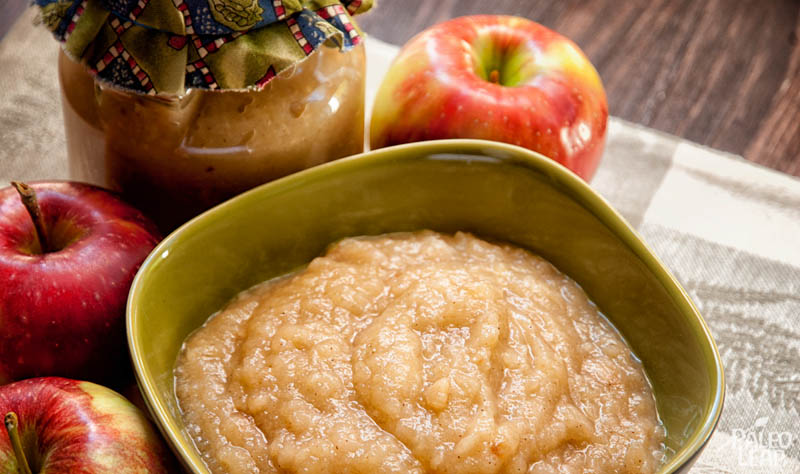 Were you hoping to use applesauce in your seasonal cooking, but you keep finding yourself in the grocery store reading label after label and trying in vain to find a brand that doesn't contain all kinds of weird preservatives you can't pronounce? Now you can skip the frustration and get straight to the good stuff with this recipe for homemade applesauce that tastes so delicious it's almost like an apple pie: great for baking, but also mouthwatering enough to eat hot off the spoon.
What makes this applesauce unique is the way it brings out the natural contrast already in the apples between sweetness and tartness. First of all, the apples are roasted, which concentrates their flavor better than the usual stovetop cooking. Cinnamon and nutmeg add a deep, rich heat, but then a little bit of lemon juice adds a little bite to amp up the contrast between savory and tangy. And of course, adding more fat always makes everything tastier, so don't skimp on the ghee! It's a slightly different take on traditional applesauce, but once you try it, you won't want to go back to the regular stuff.
You can eat a bowl of this applesauce plain as a savory-sweet dessert, or enjoy it as part of the main course (topping pork chops with applesauce is a classic, but it's great in all kinds of savory sauces). If you really want a special treat, applesauce is also part of the recipe for banana raisin cookies, and using the homemade version instead of store-bought will make the cookies even more irresistible.
Homemade Applesauce Recipe

SERVES: 4

PREP: 15 min.

COOK: 30 min.

Values are per portion. These are for information only & are not meant to be exact calculations.
Ingredients
3 lbs. assorted apples, peeled and sliced;
¼ cup water;
6 tbsp. raw honey; (optional)
1 tsp. fresh lemon juice;
2 tbsp. ghee (clarified butter), cut into small pieces;
½ tsp. ground cinnamon;
Pinch of freshly grated nutmeg;
Pinch of coarse salt;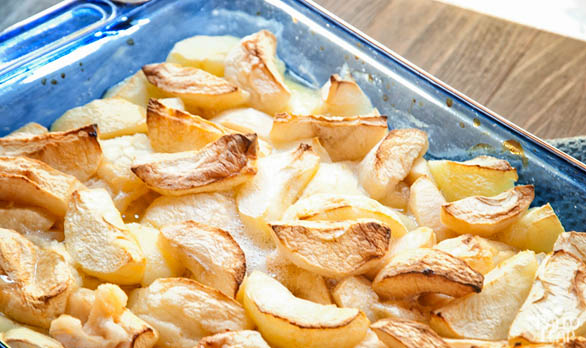 Preparation
Preheat your oven to 425 F.
In a baking dish, combine the apples, water, honey, lemon juice, ghee, and salt.
Place in the oven and roast 30 minutes or until the apples are very soft.
In a big bowl, puree the apple using a hand mixer or food mill. Of course, You can also use a blender or food processor to achieve the same result.
Stir in the spices and serve while still warm or once cold.