Hunter-Style chicken – the name might give an impression that this is a basic chicken dish, one that a Paleo-era hunter might cook while out at work. But the "hunter" term in this dish is actually derived from the Italian word "cacciatore" and describes a chicken that is cooked with tomatoes and mushrooms.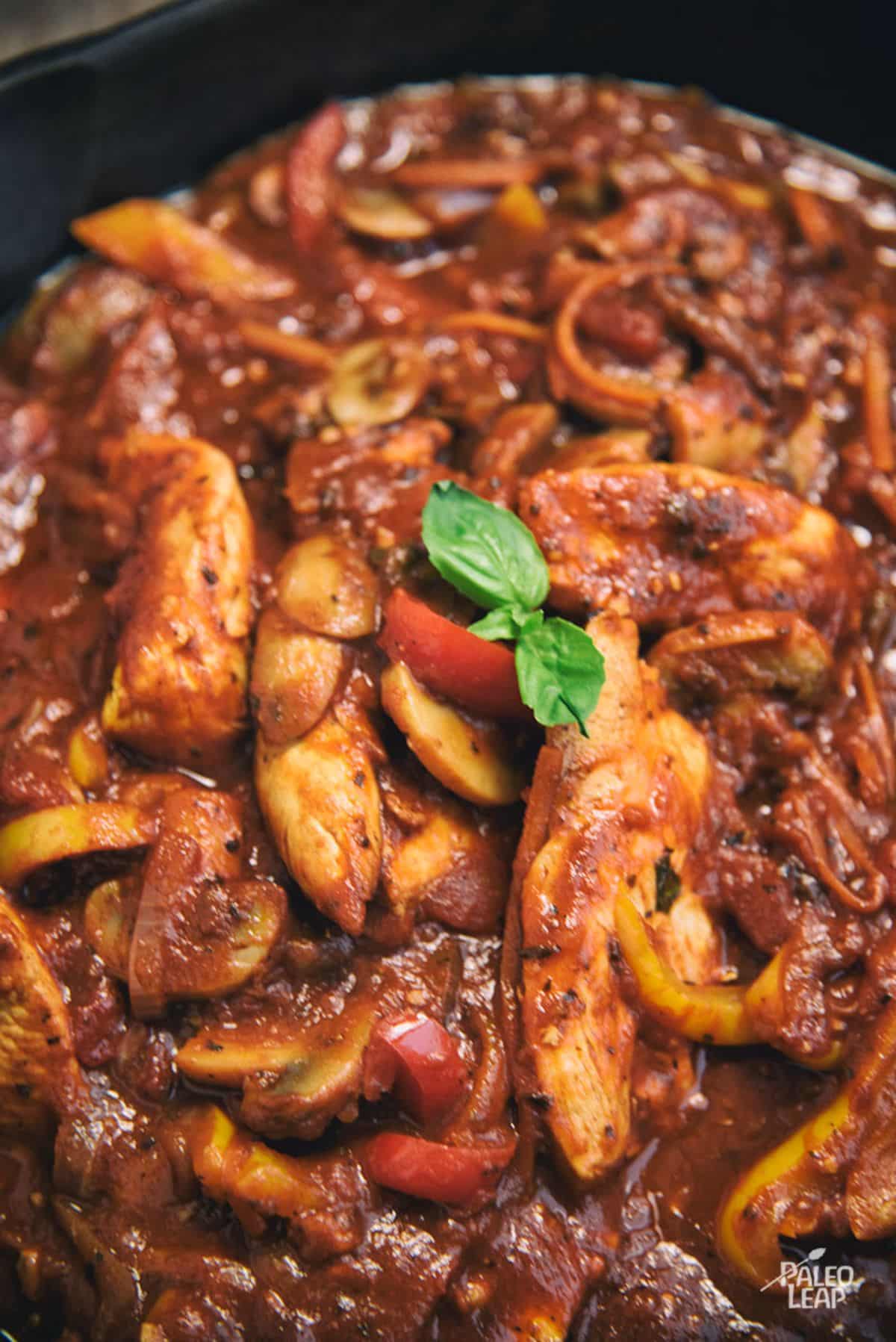 This dish is a fantastic call back to the hearty Italian nights you may have enjoyed growing up, filled with Italian seasonings and flavors that show off the hearty side of the Mediterranean.
This is a great, indulging week-night dish, simple in preparation but requiring a bit more work than you might expect from a quick meal. Although it does require some time, the flavor pay-off more than makes up for the commitment it takes to craft this delicious meal.
This dish calls for a mix of both fresh and dried seasonings. If you are short on time or fresh versions of these, dried seasoning can work if needed – just make sure to scale down your amounts and avoid using a generic Italian seasoning; this often hides unnecessary sodium and other unhealthy ingredients.
The dish also includes both crushed tomatoes and tomato sauce – these are both easily found in your canned foods section, but if you are feeling especially ambitious, you can make both from fresh tomatoes as well.
For a true Italian meal, pair this main course with a Paleo-friendly noodle - there are a ton of options for these, depending on your preferences. End this meal with a bowl of Coconut Vanilla Ice Cream for a gelato replacement that will make your mouth swoon.
Hunter-Style Chicken Recipe
Serves: 4 Prep: 15 min Cook: 25 min
Ingredients
4 boneless, skinless chicken breasts
1 garlic clove, minced
1 tsp. fresh thyme, minced
1 tsp. fresh rosemary, minced
2 tbsp. olive oil
Cooking fat
Sea salt and freshly ground black pepper
Hunter Sauce Ingredients
1 bell pepper, sliced
8 oz. cremini mushrooms, sliced
1 onion, sliced
2 garlic cloves, minced
¼ cup chicken stock
¼ cup fresh basil, minced
¼ cup fresh flat-leaf parsley, minced
2 tsp. dried thyme
2 cups crushed tomatoes
1 cup tomato sauce
½ tsp. crushed red pepper flakes
2 tsp. olive oil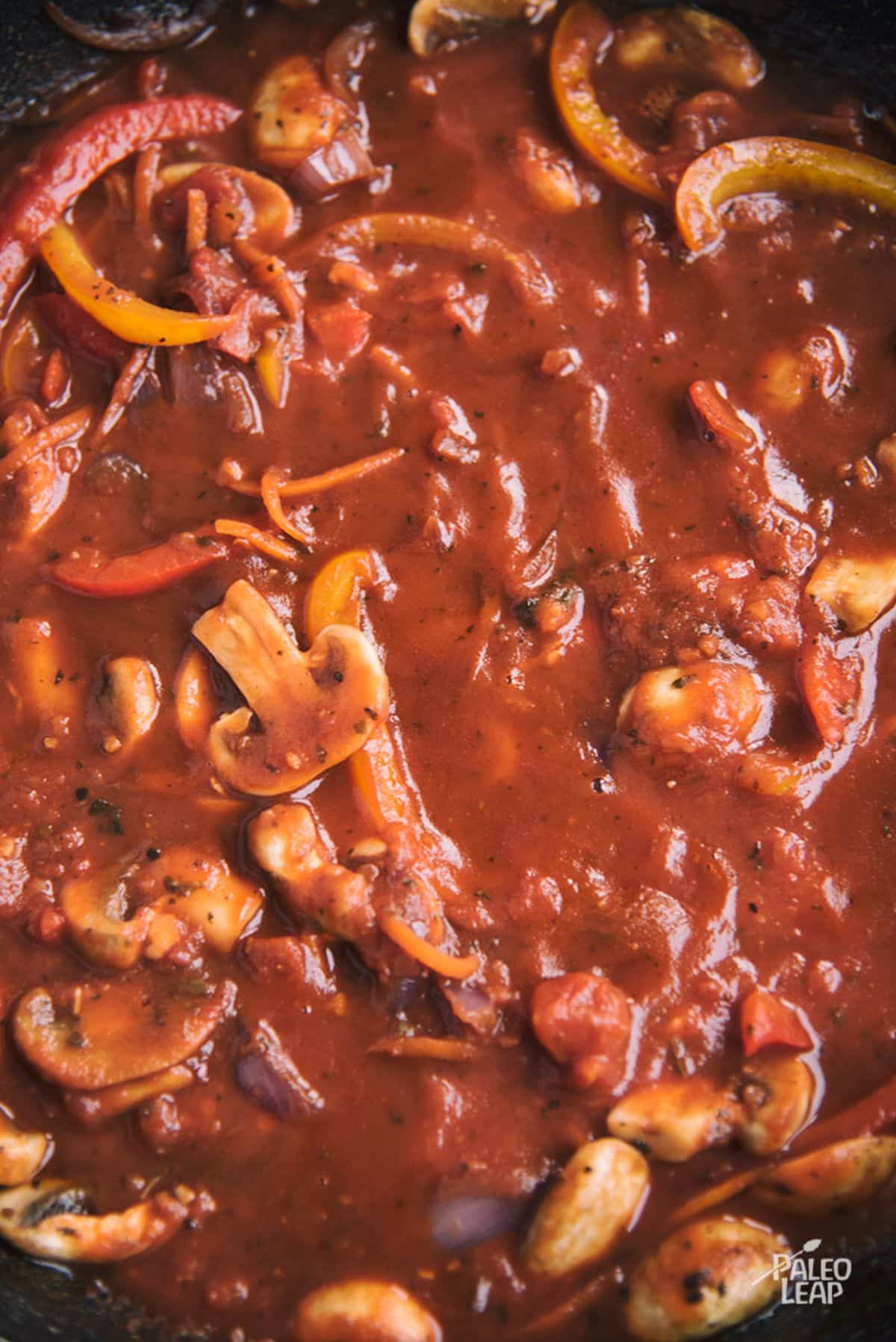 Preparation
In a bowl, combine the chicken, garlic, thyme, rosemary, and olive oil; season to taste.
Melt some cooking fat (about ½ tbsp.) in a skillet over medium-high heat.
Brown the chicken for 1 to 2 minutes on all sides and remove from the skillet.
Prepare the sauce in the same skillet. Lower the heat to prevent splattering, add olive oil for Hunter sauce, and re-heat the skillet.
Add the onion, garlic, mushroom, and bell pepper; cook until fragrant and soft (3 to 4 minutes).
Deglaze the pan with the chicken stock - add to the skillet and stir while scraping the bottom of the pan.
Stir in the remaining sauce ingredients and bring to a boil.
Lower the heat and return the chicken to the skillet; simmer for 12 to 15 minutes.
Season dish with salt and pepper to taste; serve topped with leftover fresh herbs.
📖 Recipe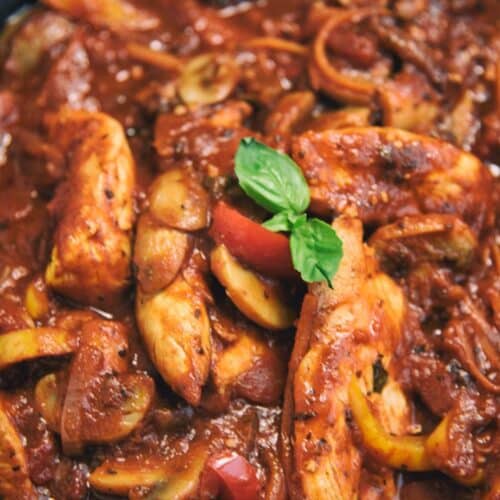 Hunter-Style Chicken Recipe
This Italian-inspired dish gives a taste of the Mediterranean while keeping you on track for your Paleo needs.
Instructions
In a bowl, combine the chicken, garlic, thyme, rosemary, and olive oil; season to taste.

4 boneless,

1 garlic clove,

1 tsp. fresh thyme,

1 tsp. fresh rosemary,

Sea salt and freshly ground black pepper,

2 tbsp. olive oil

Melt some cooking fat (about ½ tbsp.) in a skillet over medium-high heat.

Brown the chicken for 1 to 2 minutes on all sides and remove from the skillet.

Prepare the sauce in the same skillet. Lower the heat to prevent splattering, add olive oil for Hunter sauce, and re-heat the skillet.

Add the onion, garlic, mushroom, and bell pepper; cook until fragrant and soft (3 to 4 minutes).

8 oz. cremini mushrooms,

1 onion,

2 garlic cloves,

1 bell pepper

Deglaze the pan with the chicken stock – add to the skillet and stir while scraping the bottom of the pan.

4 boneless,

¼ cup chicken stock

Stir in the remaining sauce ingredients and bring to a boil.

¼ cup fresh basil,

¼ cup fresh flat-leaf parsley,

2 tsp. dried thyme,

2 cups crushed tomatoes,

½ tsp. crushed red pepper flakes

Lower the heat and return the chicken to the skillet; simmer for 12 to 15 minutes.

Season dish with salt and pepper to taste; serve topped with leftover fresh herbs.

1 cup tomato sauce,

Sea salt and freshly ground black pepper
Nutrition
Calories:
2370
kcal
Carbohydrates:
23
g
Protein:
296
g
Fat:
124
g
Saturated Fat:
51
g
Polyunsaturated Fat:
6
g
Monounsaturated Fat:
63
g
Trans Fat:
6
g
Cholesterol:
898
mg
Sodium:
1444
mg
Potassium:
6037
mg
Fiber:
6
g
Sugar:
11
g
Vitamin A:
2306
IU
Vitamin C:
65
mg
Calcium:
342
mg
Iron:
37
mg