It's easy sometimes when prepping a meal to focus on the main course – after all, that's what seems to impress and excite most people, right? But when we put so much thought and time into the focus of a meal, sides sort of get left… well, to the side.
Once you've poured so much effort into delivering a great protein, it might be tempting to either forego your vegetables or, worse, reach for something out of convenience versus health. Great side dishes don't need to be overly complicated – many are fairly simple to prepare and will make the flavors of your main course stand out.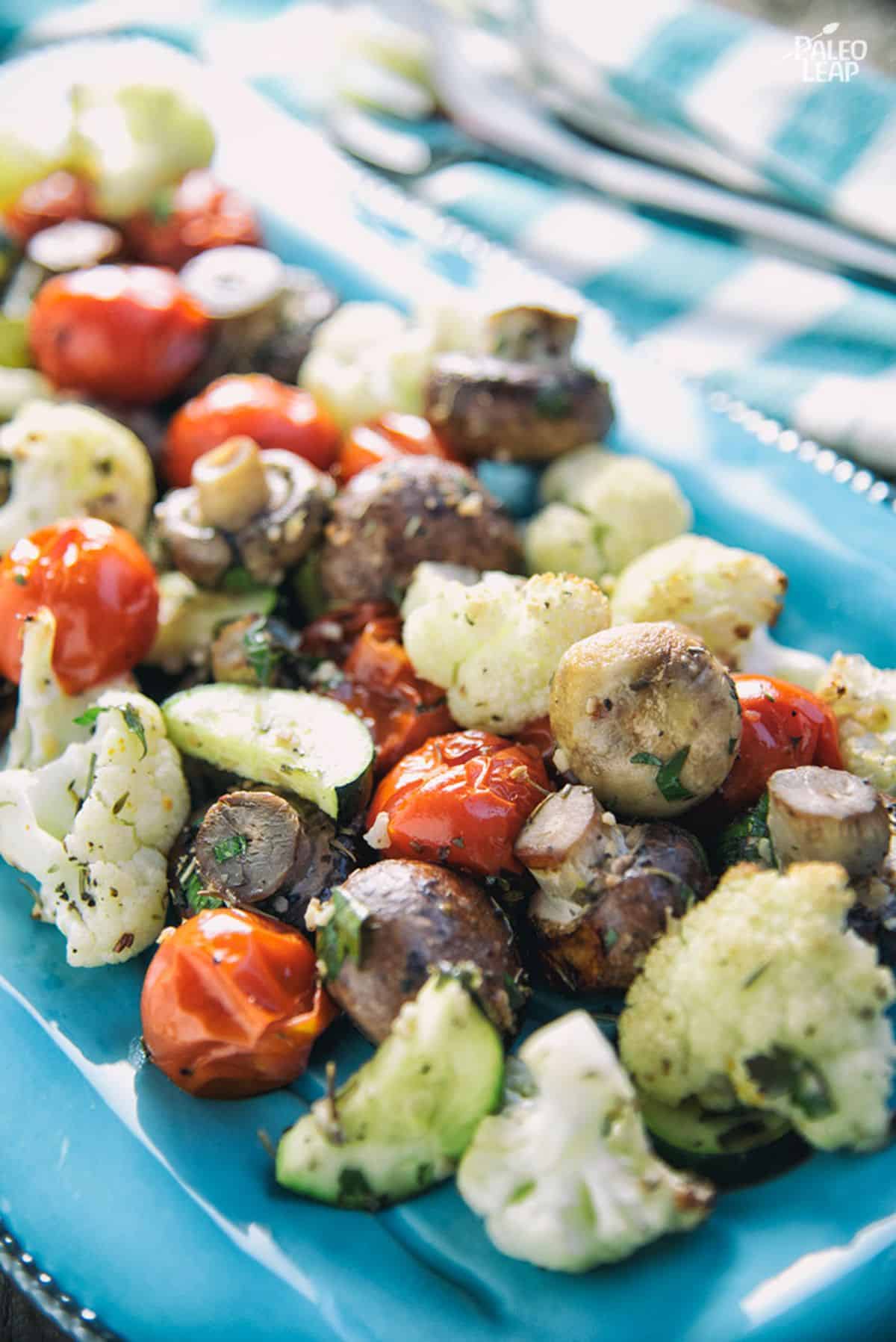 In this dish, a variety of colorful and tasty vegetables are combined and seasoned with a light Italian touch and roasted to just the right doneness. Although there is a significant amount of washing and prepping for this side, the results will be well worth it.
You can save yourself some time when making dinner by prepping your veggies earlier in the day, using a food processor, or buying pre-cut or frozen veggies as needed. If mushrooms aren't your thing, consider excluding these and doubling up your zucchini instead.
This dish is best served as part of a larger meal - it lacks a substantial amount of protein and fat. Consider the main course that can provide these macros that still work well with the Italian theme of this dish.
Although it may be tempting to pair this side with a simple chicken recipe, consider expanding your protein selection to some other options. For a heartier meal, try the Pork Chops with Garlic Sage Butter. For a lighter meal with an impressive presentation, consider the Grilled Pesto Shrimp Skewers.
Italian-Style Roasted Vegetable Medley Recipe
Serves: 4 Prep: 20 min Cook: 25 min
Ingredients
1 lb. cremini mushrooms, washed
2 cups cauliflower, cut into florets
2 cups cherry tomatoes
1 zucchini, sliced
4 garlic cloves, minced
¼ cup olive oil
2 tbsp. lemon juice
1 tbsp. fresh parsley, minced
½ tbsp. dried oregano
Sea salt and freshly ground black pepper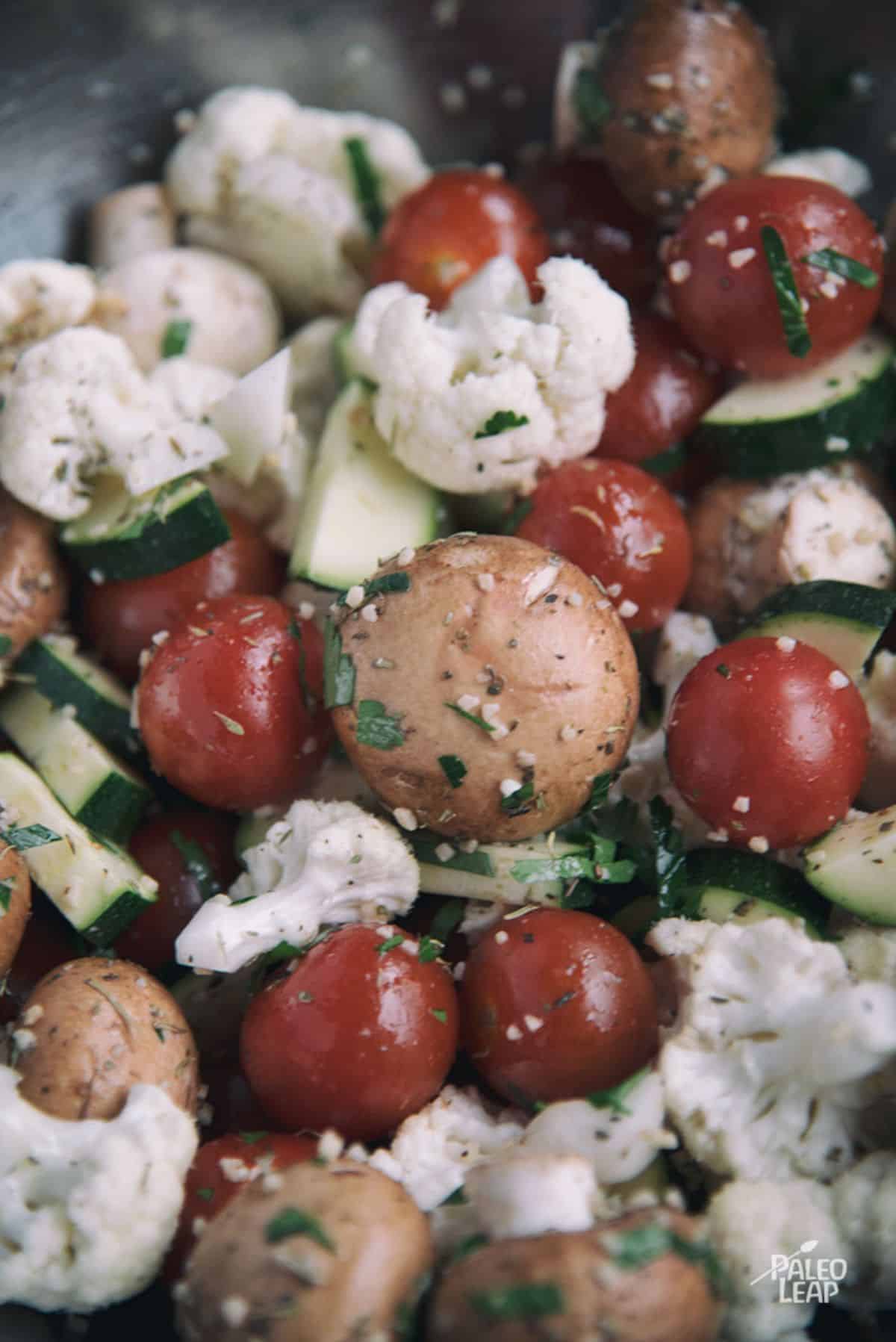 Preparation
Preheat oven to 400 F.
In a bowl, combine all ingredients and season with salt and pepper to taste.
Place the veggies on a baking sheet.
Roast for 20 to 25 minutes. Let rest for 2 to 3 minutes, adjust seasoning, and serve topped with fresh parsley.
📖 Recipe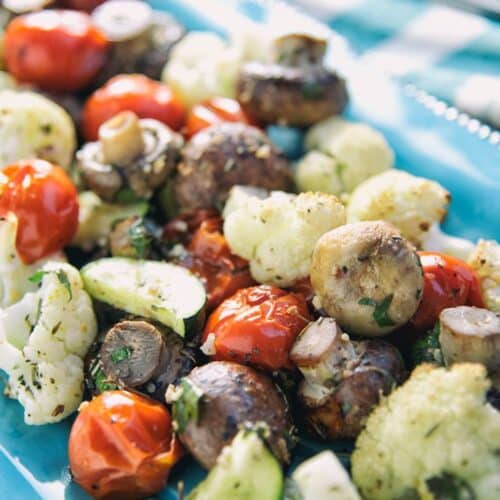 Italian-Style Roasted Vegetable Medley Recipe
This colorful, roasted Paleo side dish provides versatility to complement any Italian main course!
Instructions
Preheat oven to 400 F.

In a bowl, combine all ingredients and season with salt and pepper to taste.

1 lb. cremini mushrooms,

2 cups cauliflower,

2 cups cherry tomatoes,

1 zucchini,

4 garlic cloves,

¼ cup olive oil,

2 tbsp. lemon juice,

Sea salt and freshly ground black pepper,

½ tbsp. dried oregano

Place the veggies on a baking sheet.

Roast for 20 to 25 minutes. Let rest for 2 to 3 minutes, adjust seasoning, and serve topped with fresh parsley.

1 tbsp. fresh parsley,

Sea salt and freshly ground black pepper
Nutrition
Calories:
191
kcal
Carbohydrates:
15
g
Protein:
6
g
Fat:
14
g
Saturated Fat:
2
g
Polyunsaturated Fat:
2
g
Monounsaturated Fat:
10
g
Sodium:
37
mg
Potassium:
1011
mg
Fiber:
4
g
Sugar:
6
g
Vitamin A:
806
IU
Vitamin C:
59
mg
Calcium:
88
mg
Iron:
2
mg