How to cook a delicious, juicy, whole chicken on the grill? To achieve an amazing result, you are going to have to learn how to spatchcock a chicken on your own.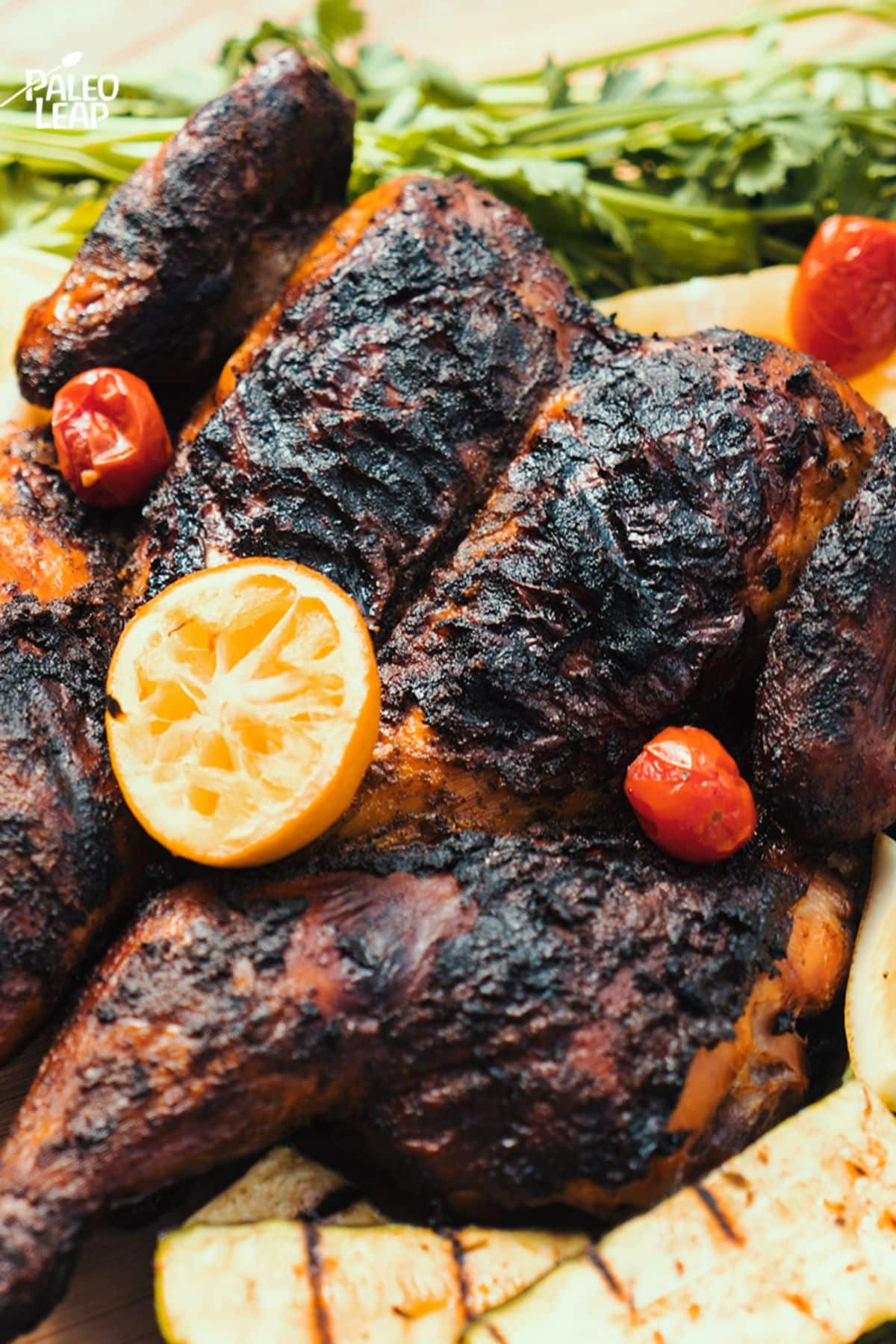 It is not as difficult or strange as it sounds, and there are plenty of tutorials and videos to show you the way, but we'll give you the quick and easy version: to spatchcock is to butterfly - removing the backbone so that the chicken can lay flat on the grill, or baking sheet.
Spatchcocking significantly reduces cooking time, at the same time allowing the meat to remain on the bone, keeping all deliciousness intact.
This can easily be accomplished with a few carefully placed incisions of a knife, it can also be done with large kitchen shears as well. It may take a couple of times to get it right, but as you gather courage, it will get easier, and it is likely that you will even be commended for your cooking skills.
As you remove the backbone, you can set it aside, possibly in the freezer, saving it for the next time you are ready to make your own chicken stock, an essential ingredient in Paleo cooking.
With all these fragrant and intense Jamaican spices, we would suggest bringing a more neutral dish to the table. Sautéed carrots and zucchini are a wonderful option; feel free to use as few, or as many, spices as you like.
Jamaican Jerk Whole Chicken Recipe
Serves: 4 Prep: 15 min + 2h Cook: 45 min
Ingredients
1 whole chicken, spatchcock
2 to 3 Scotch Bonnet peppers, (seeded if desired)
2 green onions, chopped
4 garlic cloves, minced
¼ cup coconut aminos
Juice from 1 lime
4 tsp. ground allspice
2 tsp. ground ginger
2 tsp. ground coriander
1 tsp. ground cinnamon
1 tsp. ground nutmeg
1 tsp. ground cloves
2 tbsp. fresh thyme
Sea salt and freshly ground black pepper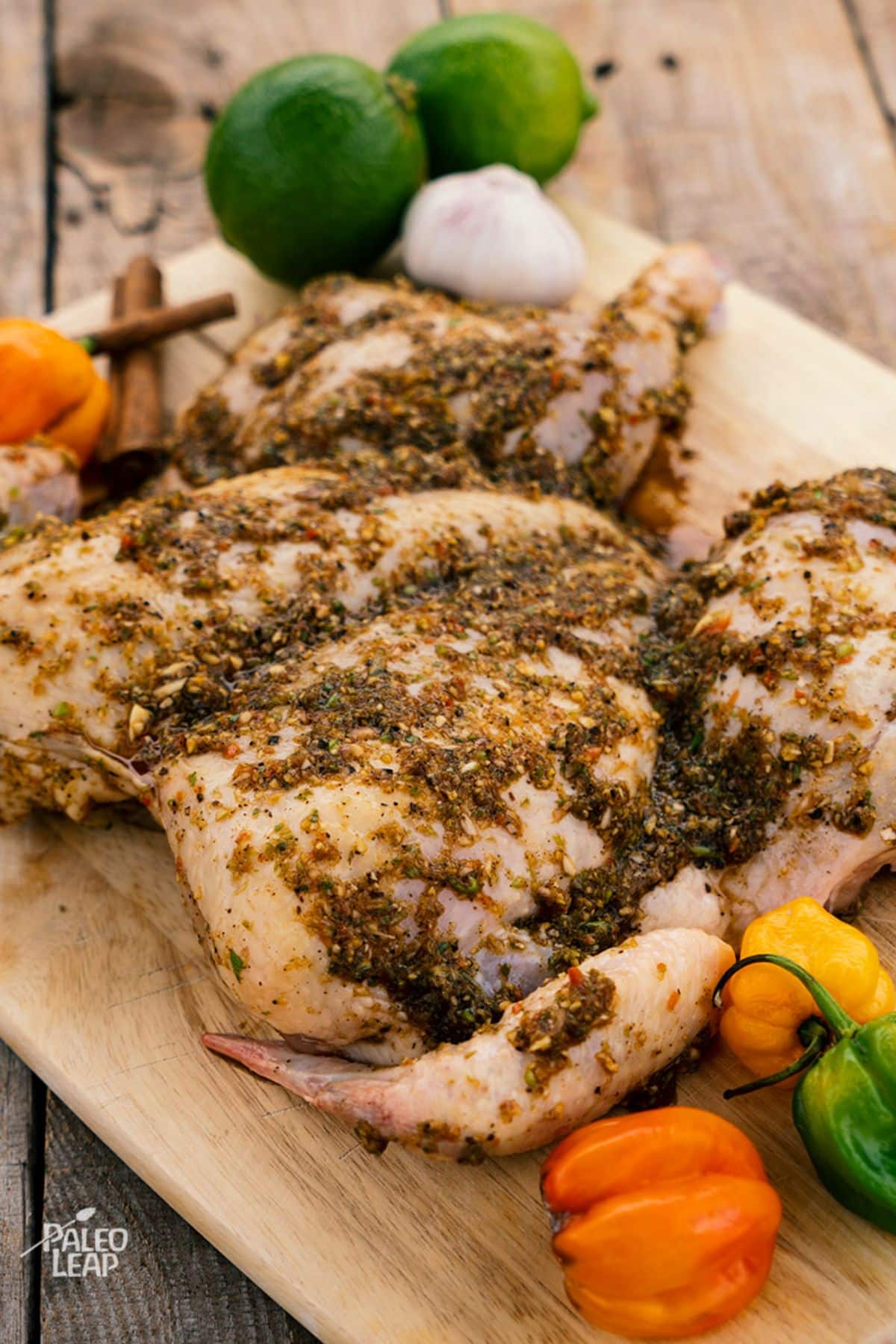 Preparation
Place all the ingredients, minus the chicken, in a food processor or blender and season to taste; pulse until you get a smooth paste.
Rub the whole chicken with the jerk paste, making sure every part is well coated, and let it marinate for 2 hours.
Preheat the grill to medium-high heat.
Place chicken on preheated grill and cook for 35 to 40 minutes, or until cooked through, adjusting heat once in a while, so it doesn't get too hot.
Let the chicken rest for about 10 minutes before carving and serving.
📖 Recipe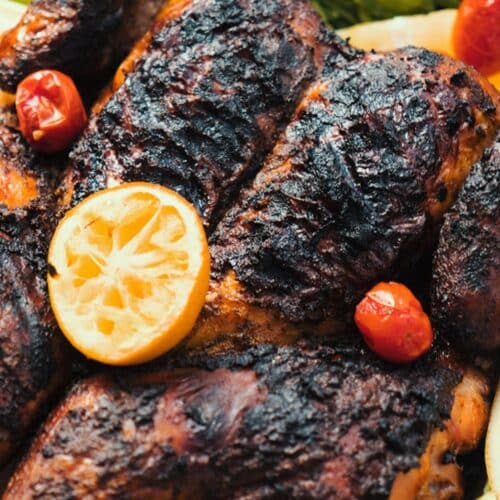 Jamaican Jerk Whole Chicken Recipe
Grow your kitchen skills and learn how to spatchcock a chicken that is perfect for grilling - Jamaican jerk whole chicken is fragrant and mouthwatering.
Instructions
Place all the ingredients, minus the chicken, in a food processor or blender and season to taste; pulse until you get a smooth paste.

2 to 3 Scotch Bonnet peppers,

2 green onions,

4 garlic cloves,

¼ cup coconut aminos,

Juice from 1 lime,

4 tsp. ground allspice,

2 tsp. ground ginger,

2 tsp. ground coriander,

1 tsp. ground cinnamon,

1 tsp. ground nutmeg,

1 tsp. ground cloves,

2 tbsp. fresh thyme

Rub the whole chicken with the jerk paste, making sure every part is well coated, and let it marinate for 2 hours.

Preheat grill to medium-high heat.

Place chicken on preheated grill and cook 35 to 40 minutes, or until cooked through, adjusting heat once in a while so it doesn't get too hot.

Let the chicken rest about 10 minutes before carving and serving.

Sea salt and freshly ground black pepper
Nutrition
Calories:
482
kcal
Carbohydrates:
16
g
Protein:
37
g
Fat:
30
g
Saturated Fat:
9
g
Polyunsaturated Fat:
6
g
Monounsaturated Fat:
12
g
Trans Fat:
0.2
g
Cholesterol:
143
mg
Sodium:
484
mg
Potassium:
587
mg
Fiber:
5
g
Sugar:
1
g
Vitamin A:
760
IU
Vitamin C:
27
mg
Calcium:
137
mg
Iron:
5
mg