The following recipe will set you out on a hunt for the best andouille sausages you can find. What's so special about it, you ask? Well, a Louisianian andouille is a smoked sausage typically made from pork, but that is not all.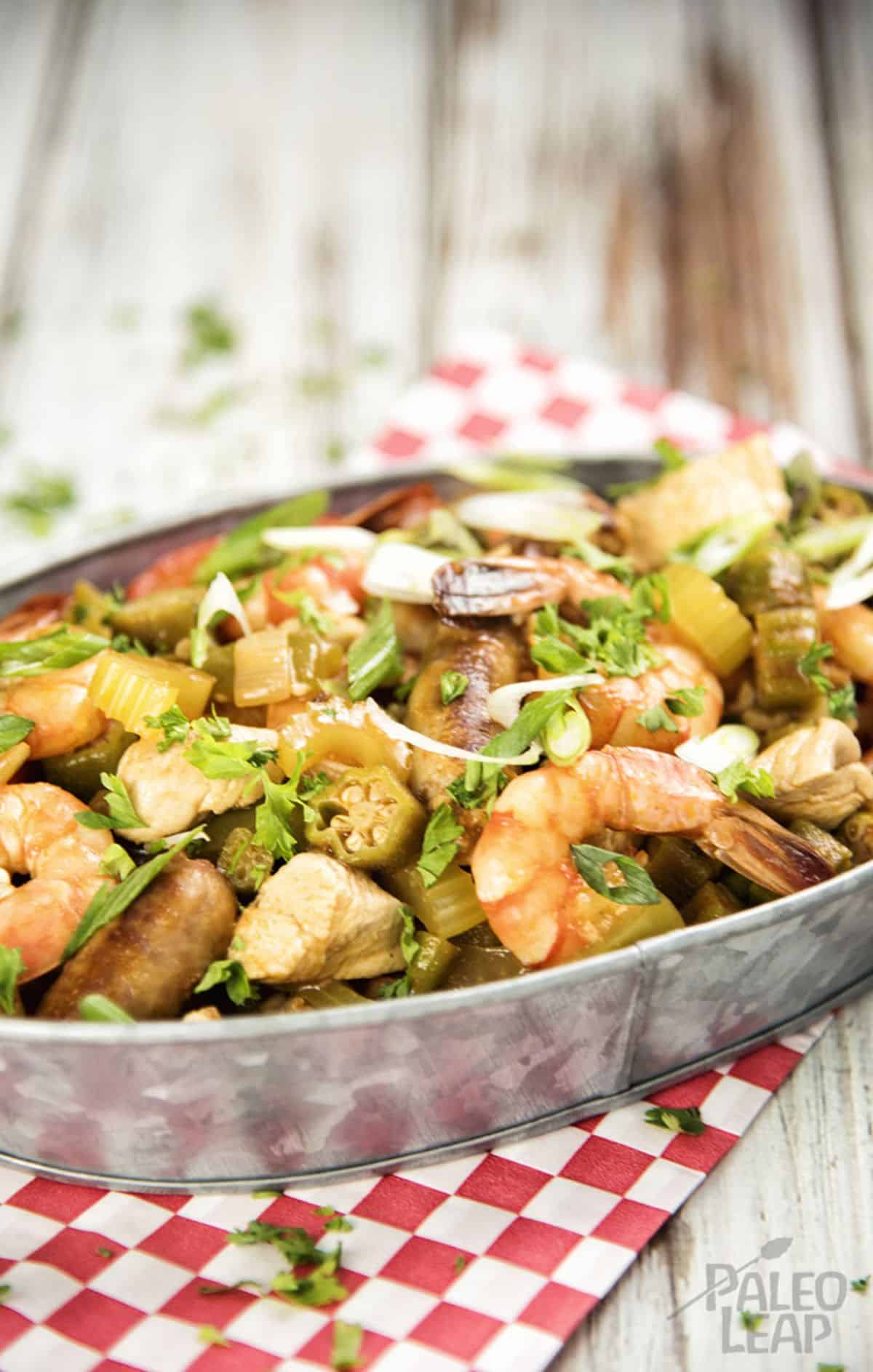 The most traditional butchers make this sausage by using the entire digestive tract of a single pig. The filling consists of the pig's stomach and small intestines chopped into strips, with onions, minced garlic, and other aromatic seasonings.
Sounds yummy, doesn't it? The truth is that these sausages are utterly amazing, though sometimes they can be hard to find.
If you need to make a sausage substitute due to a lack of andouille at the grocery store, here are three other fabulous sausage options you are more likely to find: kielbasa, chorizo, or a classic smoked German sausage.
Don't ever let the non-availability of sausage stop you from pre-cooking a large batch of slow-cooker shrimp jambalaya. Jump right in and get started! It is a meal fit for a party, just as it is for a warming weeknight meal.
Though you may consider Paleo jambalaya a complete meal on its own, there are some sides that complement this flavorful dish without overshadowing it.
Sautéed Swiss chard with garlic comes first to mind, crispy baked okra comes next, followed quickly by cauliflower rice. Serve one, or all, depending on the crowd who comes to devour all that is in the pot.
Paleo Jambalaya Recipe
Serves: 6 Prep: 20 min Cook: 35 min
Ingredients
2 tbsp. olive oil
1 lb. Andouille sausages, sliced
2 lbs. chicken tenders, cut into chunks
1 onion, chopped
3 cloves garlic, minced
3 celery stalks, chopped
1 green bell pepper, sliced
1 red bell pepper, sliced
4 fresh thyme sprigs
2 cups chicken broth
1 cup tomato sauce
¼ cup hot sauce (optional)
1 lb. raw shrimp, peeled and deveined
8 oz. okra, chopped
2 tbsp. parsley, finely chopped
4 green onions, chopped
Preparation
In a large saucepan over high heat, brown the sausages in olive oil. Cook for approximately 3 minutes, or until golden brown.
Add the chicken to the saucepan and season with salt and pepper. Continue cooking on all sides for a few more minutes until the chicken begins to brown.
Add the onion, garlic, celery, peppers, and thyme to the saucepan. Mix in with the meat and continue to cook for 5 to 7 minutes, frequently stirring to prevent anything from sticking to the bottom of the pan.
Add the broth, tomato sauce, and hot sauce. Mix well and allow it to come to a boil.
Once the mixture has boiled, add the shrimp and okra. Reduce the heat and simmer, covered, for 5 to 7 minutes, or until the shrimp is pink.
Remove the jambalaya from the heat. Stir in parsley and green onions prior to serving.
📖 Recipe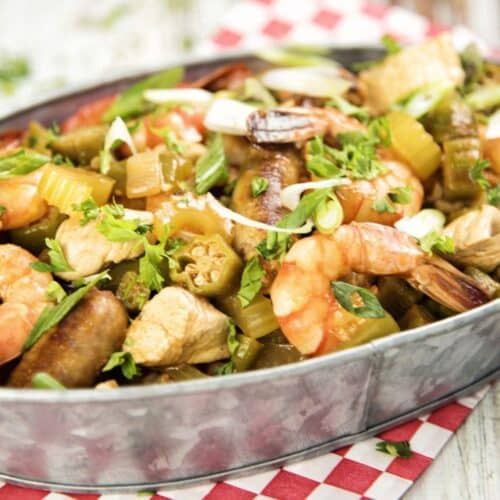 Paleo Jambalaya Recipe
A completely delicious meal with unparalleled flavors, made quick - in less than an hour - with plenty of jambalaya to reheat for lunch tomorrow!
Instructions
Melt the coconut oil in a large frying pan, add the chorizo and fry until golden brown.

1 tbsp. coconut oil,

1 cup chorizo sausage

Remove the chorizo from the pan, leaving behind the golden oil.

Add the onion, celery and peppers. Allow to cook for 5 minutes until they begin to soften.

1 onion,

2 celery stalks,

2 bell peppers

Add the garlic, zucchini and jalapeno, and cook for another 5 minutes.

3 garlic cloves,

2 large zucchini,

1 jalapeno

Add the chorizo back into the pan.

Add the spices and stir to combine.

2 tsp. cajun spice,

½ tsp. cayenne pepper,

1 tsp. dried thyme,

1 bay leaf

Add the tomatoes and shrimp and cook for 5-10 minutes until the shrimp are cooked through and the sauce has thickened slightly.

2 x 14 oz. cans chopped tomatoes,

10 oz. shrimp

Season to taste, then top with fresh chives and parsley. Serve over cauliflower rice.

Salt & pepper to taste,

Chopped chives,

Chopped parsley,

Cauliflower rice
Nutrition
Calories:
264
kcal
Carbohydrates:
6
g
Protein:
41
g
Fat:
10
g
Saturated Fat:
5
g
Polyunsaturated Fat:
0.3
g
Monounsaturated Fat:
0.2
g
Cholesterol:
566
mg
Sodium:
1669
mg
Potassium:
172
mg
Fiber:
2
g
Sugar:
3
g
Vitamin A:
2461
IU
Vitamin C:
61
mg
Calcium:
227
mg
Iron:
5
mg