Here is one of those surprising dishes that appear complicated and elegant, yet it is incredibly simple to put all the details together.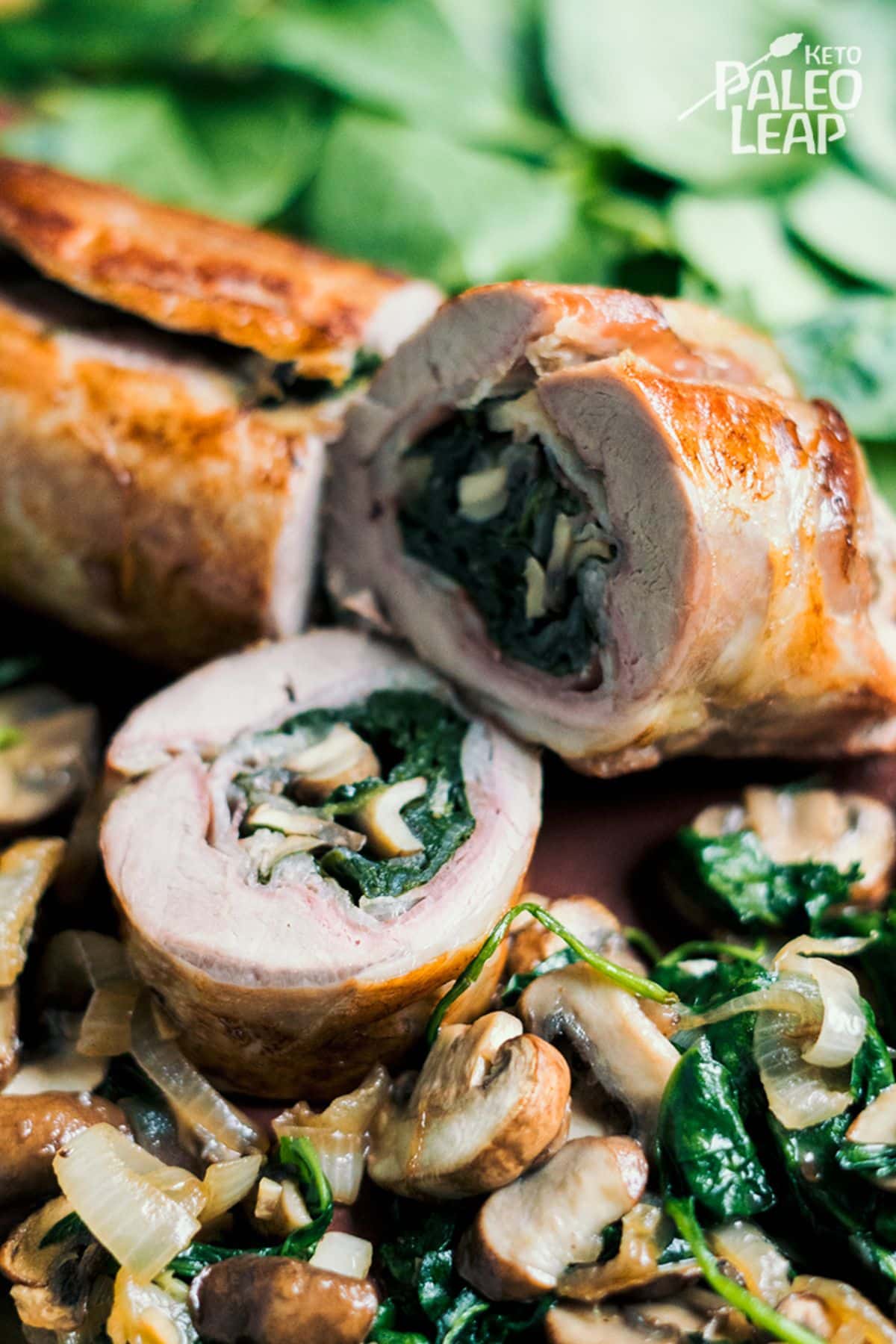 Stuffed pork tenderloin is not your everyday one-pot meal, but if you are entertaining guests or hosting a holiday party, you will want to increase your level of kitchen expertise and show off those cooking skills - that means learning how to butterfly a pork loin.
You can ask your favorite butcher to do it for you, but somehow it is so much tastier (and rewarding) when you learn how to do it on your own.
Take your freshly purchased pork tenderloin and make one long cut all the way down the center, being careful not to go all the way through. Open the piece of meat up, lay it flat and get ready to pound it to your desired thickness with a meat mallet.
In the next step, you will begin to layer your pancetta, or prosciutto, on top of the ½" thick pork loin, then add the already cooked spinach, mushroom and coconut cream mixture.
Roll it up tightly with twine (this takes some practice too!), and into the oven, it goes. It couldn't be any easier to make a sophisticated roast.
Now what to serve it with is always the question. If it is joyful festiveness that you are after, then may we suggest a side of balsamic roasted carrots and green beans? Or if your goal for the day is extremely low-carb, then baked portobello mushrooms are the quintessential match.
Keto Stuffed Pork Tenderloin Recipe
Serves: 4 Prep: 25 min Cook: 30 min
Ingredients
1 lb. pork tenderloin
5 slices pancetta
3 to 4 cups of spinach
1 cup mushrooms, sliced
½ onion, minced
2 garlic cloves, minced
¼ cup coconut cream
4 tbsp. ghee or coconut oil
Sea salt and freshly ground black pepper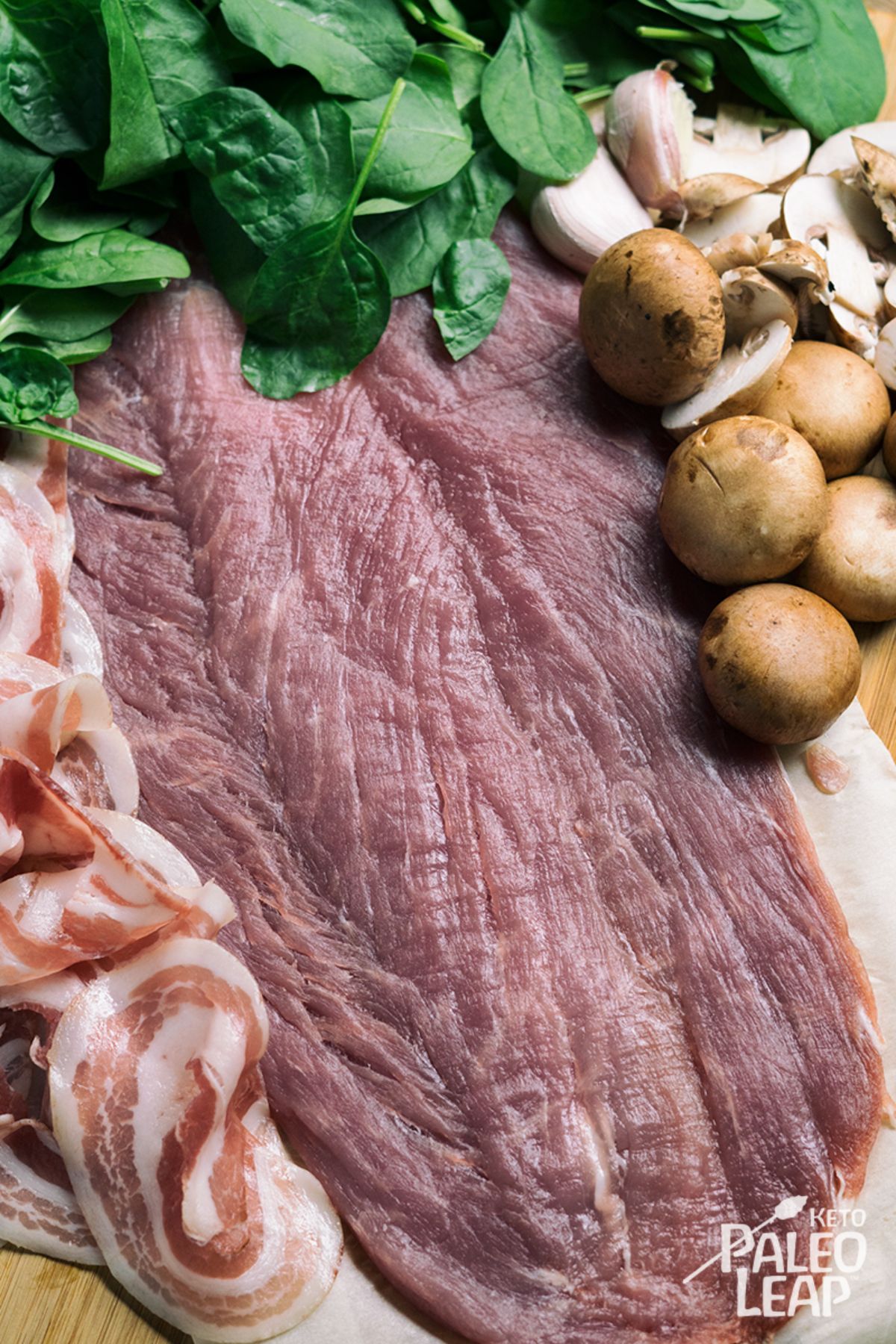 Preparation
Preheat oven to 425 F.
Butterfly the pork by making a deep incision down the length of the tenderloin; do not cut all the way through. Open the meat like a book, so the tenderloin lies flat.
Pound out the the tenderloin to ½ inch thickness using a meat tenderizer, and lay slices of pancetta over the pork to cover the surface.
Melt 2 tbsp. ghee in a skillet, add the onion and garlic, and cook for 1 to 2 minutes.
Add the mushrooms and cook another 2 to 3 minutes.
Mix in the coconut cream and season to taste.
Add in the spinach and cook until wilted, 2 to 3 minutes more; set aside.
Top the pork and pancetta with the spinach-mushroom mixture, and roll up the pork tightly.
Secure the pork with toothpicks or cooking twine.
Season the outside of the pork to taste with sea salt and freshly ground black pepper.
Melt the remaining ghee in a skillet over high heat in an oven-proof skillet.
Brown the pork for 1 to 2 minutes per side, then place it in the oven.
Bake for 20 to 25 minutes, or until cooked through, and let rest for 4 to 5 minutes before slicing.
📖 Recipe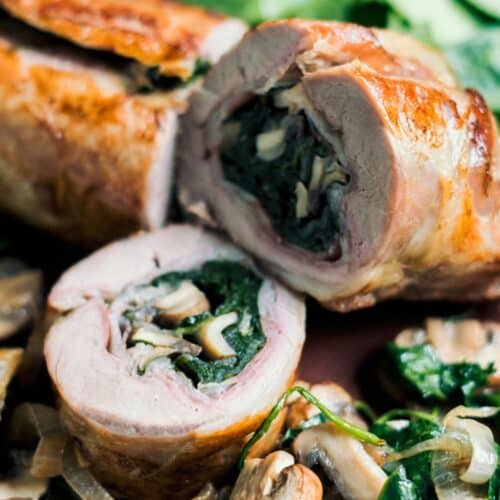 Keto Stuffed Pork Tenderloin Recipe
Once you learn how to butterfly a pork loin, you will be stuffing it with anything that crosses your way, from spinach to mushrooms and coconut cream.
Ingredients
Avocado Salsa Ingredients
Instructions
Preheat oven to 400 F.

In a bowl combine the cumin, paprika, onion powder and chili powder; season to taste with salt and pepper.

1 tsp. ground cumin,

1 tsp. paprika,

1 tsp. onion powder,

2 tsp. chili powder,

Sea salt and freshly ground black pepper

Brush the salmon fillets with the olive oil and lemon juice.

4 salmon fillets,

2 tbsp. olive oil,

2 tbsp. lemon juice

Sprinkle the salmon fillets with the spice mixture and place in a baking dish.

Bake in the oven for 12 to 15 minutes.

In a small bowl combine all the ingredients for the avocado salsa.

1 avocado,

½ cucumber,

½ red onion,

½ bell pepper,

1 tbsp. fresh lime or lemon juice,

¼ cup olive oil,

½ tsp. ground cumin,

Sea salt and freshly ground black pepper

Season the salsa with salt and pepper to taste, and gently toss until well mixed.

Serve the fish topped with the avocado salsa and fresh cilantro.
Nutrition
Calories:
544
kcal
Carbohydrates:
12
g
Protein:
36
g
Fat:
40
g
Saturated Fat:
6
g
Polyunsaturated Fat:
8
g
Monounsaturated Fat:
24
g
Cholesterol:
94
mg
Sodium:
126
mg
Potassium:
1312
mg
Fiber:
6
g
Sugar:
3
g
Vitamin A:
1996
IU
Vitamin C:
31
mg
Calcium:
70
mg
Iron:
4
mg