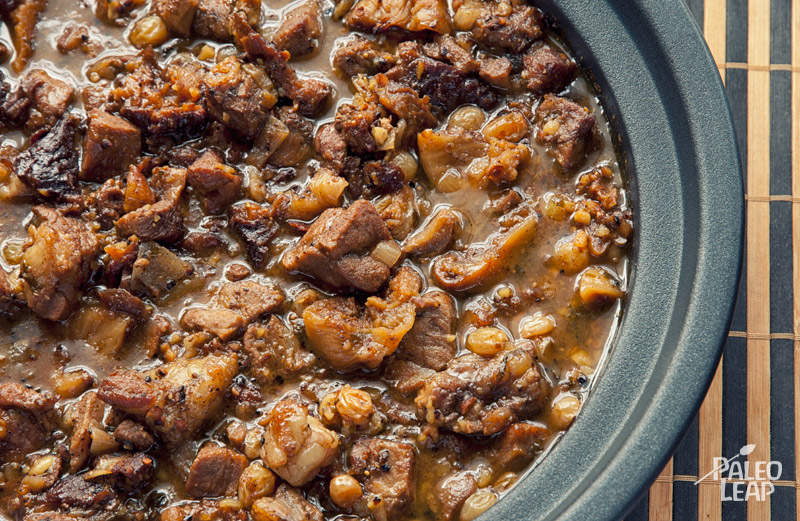 With a robust, earthy warmth layered underneath a sharper hint of spice, Ras El Hanout is a Moroccan spice blend that really makes this recipe stand out. Figs, dates, and golden raisins add an appropriately exotic sweetness that balances out the spiced meat, and all the flavors get a chance to blend and develop while the stew slowly bubbles away in the oven.
As a staple of African cuisine, lamb is the perfect stewing meat to pair with all these delicious flavors – and it's also very healthy. For one thing, the fat in lamb is almost entirely saturated and monounsaturated, with only a very small amount of PUFA. The ratio of Omega-6 to Omega-3 PUFA is also pretty good, about 2:1 (the ideal is 4:1 or below, so lamb definitely qualifies as a healthy choice). And like all other red meat, lamb is also extremely nutritious: it's high in B vitamins (especially B12), iron, phosphorus, zinc, and selenium.
I've included instructions for mixing your own Ras El Hanout in the recipe, but if you don't mind paying a little more, you can also buy it pre-mixed at the store. Either way, you can expect some leftover spice; even if you make your own, you'll end up with a little more than you need for the lamb. Keep the leftover spice to season another stew, or to quickly rub on a chicken before you roast it: spice blends like this are a great way to get a special flavor without spending a lot of extra time on fancy or complicated recipes.
This particular stew is no exception to that principle: once you're done with the spice, the rest is a simple matter of browning the meat and popping everything into the oven. It takes a few hours to cook, but you don't have to pay it any attention during that time (other than enjoying the smell). And once it's out of the oven, just sprinkle with a garnish and enjoy a big bowl over some roasted cauliflower, or simply plain on its own.
Lamb stew Recipe

SERVES: 4

PREP: 30 min.

COOK: 2 hrs.

Values are per portion. These are for information only & are not meant to be exact calculations.
Ingredients
2 lb. lamb shoulder, trimmed of fat and cut into 2in chunks;
1 onion, minced;
2 cloves garlic, minced;
1 cup dried figs, cut in half;
1 cup dates, cut in half;
½ cup golden raisins;
2 cups beef stock or lamb stock;
1 tbsp. Ras el Hanout (instructions below);
1 tbsp. honey; (optional)
1 tbsp. fresh coriander, roughly chopped;
Sea salt and freshly ground black pepper;
Ras el Hanout Ingredients
2 tsp. ground ginger;
2 tsp. ground cardamom;
2 tsp. ground mace;
1 tsp. ground cinnamon;
1 tsp. ground allspice;
1 tsp. ground nutmeg;
1 tsp. ground turmeric;
1/2 tsp. ground black pepper;
1/2 tsp. ground cayenne pepper;
1/2 tsp. ground anise seeds;
1/4 tsp. ground cloves;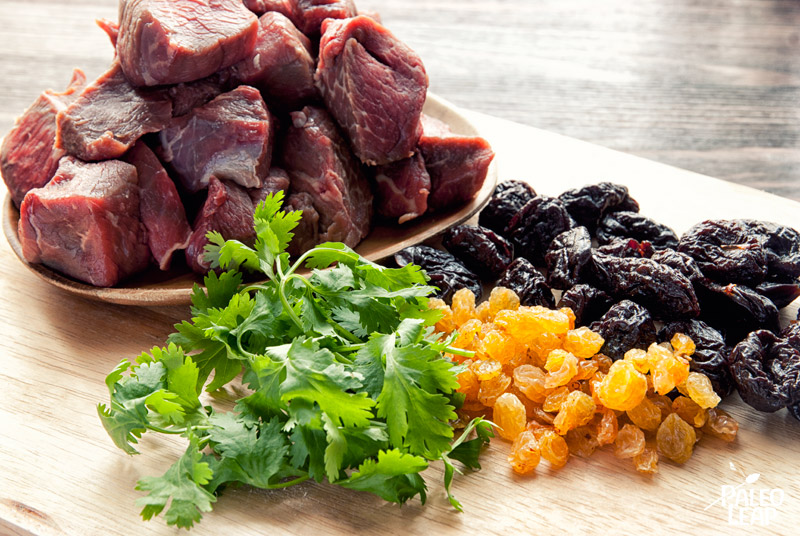 Preparation
Preheat your oven to 300 F.
In a small bowl, combine all the ingredients for the Ras el Hanout and mix well.
Melt some cooking fat in a Dutch oven over a medium-high heat, and brown the lamb pieces on each side for 2 to 3 minutes.
Pour all the remaining ingredients except the fresh coriander into the Dutch oven. Mix well, season to taste with salt and pepper, and bring to a boil.
Once the stew is boiling, place it in the oven and cook for 2 to 2½ hours or until the meat is tender to the touch.
When ready, sprinkle some fresh coriander on top and serve.