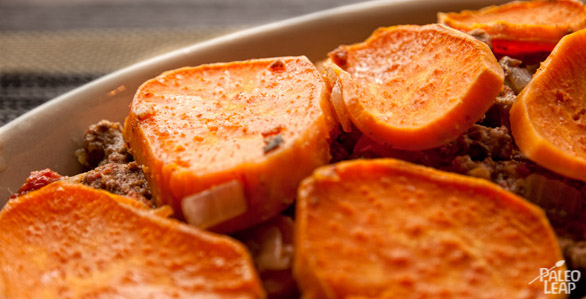 For some of us, winter is here to stay and letting the cold air get to us. It's the perfect time of the year to go back to these old fashioned recipes that we often forget, but which give us so much comfort and good memories. For me, the lamb and sweet potato cottage pie is exactly that type of dish. As long as I can remember, it was one of my grandmother's specialities and it always brings so much good memories. The warmth of the dish filled with all the spices like the cinnamon, the cumin and the chili powder topped with the fresh oregano are some of the many reasons I absolutely love this recipe.
Like my grandmother, I prepare this dish a bit differently than most people. I cook everything all at once in the oven and it saves a great amount of time. All the ingredients cook in the natural fat of the ground lamb and that delicious and healthy saturated fat makes everything very moist and tasty. If you think you'd prefer the final dish with a little less fat, you can always pre-cook the lamb in a skillet with the onions for about 15 min on a medium-high heat before removing some of the rendered fat and mixing the cooked meat with the other vegetables.
Lamb meat can have a stronger taste than other types of red meat such as beef or bison, but don't be afraid to try it as it's absolutely delicious. It's a meat that you'll come to love and even find yourself starting to suggest to other people like I now do myself. If you already tried eating lamb and really can't deal with the taste , then I would suggest replacing the ground lamb with either ground beef or ground bison. This recipe works perfectly with any choice of good quality red meat. As always, try to find grass-fed meat if possible. Finally, if you do enjoy lamb, mutton, which has an even stronger taste, is also a great option.
The cottage pie is topped with sweet potatoes which are an amazing alternative to regular potatoes, especially if you really like old time recipes that call for potatoes. They contain a lot of good nutrients like vitamin A and C and are loaded with potassium. They're also a great safe starch option. If sweet potatoes are not your thing, you can always replace them with a mixture of cauliflower and broccoli.
Lamb and sweet potatoes cottage pie recipe

SERVES: 4

Values are per portion. These are for information only & are not meant to be exact calculations.
Ingredients
1 ½ pounds ground lamb;
2 large sweet potatoes, peeled and thinly sliced;
2 medium sticks celery;
2 medium carrots;
1 medium onion;
3 medium garlic cloves, minced;
14 oz can tomatoes;
2 tbsp fresh oregano, chopped;
1 tsp chili powder;
1 tsp ground cinnamon;
2 tsp ground cumin;
1 tbsp extra-virgin olive oil;
Sea salt and freshly ground black pepper to taste;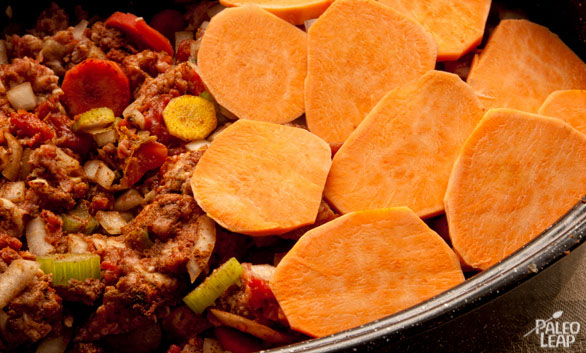 Preparation
Preheat your oven to 350 F.
Cut all the vegetables; celery, carrots and onion into slices and the tomatoes into chunks.
In a big bowl, mix all the vegetables and the garlic, except for the sweet potatoes with the ground lamb.
Add all the spices; chili powder, cinnamon, cumin and oregano as well as salt and pepper to taste to the mix and make sure everything is well combined.
Take an oven ready dutch-oven type pot and pour the olive oil in it. Place half of the sweet potatoes in a layer on the bottom. Place the lamb mixture on top of the sweet potatoes.
Finish up with another layer of the remaining sweet potatoes.
Place in the oven, uncovered, for 1 hour.