Fish and lemon. Lemon and fish. Who discovered this basic match that nearly everyone loves? In the far past, it may have been for more practical, hygienic reasons, where refrigeration and ice were not involved. Whatever the reason, we instinctively know that they taste wonderful together, so we'll keep repeating it for as long as it works.
Now, onto the fish selection. Tilapia is freshwater fish with a mild taste, and its origins go all the way back to Ancient Egypt! It is an excellent choice for a complete protein source (containing all the essential amino acids) and unsaturated fat, along with sufficient levels of calcium and potassium.
You should be getting enough minerals and vitamins through your diet, so make a conscious effort to eat what your body needs by means of whole foods, not supplements, every day. Fish dishes are always a good way to add vitamin D and Omega-3s into your energetic life.
Some alternatives to tilapia are cod, perch, flounder, and sole; choose what you can find fresh at the market!
All you really need to complete this meal is a side salad with fresh or steamed greens, we also recommend a broccoli salad with homemade mayonnaise.
Lemon And Garlic Tilapia Recipe
Serves: 4 Prep: 15 min Cook: 15 min
Ingredients
4 tilapia fillets or any white fish fillets
Juice and zest of 1 lemon
4 garlic cloves, minced
Lemon wedges, for serving
Fresh parsley, minced (to garnish)
¼ cup ghee
Sea salt and freshly ground black pepper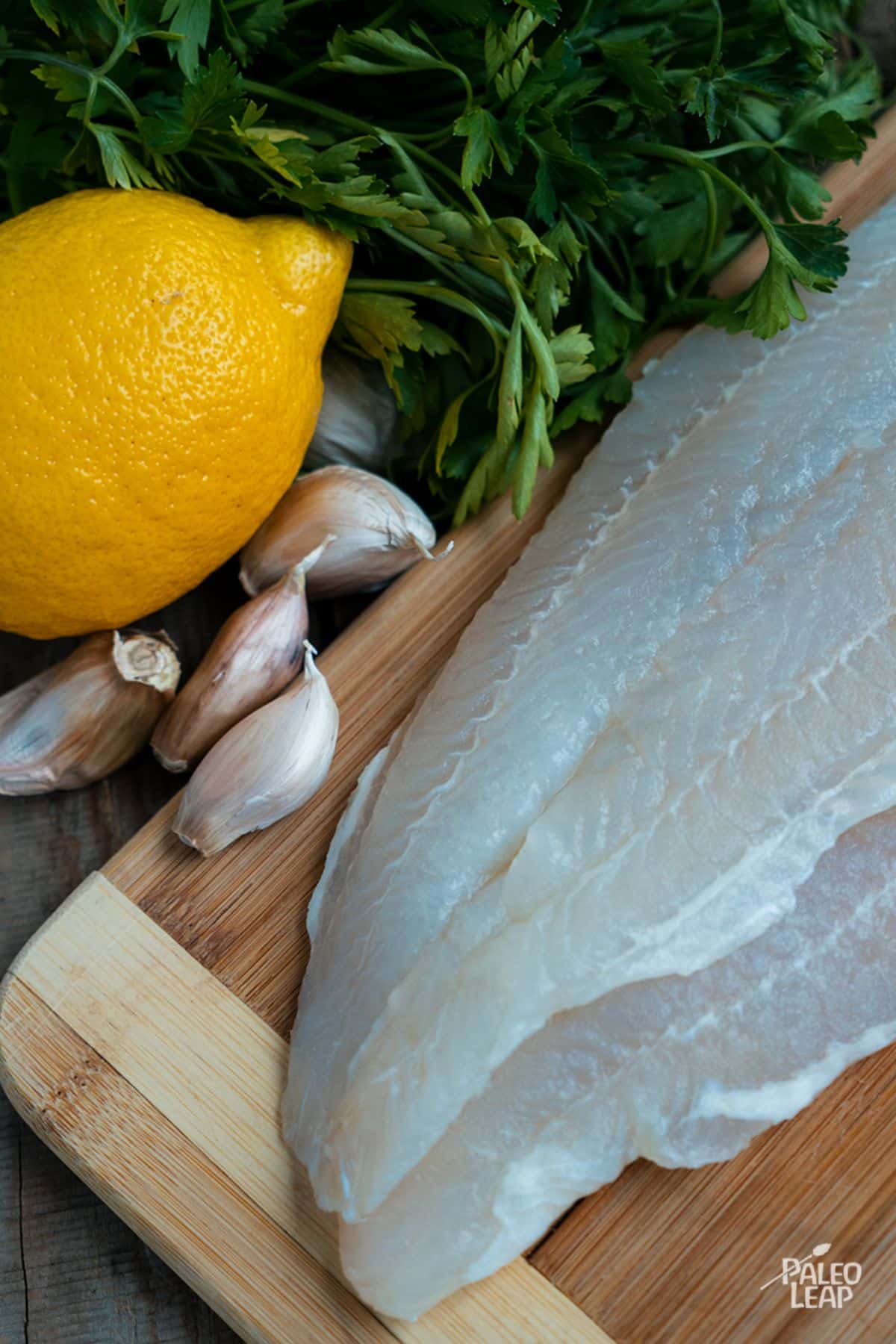 Preparation
Heat a skillet over medium-high heat.
Season the fish fillets generously with sea salt and black pepper to taste.
Add the ghee, garlic, and zest to the pan and let it melt, stirring occasionally.
Once melted, add the fish fillets to the skillet and cook the fish on both sides, about 2 to 3 minutes per side, depending on the thickness of the fillets. Meanwhile, baste the fish with the ghee sauce as it cooks.
Serve the fillets with fresh parsley and lemon slices.
📖 Recipe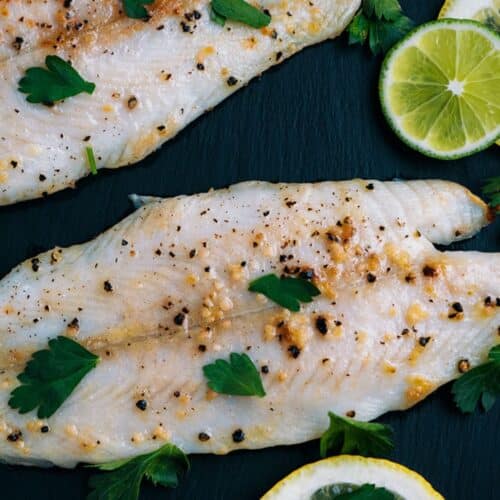 Lemon And Garlic Tilapia Recipe
You don't need to wait for Friday to eat fresh fish; you can enjoy a simple plate of lemon and garlic tilapia for any dinner, or lunch, any day of the week!
Instructions
Heat a skillet over medium-high heat.

Season the fish fillets generously with sea salt and black pepper to taste.

4 tilapia fillets or any white fish fillets,

Sea salt and freshly ground black pepper

Add the ghee, garlic, and zest to the pan and let it melt, stirring occasionally.

4 garlic cloves,

¼ cup ghee,

Juice and zest of 1 lemon

Once melted, add the fish fillets to the skillet and cook the fish on both sides, about 2 to 3 minutes per side, depending on the thickness of the fillets. Meanwhile, baste the fish with the ghee sauce as it cooks.

Serve the fillets with fresh parsley and lemon slices.

Lemon wedges,

Fresh parsley
Nutrition
Calories:
266
kcal
Carbohydrates:
1
g
Protein:
34
g
Fat:
14
g
Saturated Fat:
8
g
Polyunsaturated Fat:
1
g
Monounsaturated Fat:
4
g
Cholesterol:
114
mg
Sodium:
89
mg
Potassium:
525
mg
Fiber:
0.1
g
Sugar:
0.03
g
Vitamin A:
0.3
IU
Vitamin C:
1
mg
Calcium:
22
mg
Iron:
1
mg