Chicken wings have a bad reputation - people often fall under the assumption that if they are to be tasty, then they are to be fried in oil... Alas, these lemon and honey-glazed chicken wings are not that at all.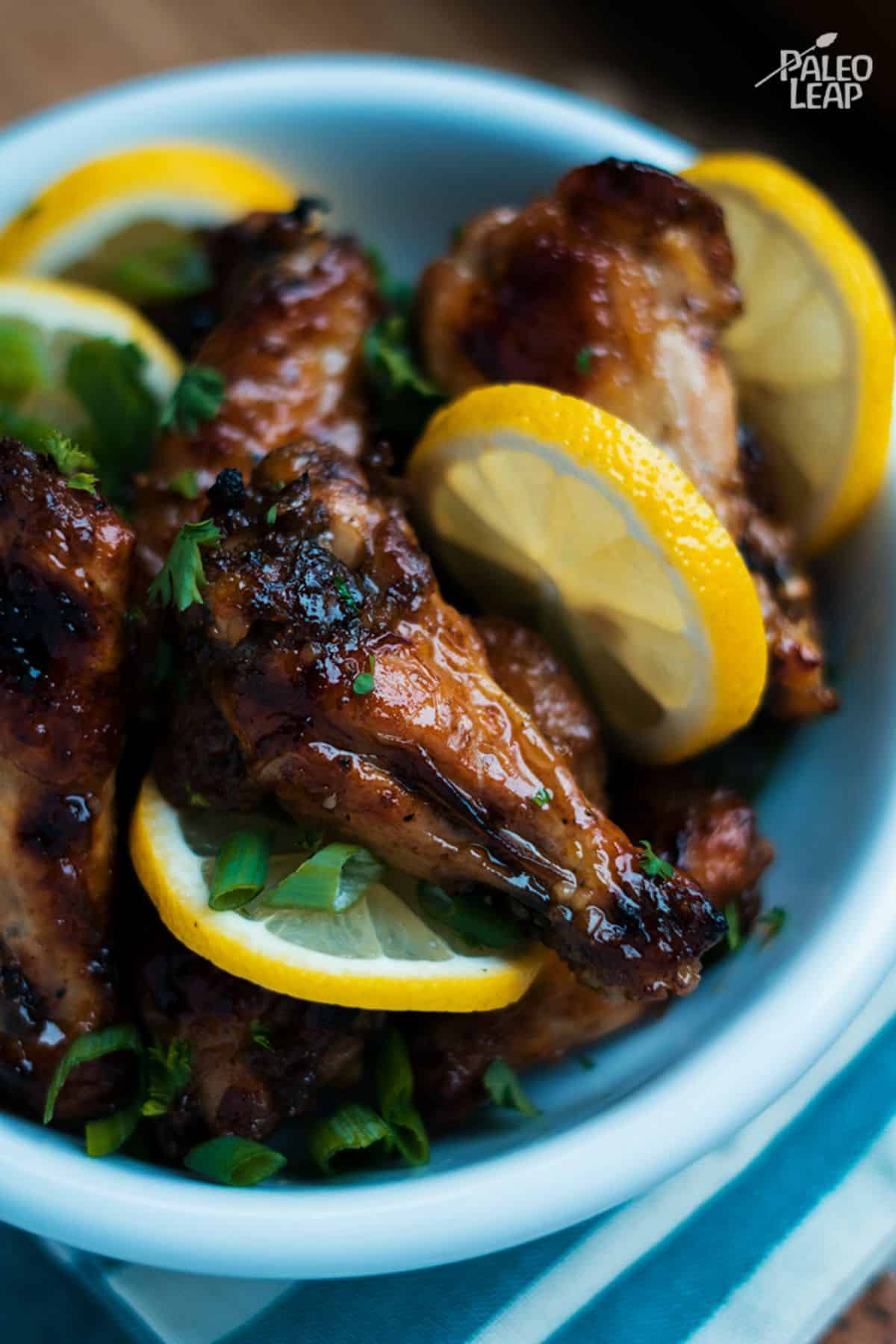 Well, at least it is true about the oil bit; they aren't fried but baked. And the healthy fat comes in the form of olive oil, which is simmered with lemon and honey to make a sumptuous glaze.
If your mouth isn't watering yet, it should be. What we know for sure is that by the time these wings come out of the oven, slightly sticky and a tiny bit sweet, you will be salivating and ready to sneak a bite before the other hoard of fingers sweep in for an opportune chance.
In a "traditional" recipe, the wings might be dipped in flour to allow the lemon and honey glaze to stick better, but it is lovely without, so why mess with a good gluten-free thing? If you must try it, then we suggest either almond or coconut flour as a light dusting before sending the seasoned wings off to the oven.
While you wait for them to brown, you are free as a bird to gather all the ingredients needed for a surprising peach and bacon salad with a honey-lemon dressing, just to keep the theme going.
Lemon And Honey Glazed Chicken Wings Recipe
Serves: 4 Prep: 15 min Cook: 50 min
Ingredients
2 lb. chicken wings
2 tsp. garlic powder
2 tsp. ginger powder
1 tsp. freshly grated nutmeg
¼ cup raw honey
¼ cup fresh lemon juice
Zest from 1 lemon
1 garlic clove, minced
Fresh lemon slices to serve
¼ cup olive oil
Sea salt and freshly ground black pepper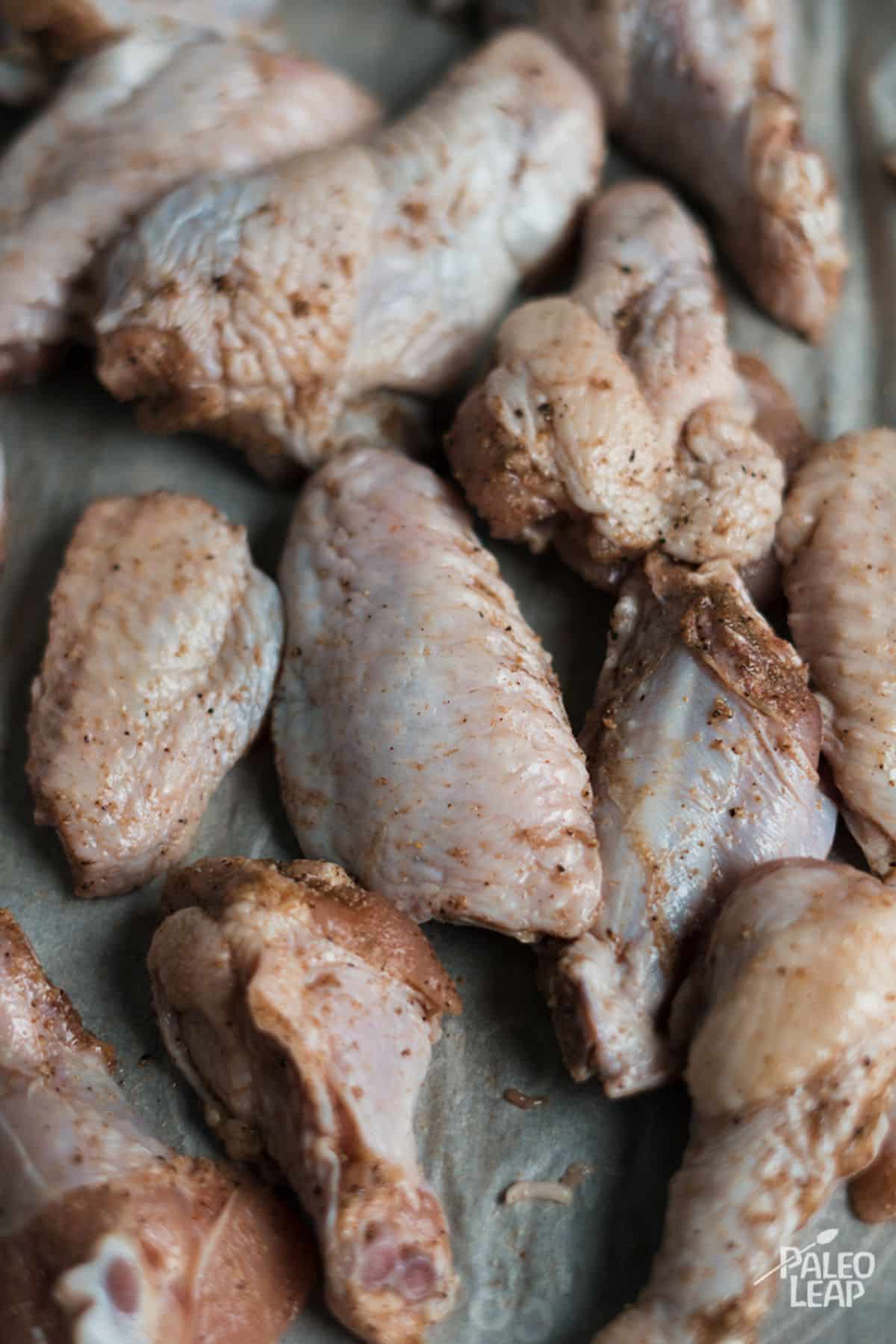 Preparation
Preheat oven to 400 F.
Place the wings in a bowl, and season with garlic powder, ginger, nutmeg, and salt and pepper to taste; toss everything until well coated.
Place on a greased or parchment-lined baking sheet and bake in the preheated oven for 35 to 40 minutes, turning at the halfway point.
Meanwhile, add the olive oil to a saucepan over medium heat.
Add the minced garlic and cook for 1 to 2 minutes; pour in the lemon juice, honey, and zest.
Bring everything to a light boil, and simmer for 8 to 10 minutes, stirring every couple of minutes.
Toss the baked chicken wings with the lemon glaze in a large bowl until they are well coated, then place them back on the baking sheet.
Set the broiler to high and broil chicken wings for 2 to 3 minutes on each side or until nicely caramelized.
Serve with fresh lemon slices.
📖 Recipe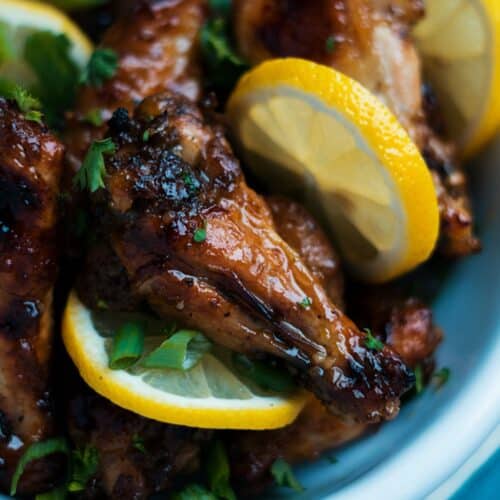 Lemon And Honey Glazed Chicken Wings Recipe
There is a time and a place to consume delicious lemon and honey glazed chicken wings; it doesn't take a party; it just takes willpower not to eat them all.
Instructions
Preheat oven to 400 F.

Place the wings in a bowl, and season with garlic powder, ginger, nutmeg, and salt and pepper to taste; toss everything until well coated.

2 lb. chicken wings,

2 tsp. garlic powder,

2 tsp. ginger powder,

1 tsp. freshly grated nutmeg,

Sea salt and freshly ground black pepper

Place on a greased or parchment-lined baking sheet and bake in the preheated oven for 35 to 40 minutes, turning at the halfway point.

Meanwhile, add the olive oil to a saucepan over medium heat.

Add the minced garlic and cook for 1 to 2 minutes; pour in the lemon juice, honey, and zest.

¼ cup raw honey,

¼ cup fresh lemon juice,

1 garlic clove,

Zest from 1 lemon

Bring everything to a light boil, and simmer for 8 to 10 minutes, stirring every couple of minutes.

Toss the baked chicken wings with the lemon glaze in a large bowl until they are well coated, then place them back on the baking sheet.

Set the broiler to high and broil chicken wings for 2 to 3 minutes on each side or until nicely caramelized.

Serve with fresh lemon slices.

Fresh lemon slices to serve
Nutrition
Calories:
715
kcal
Carbohydrates:
23
g
Protein:
42
g
Fat:
50
g
Saturated Fat:
12
g
Polyunsaturated Fat:
9
g
Monounsaturated Fat:
24
g
Trans Fat:
0.4
g
Cholesterol:
175
mg
Sodium:
169
mg
Potassium:
450
mg
Fiber:
1
g
Sugar:
18
g
Vitamin A:
336
IU
Vitamin C:
8
mg
Calcium:
38
mg
Iron:
3
mg