Lemon pepper chicken, not to be confused with the amazingly tasteful lemongrass chicken, is now gluten-free, because you made it at home, using your wicked kitchen skills. There is, in fact, a bit of sorcery going on here; you will just have to taste this for yourself to believe it.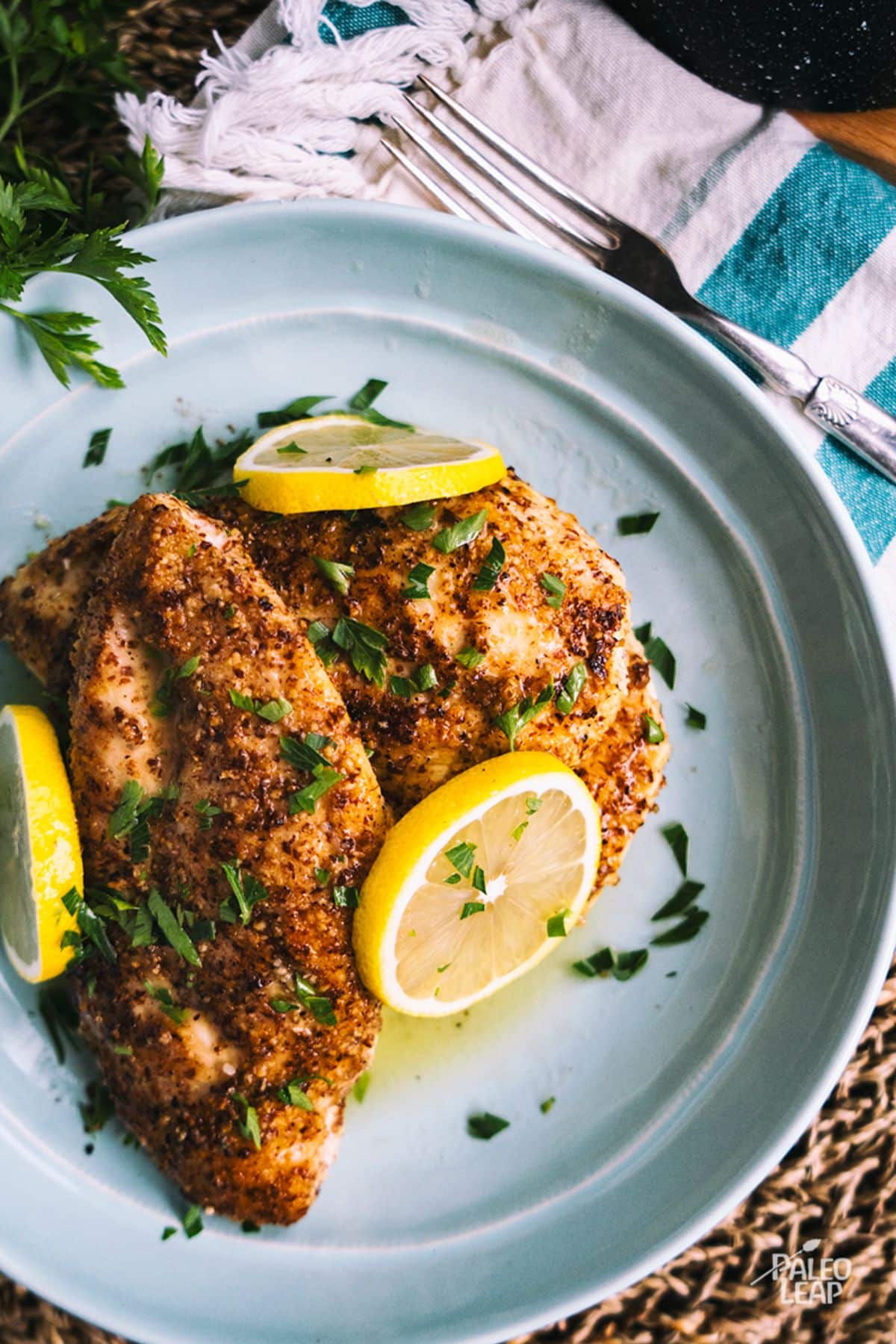 As the lemon-pepper sauce calls for a dollop of ghee to help hold all the ingredients together, we are here to let you know that coconut oil works well in a pinch; it tastes even more marvelous and lightens up the dish.
This gluten-free version of lemon pepper chicken is sure to become a personal favorite, some may even call it to love at first bite. We can give thanks to the blend of almond and coconut flour for creating the perfect coating, the flavor sensation that keeps us coming back for more.
Not to mention that your restaurant-worthy dinner is ready in less than an hour. Serve with some simple mashed potatoes, and you will make everyone around the table happy.
Instead of using lemon wedges to surround the coated chicken while baking, we highly recommend grating an organic lemon - not only does it look beautiful, it tastes splendid, too, provided you love lemons, of course!
But, that's why you are here - for the tangy lemon element, and for the pepper... How much black pepper you shake on, is entirely up to you; spiciness is very, very personal.
Lemon Pepper Chicken Recipe
Serves: 4 Prep: 20 min Cook: 35 min
Ingredients
4 chicken breasts, boneless and skinless
1 egg, lightly beaten
¾ cup almond flour
¼ cup coconut flour
1 tbsp. paprika
1 tsp. garlic powder
1 tsp. dried oregano
1 tsp. chili powder
Coconut oil
Sea salt and freshly ground black pepper
Lemon Pepper Sauce Ingredients
2 tbsp. fresh lemon juice
1 lemon, sliced
2 garlic cloves, minced
1 tbsp. fresh parsley, minced
¼ cup chicken stock
2 tbsp. olive oil
2 tbsp. ghee, melted
Freshly ground black pepper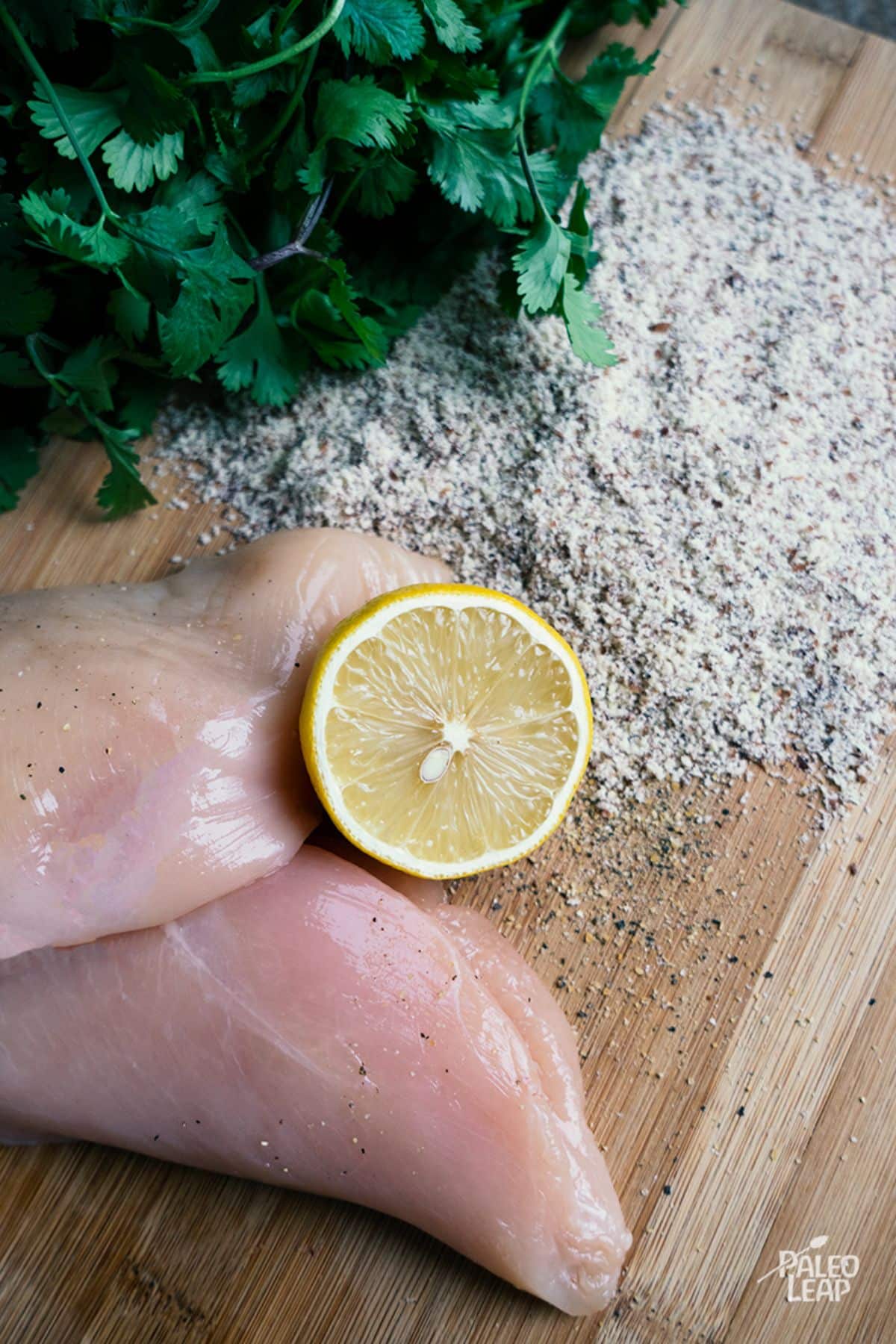 Preparation
Preheat oven to 400 F.
Lightly beat the egg in a small bowl.
In a separate shallow bowl, mix the almond flour, coconut flour, garlic powder, paprika, oregano, and chili powder; season to taste.
Dip the chicken into the beaten egg, then transfer to the flour mixture and coat well.
Heat the coconut oil in a skillet over medium-high heat.
Fry the chicken breasts for 4 to 5 minutes on both sides, then transfer them to an oven-safe baking dish.
In a bowl, combine all of the ingredients for the lemon pepper sauce, except the lemon slices, and generously season with black pepper.
Pour the sauce over the chicken, add half of the lemon slices around the chicken, and bake in the oven for 20 to 25 minutes, or until the chicken is cooked through and no longer pink.
Adjust the black pepper seasoning, and serve topped with fresh parsley and remaining fresh lemon slices.
📖 Recipe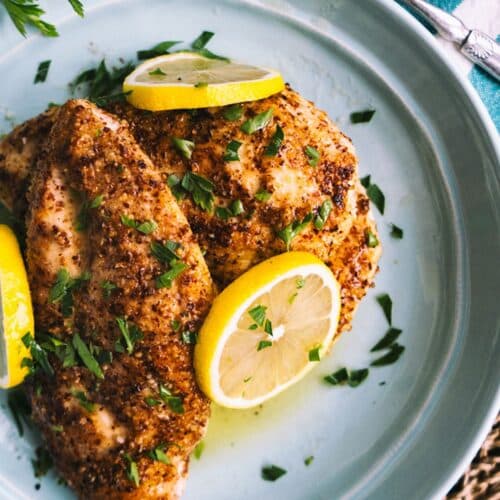 Lemon Pepper Chicken Recipe
One of the best things about dinner is a tantalizing portion of lemon pepper chicken on your plate, surrounded by some garlic mashed potatoes and steamed asparagus... one can only dream!
Ingredients
Lemon Pepper Sauce Ingredients
Instructions
Preheat oven to 400 F.

Lightly beat the egg in a small bowl.

In a separate shallow bowl, mix the almond flour, coconut flour, garlic powder, paprika, oregano, and chili powder; season to taste.

¾ cup almond flour,

¼ cup coconut flour,

1 tbsp. paprika,

1 tsp. garlic powder,

1 tsp. dried oregano,

1 tsp. chili powder,

Sea salt and freshly ground black pepper

Dip the chicken into the beaten egg, then transfer to the flour mixture and coat well.

Heat the coconut oil in a skillet over medium-high heat.

Fry the chicken breasts for 4 to 5 minutes on both sides, then transfer them to an oven-safe baking dish.

In a bowl, combine all of the ingredients for the lemon pepper sauce, except the lemon slices, and generously season with black pepper.

2 tbsp. fresh lemon juice,

2 garlic cloves,

1 tbsp. fresh parsley,

¼ cup chicken stock,

2 tbsp. olive oil,

2 tbsp. ghee,

Freshly ground black pepper

Pour the sauce over the chicken, add half of the lemon slices around the chicken, and bake in the oven for 20 to 25 minutes, or until the chicken is cooked through and no longer pink.

Adjust the black pepper seasoning, and serve topped with fresh parsley and remaining fresh lemon slices.

Freshly ground black pepper
Nutrition
Calories:
612
kcal
Carbohydrates:
15
g
Protein:
62
g
Fat:
34
g
Saturated Fat:
10
g
Polyunsaturated Fat:
3
g
Monounsaturated Fat:
10
g
Trans Fat:
0.01
g
Cholesterol:
206
mg
Sodium:
207
mg
Potassium:
644
mg
Fiber:
7
g
Sugar:
2
g
Vitamin A:
2614
IU
Vitamin C:
8
mg
Calcium:
118
mg
Iron:
5
mg