Mashed potatoes? Yes, white potatoes are totally fine to eat if you tolerate them well – they're not any less nutritious than sweet potatoes, they don't cause blood sugar problems in people who have normal carbohydrate metabolism, and there's no reason to avoid nightshades unless you already have an autoimmune disease.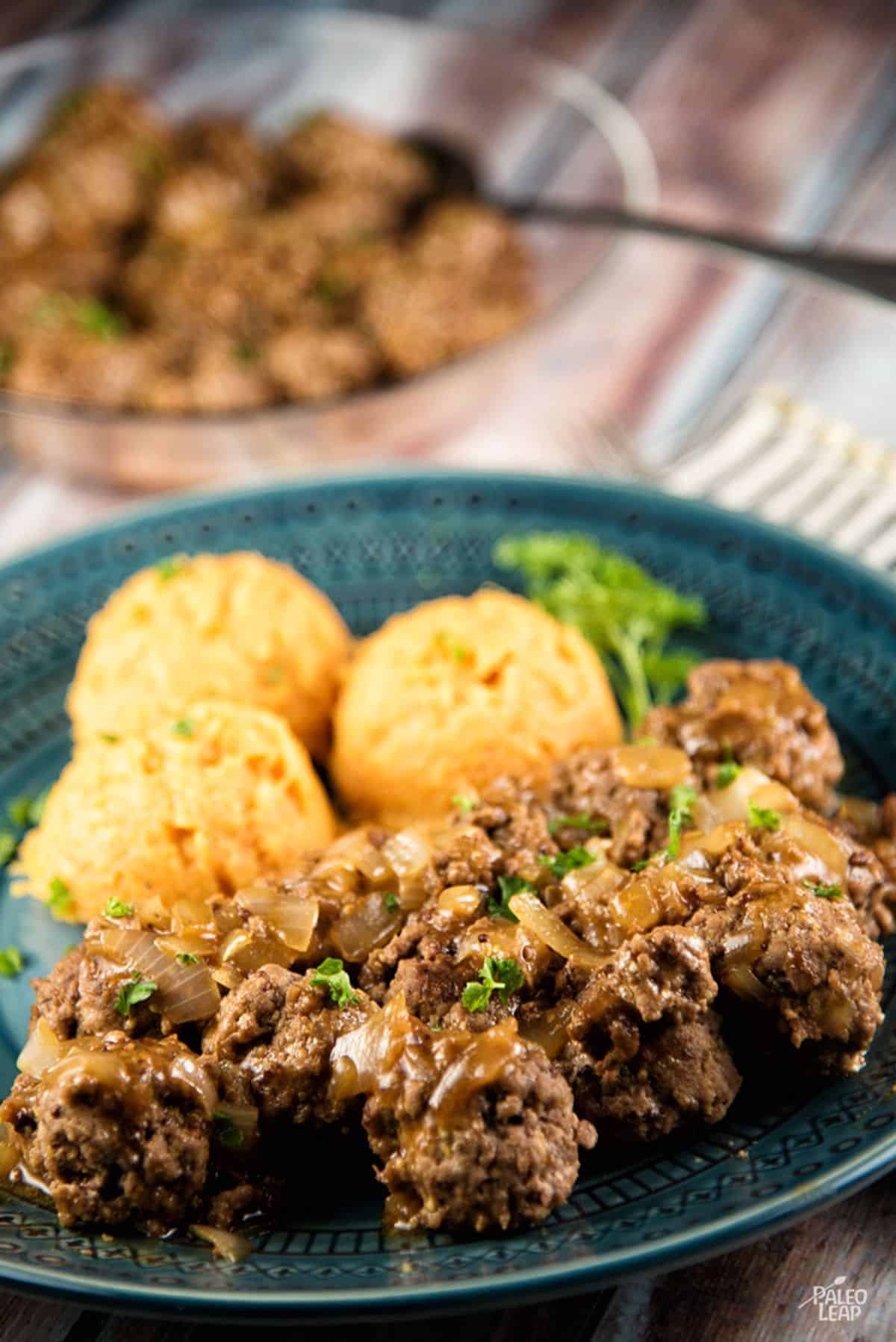 If you don't do well with carbs, or if you do have an autoimmune disease, you might want to skip them, but that doesn't make them "bad" in the abstract.
With that out of the way, even if you personally want to skip the potatoes and just make the meatballs, this recipe is a very tasty way to turn a couple of pounds of ground beef into dinner.
The egg in the meatballs works as a binder, so you don't need bread crumbs or oats, or other grains to keep them holding together.
And the seasonings are a nice break from the typical Italian mix: mustard, onion powder, and coconut aminos give you a very savory flavor profile that brings out the flavor of the beef itself.
The gravy makes the meatballs even more flavorful – if you're not going the potato route, you could also serve this with some roasted or mashed cauliflower to soak up the gravy flavor and get the same effect.
It's perfect when you want something hearty and satisfying after a long day or if you're feeding traditionalist family members who just don't feel right without something white and starchy on the table.
Steak Meatballs with Mashed Potatoes Recipe
SERVES: 4 PREP: 25 min COOK: 45 min
Ingredients
1 ½ lb. ground beef;
1 egg;
2 tbsp. old-fashioned mustard;
1 tbsp. coconut aminos;
1 tsp. onion powder;
Fresh parsley, minced; (to garnish)
Sea salt and freshly ground black pepper;
Ingredients for the simple gravy
Ingredients for the mashed potatoes
4 large potatoes, peeled and roughly chopped;
3 tbsp. clarified butter;
Sea salt and freshly ground black pepper;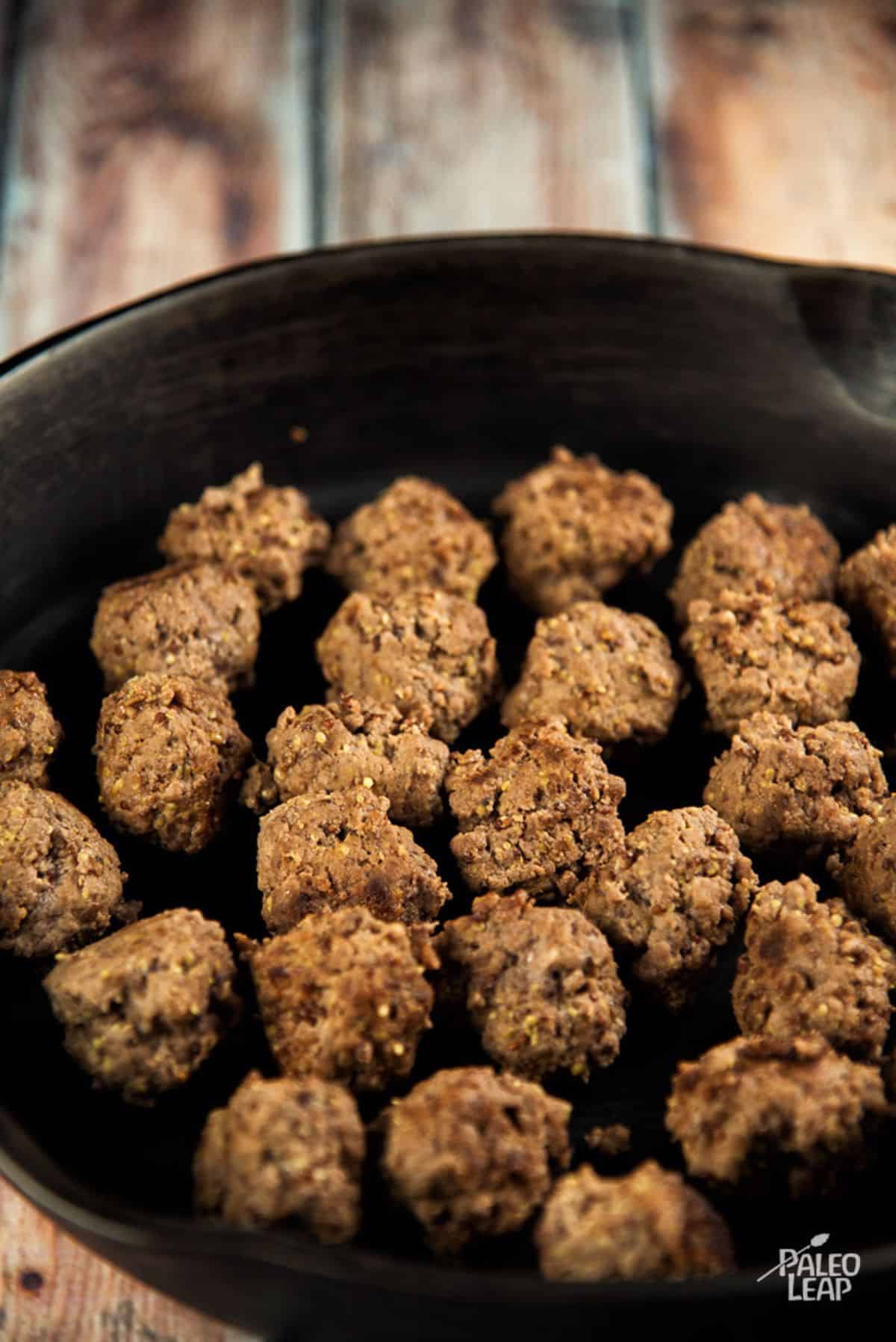 Preparation
Boil the potatoes until fork tender in a saucepan filled with water, about 15 minutes.
Drain the water and mash the potatoes using a potato masher. Mix in the clarified butter and season to taste with salt and pepper.
In a bowl, combine the ground beef, egg, mustard, coconut aminos, and onion powder, and season with salt and pepper to taste.
Shape the meat mixture into meatballs with your hands.
Melt some cooking fat in a skillet placed over medium-high heat.
Add the meatballs and cook on all sides until fully cooked.
Remove the meatballs and set aside.
In the same skillet, melt some clarified butter, add the onions and cook until browned.
Add the beef stock, scrape the bottom of the pan to get all the brown bits, and cook for 5 to 6 minutes.
Return the meatballs to the skillet and mix gently with the gravy.
Serve the meatballs with the mashed potatoes, with fresh parsley sprinkled on top.
📖 Recipe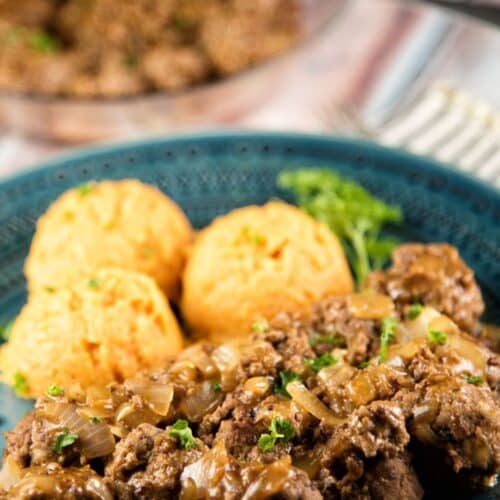 Steak Meatballs with Mashed Potatoes Recipe
White potatoes are fine to eat, and delicious with these simple meatballs and a flavorful gravy.
Instructions
Boil the potatoes until fork tender in a saucepan filled with water, about 15 minutes.

Drain the water and mash the potatoes using a potato masher. Mix in the clarified butter and season to taste with salt and pepper.

3 tbsp. clarified butter,

Sea salt and freshly ground black pepper

In a bowl, combine the ground beef, egg, mustard, coconut aminos, and onion powder, and season with salt and pepper to taste.

1 ½ lb. ground beef,

1 egg,

2 tbsp. old-fashioned mustard,

1 tbsp. coconut aminos,

1 tsp. onion powder,

Sea salt and freshly ground black pepper

Shape the meat mixture into meatballs with your hands.

Melt some cooking fat in a skillet placed over medium-high heat.

Add the meatballs and cook on all sides until fully cooked.

Remove the meatballs and set aside.

In the same skillet, melt some clarified butter, add the onions and cook until browned.

1 onion,

2 tbsp. clarified butter

Add the beef stock, scrape the bottom of the pan to get all the brown bits, and cook for 5 to 6 minutes.

Return the meatballs to the skillet and mix gently with the gravy.

Serve the meatballs with the mashed potatoes, with fresh parsley sprinkled on top.

Fresh parsley,

Sea salt and freshly ground black pepper
Nutrition
Calories:
805
kcal
Carbohydrates:
43
g
Protein:
37
g
Fat:
54
g
Saturated Fat:
25
g
Polyunsaturated Fat:
2
g
Monounsaturated Fat:
21
g
Trans Fat:
2
g
Cholesterol:
209
mg
Sodium:
428
mg
Potassium:
1546
mg
Fiber:
6
g
Sugar:
3
g
Vitamin A:
69
IU
Vitamin C:
44
mg
Calcium:
83
mg
Iron:
6
mg