Fruit salad is a clear winner when it comes to summertime lunches or snacks: it's crisp and refreshing in the heat of the afternoon and doesn't take long to pull together when you want some.
If pineapple and watermelon aren't your favorites (or if you're trying to cut back on your fructose intake), try this slightly different version of a summer salad, which tones down the sweetness a little with cucumbers and adds avocado for a more filling and satisfying dish.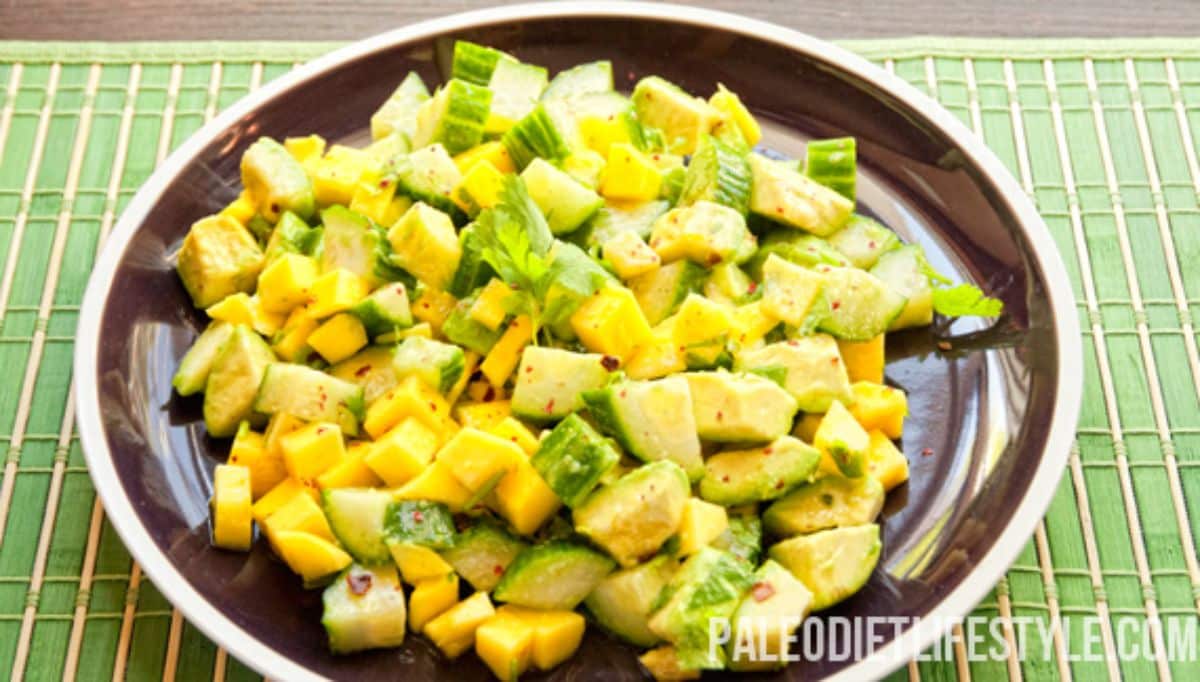 The dressing on this salad is also a little different. The fish sauce doesn't make it taste "fishy," but it does add an interesting new note to the flavor.
With the hot peppers, fish sauce, and mangoes, this salad almost has a Southeast Asian flavor – if the salad itself isn't enough for your meal, try serving it with some Thai pork lettuce wraps or chicken curry rolls.
When you're choosing fruit for this salad, make sure to use a nice ripe mango; an unripe one will be too sour. Your fruit should have a little give when you squeeze it. Some mangoes turn red at the top, but that doesn't mean they're ripe; always judge by the way it feels, not the way it looks.
If the only mangoes at the store aren't ready yet, just buy an unripe one and leave it on your counter for a few days: like avocados, mangoes continue to ripen after they're picked. In a few days, it will be juicy and ready to enjoy.
Mango And Avocado Salad Recipe
Serves: 2 Prep: 10min
Ingredients
1 cucumber cut into cubes;
1 avocado cut into cubes;
1 mango cut into cubes;
¼ cup fresh cilantro, minced;
Simple Vinaigrette Ingredients
3 tbsp. fish sauce;
The zest and juice of one lime;
1 tbsp. extra virgin olive oil;
1 tsp. white wine vinegar;
½ tsp. red pepper flakes (optional);
Sea salt and freshly ground black pepper to taste;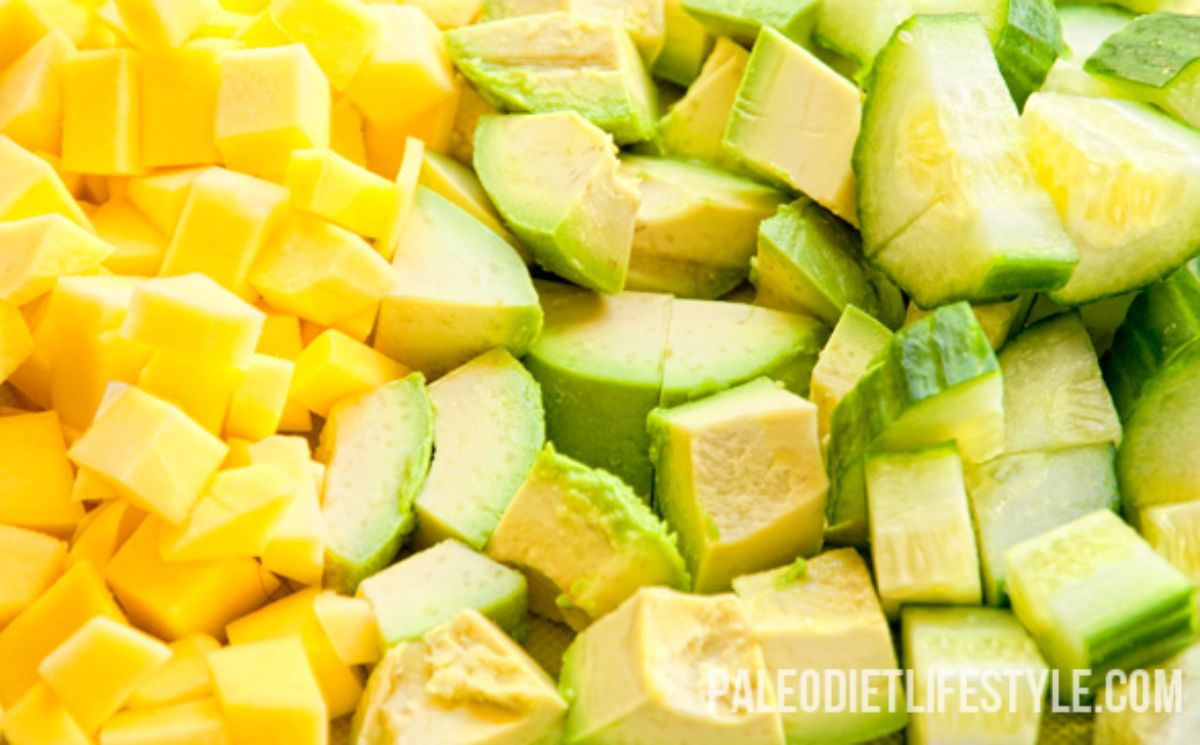 Preparation
In a bowl, combine all the ingredients for the vinaigrette and season to taste with sea salt and freshly ground black pepper.
Add the cucumber, avocado, mango, and cilantro to the bowl, and toss gently until everything is well coated with the vinaigrette and serve.
📖 Recipe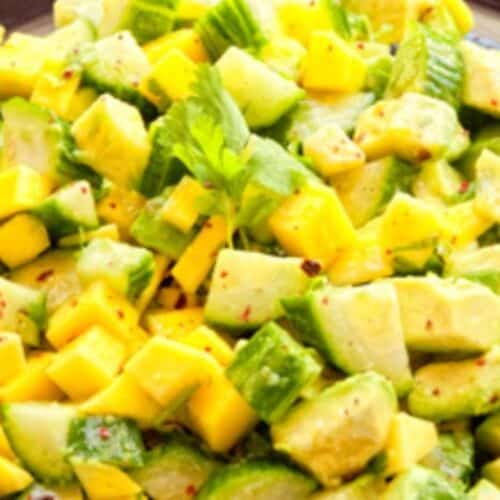 Mango And Avocado Salad Recipe
A crunchy and satisfying tropical salad, featuring fresh mango, cucumbers, and avocado.
Ingredients
1

cucumber cut into cubes

1

avocado cut into cubes

1

mango cut into cubes

¼

cup

fresh cilantro

minced
Simple Vinaigrette Ingredients
Instructions
In a bowl, combine all the ingredients for the vinaigrette and season to taste with sea salt and freshly ground black pepper.

3 tbsp. fish sauce,

The zest and juice of one lime,

1 tbsp. extra virgin olive oil,

1 tsp. white wine vinegar,

Sea salt and freshly ground black pepper to taste,

½ tsp. red pepper flakes

Add the cucumber, avocado, mango, and cilantro to the bowl, and toss gently until everything is well coated with the vinaigrette and serve.

1 cucumber cut into cubes,

1 avocado cut into cubes,

1 mango cut into cubes,

¼ cup fresh cilantro
Nutrition
Calories:
318
kcal
Carbohydrates:
29
g
Protein:
5
g
Fat:
23
g
Saturated Fat:
3
g
Polyunsaturated Fat:
3
g
Monounsaturated Fat:
15
g
Sodium:
1773
mg
Potassium:
965
mg
Fiber:
10
g
Sugar:
18
g
Vitamin A:
1878
IU
Vitamin C:
53
mg
Calcium:
60
mg
Iron:
2
mg