If chicken and veggies are a go-to dinner in your household, you are going to adore this uncomplicated one-pan version. All you need to do is gather the ingredients, cut the sweet potatoes, carrots, and onions to the right size, sprinkle them with olive oil and spices, and toss them into the pre-heated oven for 45-50 minutes.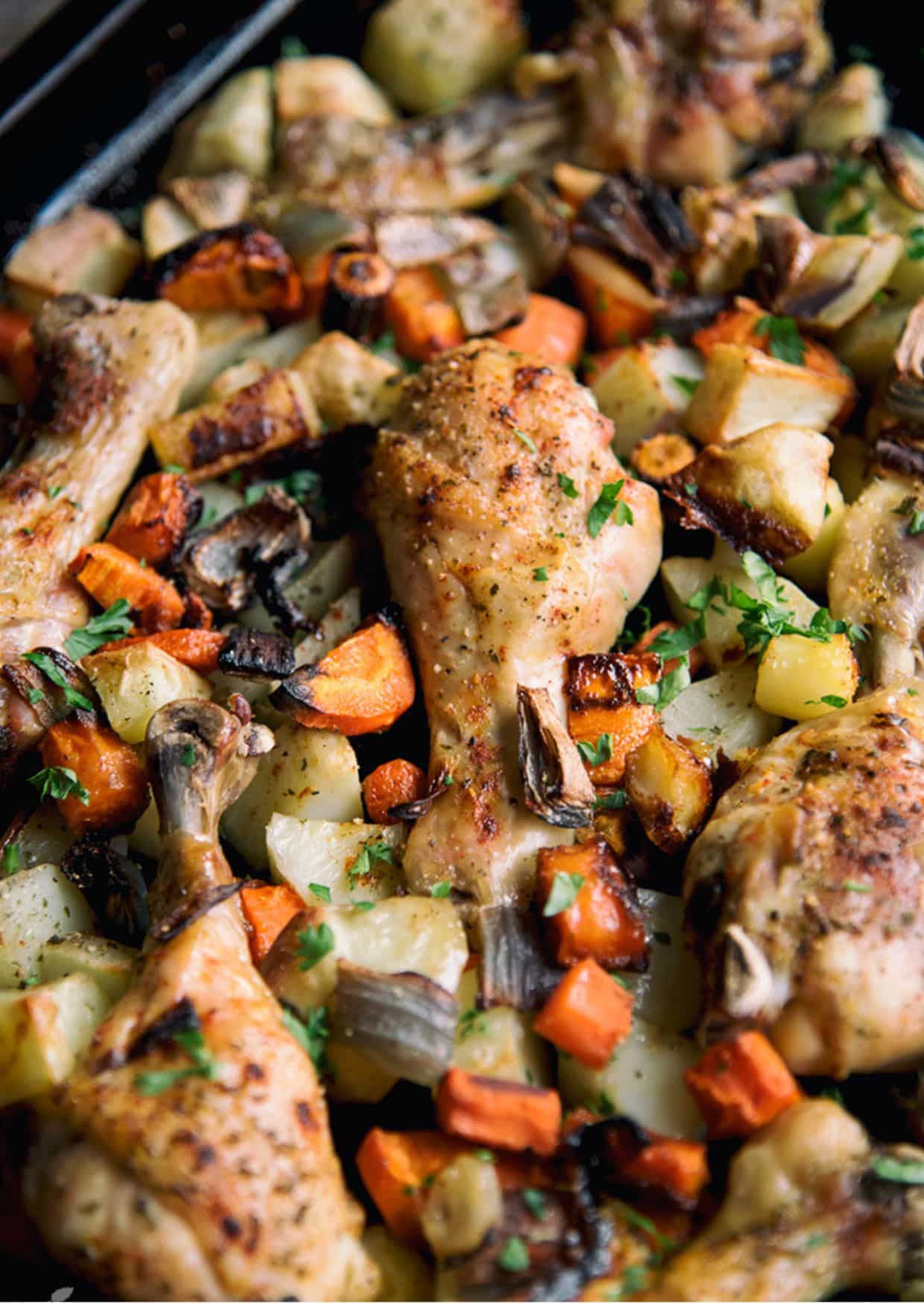 Sounds easy enough? This leaves you with plenty of extra time to sit back and relax, do some more meal prepping for the week ahead, or magically create a salad, mouthwatering dessert - or both! - in the time it takes for dinner to bake. Accomplish all this in less than an hour, and you'll earn a "super-efficient chef" badge of honor!
Not only is this one-pan meal budget-friendly, as in using drumsticks, but it is also kid-friendly as well. Go ahead and use different vegetables if you wish (Daikon radishes, fennel, butternut squash) whatever you have on hand, and whatever entertains your taste buds the most.
You can also experiment with different herbs, and blends of herbs. Yet, this recipe is a wonderful starting point, as paprika is such a versatile spice. Smoked paprika chicken is another weeknight favorite, just in case you are seeking another one-skillet meal.
Have you thought about an enticing side salad in the meantime, to add some nourishing greens to your plate? How about a roasted garlic Caesar salad or beet and broccoli salad with an almond vinaigrette?
One Pan Chicken Drumstick Meal Recipe
Serves: 4 Prep: 20 min Cook: 50 min
Ingredients
8 chicken drumsticks
4 sweet potatoes, quartered
4 to 5 carrots, sliced
1 onion, cut into chunks
3 garlic cloves, minced
1 tbsp. paprika
½ tsp. onion powder
4 tablespoon olive oil
Fresh parsley, minced
Sea salt and freshly ground black pepper
Preparation
Preheat oven to 375 F.
Line a baking sheet with parchment paper.
Place the chicken, sweet potatoes, carrots, and onion on the baking sheet.
Sprinkle the ingredients with olive oil, paprika, onion powder, and garlic; season to taste.
Toss everything to coat.
Place in the oven and bake for 45 to 50 minutes, or until chicken is cooked through.
Serve with fresh parsley sprinkled on top.
📖 Recipe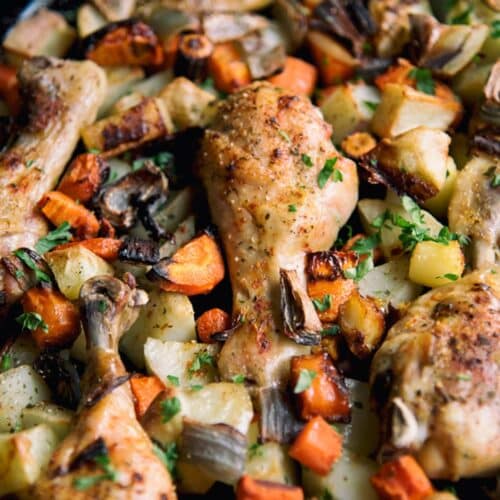 One Pan Chicken Drumstick Meal Recipe
Uncomplicated, delicious and easy - an entire meal baked in one pan? It happens from time to time, in the form of a finger-licking chicken drumstick meal.
Instructions
Preheat oven to 375 F.

Line a baking sheet with parchment paper.

Place the chicken, sweet potatoes, carrots and onion on the baking sheet.

8 chicken drumsticks,

4 sweet potatoes,

4 to 5 carrots,

1 onion

Sprinkle the ingredients with olive oil, paprika, onion powder, and garlic; season to taste.

1 tablespoon paprika,

½ teaspoon onion powder,

4 tablespoon olive oil,

3 cloves garlic

Place in the oven and bake for 45 to 50 minutes, or until chicken is cooked through.

Serve with fresh parsley sprinkled on top.

Fresh parsley,

Sea salt and freshly ground black pepper
Nutrition
Calories:
760
kcal
Carbohydrates:
31
g
Protein:
46
g
Fat:
50
g
Saturated Fat:
12
g
Polyunsaturated Fat:
9
g
Monounsaturated Fat:
25
g
Trans Fat:
0.2
g
Cholesterol:
173
mg
Sodium:
244
mg
Potassium:
981
mg
Fiber:
5
g
Sugar:
7
g
Vitamin A:
21008
IU
Vitamin C:
9
mg
Calcium:
79
mg
Iron:
3
mg