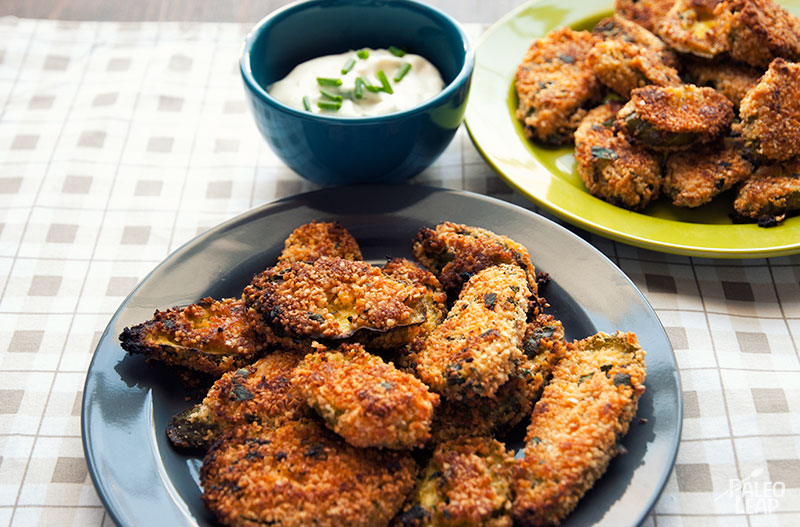 Are you ready to take your pickles to the next level?
Sure, they're addictively good on their own – a fresh, crispy pickle straight out of the fridge, or a crunchy slice on top of your hamburger. But for a real demonstration of what a pickle can do, try a quick "breading" of almond flour and a hint of chili, plus a fast zap in the oven. The crispy, spicy coating adds a slightly different texture, while bringing out the tangy flavor of the pickle inside. It's the same principle as pairing salty with sweet: adding a contrasting note can actually make the original flavor even more enjoyable.
The best pickles to use for this are the pickles you fermented yourself. This isn't difficult at all: if you have a jar and some cucumbers, you can make fermented pickles. Homemade pickles are far superior to store-bought: not only because you know exactly what's in them, but also because they aren't pasteurized, so they retain all the beneficial probiotic bacteria that drove the fermentation process in the first place. Shelf-stable pickles don't have these bacteria, so while they might be tasty, they aren't as good for you.
Once you have your pickles ready, the concept of the recipe is very simple, which makes it pretty easy to adapt to your favorite method of frying. I've given directions for oven-frying them, but it's just as good to fry the pickles in coconut oil on the stovetop. You could also replace the fresh parsley with dried, if you don't have any fresh available. It's a quick and entertaining way to put a slightly new twist on a classic snack food – perfect for a TV party, but just as tasty as a special treat from you to you.
Oven Fried Pickles Recipe

PREP: 10 min.

COOK: 15 min.

Values are per portion. These are for information only & are not meant to be exact calculations.
Ingredients
2 cups naturally fermented dill pickles, sliced;
½ cup almond flour;
½ cup coconut flour;
¼ tsp. smoked paprika;
½ tsp. chipotle powder or chili powder;
¼ cup fresh parsley, finely chopped;
½ cup full-fat coconut milk;
Coconut oil;
Sea salt and freshly ground black pepper;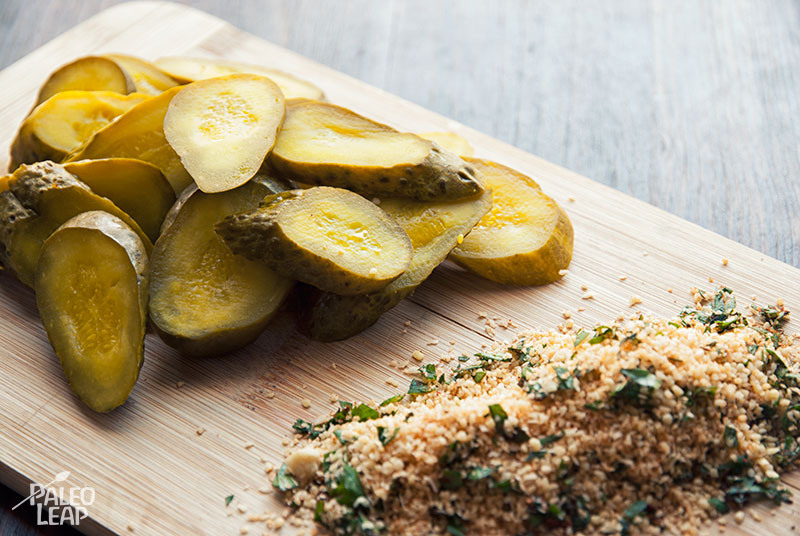 Preparation
Preheat your oven to 425 F.
Drain the pickles and pat them dry with paper towels.
In a bowl, combine the almond flour, coconut flour, smoked paprika, fresh parsley, and salt and pepper to taste.
In another bowl, combine the coconut milk and the chipotle powder.
Dip each pickle slice in the coconut milk mixture and then in the flour mixture, making sure they are well coated.
Heat up an empty baking sheet in the oven 3 to 5 min until it gets really hot.
Grease the baking sheet with coconut oil and place the pickles on the hot sheet.
Place the baking sheet back in the oven and cook the pickles for 10 minutes, turning them halfway through.
Serve warm.