Burritos are fantastic! Especially when they are corn-, rice- and legume-free, you could, in fact, call this a naked burrito since it is served in a bowl without the tortilla, but trust us, all the Mexican flavors are still in there, and there is no room for disappointment.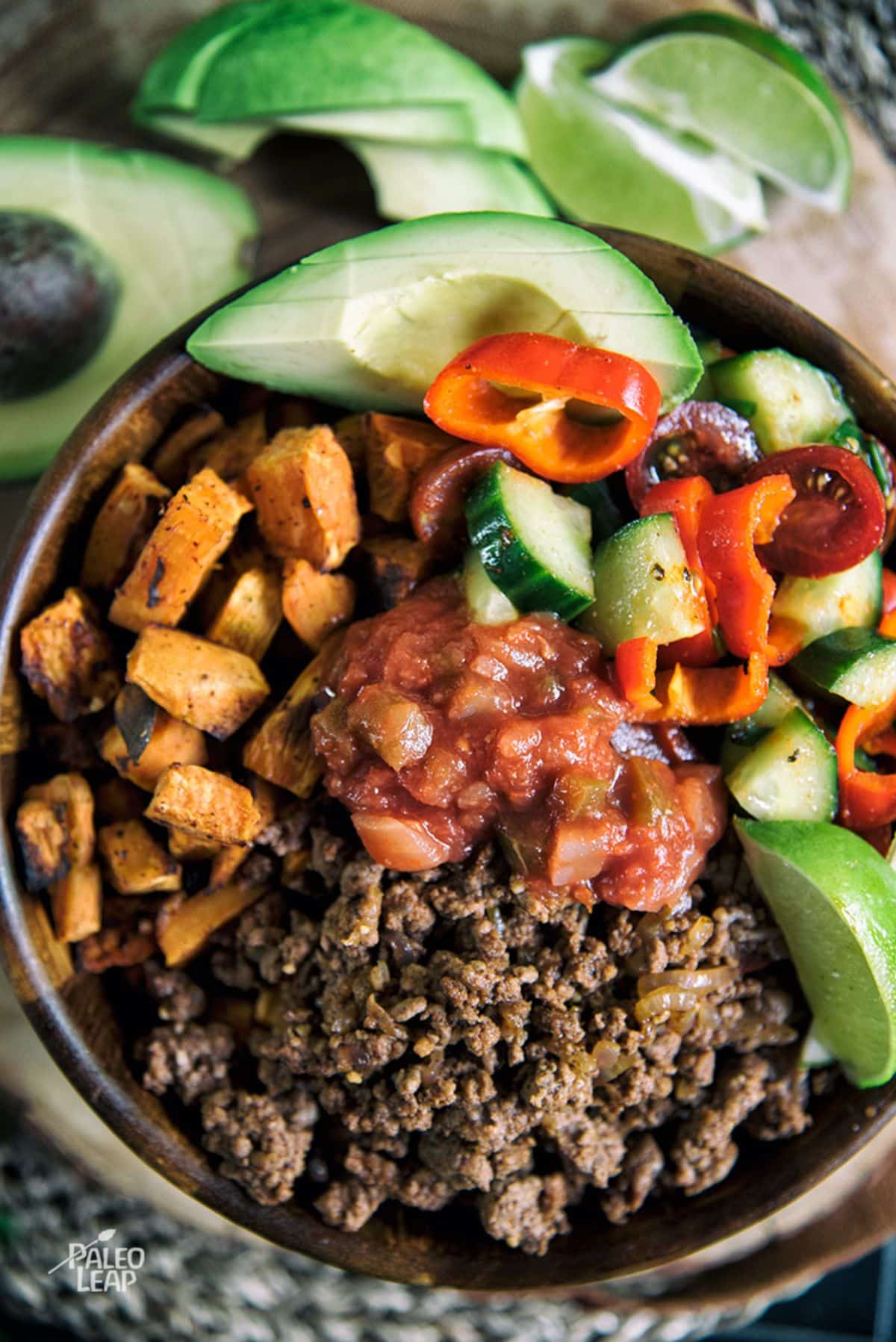 There are many ingredients in this recipe, yet the preparation is seamless - you first put the sweet potatoes in the oven and then prepare the ground beef and cucumber salsa while they bake. One step at a time, and dinner is ready before you know it.
Now is the time to take pleasure in measuring out your own healthy spices if you aren't doing so already. When it comes to taco seasoning or mixed spices, one can never be completely sure what other ingredients they contain (sometimes gluten or MSG), so when you mix your own, you can be confident about what exactly is in it.
Plus, it is fun to play around; there are times when you will want more garlic, some days less. Perhaps a bit more oregano or whole cumin seeds instead of ground cumin... making your own staple spice mixes allows you to be in control of what you are feeding your family and if it tastes slightly different every time, remember that your kitchen is not a fast food joint, it is a place where wholesome food is served.
You can try this recipe with firecracker chicken breasts as well, but do not forget the cumin and the lime; burritos are just not the same without those two ingredients.
Adapted from Eat Drink Paleo.
Paleo Burrito Bowl Recipe
Serves: 4 Prep: 30 min Cook: 30 min
Ingredients
1 lb. ground beef
1 onion, diced
2 garlic cloves, minced
1 tbsp. chili powder
1 tsp. ground cumin
1 tsp. paprika
1 tsp. dried oregano
Cooking fat
1 avocado, sliced
Fresh salsa to serve
Sea salt and freshly ground black pepper
Roasted Sweet Potatoes
2 sweet potatoes, peeled and diced
2 tbsp. olive oil
Juice of half a lime
2 tsp. chili powder
½ tsp. cumin
Sea salt and freshly ground black pepper
Cucumber-Tomato Salsa
1 cup grape tomatoes, halved
1 cup bell pepper, diced
1 cucumber, diced
1 green onion, sliced
2 garlic cloves, minced
¼ cup fresh cilantro, minced
Juice of half a lime
2 tbsp. olive oil
Sea salt and freshly ground black pepper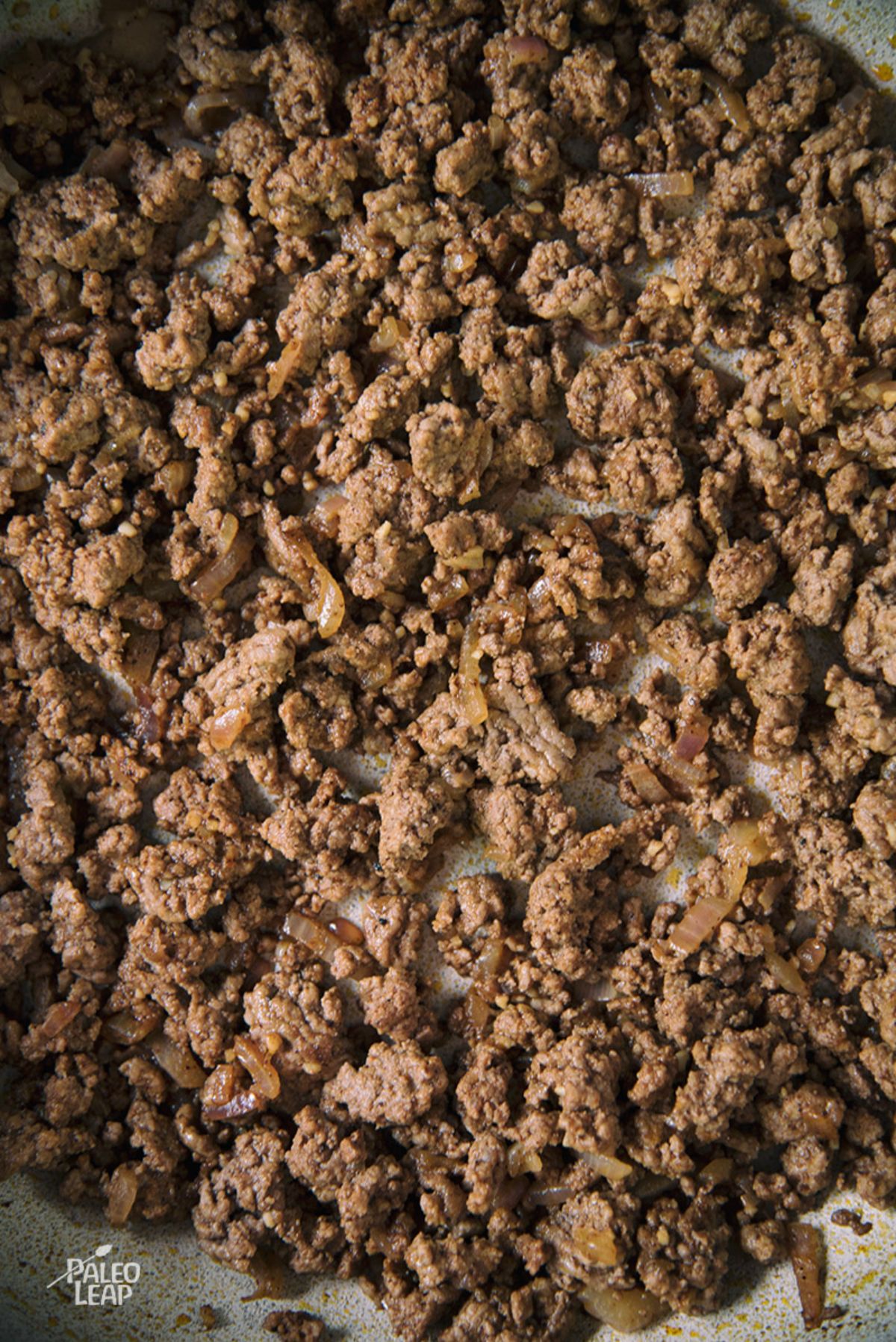 Preparation
Preheat oven to 400 F.
Toss the potatoes on a baking sheet with olive oil, lime juice, chili powder, and cumin; season to taste with salt and pepper.
Place in the oven and roast the sweet potatoes for 20 to 25 minutes.
Melt cooking fat in a skillet over medium heat.
Cook the onion and garlic for 1 to 2 minutes or until soft.
Add the ground beef and cook until no longer pink, about 6 minutes.
Add cumin, paprika, chili powder, and oregano; season to taste with salt and pepper. Stir everything well and cook 2 to 3 minutes longer.
In a bowl, combine all the ingredients for the cucumber-tomato salsa and toss until well combined.
In a serving bowl, combine the spiced beef, sweet potatoes, and cucumber salsa.
Serve topped with sliced avocado and fresh salsa, and any of your other favorite burrito toppings.
📖 Recipe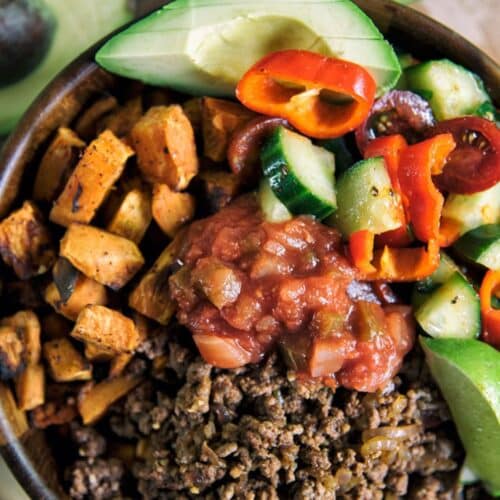 Paleo Burrito Bowl Recipe
Burritos in a bowl with spicy baked sweet potatoes and a cucumber-tomato salsa, topped with a fire-roasted salsa... is your mouth watering yet?
Instructions
Preheat oven to 400 F.

Toss the potatoes on a baking sheet with olive oil, lime juice, chili powder, and cumin; season to taste with salt and pepper.

1 tbsp. chili powder,

1 tsp. ground cumin,

Juice of half a lime,

2 tbsp. olive oil,

Sea salt and freshly ground black pepper

Place in the oven and roast the sweet potatoes for 20 to 25 minutes.

Melt cooking fat in a skillet over medium heat.

Cook the onion and garlic for 1 to 2 minutes or until soft.

Add the ground beef and cook until no longer pink, about 6 minutes.

Add cumin, paprika, chili powder, and oregano; season to taste with salt and pepper. Stir everything well and cook 2 to 3 minutes longer.

1 tsp. paprika,

1 tsp. dried oregano,

2 tsp. chili powder,

Sea salt and freshly ground black pepper,

½ tsp. cumin

In a bowl, combine all the ingredients for the cucumber-tomato salsa and toss until well combined.

2 garlic cloves,

2 tbsp. olive oil,

Juice of half a lime,

1 cup grape tomatoes,

1 cup bell pepper,

1 cucumber,

1 green onion,

¼ cup fresh cilantro,

Sea salt and freshly ground black pepper

In a serving bowl, combine the spiced beef, sweet potatoes, and cucumber salsa.

Serve topped with sliced avocado and fresh salsa, and any of your other favorite burrito toppings.

1 avocado,

Fresh salsa to serve
Nutrition
Calories:
628
kcal
Carbohydrates:
32
g
Protein:
25
g
Fat:
47
g
Saturated Fat:
12
g
Polyunsaturated Fat:
4
g
Monounsaturated Fat:
26
g
Trans Fat:
1
g
Cholesterol:
81
mg
Sodium:
228
mg
Potassium:
1300
mg
Fiber:
11
g
Sugar:
9
g
Vitamin A:
13401
IU
Vitamin C:
66
mg
Calcium:
138
mg
Iron:
7
mg