If you love fatty meat, duck breast is one of the easiest treats you can indulge in: a rich cap of delicious fat just under a crispy layer of skin and a nice layer of tender meat underneath that.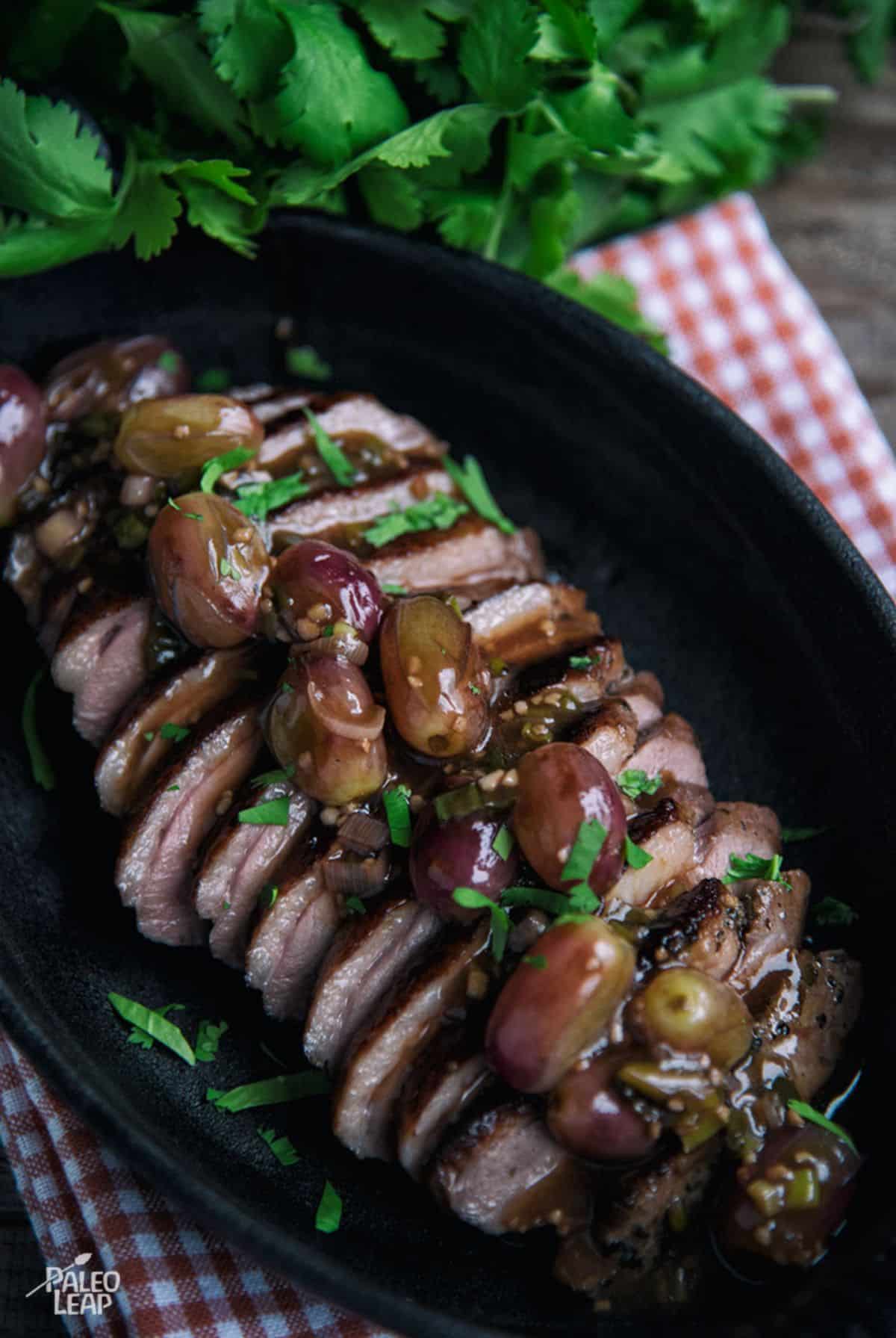 Here, it's topped off with some warm grapes, cooked just until they're juicy and warm. If you've only ever had grapes at room temperature or below, give this one a try!
On top of being delicious, duck is also very healthy from a Paleo perspective. The fat quality is high, better than other birds like chicken or turkey. And it's got an impressive micronutrient content, notably the antioxidant mineral selenium. (What, you thought fruits and vegetables had a monopoly on antioxidants? Think again!)
This recipe looks more appealing to a grown-up palate, but kids might really like it. It's got that sweet-fat combo from the grapes and the duck, and everyone loves crispy skin. Try it with some sweet potato fries, maybe with homemade ketchup on the side; it's great for a fancy dinner that's also family-friendly.
Pan-Fried Duck Breasts With Grape Sauce Recipe
SERVES: 4 PREP: 15 min COOK: 25 min
Ingredients
2 duck breasts with boneless and skin-on
2 shallots, finely minced
1 ½ cups chicken or duck stock
2 tbsp. balsamic vinegar
24 seedless red grapes
Sea salt and freshly ground black pepper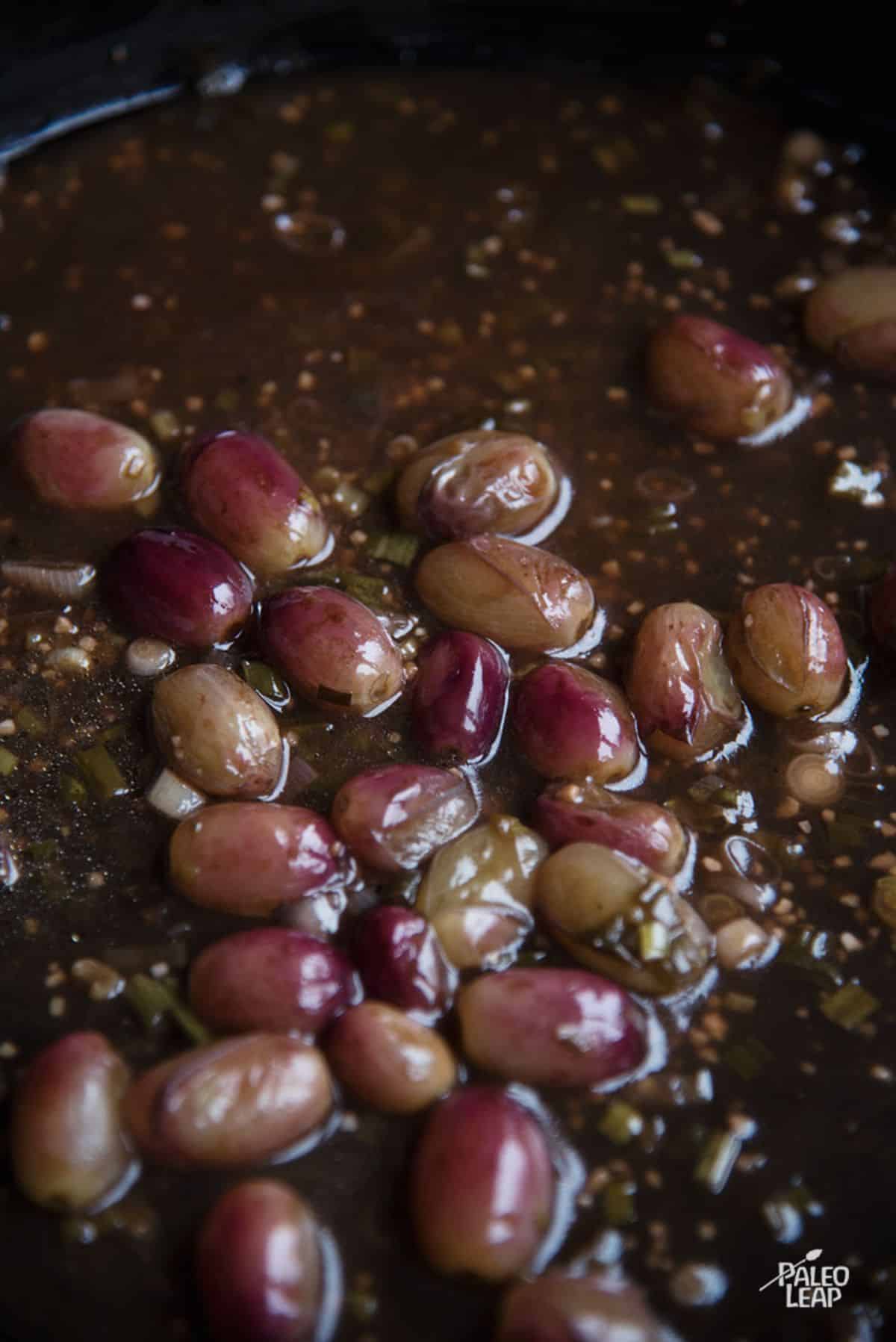 Preparation
Using a sharp knife, score the duck skin into a diamond pattern, and season to taste.
Melt some cooking fat in a skillet over medium-high heat.
Add the duck, skin side down, to the skillet and cook until the skin is browned and crisp, 6 to 8 minutes.
Turn the duck breasts over. Cook for another 6 to 8 minutes or to the desired doneness, and let rest for 10 minutes.
Add the shallots to the skillet and cook until soft, about 2 to 3 minutes. Add the duck stock, and scrape the bottom of the pan making sure to get all the brown bits.
Bring to a boil until reduced, and add the balsamic vinegar.
Add the grapes and cook until they split and let their juices out.
Season the sauce to taste. Slice the duck and serve topped with the grape sauce.
📖 Recipe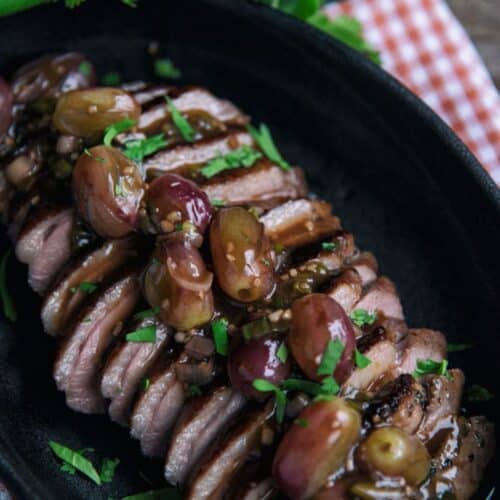 Pan-Fried Duck Breasts With Grape Sauce Recipe
Sweet grapes and luxurious fatty duck breasts: this is a fancy dinner that kids and grown-ups will all love.
Ingredients
2

duck breasts with

boneless and skin-on

2

shallots

finely minced

1 ½

cup

chicken or duck stock

2

tbsp.

balsamic vinegar

24

seedless red grapes

Cooking fat
Instructions
Using a sharp knife, score the duck skin into a diamond pattern, and season to taste.

Melt some cooking fat in a skillet over medium-high heat.

Add the duck, skin side down, to the skillet and cook until the skin is browned and crisp, 6 to 8 minutes.

Turn the duck breasts over. Cook for another 6 to 8 minutes or to the desired doneness, and let rest for 10 minutes.

Add the shallots to the skillet and cook until soft, about 2 to 3 minutes. Add the duck stock, and scrape the bottom of the pan making sure to get all the brown bits.

2 shallots,

1 ½ cup chicken or duck stock

Bring to a boil until reduced, and add the balsamic vinegar.

Add the grapes and cook until they split and let their juices out.

Season the sauce to taste. Slice the duck and serve topped with the grape sauce.

Sea salt and freshly ground black pepper
Nutrition
Calories:
208
kcal
Carbohydrates:
12
g
Protein:
25
g
Fat:
6
g
Saturated Fat:
2
g
Polyunsaturated Fat:
1
g
Monounsaturated Fat:
2
g
Cholesterol:
90
mg
Sodium:
197
mg
Potassium:
505
mg
Fiber:
1
g
Sugar:
8
g
Vitamin A:
83
IU
Vitamin C:
9
mg
Calcium:
16
mg
Iron:
6
mg