This festive dinner is a perfect solution if you want something with cranberry sauce but don't actually have time to make the sauce as well as the main dish: it's a roasted pork tenderloin with a sweet-tart cranberry topping cooked right in same pan!
The cranberries add color and flavor, not to mention plenty of nutritional value (notably Vitamin C and other antioxidants).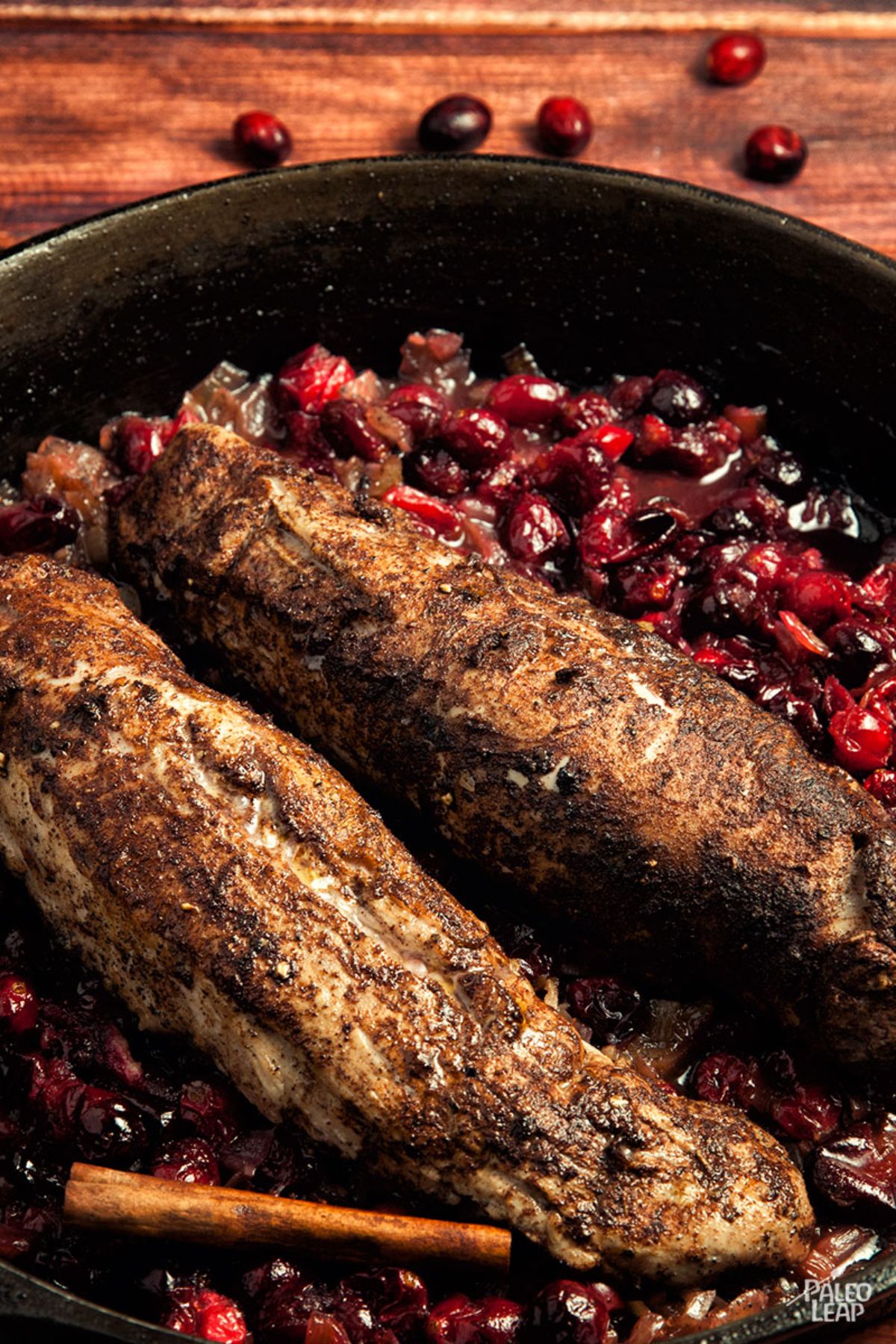 You can leave out the honey in the topping but just be warned: without it, the cranberries will be really tart and bitter.
It's such a small amount of sweetener that unless you have a very specific reason to eliminate it, there's really nothing to worry about.
For a side dish, what about some roasted winter squash or mashed potatoes? Both of those sides also work well as leftovers, just like the pork: make a double batch so you can bring a little bit of the colorful cheer in your lunchbox the next day.
Pork Tenderloin With Cranberries Recipe
SERVES: 4 PREP: 15 min COOK: 30 min
Ingredients
2 x 1 lb. pork tenderloins;
1 ½ cups fresh or frozen cranberries;
2 tsp. ground cinnamon;
1 onion, finely chopped;
2 cloves garlic, minced;
¼ cup raw honey; (optional)
2 tbsp. cooking fat;
¾ cup chicken stock;
1 tbsp. olive oil;
Sea salt and freshly ground black pepper;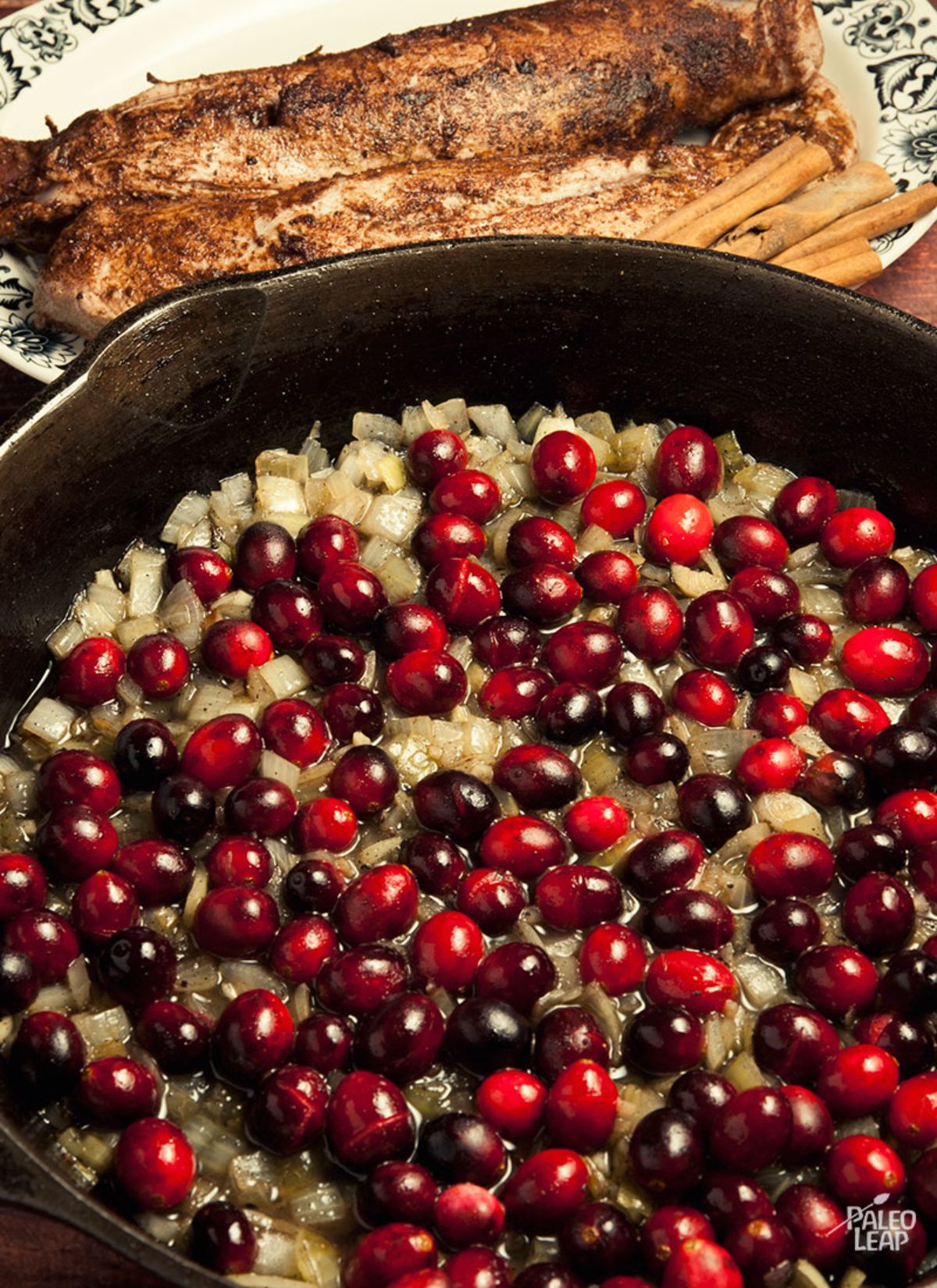 Preparation
Preheat your oven to 375 F.
Combine the cinnamon and the olive oil in a bowl.
Brush the tenderloins with the cinnamon mixture and season to taste with salt and pepper.
Melt some cooking fat and brown the tenderloins in an ovenproof skillet placed over medium-high heat. Transfer the browned tenderloins to a plate and set aside.
In the same skillet, brown the onion and garlic.
Add the remaining ingredients and bring to a boil, scraping the bottom of the skillet to get all the browned bits into the sauce.
Return the tenderloins to the skillet.
Place in the oven and roast for 15 to 20 minutes or to desired doneness.
Serve the pork with the cranberries.
📖 Recipe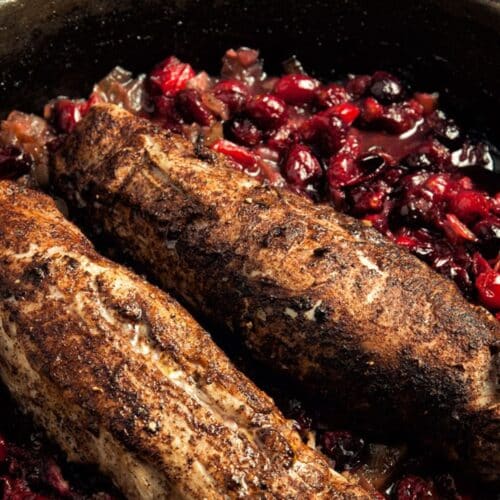 Pork Tenderloin With Cranberries
Brighten up your table with this sweet and savory one-pan dinner.
Instructions
Preheat your oven to 375 F.

Combine the cinnamon and the olive oil in a bowl.

Brush the tenderloins with the cinnamon mixture and season to taste with salt and pepper.

2 x 1 lb. pork tenderloins,

2 tsp. ground cinnamon,

Sea salt and freshly ground black pepper

Melt some cooking fat and brown the tenderloins in an ovenproof skillet placed over medium-high heat. Transfer the browned tenderloins to a plate and set aside.

In the same skillet, brown the onion and garlic.

Add the remaining ingredients and bring to a boil, scraping the bottom of the skillet to get all the browned bits into the sauce.

¼ cup raw honey,

¾ cup chicken stock,

1 tbsp. olive oil

Return the tenderloins to the skillet.

Place in the oven and roast for 15 to 20 minutes or to desired doneness.

Serve the pork with the cranberries.

1 ½ cups fresh or frozen cranberries
Nutrition
Calories:
1306
kcal
Carbohydrates:
28
g
Protein:
189
g
Fat:
44
g
Saturated Fat:
13
g
Polyunsaturated Fat:
10
g
Monounsaturated Fat:
17
g
Trans Fat:
0.4
g
Cholesterol:
591
mg
Sodium:
539
mg
Potassium:
3704
mg
Fiber:
3
g
Sugar:
21
g
Vitamin A:
50
IU
Vitamin C:
8
mg
Calcium:
91
mg
Iron:
9
mg