Some people really do miss eating pasta. But other people only ever liked the pasta as a vehicle for sauce – a rich, garlicky tomato sauce, creamy Alfredo, pesto full of herbs and olive oil, delicious new concoctions with butternut squash or pumpkin…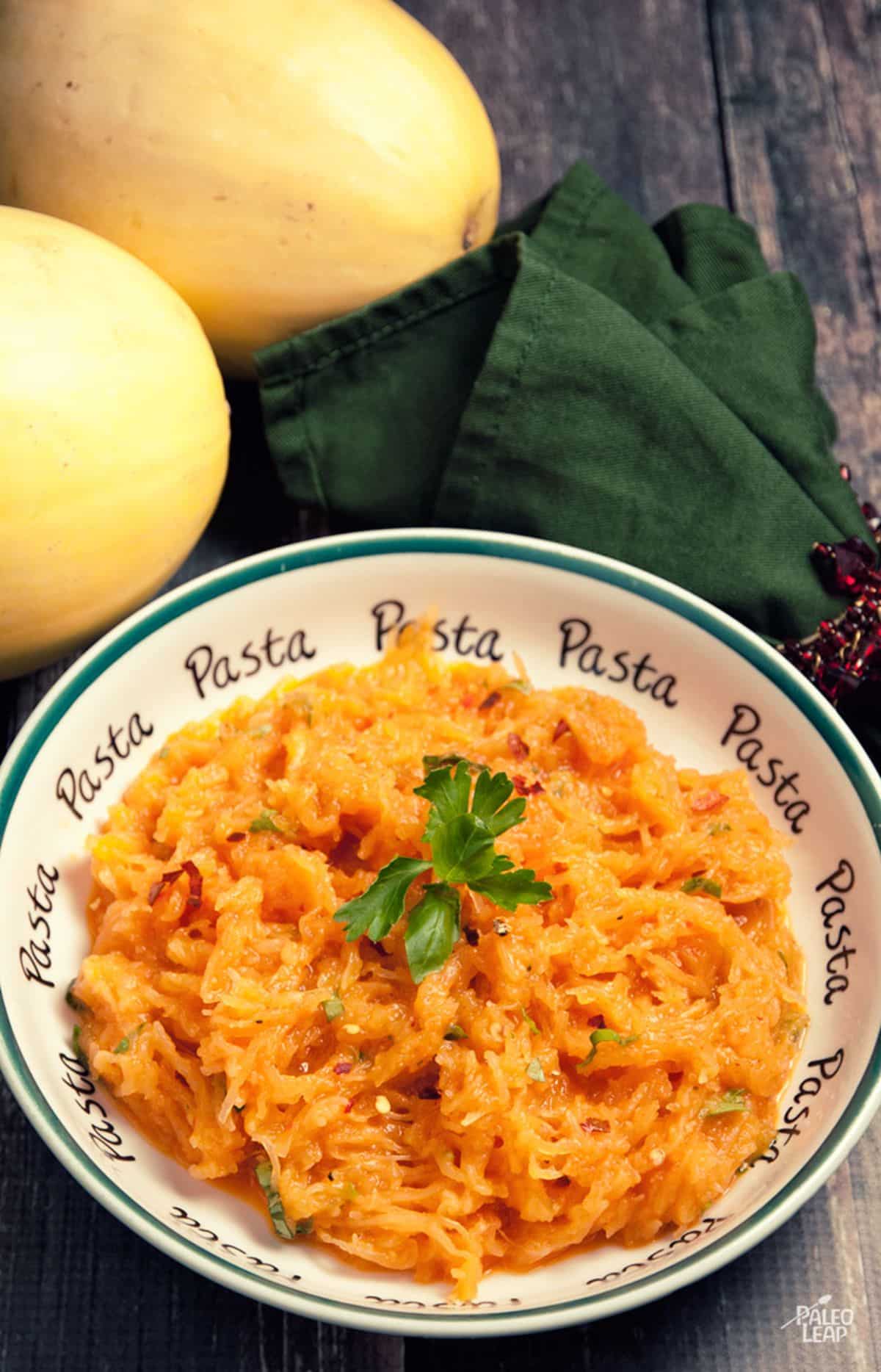 If you're one of the sauce lovers, this recipe is definitely for you: oven-roasted peppers blended with coconut milk, garlic, and red pepper flakes make a creamy topping with a spicy kick.
And of course, there's no actual pasta required: it's all poured over spaghetti squash, everyone's favorite Paleo "pasta," for a quick and easy side dish.
This one would be great with white fish – maybe some cod? - or really with almost anything you're making. It has a slightly Italian flavor profile, but that doesn't mean you have to limit yourself to Italian food; branch out, try something new, and have fun with it!
Roasted Red Pepper Pasta Recipe
SERVES: 4 PREP: 15 min COOK: 1 h
Ingredients
2 spaghetti squash, cut in half lengthwise and seeded
2 red bell peppers
2 shallots, minced
4 cloves garlic, finely chopped
1 ½ cup coconut milk
1 pinch red pepper flakes
Fresh parsley, minced (to taste)
Fresh basil, minced (to taste)
Sea salt and freshly ground black pepper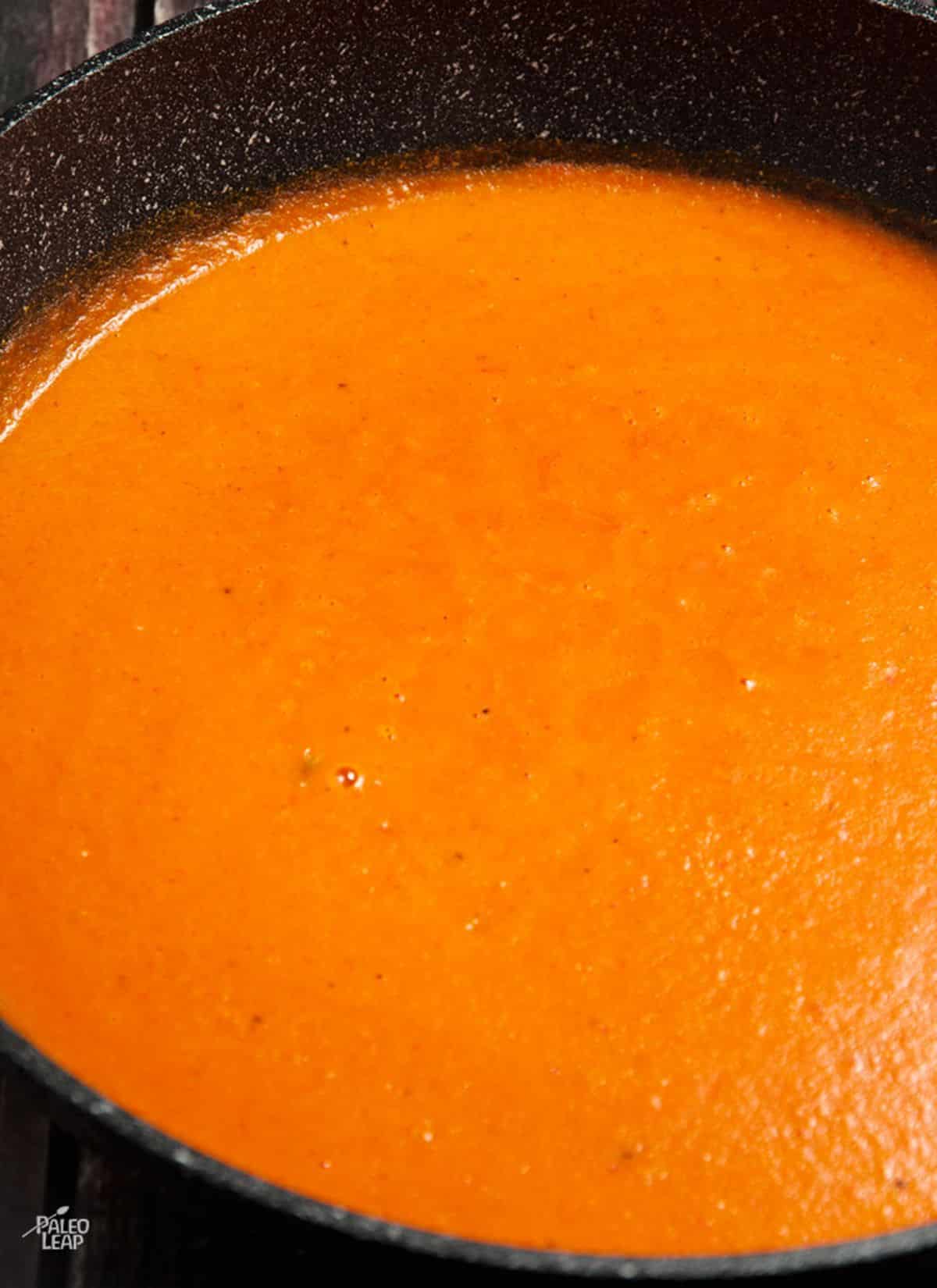 Preparation
Preheat your oven to 400 F.
Place the spaghetti squash with cut sides down on a baking sheet, and bake for 30 minutes.
At the same time, roast the red peppers in the oven for 25 to 30 minutes or until charred.
Cover the peppers in foil and cook for an additional 10 minutes to steam.
When cool enough to handle, remove the charred skin, seeds, and stems from the peppers.
Melt some cooking fat in a large skillet placed over medium heat. Sauté the shallot and garlic for 4 to 5 minutes. Remove from the heat.
Combine the shallot, garlic, roasted peppers, coconut milk, and red pepper flakes in a blender and pulse until smooth.
Use a large spoon to scoop the stringy pulp from the squash and place it in a bowl.
Return the sauce back to the skillet over medium heat, taste it, and adjust the seasoning if needed.
Add the spaghetti squash to the sauce, and stir until well combined and warm.
Serve topped with chopped fresh parsley and basil.
📖 Recipe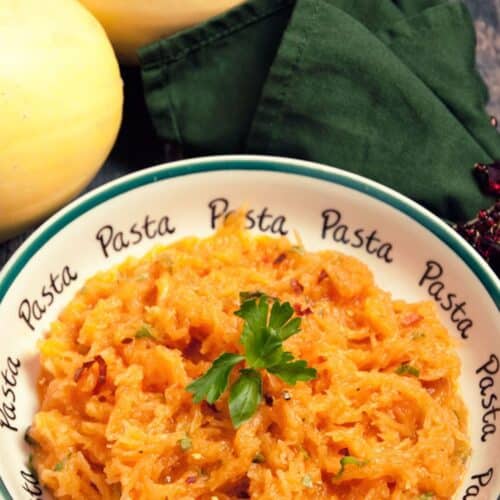 Roasted Red Pepper Pasta Recipe
Try this rich-flavored red pepper sauce over grain-free Paleo noodles for a classic side dish made healthy.
Instructions
Preheat your oven to 400 F.

Place the spaghetti squash with cut sides down on a baking sheet, and bake for 30 minutes.

At the same time, roast the red peppers in the oven for 25 to 30 minutes or until charred.

1 pinch red pepper flakes,

2 red bell peppers

Cover the peppers in foil and cook for an additional 10 minutes to steam.

When cool enough to handle, remove the charred skin, seeds, and stems from the peppers.

Melt some cooking fat in a large skillet placed over medium heat. Sauté the shallot and garlic for 4 to 5 minutes. Remove from the heat.

Combine the shallot, garlic, roasted peppers, coconut milk, and red pepper flakes in a blender and pulse until smooth.

4 cloves garlic,

1 ½ cup coconut milk,

1 pinch red pepper flakes

Use a large spoon to scoop the stringy pulp from the squash and place it in a bowl.

Return the sauce back to the skillet over medium heat, taste it, and adjust the seasoning if needed.

Sea salt and freshly ground black pepper

Add the spaghetti squash to the sauce, and stir until well combined and warm.

Serve topped with chopped fresh parsley and basil.

Fresh parsley,

Fresh basil
Nutrition
Calories:
350
kcal
Carbohydrates:
41
g
Protein:
6
g
Fat:
22
g
Saturated Fat:
17
g
Polyunsaturated Fat:
2
g
Monounsaturated Fat:
2
g
Sodium:
97
mg
Potassium:
876
mg
Fiber:
9
g
Sugar:
17
g
Vitamin A:
2450
IU
Vitamin C:
88
mg
Calcium:
135
mg
Iron:
5
mg