Appetizers and sides do not have to be complex. Say that out loud, repeat it again and take this to mind: 4 ingredients, plus a pinch of salt and pepper, makes for a very lovely bowl of dressed veggies.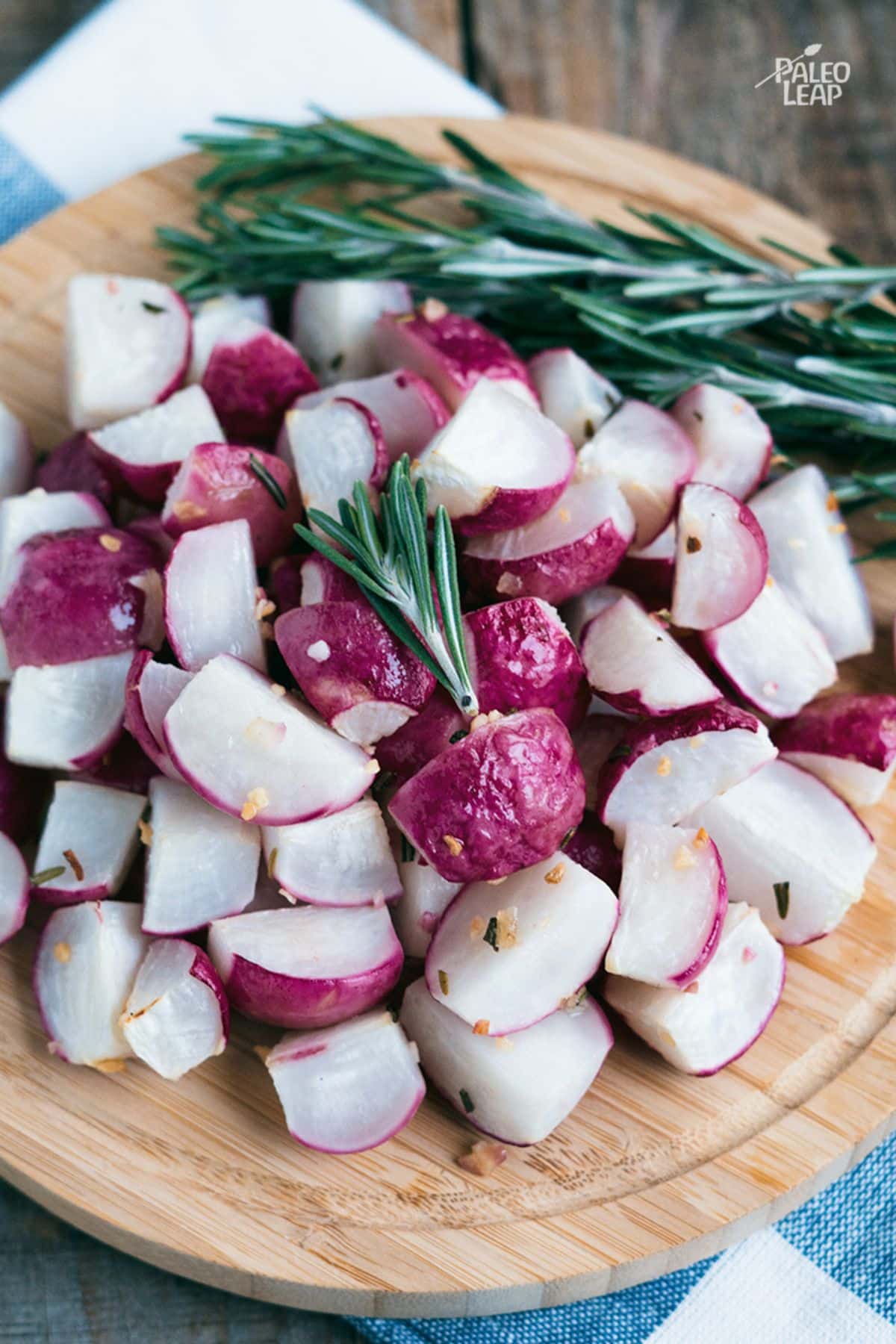 No matter what kind of food style you follow, vegetables should always be present in abundance, and all sorts of them too! Even if you don't have your own garden, there will always be farmers' markets and small shops catering to the benefits of green delights.
It's about more than eating green, though; it is also about eating your colors. Luckily, radishes come in more than one shade of pink - you will find yellow, white, coral, and purple radishes too. So mix it up when they are fresh, available, and in season, as they will add a beautiful essence to your plate.
Radishes are full of fiber and will help to increase your digestion, we highly recommend a plateful of slow cooker fennel and rosemary pork shoulder to help the radishes go down smoothly.
This recipe is just for two servings, but it is easy to scale up using very simple math, or you can roast your radishes with garlic and thyme if different herbs suit your palate.
If you are looking to encourage certain children to love their veggies, then they can help in cutting, and developing a love for radishes as well. After all, we love to eat when we spend time and energy preparing a tasty dish.
Roasted Rosemary Radishes Recipe
Serves: 2 Prep: 15 min Cook: 15 min
Ingredients
3 to 4 cups radishes, quartered
2 tbsp. fresh rosemary, minced
2 garlic cloves, minced
¼ cup olive oil
Sea salt and freshly ground black pepper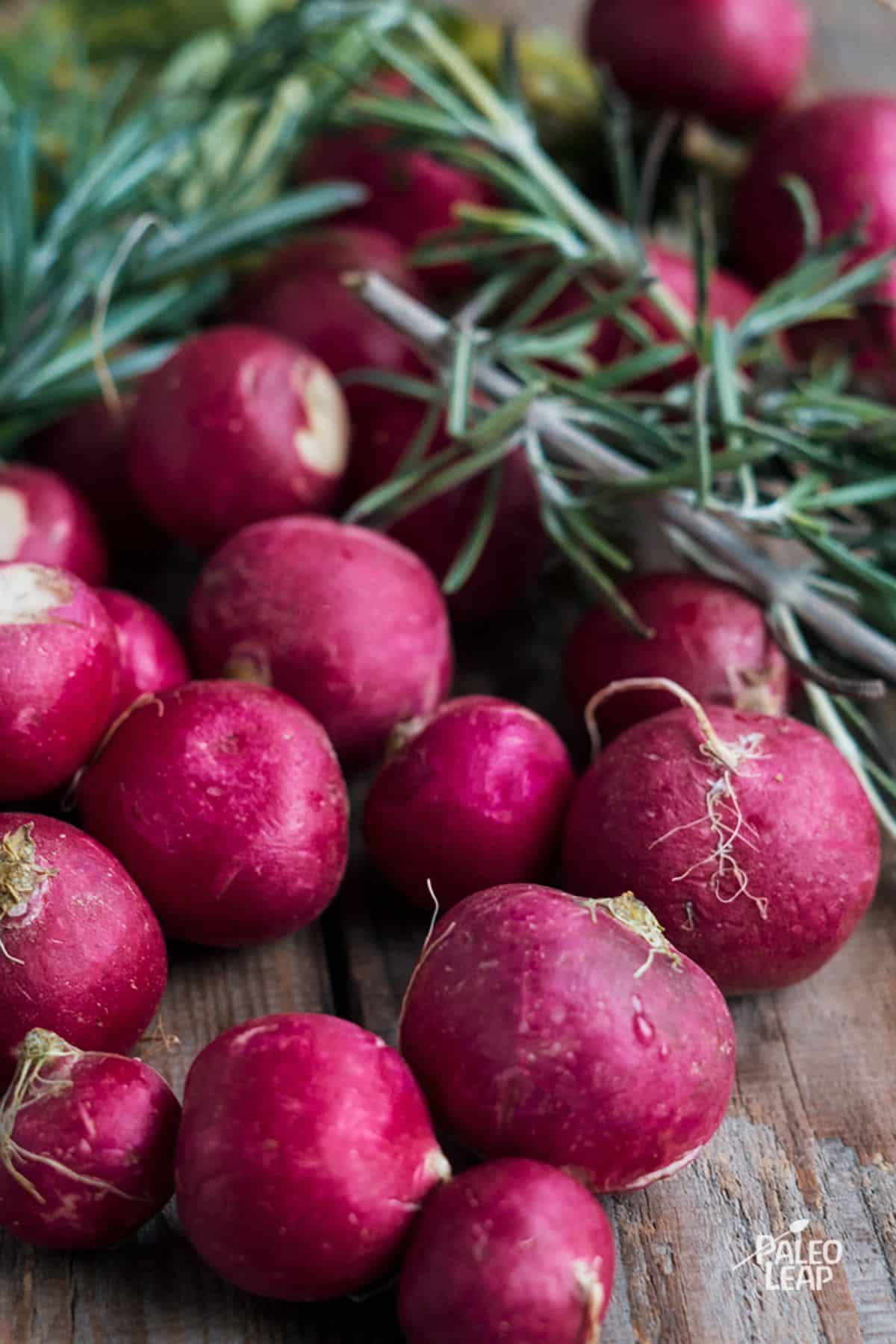 Preparation
Preheat oven to 400 F.
In a bowl, combine the radishes, rosemary, garlic, and olive oil, and season to taste generous.
Place on a baking sheet, and roast in the oven for 15 to 20 minutes, or until radishes are tender, yet still crispy.
Adjust seasoning before serving.
📖 Recipe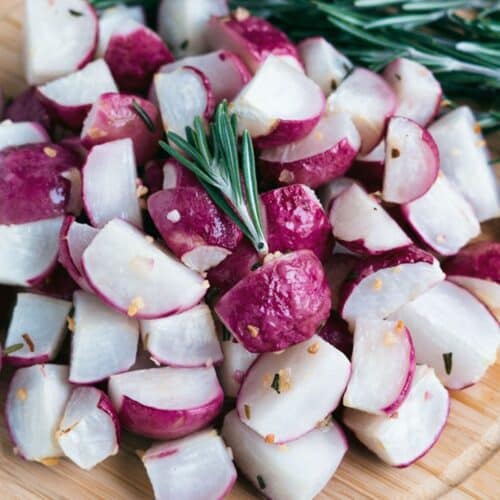 Roasted Rosemary Radishes Recipe
After a long day at work, simple is good. Not take-out easy, but happy and healthy roasted rosemary radishes - one pan, no mess, fantastic, light, and breezy.
Instructions
Preheat oven to 400 F.

In a bowl, combine the radishes, rosemary, garlic, and olive oil, and season to taste generous.

3 to 4 cups radishes,

2 tbsp. fresh rosemary,

2 garlic cloves,

¼ cup olive oil,

Sea salt and freshly ground black pepper

Place on a baking sheet, and roast in the oven for 15 to 20 minutes, or until radishes are tender, yet still crispy.

Adjust seasoning before serving.

Sea salt and freshly ground black pepper
Nutrition
Calories:
290
kcal
Carbohydrates:
10
g
Protein:
2
g
Fat:
28
g
Saturated Fat:
4
g
Polyunsaturated Fat:
3
g
Monounsaturated Fat:
20
g
Sodium:
73
mg
Potassium:
516
mg
Fiber:
5
g
Sugar:
3
g
Vitamin A:
445
IU
Vitamin C:
30
mg
Calcium:
96
mg
Iron:
2
mg