What, potatoes? Yes, potatoes. You can substitute sweet potatoes if you want.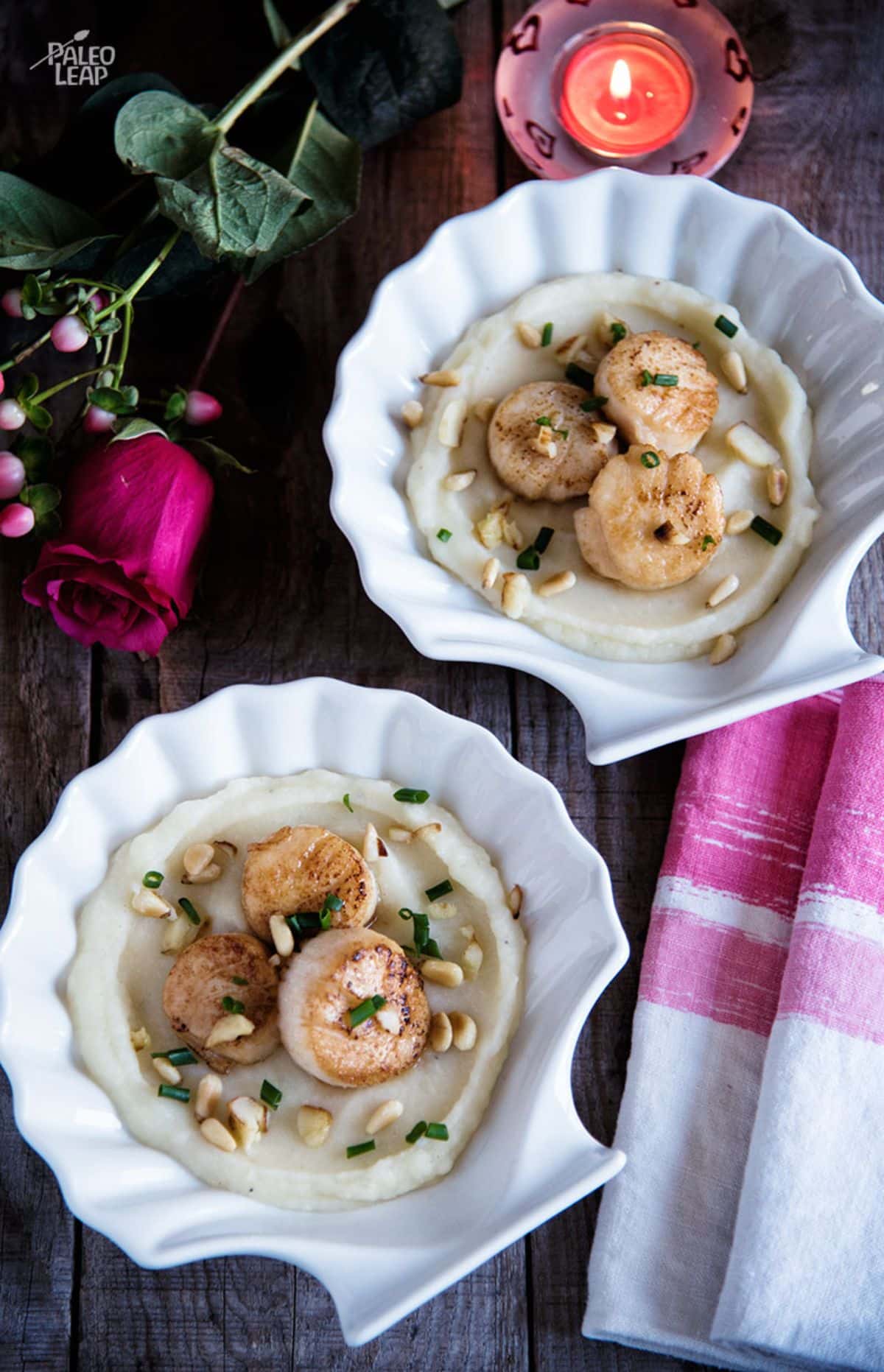 This recipe is simple but elegant: fresh scallops seared in rosemary-garlic olive oil on a bed of pureed vegetables and topped with more fresh herbs and pine nuts.
The scallops add a big nutritional punch to the recipe: they're full of iron and vitamin B12, and they're a great source of selenium, which is important for gut and thyroid health.
The one thing they don't really give you is Omega-3 fat: the fat from fish is rich in Omega-3s, but scallops are so lean that they just don't have enough fat to deliver any significant amount.
Mixing potatoes half-and-half with cauliflower for this recipe adds all the benefits of brassica vegetables and also cuts back on the carb content a little bit, so it fits a bit better into a restricted carb budget. (Even so, it's definitely not keto-friendly, and if you're doing super-low-carb, it might not work at all with your day)
If you're looking for a light dinner, this would be just the thing. Serve it as it is, or round it out with a side salad to add some color to the meal (spinach, walnuts, and cranberries would be good here).
Scallops With Potato-Cauliflower Purée Recipe
SERVES: 4 PREP: 15 min COOK: 25 min
Ingredients
12 sea scallops
3 garlic cloves, peeled
2 fresh rosemary sprigs
2 cups cauliflower florets, roughly chopped
2 cups russet or sweet potatoes, peeled and cut into cubes
2 cups vegetable stock
¼ cup pine nuts, roasted
fresh chives, minced
2 tbsp. olive oil
Sea salt and freshly ground black pepper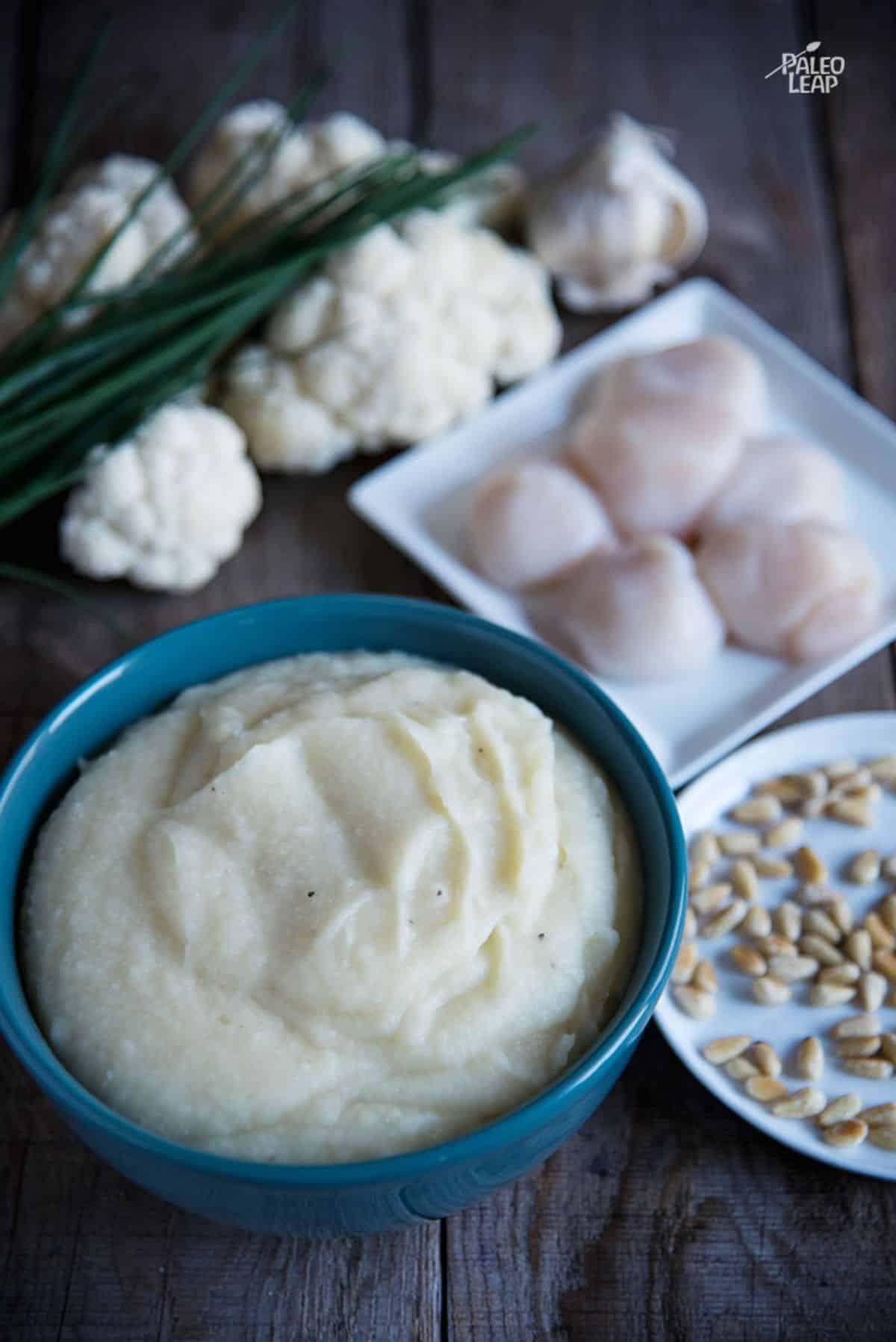 Preparation
Place the cubed potatoes, cauliflower, and vegetable stock in a saucepan.
Bring to a boil over medium-high. Lower heat to medium and let simmer until the vegetables are soft.
Season to taste and purée with an immersion blender until smooth. Keep warm. This will be your mash.
Heat the olive oil in a skillet over medium heat.
Add the garlic and fresh rosemary and stir for about 1 minute.
Sear the scallops for 1 to 2 minutes per side, basting with the garlic and rosemary-infused oil.
Season the scallops to taste.
Serve the purée on small plates. Top each plate with scallops, pine nuts, and fresh chives.
📖 Recipe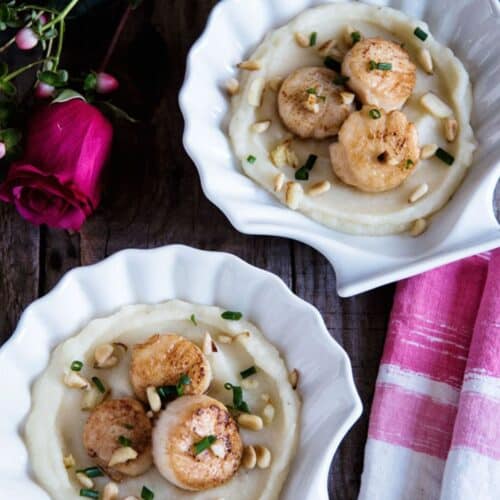 Scallops With Potato-Cauliflower Purée Recipe
An impressive-looking dinner with all the nutritional goodness of seafood and brassicas.
Ingredients
12

sea scallops

3

garlic cloves

peeled

2

fresh rosemary sprigs

2

cups

cauliflower florets

roughly chopped

2

cups

russet or sweet potatoes

peeled and cut into cubes

2

cups

vegetable stock

¼

cup

pine nuts

roasted

fresh chives

minced

2

tbsp.

olive oil
Instructions
Place the cubed potatoes, cauliflower, and vegetable stock in a saucepan.

2 cups cauliflower florets,

2 cups russet or sweet potatoes,

2 cups vegetable stock

Bring to a boil over medium-high. Lower heat to medium and let simmer until the vegetables are soft.

Season to taste and purée with an immersion blender until smooth. Keep warm. This will be your mash.

Heat the olive oil in a skillet over medium heat.

Add the garlic and fresh rosemary and stir for about 1 minute.

Sear the scallops for 1 to 2 minutes per side, basting with the garlic and rosemary-infused oil.

12 sea scallops,

2 fresh rosemary sprigs

Season the scallops to taste.

Sea salt and freshly ground black pepper

Serve the purée on small plates. Top each plate with scallops, pine nuts, and fresh chives.

¼ cup pine nuts,

fresh chives
Nutrition
Calories:
232
kcal
Carbohydrates:
21
g
Protein:
9
g
Fat:
14
g
Saturated Fat:
2
g
Polyunsaturated Fat:
4
g
Monounsaturated Fat:
7
g
Trans Fat:
0.003
g
Cholesterol:
11
mg
Sodium:
699
mg
Potassium:
526
mg
Fiber:
3
g
Sugar:
5
g
Vitamin A:
9690
IU
Vitamin C:
26
mg
Calcium:
40
mg
Iron:
1
mg