There are beautifully elegant and time-consuming ways to serve smoked salmon, one of our favorites is with asparagus mousse.
Then there are days where a full ten minutes to cook a meal is a rarity. Who has time to set a fancy feast on the table when you are rushing to and from the obligations of life?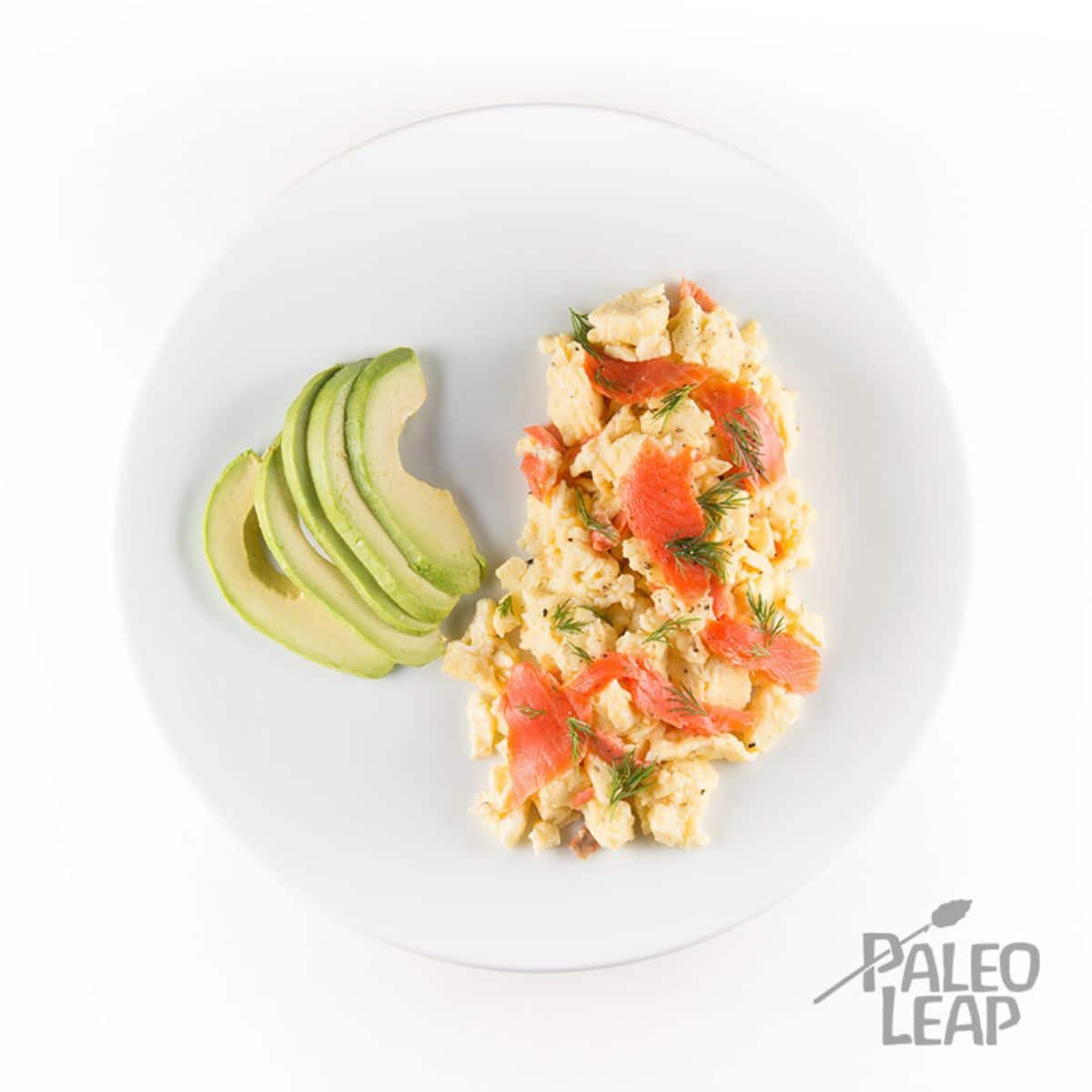 Well, now you can put a high-protein meal on your breakfast plate and make it anywhere you need to be, on time. If you can spare 10 minutes to scramble half a dozen eggs for two, then this delicious meal is for you.
It is likely that your Paleo pantry always has a stock of free-range eggs; after all, they are nature's wonder food. Packed in their own shell and are ready to eat in the time it takes to crack them into a hot frying pan.
While chicken eggs generally take center stage, it is important to eat diversely and look at the benefits of eggs laid by other birds. Duck eggs are rich in phosphorus, selenium, and Vitamins A, B9, and B12. Quail eggs (though smaller in size) are higher in iron, B12, and folate than chicken eggs.
Flavor-wise, all eggs taste slightly different. It depends on the bird, just as much as it depends on what the bird is eating.
A Paleo way of life is all about eating the best possible food available. The challenge for you is to inform yourself wisely and seek top quality for every bite.
Scrambled Eggs With Smoked Salmon Recipe
Serves: 2 Prep: 5 min Cook: 5 min
Ingredients
6 large eggs, beaten
¼ cup water
Smoked salmon, to taste
1 avocado, cut into thin slices
Fresh dill
Ghee, for cooking
Salt and pepper
Preparation
Beat the eggs in a bowl with a fork. Add and incorporate the water, approximately ¼ cup, and season to taste with salt and pepper.
Set a pan over medium heat. When hot, add some ghee to the pan and pour in the egg mixture.
Scramble the eggs by moving the mixture around gently with a spatula.
The eggs are ready when just cooked and still moist.
Serve the eggs with slices of avocado on the side and smoked salmon on top. Garnish with fresh dill.
📖 Recipe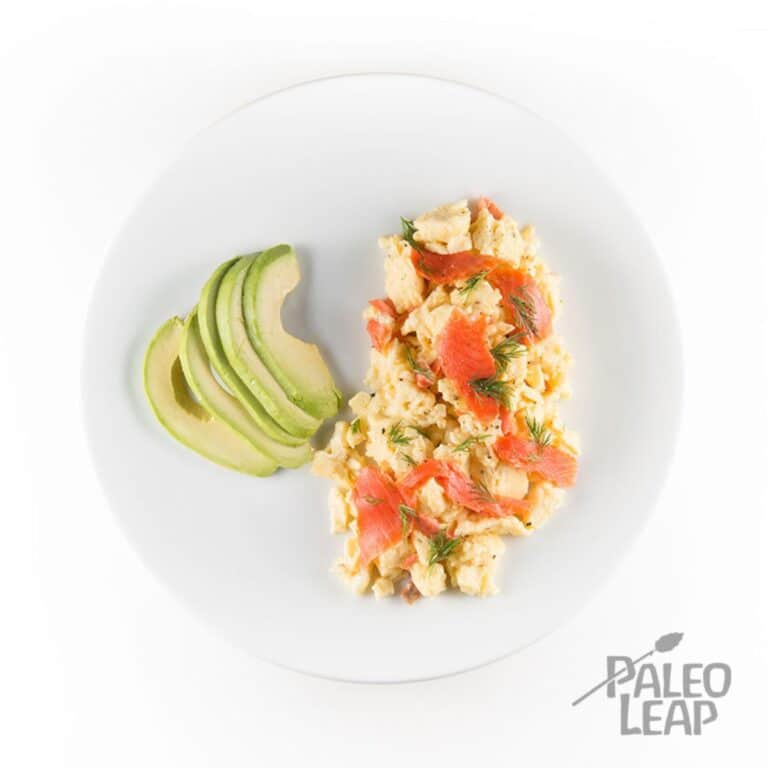 Scrambled Eggs With Smoked Salmon Recipe
Chicken eggs, duck eggs, quail eggs - what will your scramble contain? Explore the benefits of each, and add some smoked salmon and avocado for a real treat!
Instructions
Beat the eggs in a bowl with a fork. Add and incorporate the water, approximately ¼ cup, and season to taste with salt and pepper.

6 large eggs,

¼ cup water,

Salt and pepper

Set a pan over medium heat. When hot, add some ghee to the pan and pour in the egg mixture.

Scramble the eggs by moving the mixture around gently with a spatula.

The eggs are ready when just cooked and still moist.

Serve the eggs with slices of avocado on the side and smoked salmon on top. Garnish with fresh dill.

Smoked salmon,

1 avocado,

Fresh dill
Nutrition
Calories:
355
kcal
Carbohydrates:
11
g
Protein:
19
g
Fat:
27
g
Saturated Fat:
6
g
Polyunsaturated Fat:
4
g
Monounsaturated Fat:
15
g
Trans Fat:
0.1
g
Cholesterol:
491
mg
Sodium:
195
mg
Potassium:
691
mg
Fiber:
7
g
Sugar:
2
g
Vitamin A:
968
IU
Vitamin C:
12
mg
Calcium:
87
mg
Iron:
3
mg