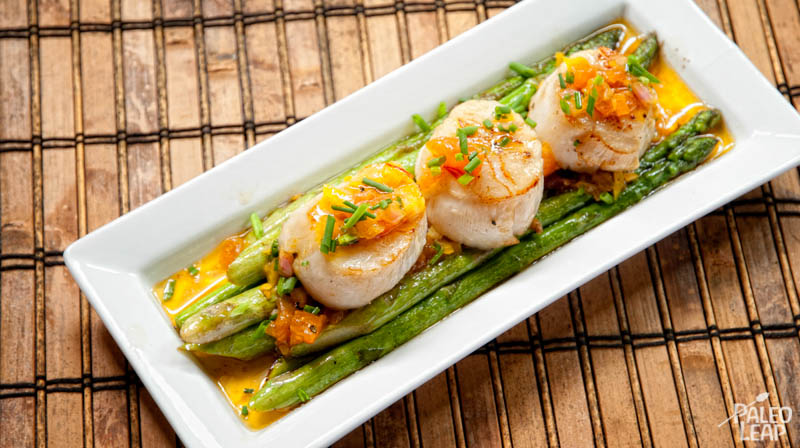 Arranged on a bed of asparagus and topped with a bold orange vinaigrette, these scallops look like an appetizer straight out of a fancy restaurant, and they taste just as good. Scallops are technically part of the mollusk family, and the edible part of the scallop is the muscle that opens and closes its two protective shells. Like other mollusks (notably oysters and mussels), scallops offer a high vitamin and mineral content that they absorbed from the sea: just to name a few nutrients, they're high in selenium, choline (otherwise rarely found outside of egg yolks), iron, and calcium.
To get the best flavor, I suggest day boat sea scallops (ones that have been caught and brought to shore on the same day that you buy them). Scallops are very fragile, so it's important to get them as fresh as possible. If you can't find any day boat scallops, make sure you get yours from a fish market you trust; it's better to get them fresh than frozen, since that way you can smell them and give them back if they smell "off."
After taking the trouble of get high-quality ingredients, don't blow it by overcooking them – scallops should not be heated for too long, or they'll get tough and unappetizing. Just a few minutes on each side is plenty, and they'll be warm and pleasantly seared, but not rubbery or chewy. If you want to double the recipe for a true dinner instead of an appetizer, you can simply add more scallops and asparagus, since the vinaigrette should make more than enough already.
Sea Scallops and Asparagus Recipe

SERVES: 2

PREP: 15 min.

COOK: 20 min.

Values are per portion. These are for information only & are not meant to be exact calculations.
Ingredients
6 day boat sea scallops;
1 bunch green asparagus;
¼ cup chives, thinly sliced;
2 green onions, minced;
1 whole tomato, peeled and diced;
1 clove garlic, minced;
1 tbsp. olive oil;
1 tsp. cayenne pepper;
1 tsp. dried oregano;
Juice of 1 lemon;
1/3 cup extra-virgin olive oil;
Sea salt and freshly ground black pepper, to taste;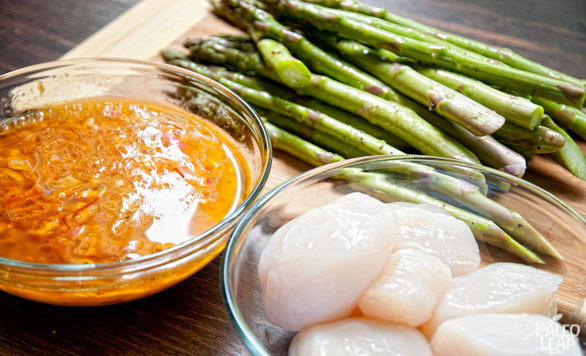 Preparation
Preheat your grill to a medium-high heat.
In a small pan placed over medium heat, toast the garlic with 1 tbsp. of olive oil until golden.
Lower the heat, add the tomato and cayenne pepper, and simmer for 10 min.
Remove from the heat and add the green onions, lemon juice, chives, and olive oil. Season to taste, and set aside.
Rub some olive oil on each scallop, and season with salt and pepper to taste. Do the same for the asparagus.
Place each scallop on the grill and cook until the flesh is firm (about 6 minutes), turning once.
Grill the asparagus until done.
Plate the asparagus and top it with some of the vinaigrette. Arrange the scallops on top of the asparagus.
Drizzle some more vinaigrette over the scallops and serve.