In my mind, there is nothing better nor easier than whipping up some shrimp when strapped for time. Shrimp is very nutritious, and it is so simple to prepare.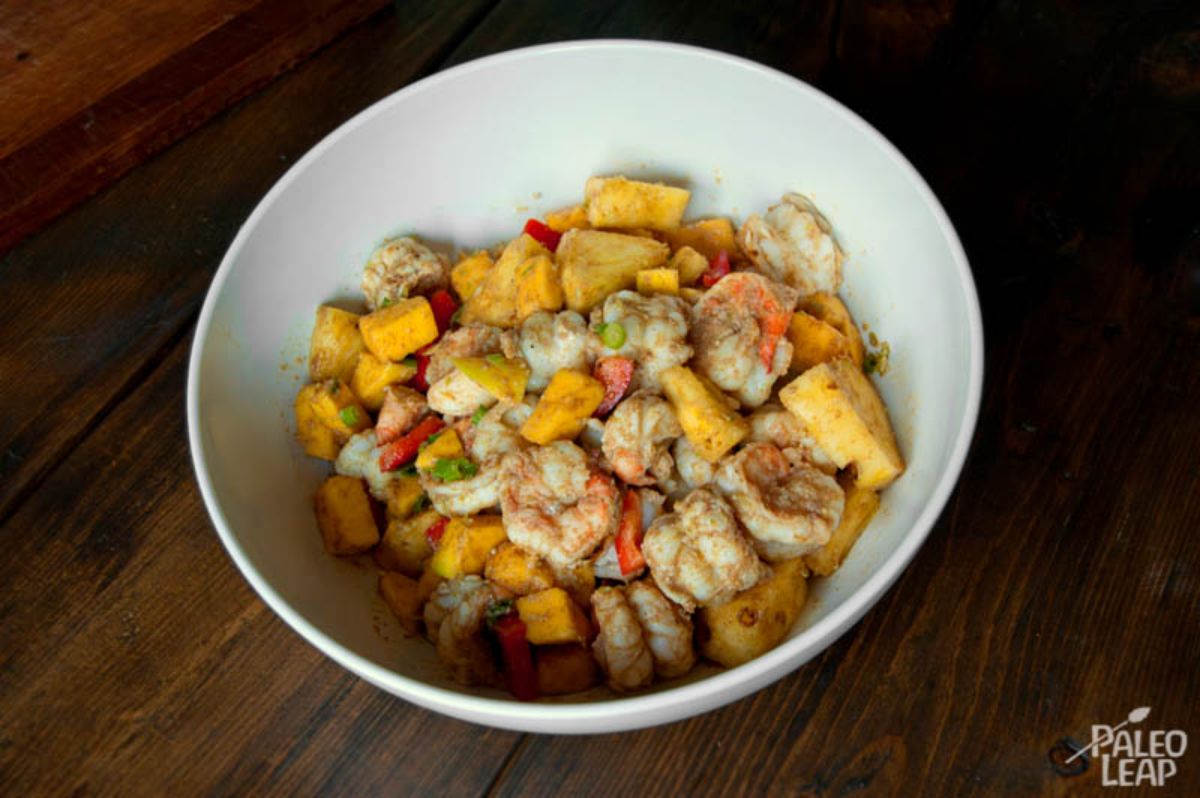 On the nutrition side, they are a good source of vitamin B12, iron, and selenium.
For this dish, I wanted to combine some fruity flavors with great spices. I went to my local fish market, picked up some large shrimp, and got to work.
I chose cumin and coriander as the two main spices as they complement the fruits and shrimp very well since they are not too overpowering. The lime juice and zest also add some nice tangy undertones to the whole dish.
When cooking shrimp, I never recommend buying them pre-cooked. You may think it will save you time, but it truly does not add much time at all to your cooking, and it creates a much better taste and texture for the shrimp.
Oftentimes, when they come already cooked, you will find the shrimp to be quite chewy and rubbery in texture, so buy fresh to avoid this. You can buy them already peeled and deveined to save you time. Also, when preparing this dish, make sure that all the fruit is ripe and bursting with juicy flavors so that the spices do not overpower them.
Shrimp in a fruity salsa recipe
Serves 4
Shrimp and marinade ingredients
2 tablespoon paleo cooking fat like coconut oil or clarified butter
2 tablespoon fresh lime juice
2 teaspoon lime zest
1 teaspoon ground cumin
2 tablespoon ground coriander
20-24 large shrimp, peeled and deveined
2 cloves garlic, minced
Fruit salsa ingredients
½ red bell pepper, chopped
½ mango, cubed
¾ cup pineapple, cubed
1 teaspoon ground cumin
2 green onions, chopped
1 teaspoon lime zest
1 tablespoon lime juice
Sea salt and freshly ground black pepper to taste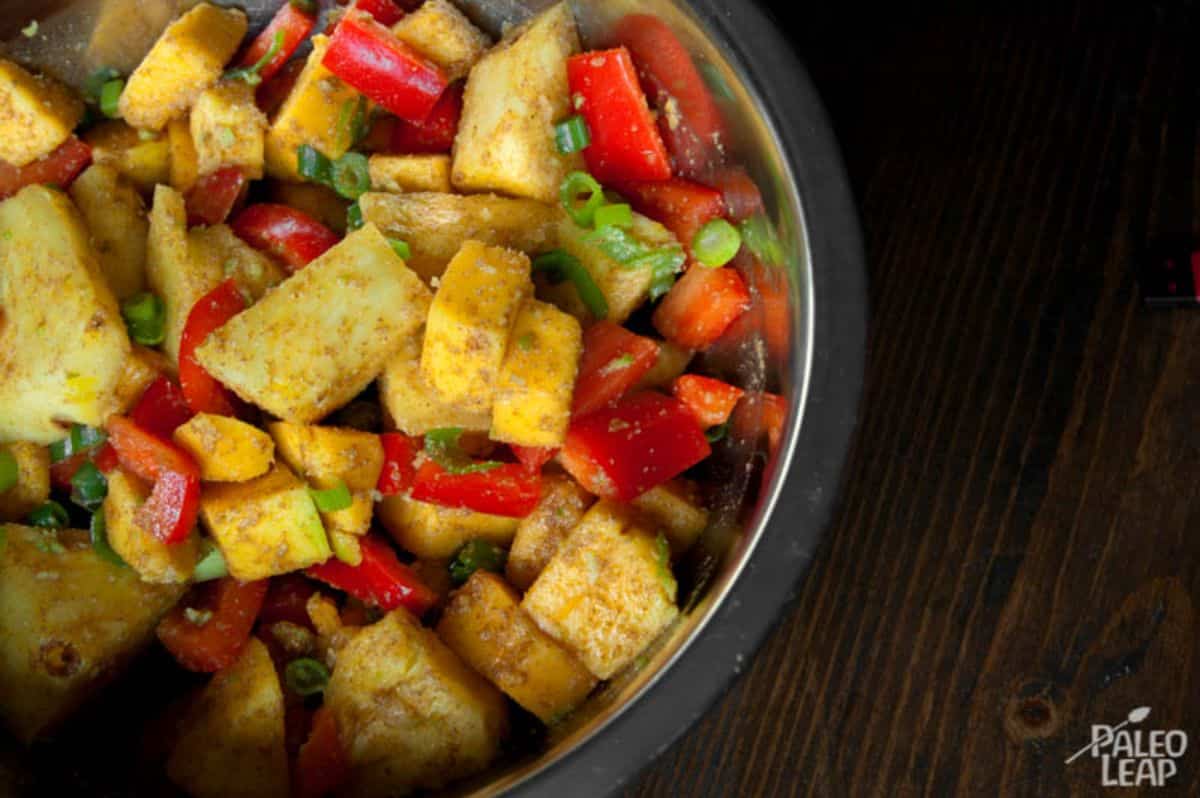 Preparation
In a medium-sized bowl, combine all the ingredients that make up the marinade. Toss in the shrimp and make sure all of the shrimp is evenly coated. Allow it to sit for approximately 15 minutes.
In a separate large bowl, combine the lime juice, lime zest, and cumin. Once thoroughly mixed, add the green onions, pineapple, mango, and bell pepper. Mix until the seasoning is evenly distributed.
Heat up a large skillet over medium-high heat. Add the cooking fat and coat the pan. Place the shrimp in (you may have to cook them in separate batches). Allow the shrimp to cook on each side for approximately 4 minutes total until just cooked. Try not to overcook them as they easily become rubbery.
Once the shrimp is all cooked, add it to the fruit salsa and combine well. Season with salt and pepper to taste.
This is a very filling salad, so do not feel as though another dish is necessary to complete the meal. However, it would still side nicely with a simple steak.
📖 Recipe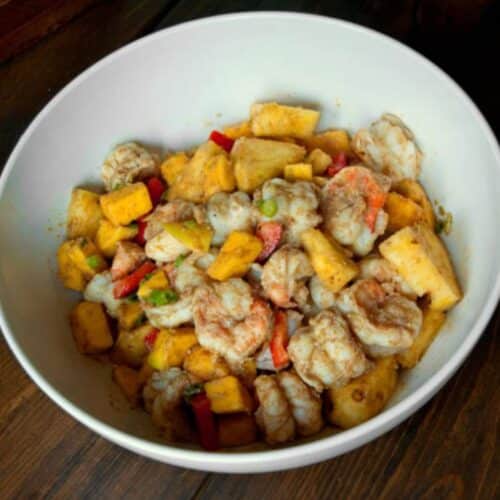 Shrimp in Fruity Salsa Recipe
A Paleo recipe of shrimp in a great, simple and juicy pineapple and mango salsa with tangy and spicy flavors from lime, cumin and coriander.
Ingredients
Shrimp and marinade ingredients
2

tablespoon

paleo cooking fat like coconut oil or clarified butter

2

tablespoon

fresh lime juice

2

teaspoon

lime zest

1

teaspoon

ground cumin

2

tablespoon

ground coriander

20-24

large shrimp

peeled and deveined

2

cloves

garlic

minced
Fruit salsa ingredients
½

red bell pepper

chopped

½

mango

cubed

¾

cup

pineapple

cubed

1

teaspoon

ground cumin

2

green onions

chopped

1

teaspoon

lime zest

1

tablespoon

lime juice

Sea salt and freshly ground black pepper to taste
Instructions
In a medium-sized bowl, combine all the ingredients that make up the marinade. Toss in the shrimp and make sure all of the shrimp is evenly coated. Allow it to sit for approximately 15 minutes.

2 tablespoon paleo cooking fat like coconut oil or clarified butter,

2 tablespoon fresh lime juice,

2 teaspoon lime zest,

1 teaspoon ground cumin,

2 tablespoon ground coriander,

2 cloves garlic,

20-24 large shrimp

In a separate large bowl, combine the lime juice, lime zest, and cumin. Once thoroughly mixed, add the green onions, pineapple, mango, and bell pepper. Mix until the seasoning is evenly distributed.

½ red bell pepper,

½ mango,

1 teaspoon ground cumin,

2 green onions,

1 teaspoon lime zest,

1 tablespoon lime juice,

¾ cup pineapple

Heat up a large skillet over medium-high heat. Add the cooking fat and coat the pan. Place the shrimp in (you may have to cook them in separate batches). Allow the shrimp to cook on each side for approximately 4 minutes total until just cooked. Try not to overcook them as they easily become rubbery.

Once the shrimp is all cooked, add it to the fruit salsa and combine well. Season with salt and pepper to taste.

Sea salt and freshly ground black pepper to taste
Nutrition
Calories:
127
kcal
Carbohydrates:
13
g
Protein:
15
g
Fat:
2
g
Saturated Fat:
0.3
g
Polyunsaturated Fat:
0.3
g
Monounsaturated Fat:
1
g
Trans Fat:
0.01
g
Cholesterol:
126
mg
Sodium:
571
mg
Potassium:
302
mg
Fiber:
3
g
Sugar:
8
g
Vitamin A:
1023
IU
Vitamin C:
49
mg
Calcium:
95
mg
Iron:
2
mg