I frequently get comments from non-seafood lovers looking for ways to introduce seafood into their diets without making them hate it even more.
It's something that can be very difficult to overcome, but I highly recommend trying to make it work, as seafood is almost essential for a truly optimal diet, given the nutrient density found in most seafood choices.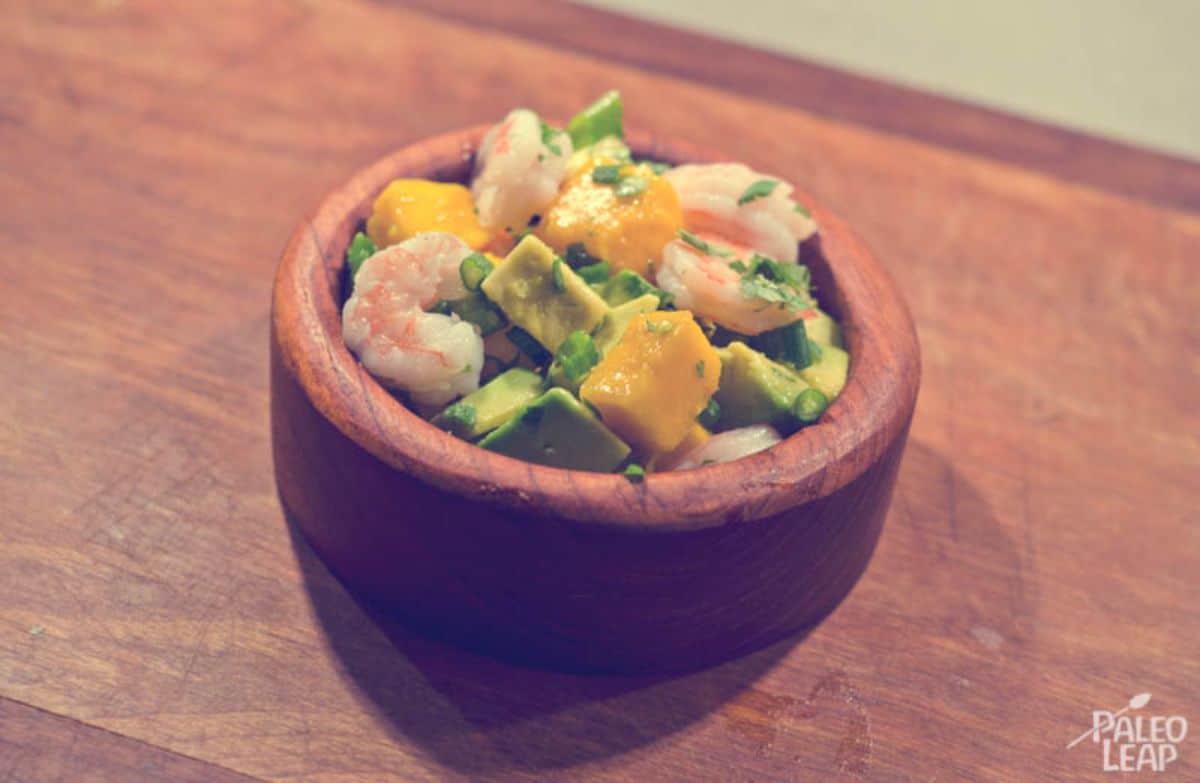 For most, it's either because of the taste or the texture. I certainly had problems eating seafood in the past, but I've learned to love most of it by now.
You can often prepare certain seafood varieties in ways that help eliminate the dreaded taste. The following salad is a good example of this, where the many different flavors complement the shrimp.
Granted, though, shrimp is already loved by most people and is pretty mild tasting compared to other seafood choices like oysters or mussels, so it might already be something you love on its own.
This salad is actually very similar to the one I already have in the cookbook. It has been so popular that I decided to look for some ways to shake the recipe up a little bit.
This way, it's a nice variation for those who already love it, and it's a good way to get the attention of some newcomers. In this recipe, the mango really gives a great punch of fruity flavor, and the avocado brings a great rich texture, making it a little more filling.
You'll see that a very quick homemade vinaigrette is created here in a matter of seconds with lime juice and olive oil.
It's a good idea to get used to creating your own vinaigrettes because most commercial varieties contain some unwanted vegetable seed oil or added sugar and also because, when you get the hang of it, it only takes up a few more minutes and the result is a great tasting vinaigrette that you can be really proud of and that will be nutritious. The one I created for this recipe is a great source of good fat and vitamin C.
Sometimes I like getting shrimp that has already been cooked, with the veins and tails removed. It is not always the best option, as they are not fresh and don't taste their best this way, but it makes it a lot easier to whip up a dish like this one with very little effort or time.
This salad is perfect as a first course to a main dish of fish or meat. It can also be enjoyed as a meal in itself, where it's especially great to bring to work or school for lunch.
Shrimp and mango salad recipe
Serves: 4
Ingredients
3 tablespoon fresh lime juice;
2 tablespoon olive oil;
2 large mangos, peeled, pitted, and diced;
2 avocados, peeled, pitted, and diced;
⅔ cup green onion, finely chopped;
⅔ cup cilantro, finely chopped;
1lb peeled cooked shrimp;
Sea salt and freshly ground black pepper to taste;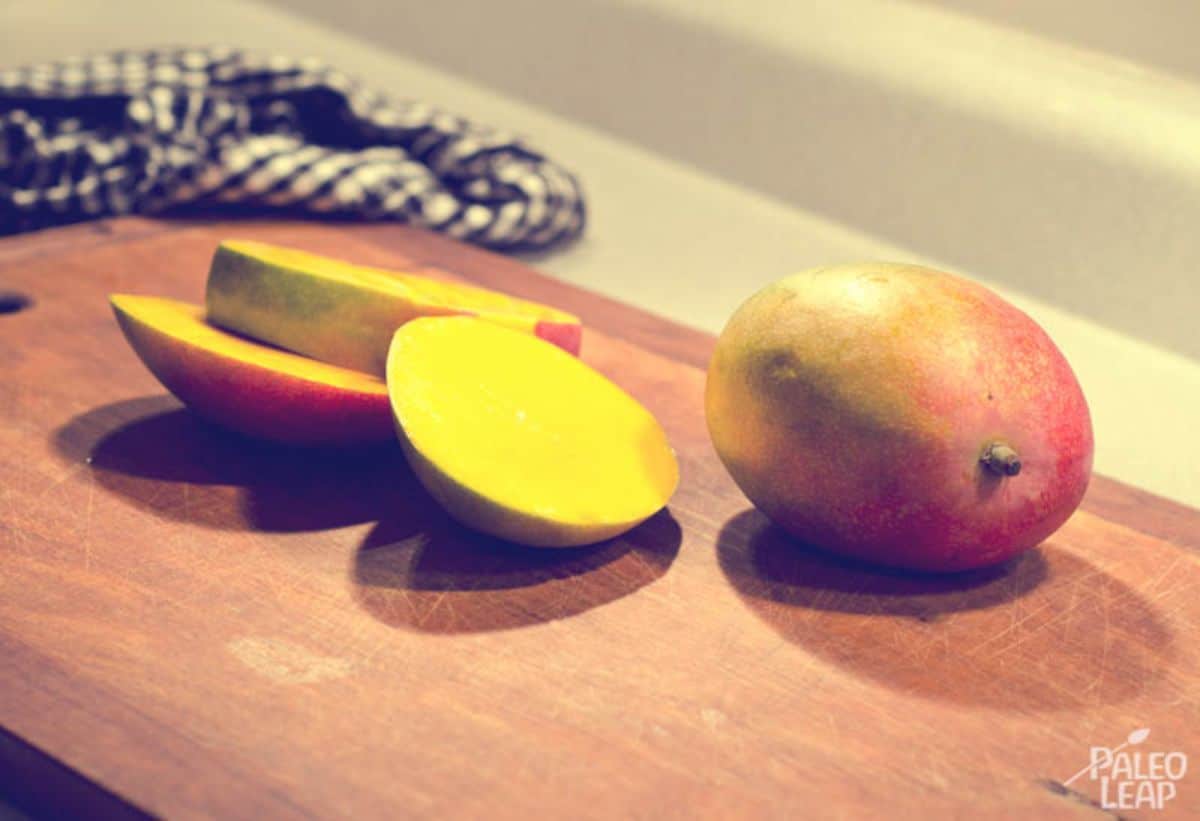 Preparation
In a small bowl, prepare the vinaigrette by combining the lime juice with the olive oil. Season to taste with salt and pepper and whisk together. Set aside.
In a large bowl, mix the mangoes with the avocado, green onion, cilantro, and shrimp. Pour in the vinaigrette and give it a good toss. The salad is best served cold, so if you are not serving it right away, allow it to chill until then.
📖 Recipe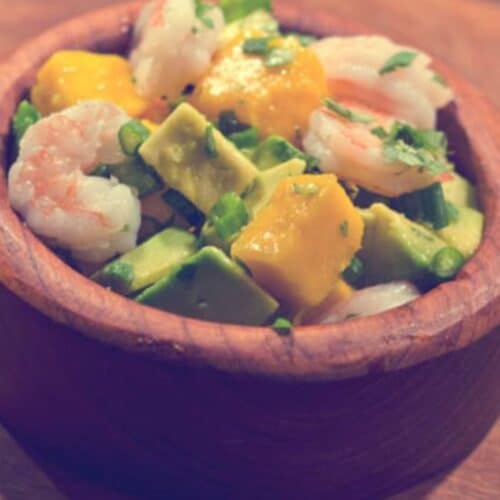 Shrimp and mango salad recipe
This shrimp and mango salad is as simple to prepare as it gets and contains only the best fresh tasting ingredients like avocado, mango, lime juice and cilantro
Ingredients
3

tablespoon

fresh lime juice

2

tablespoon

olive oil

2

large mangos

peeled, pitted, and diced

2

avocados

peeled, pitted, and diced

⅔

cup

green onion

finely chopped

⅔

cup

cilantro

finely chopped

1

lb

peeled cooked shrimp

Sea salt and freshly ground black pepper to taste
Instructions
In a small bowl, prepare the vinaigrette by combining the lime juice with the olive oil. Season to taste with salt and pepper and whisk together. Set aside.

3 tablespoon fresh lime juice,

Sea salt and freshly ground black pepper to taste,

2 tablespoon olive oil

In a large bowl, mix the mangoes with the avocado, green onion, cilantro, and shrimp. Pour in the vinaigrette and give it a good toss. The salad is best served cold, so if you are not serving it right away, allow it to chill until then.

2 avocados,

⅔ cup green onion,

⅔ cup cilantro,

1 lb peeled cooked shrimp,

2 large mangos
Nutrition
Calories:
390
kcal
Carbohydrates:
26
g
Protein:
26
g
Fat:
23
g
Saturated Fat:
3
g
Polyunsaturated Fat:
3
g
Monounsaturated Fat:
15
g
Trans Fat:
0.01
g
Cholesterol:
183
mg
Sodium:
147
mg
Potassium:
1034
mg
Fiber:
9
g
Sugar:
15
g
Vitamin A:
1618
IU
Vitamin C:
55
mg
Calcium:
111
mg
Iron:
2
mg