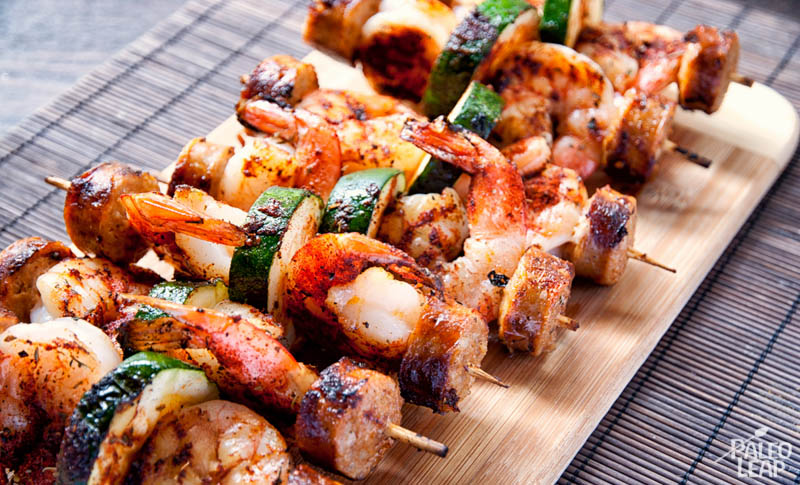 Shrimp are the perfect complement to strong, sauces because they don't have a very distinctive flavor themselves. These skewers use them to balance the juicy, fatty sausage and the spicy creole seasoning: without the shrimp, the skewers would be a little overwhelming. As it is, they're just plain delicious, and also an impressive-looking way to add some "surf and turf" to your meal. To top it all off, they're also incredibly quick to make, so the grill is on and off in just a few minutes and you can sit back to enjoy your dinner.
The sausages here take a little longer to cook than the shrimp do, so I suggest pre-cooking them before you put them on the skewers. Otherwise, you'd have to cook the whole skewer so long that the shrimp and zucchini would be over-cooked and dry. The type of sausage is up to you (although make sure to check the ingredients list for anything you don't want to be eating!), but I think a spicy sausage always fits right in with the cajun seasoning and the grilling flavor.
If you've already got the BBQ up and running, some spicy sweet potato wedges or any other grilled vegetable would be a delicious accompaniment to these skewers, or you could just throw together a quick bowl of salad greens and vinaigrette. A classic pile of greens would add a refreshing crunch to the meal, without distracting from every spicy, smoky bite of the main event.
Shrimp Sausage Skewers Recipe

SERVES: 4

PREP: 5 min.

COOK: 10 min.

Values are per portion. These are for information only & are not meant to be exact calculations.
Ingredients
½ lb. raw shrimp, peeled and deveined;
½ lb. sausage, cut into 1-inch pieces, precooked;
2 zucchini, cut in 1/2-inch cubes;
2 tbsp. extra-virgin olive oil;
Wooden skewers, soaked in water for 30 minutes;
Creole seasoning Ingredients
2 tbsp. paprika;
½ tbsp. garlic powder;
½ tbsp. onion powder;
½ tbsp. cayenne or chili powder;
¼ tbsp. dried oregano;
¼ tbsp. dried thyme;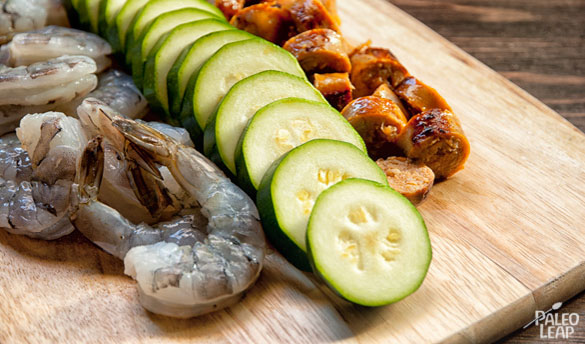 Preparation
Preheat your BBQ or grill to medium high.
In bowl, combine all the ingredients for the creole seasoning.
In a large bowl, combine the shrimp, zucchini pieces, and sausage pieces, and cover them with the olive oil.
Pour the creole seasoning into the bowl and mix well until all the ingredients are covered.
Load the skewers up with alternating pieces of sausage, shrimp, and zucchini until they're full.
Grill the skewers until the shrimp are well-cooked (6 to 8 minutes), and serve.