Need a standout appetizer or snack tray? Try these finger-friendly mini tacos: spicy shrimp stacked with fresh guacamole and salsa on top of crunchy cucumber slices.
They're perfect if you just need some munchies to set out for a party, but they'd work just as well as appetizers or even as part of a meal (you could lay out several different plates of bite-sized goodies and just let everyone pick and choose).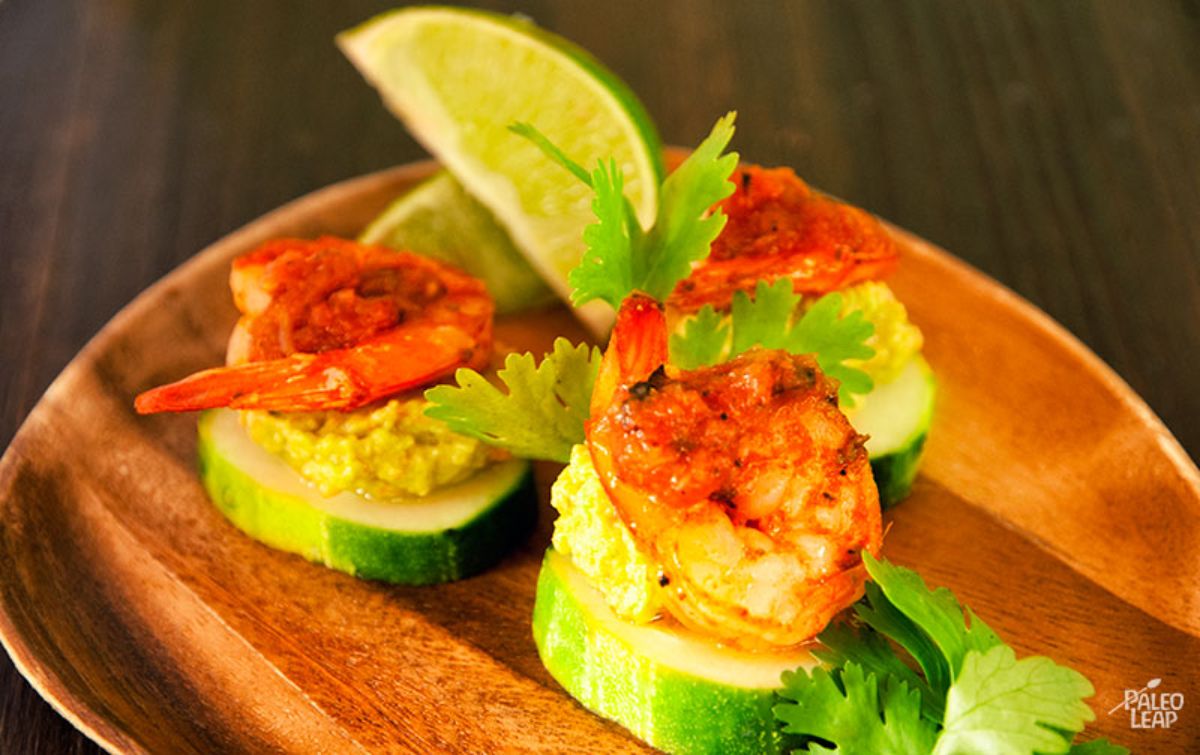 You'll need to make or buy some salsa to use in this recipe. There's a nice classic salsa recipe here (just scroll down to the salsa and ignore the instructions for the rest of the recipe), but if you're not big on chopping, it's usually possible to find a Paleo-friendly brand at most grocery stores.
You could also use pre-made guacamole, but in case you can't get any or just don't have some handy, the recipe includes directions for making your own.
You'll wind up with more guac than you need just for the shrimp: keep it in the fridge and enjoy it as a dip for carrot sticks, pepper slices, or anything else you like.
After all, what's not to love about a party appetizer that also gives you easy snacks the next day when you're all burned out on cooking?
Shrimp Taco Bites Recipe
Serves: 6 Prep: 15 min Cook: 12 min
Ingredients
24 large raw shrimp, peels and tails removed;
1 tsp. grated lime zest;
1 tbsp. lime juice;
2 tsp. chili powder;
1 tsp. ground cumin;
½ cup salsa;
1 or 2 cucumbers, cut into 24 slices in total;
Cilantro to taste;
Guacamole Ingredients
2 avocados, halved, seeded, and peeled;
1 lime, juiced;
½ teaspoon ground cumin;
½ medium onion, minced;
½ jalapeño pepper, seeded and minced;
1 Roma tomato, seeded and diced;
1 tbsp chopped cilantro;
1 clove garlic, minced;
Sea salt and freshly ground black pepper;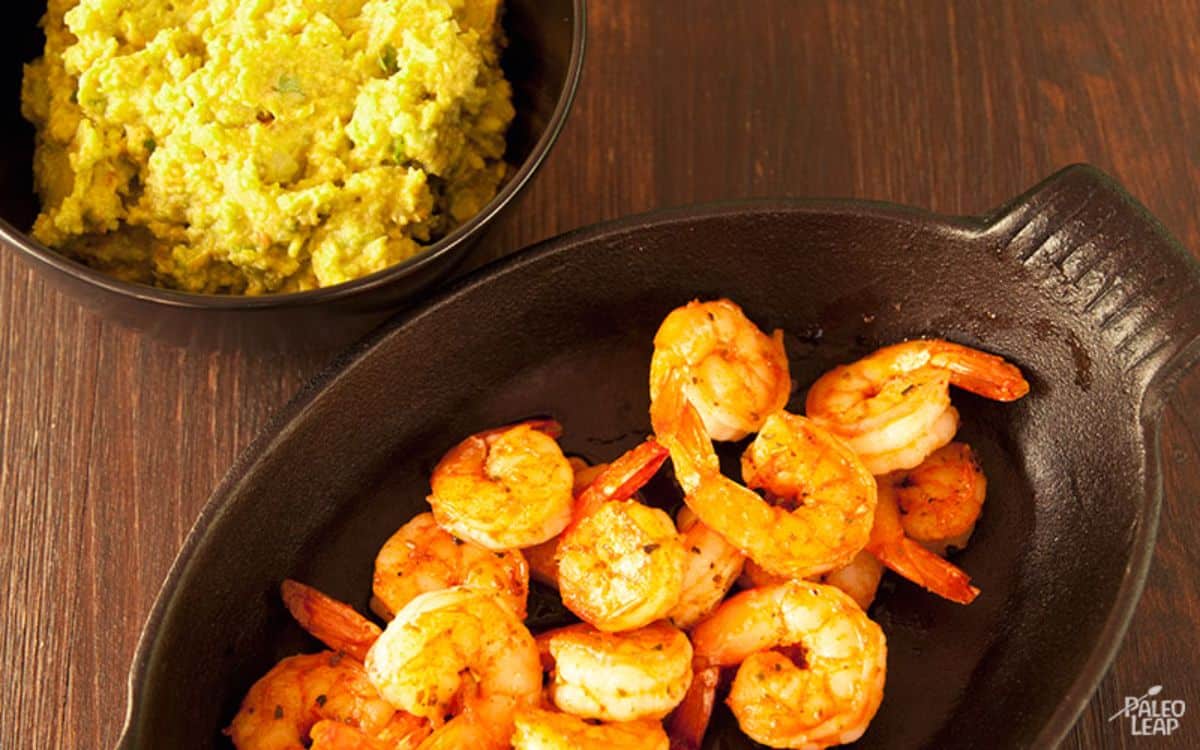 Preparation
Preheat your oven to 375 F.
Combine lime zest, cumin, and chili powder in a small bowl and season to taste with sea salt and black pepper.
Sprinkle the mixture all over the raw shrimp.
Lay the shrimp on a baking sheet and bake in the preheated oven for 5 to 8 minutes or until the shrimp turn pink.
Meanwhile, prepare the guacamole. In a bowl, mash the avocado with a potato masher or a fork. Add all the remaining ingredients for the guacamole and stir until everything is well combined.
Assemble the shrimp taco bites by placing 1 tsp. of guacamole mixture on a cucumber followed by a shrimp.  Top with ½ tsp. of salsa and cilantro to taste.
📖 Recipe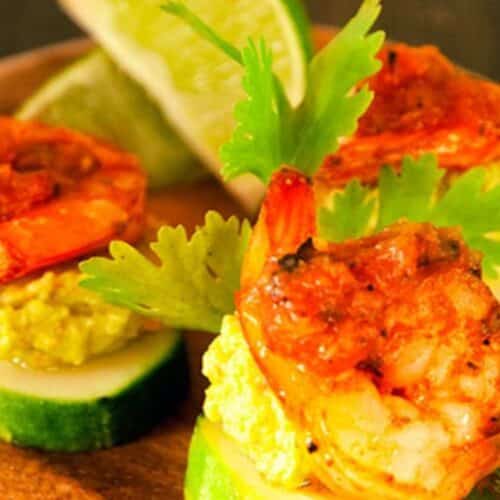 Shrimp Taco Bites Recipe
A simple but delicious Paleo finger food that can work as a snack tray, an appetizer, or even part of a meal.
Instructions
Preheat your oven to 375 F.

Combine lime zest, cumin, and chili powder in a small bowl and season to taste with sea salt and black pepper.

1 tsp. grated lime zest,

2 tsp. chili powder,

1 tsp. ground cumin,

Sea salt and freshly ground black pepper

Sprinkle the mixture all over the raw shrimp.

Lay the shrimp on a baking sheet and bake in the preheated oven for 5 to 8 minutes or until the shrimp turn pink.

Meanwhile, prepare the guacamole. In a bowl, mash the avocado with a potato masher or a fork. Add all the remaining ingredients for the guacamole and stir until everything is well combined.

2 avocados,

1 lime,

½ teaspoon ground cumin,

½ medium onion,

½ jalapeño pepper,

1 Roma tomato,

1 tablespoon chopped cilantro,

1 clove garlic,

Sea salt and freshly ground black pepper

Assemble the shrimp taco bites by placing 1 tsp. of guacamole mixture on a cucumber followed by a shrimp. Top with ½ tsp. of salsa and cilantro to taste.

½ cup salsa,

1 or 2 cucumbers,

Cilantro to taste,

1 tbsp. lime juice
Nutrition
Calories:
139
kcal
Carbohydrates:
12
g
Protein:
3
g
Fat:
11
g
Saturated Fat:
2
g
Polyunsaturated Fat:
1
g
Monounsaturated Fat:
7
g
Sodium:
178
mg
Potassium:
555
mg
Fiber:
7
g
Sugar:
3
g
Vitamin A:
848
IU
Vitamin C:
17
mg
Calcium:
43
mg
Iron:
2
mg