Yummy glucosamine. It may not be a phrase you hear often, but in this dish, it is absolutely true. Shrimp give a respectful dose of nutrients while serving as a versatile protein (and a downright delicious main course).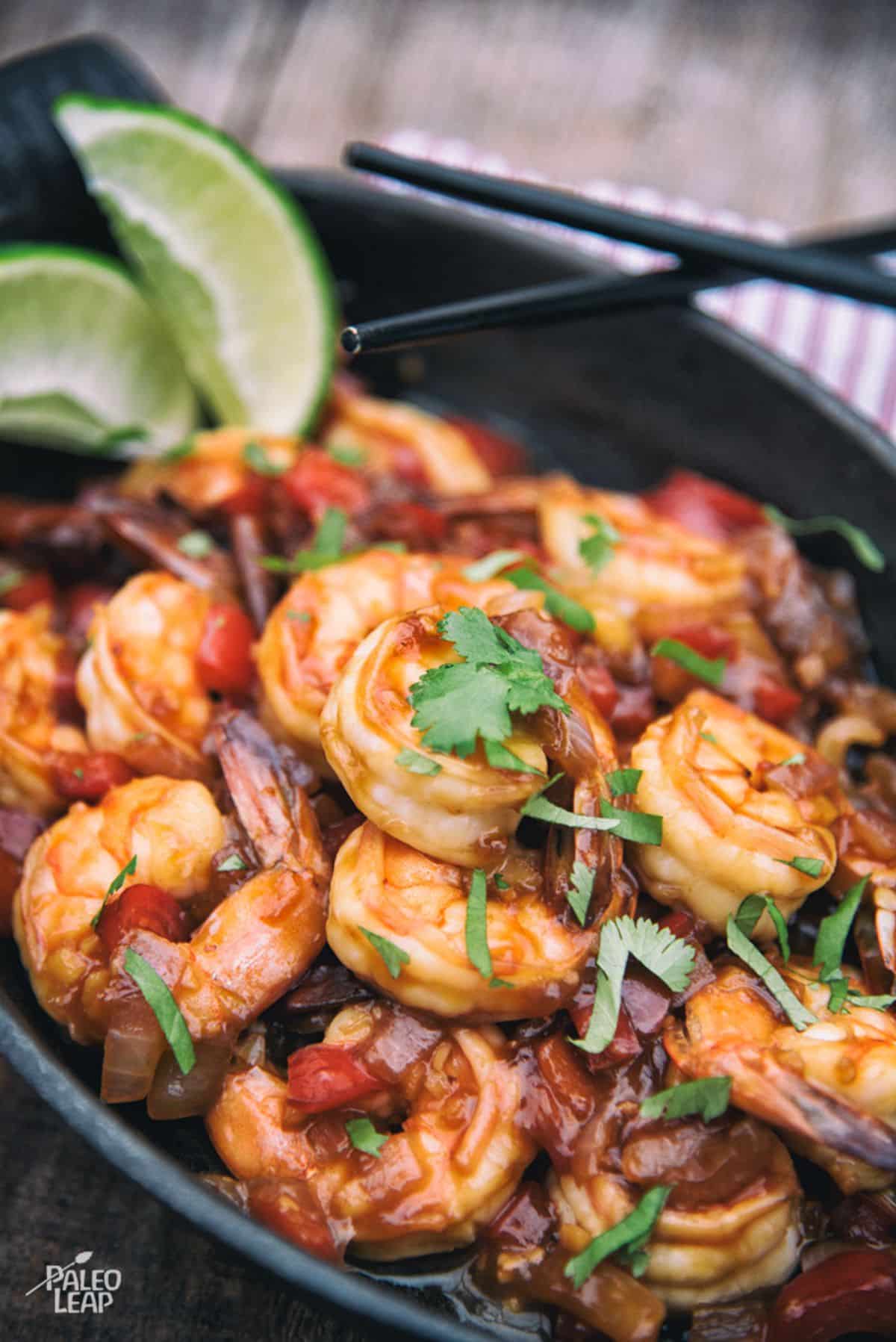 In this recipe, shrimp are dressed up with a variety of Asian-inspired flavors, giving you a spicy, salty-sweet combination that can deliver unexpected flavors for your meal.
This recipe is a great stand-alone plate – you can bring it to a party and let others enjoy your uniquely-flavored shrimp preparation on its own. Or, serve it at home or for guests – this works well when combined with other sides as well.
Shrimp is an awesome and fairly inexpensive treat to incorporate into any Paleo diet. When purchasing these, there are a few things to consider: cost, effort, and ethics.
The cheapest shrimp you buy will generally be sourced from countries with less-than-ethical labor and farming practices; if you feel strongly about these issues, look for shrimp that are farmed in the United States.
Then, consider the price difference between shelled and deshelled shrimp – shrimp with shells removed will save you tons of effort but will cost a bit more. Ultimately, the choice is up to you, but know that you do have options in the grocery store.
While it may seem contrary to certain Paleo misconceptions, you can pair this recipe with white rice if you'd like (there is a definite carb intake there to note, though). However, if you prefer more traditional Paleo options, take a look at our list of zoodle recipes for inspiration on creative ways to accompany this dish.
Sichuan-Style Shrimp Recipe
Serves: 4 Prep: 15 min Cook: 10 min
Ingredients
15 to 20 medium shrimp, peeled and deveined
½ onion, minced
½ bell pepper, minced
4 to 5 dried red chiles
1 garlic clove, minced
1 thumb-sized piece of fresh ginger root, minced
2 tbsp. coconut oil
¼ cup coconut aminos
2 tbsp. water
1 tsp. apple cider vinegar
1 tbsp. lime juice
1 tsp. raw honey
Fresh cilantro to garnish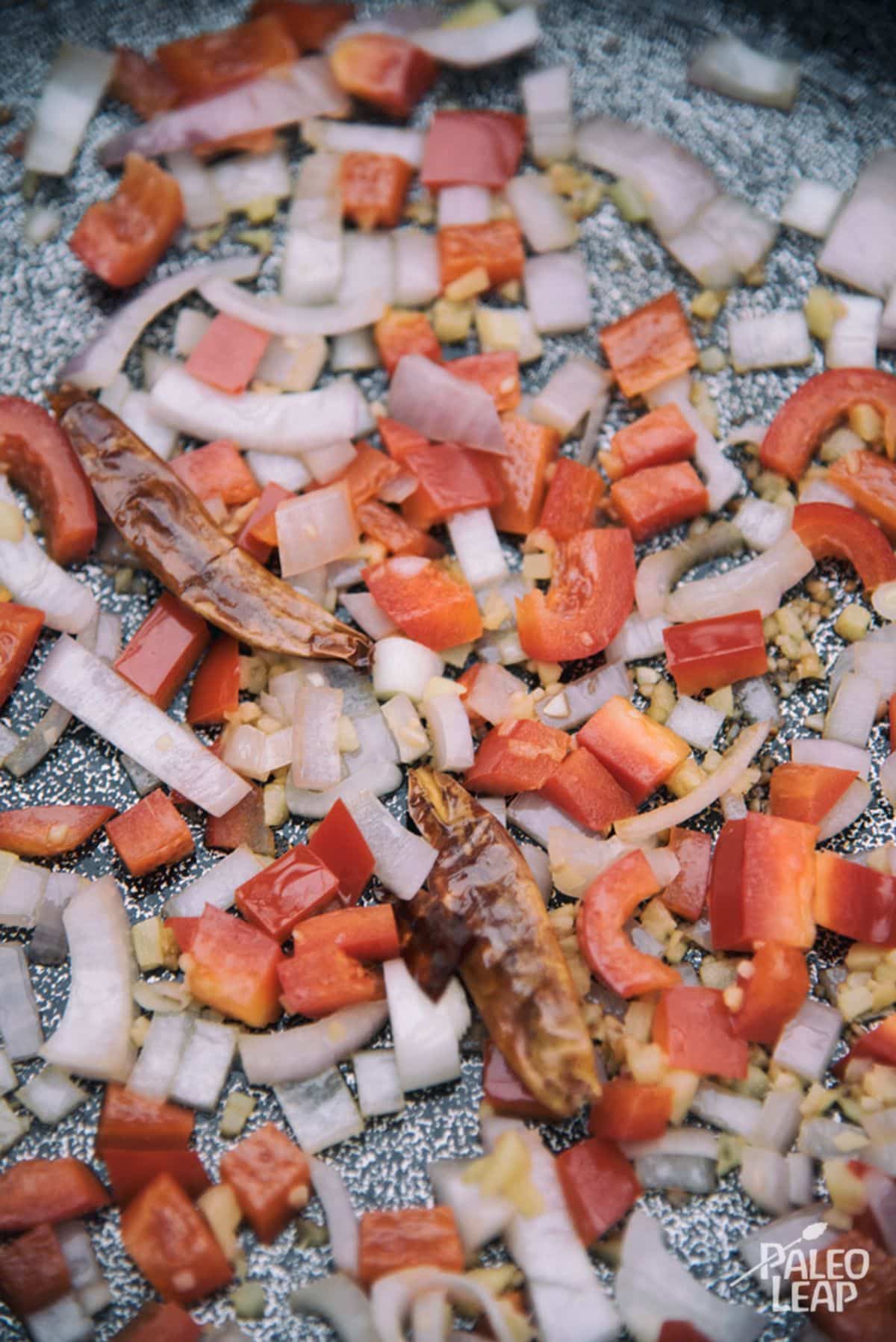 Preparation
In a bowl, combine the coconut aminos, apple cider vinegar, lime juice, honey, and water.
Melt the coconut oil in a skillet over medium heat.
Add the ginger and garlic to the skillet; cook for 1 to 2 minutes.
Add the onion, bell pepper, and dried red chiles to the skillet and cook until the onions are soft.
Place the shrimp in the skillet and cook until pink.
Pour in the sauce and stir everything until well-mixed; cook until the sauce thickens to desired consistency (4 to 5 minutes).
Serve topped with fresh cilantro.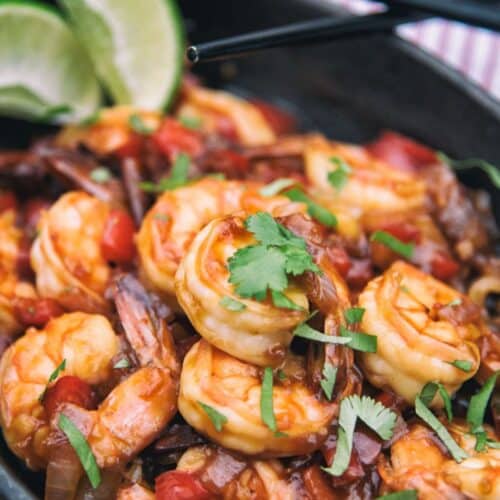 Sichuan-Style Shrimp Recipe
Looking for something out of the ordinary? This Asian-shrimp dish will introduce you to a global flavor that stands out from the everyday seafood.
Ingredients
15 to 20

medium shrimp

peeled and deveined

½

onion

minced

½

bell pepper

minced

4 to 5

dried red chiles

1

garlic clove

minced

1

thumb-size piece of fresh ginger root

minced

2

tbsp.

coconut oil

¼

cup

coconut aminos

2

tbsp.

water

1

tsp.

apple cider vinegar

1

tbsp.

lime juice

1

tsp.

raw honey

Fresh cilantro to garnish
Instructions
In a bowl, combine the coconut aminos, apple cider vinegar, lime juice, honey, and water.

¼ cup coconut aminos,

1 tsp. apple cider vinegar,

1 tbsp. lime juice,

1 tsp. raw honey,

2 tbsp. water

Melt the coconut oil in a skillet over medium heat.

Add the ginger and garlic to the skillet; cook for 1 to 2 minutes.

1 thumb-size piece of fresh ginger root,

1 garlic clove

Add the onion, bell pepper, and dried red chiles to the skillet and cook until the onions are soft.

½ onion,

½ bell pepper,

4 to 5 dried red chiles

Place the shrimp in the skillet and cook until pink.

Pour in the sauce and stir everything until well-mixed; cook until the sauce thickens to desired consistency (4 to 5 minutes).

Serve topped with fresh cilantro.

Fresh cilantro to garnish
Nutrition
Calories:
145
kcal
Carbohydrates:
12
g
Protein:
9
g
Fat:
8
g
Saturated Fat:
6
g
Polyunsaturated Fat:
0.3
g
Monounsaturated Fat:
1
g
Trans Fat:
0.003
g
Cholesterol:
60
mg
Sodium:
389
mg
Potassium:
320
mg
Fiber:
1
g
Sugar:
5
g
Vitamin A:
938
IU
Vitamin C:
87
mg
Calcium:
37
mg
Iron:
1
mg