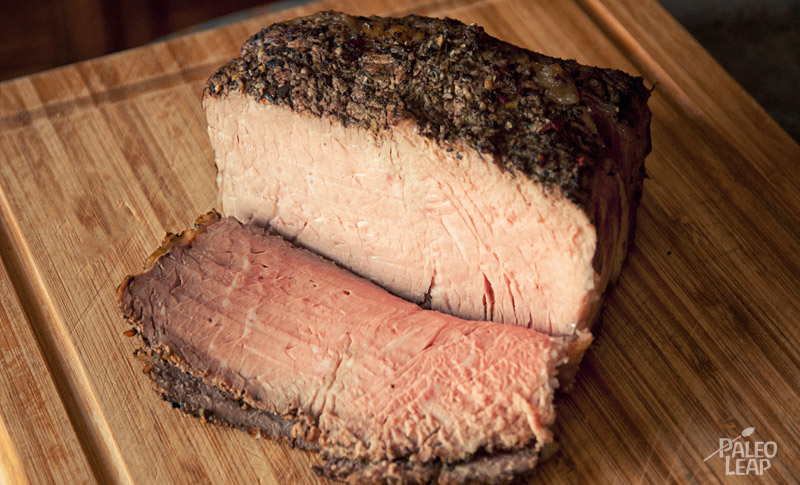 Carved from the muscle along the back of the cow, the sirloin tip is a luxurious roast, like the four-star version of chuck shoulder or brisket. It's still a lean cut, but it doesn't need the same extra-long braising to bring out the flavor and tenderness: if you love roast beef and want to splurge a little on something special, this is definitely the cut for you.
In this recipe, the sirloin is simply rubbed with garlic and herbs, and then roasted slowly under a dry heat, allowing you to choose exactly what level of doneness you'd like. If you like it a little pink inside, aim for 135 degrees in the center. 140 will give you medium-rare; if you like it even more thoroughly cooked, aim for 145 or 150. To get the best flavor, also plan enough time to let the roast sit for 20 minutes after you take it out of the oven. This lets the juices even out throughout the roast, so they end up on your plate and not wasted on the cutting board.
This is a great dinner for busy evenings, because the oven really does all the work for you. A few minutes of prep time takes care of the roast until it's time for dinner, giving you the perfect opportunity to experiment with more creative sides, or to just get something else done and not worry about food for a while. Serve your masterpiece with a big pile of vegetables on the side, and enjoy something a little bit special livening up the weekly menu.
Sirloin Tip Roast Recipe

SERVES: 4

PREP: 10 min.

COOK: 1h30 min.

Values are per portion. These are for information only & are not meant to be exact calculations.
Ingredients
2.5 lb. sirloin tip roast (also called round tip roast);
3 cloves garlic, minced;
2 tsp. dried oregano;
2 tsp. dried basil;
1 tsp. crushed red pepper flakes; (optional)
Sea salt and freshly ground black pepper to taste;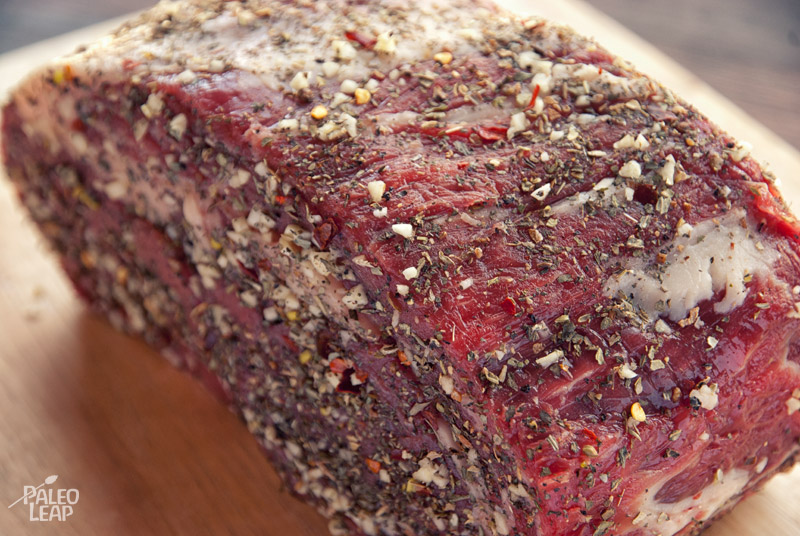 Preparation
Preheat your oven to 250 F.
In a small bowl, combine the garlic, oregano, basil, red pepper flakes, and season with salt and pepper to taste.
Rub the roast with the garlic and dried herb mixture.
Warm up some cooking fat in a large skillet placed over medium-high heat.
Sear each side of the roast until browned.
Place the roast on a wire rack over a rimmed baking sheet.
Cook the roast on the middle rack of the oven for 1h 30 min, or until the center reaches 135 F.