A pineapple and mustard glaze adds plenty of flavor to this easy slow-cooker ham, and a quick turn under the broiler gives you the caramelized top of an oven-cooked recipe without all the work. With the decorative pineapple rings on top, it's a decorative centerpiece for any kind of special meal, but it would also be delicious for an ordinary dinner.
If you're buying a pre-prepared ham at the grocery store, be very vigilant about the ingredients; often they're made with all kinds of junk (and then bulked up with water to sell less ham for more money, which is a ripoff and also gives you much less flavorful meat). If you have the option, it's probably best to make your own from fresh pork – it's really not hard at all, and it's a sure way to guarantee the quality of all the ingredients you use.
With the warming spices and the mustard, this would be a perfect main course to go with hearty wintery side dishes like braised cabbage or roasted potatoes, and the generous amount of ham should give you plenty of leftovers to grab for a quick lunch the next day.
Slow Cooker Ham With Pineapple and Mustard Glaze Recipe

SERVES: 6

PREP: 20 min.

COOK: 8 h.
Values are per portion. These are for information only & are not meant to be exact calculations.
Ingredients
A 6 to 8 lbs fully cooked bone-in ham
4 to 6 pineapple rings (these are in addition to the chunks below)
1 ½ cup fresh pineapple, cut into chunks
½ cup fresh pineapple juice
½ cup raw honey (optional)
2 tbsp. Dijon mustard
¼ tsp. ground cloves
¼ nutmeg
¼ cup water
Sea salt and freshly ground black pepper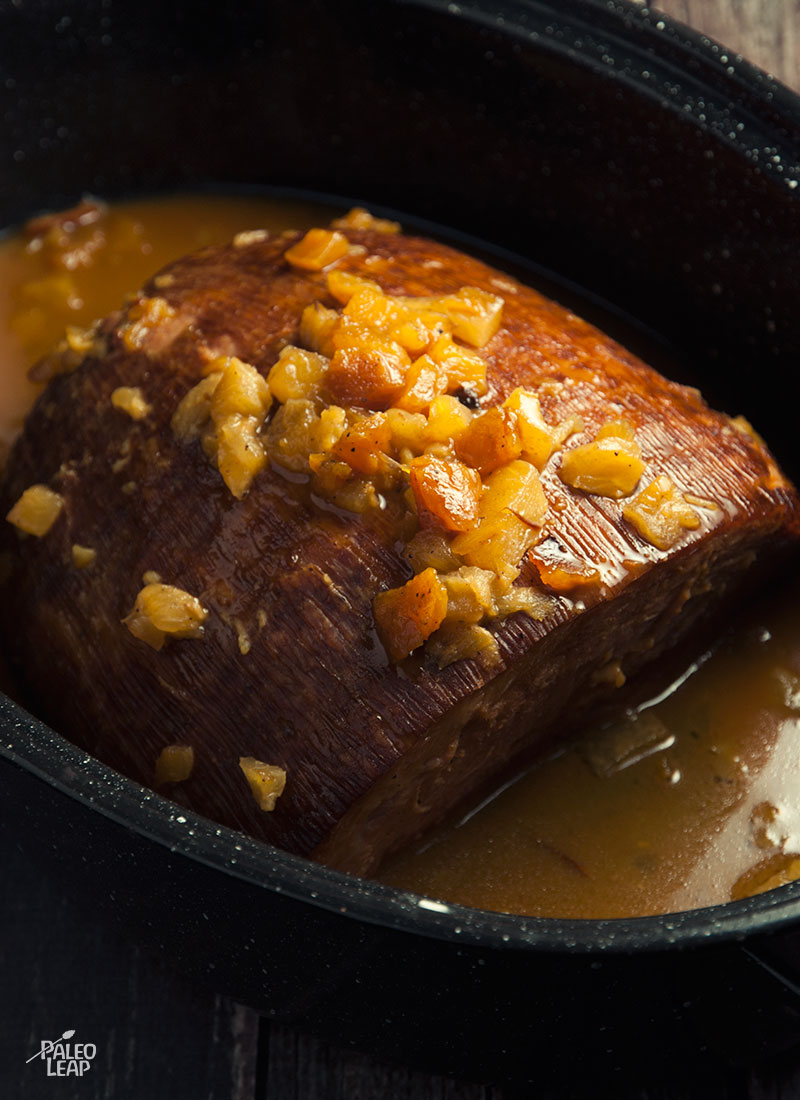 Preparation
Place the ham in a slow cooker.
Combine the pineapple juice, pineapple chunks, honey, mustard, cloves, and water in a saucepan placed over a medium heat.
Cook the sauce until warm and the honey has dissolved completely.
Pour the mixture over the ham.
Cook on low for 6 to 8 hours, basting with the cooking juices every few hours.
Preheat your oven broiler, and place the ham in an oven-safe dish.
Decoratively arrange the pineapple slices on top of the ham, securing them with toothpicks, and drizzle the remaining sauce all over.
Broil for 7 to 10 minutes right before serving.